What is a character modeler?
Give form to your imagination!
From charming heroes to hideous beasts, video games are populated with all kinds of characters with unique weapons and equipment. Character modeling artists shape these characters and establish how they look and feel.
As a character modeler, you'll create the faces of our games – literally and figuratively – and in doing so, establish the most direct source of emotional impact and player investment.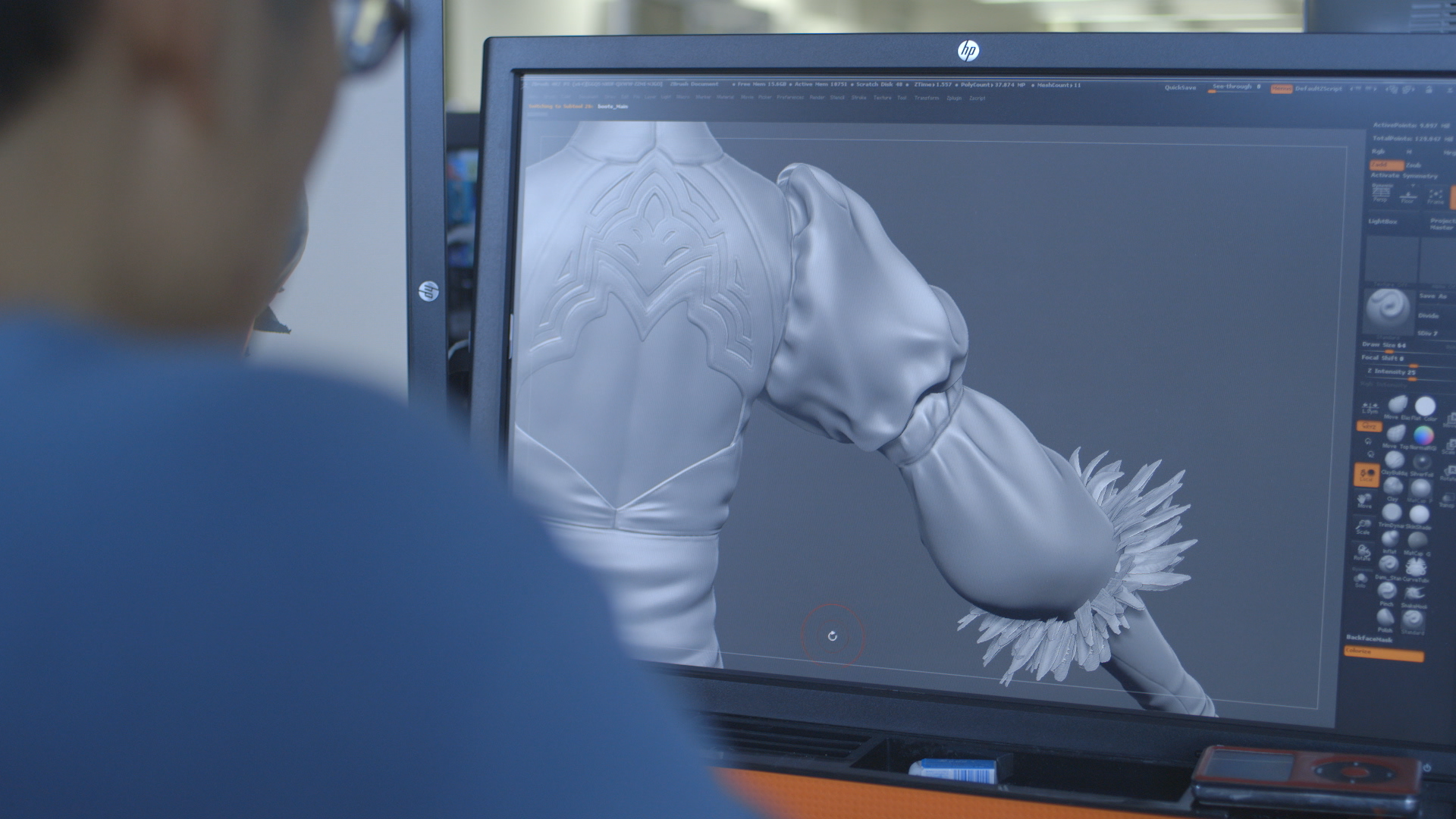 Detailed workflow
---
Modeling with 3D tools
Our character modelers begin with designs from our concept artists and use digital content creation software to bring them into the third dimension. They add and weight joints to determine how characters can move – creating the perfect canvas for our animators.
Giving it texture
A model without textures is a blank slate. Our character modelers use Photoshop to create the textures that determine characters' visual appearances. Whether working from photographs or starting from scratch, character artists get their textures just right, then apply them to models in Maya to make sure everything fits together nicely.
They also apply shaders to put those finishing touches on the look and feel of a character. At PlatinumGames, we create normal map textures with ZBrush or similar software.
Try it in the game
After texturing, character modelers test their models out in-game to see how they'll look.
Bring it to life!
Once the game's director and designers have given the character their OK, our programmers add them to the game. Animators and VFX artists are notified of the new character and get to work to bring them to life. At last, the character is home in the game, ready to be fine-tuned until they're Platinum perfect.
Other duties
---
Character design
Concept artists create most of the designs for major characters, but our character modelers themselves contribute additional design elements as they model minor characters, ensuring that every character in our games is complete and interesting.
Creating in-game mechanisms
Let's say there's a large bridge in the background that looks like it could move, to provide a perfect opportunity for the player to interact with the world around them. Our character modelers work with data from our environment artists to make the scenery itself as lifelike and active as their characters.
Hanging objects
Many characters require special treatment for parts of their bodies or clothing that hang downwards – draping robes, loose chains, etc. In the simplest cases, programmers can handle this on their own, but more complex characters need special handling to work effectively with the latest cloth physics tools. Our character modelers ensure that all parts of their characters are expressive and of high quality.