Hi there. Naofumi Harada, back at it again.
Did you know there is a Bayonetta 3 official soundtrack? The physical release is in Japan only, but let me write more about this OST, which is the culmination and symbol of our team of composers in a sense. Our team is truly elated that we were able to release this amazing soundtrack.
Bayonetta 3 has been the biggest release PlatinumGames has pulled off so far, and this soundtrack is no different. It is…HUGE! A total of 265 songs, over 8 hours of content, and 8 CDs. We are please to report that this amount of content is NO joke.
We are not attempting to set any Guinness World Records here in any way with this sheer scale. Just as Bayonetta 3 is a treasure chest filled with all kinds of unique content, our effort in creating a soundtrack of this scale is to add a variety of music to match the very Bayonetta 3 experience.
It is no exaggeration to say that this soundtrack is a collection of music created by many unique composers and talented artists who exhibited their original approaches to a single entity that is Bayonetta 3.
We are happy to add that all the songs in the game are included in this soundtrack. We ensured to make the physical version look and feel really special in order to bring out that one-and-only Bayonetta feel, so we truly hope that you'll pick up a copy if you're able to!
Note: Some songs in the physical version of the soundtrack are not available in the digital version.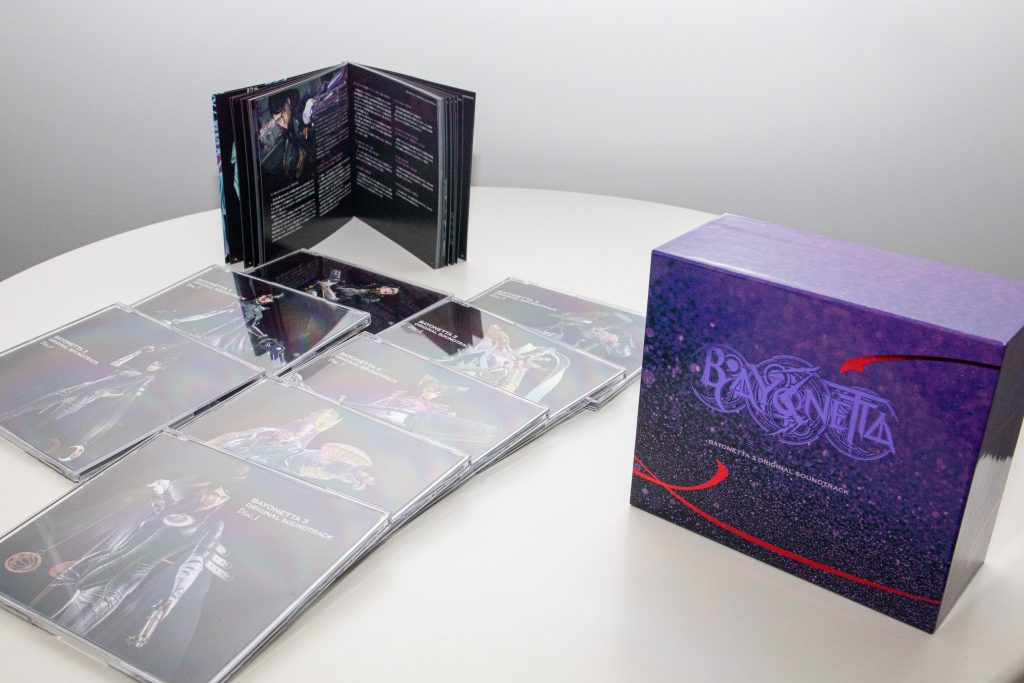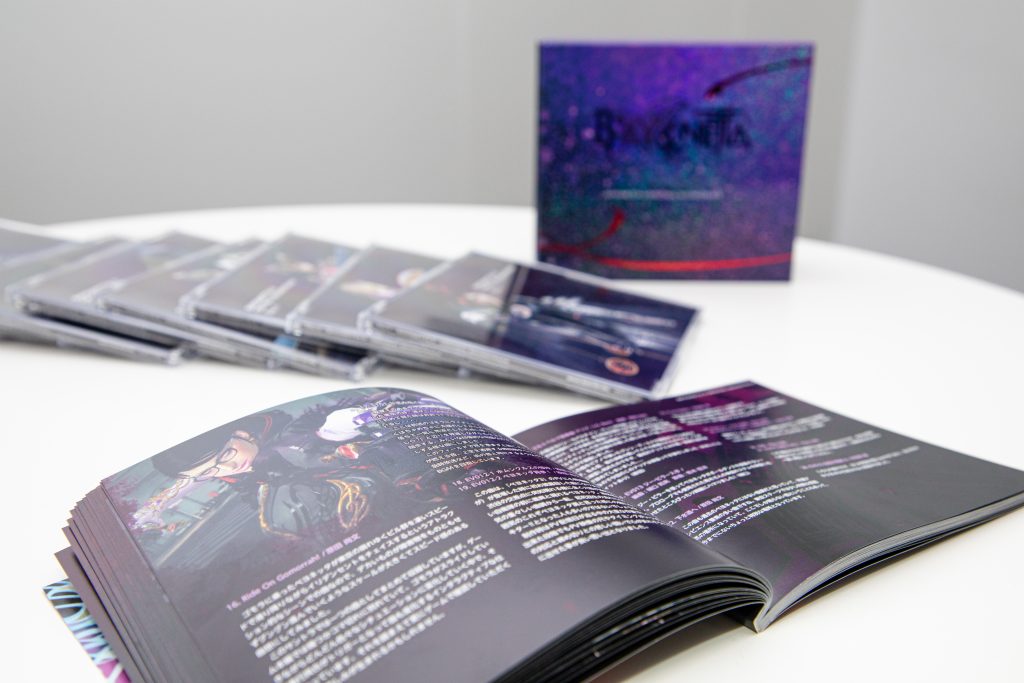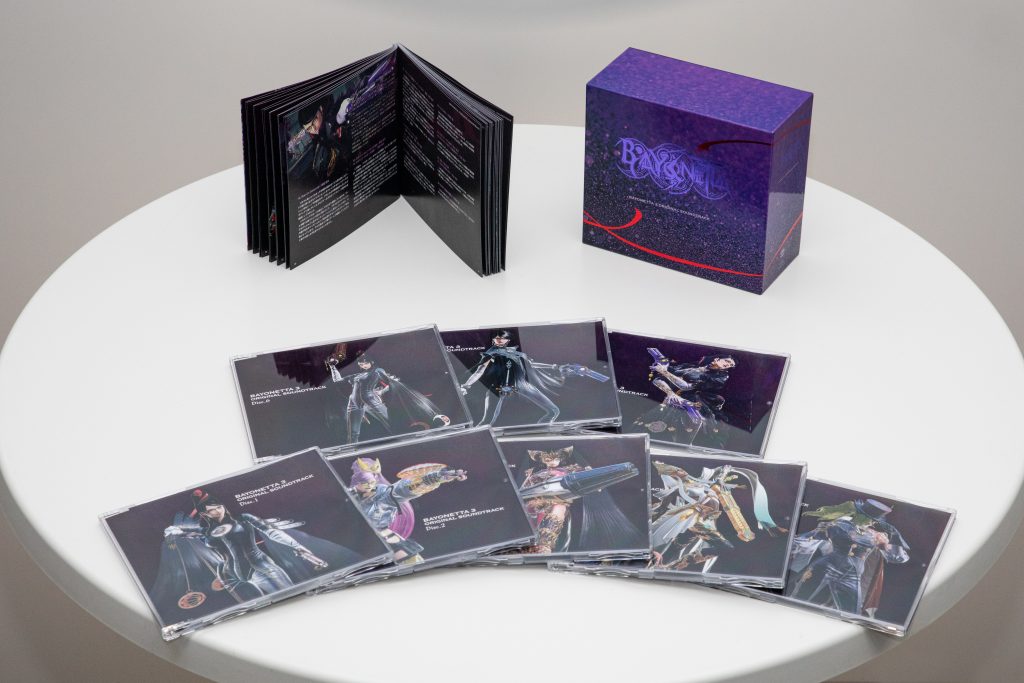 ---
Comments
---
OK then, with that out of the way, please let me share comments from our PlatinumGames composers who worked arduously on the project.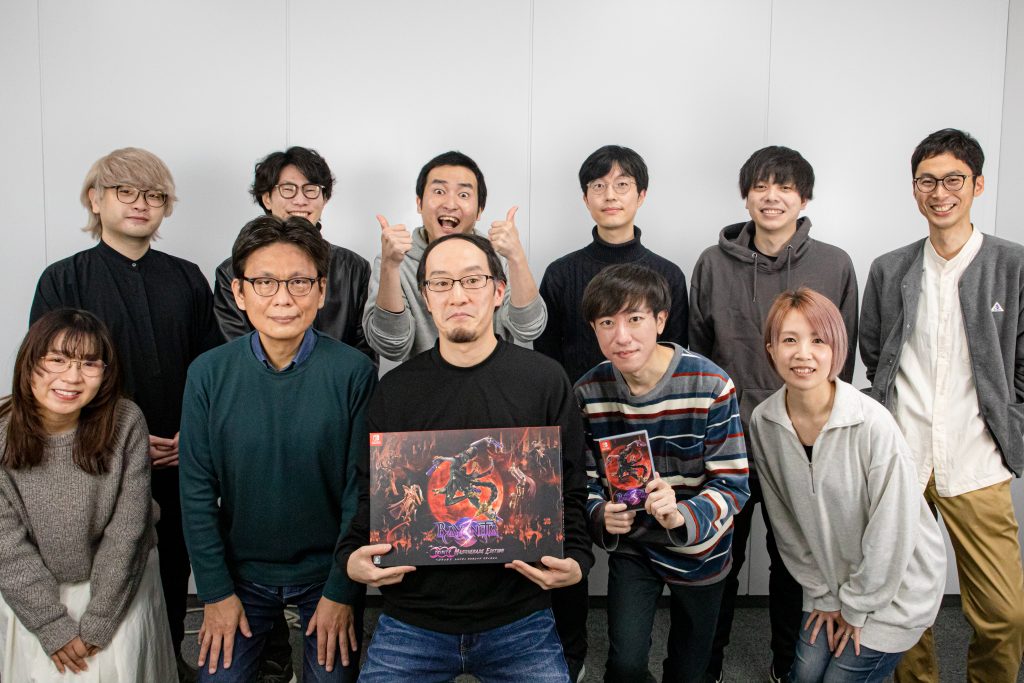 PlatinumGames composers
The number of songs is outrageous! I truly hope you'll listen to the very end without skipping any tracks. There are many other songs aside from the vocals/battle BGM for you to enjoy. Bayonetta rules!

– Takumi Higuchi
Hiya. I don't care how you abbreviate it. It'll always be PlaGa to me. Not Platinum. Not PG. Everyone and their grandmother knows it's just PlaGa. Get with it. Just my two yen though. Beppu out.

– Takashi Nakabeppu
I've never had an 8 CD set except for the "World's Best Classical Music" compilation album that I listened to as a kid. I figured the next one would be over 10 CDs. I wonder how long it would take me to listen to all 8 CDs…hmmm…let's give this a go then! Naofumi, you'll be listening to all 8 CDs, yeah?

– Masahiro Miyauchi
This soundtrack is absolutely huge, with over 250 tracks on 8 CDs. Not sure if you can listen to the whole thing…the cool thing is that each composer talks about his or her own creative effort in the liner notes and I really hope you will enjoy reading through these as you listen to the soundtrack!

– Tomoki Kameyama
>Read about the making of GH()ST
I haven't witnessed that many soundtracks that have so much content wrapped in one package! I hope you'll enjoy your favorite songs as well as those you didn't know about, along with the liner notes!

– Aoba Nakanishi
>Read about Nakanishi's work on Bayonetta Origins: Cereza and the Lost Demon
Rest assured, it's shorter than listening (watching?) through the Der Ring des Nibelungen (The Ring of the Nibelung). I hope you enjoy the soundtrack!

– Seiji Hotta
I hope that you can feel once again the sheer fun and excitement that is Bayonetta 3 through this soundtrack.

– Hyun Kim
We also made sure to include the songs of past Bayonetta games (that are available in Bayonetta 3) in this soundtrack along with the new tracks for you to listen and reminisce as you delve deeper into the world of Bayonetta!

– Hitomi Kurokawa
I'll never forget the Tonkotsu Ramen I had near Trafalgar Square during a recording session in London. We managed to record so much music for Bayonetta 3. It was super exciting, both in terms of quantity and delivery time, and I think it's the best effort we've ever done. Thanks everyone!

– Hiroshi Yamaguchi
>Read about the making of We Are As One
---
Bayonetta 3 Original Soundtrack

The physical Bayonetta 3 Original Soundtrack can only be purchased from Japanese stores, but it's available digitally around the world!

Listen Now: https://lnk.to/bayonetta3
Naofumi Harada

After working on music for TV commercials and other broadcasts and corporate videos, he joined PlatinumGames in 2012.
Harada worked as the composer on Bayonetta 2, The Legend of Korra, Teenage Mutant Ninja Turtles: Mutants in Manhattan, Star Fox Zero, Star Fox Guard, ASTRAL CHAIN, World of Demons and others. He was the implementer on NieR:Automata and participated as guitarist on Super Smash Bros. Ultimate.
He worked as lead composer on Bayonetta 3.
TAG