Hello to everyone reading the Bayonetta Blog! Nice to meet you! I'm Ikumi Nakamura. I am in charge of the concept design for the world of Bayonetta. Creating world concepts is often a behind-the-scenes job; however, I hope appearing on this blog will give everyone a greater understanding of the world of Bayonetta!
・・・・・・・・・・・・・・・・・・・・・・・・
I'd love to tell you all about the world of Bayonetta, but there are so many secrets that we can't talk about… So instead, let's talk about my exchanges with Director Hideki Kamiya and how we created the world of Bayonetta.

(You'll have to play the game to find out what stage this is from.)
I have been working with Director Hideki Kamiya since Okami. Okami was about nature and healing, but this game… It couldn't be any more opposite! (LOL) However, I had a great time bringing to life the world of Bayonetta that exists inside Kamiya-san's head. That's because whatever is going on up there is completely outrageous!
Not to be outdone, I tend to come up with some pretty outrageous designs myself, so I play off that outrageousness when coming up with ideas. Although, if I go too far, I may end up with something awful, so it is important to keep things in check… But basically, I know if I show Kamiya-san something I don't think is good enough, he usually ends up loving it. So we excitedly went through the game towards the last stage, creating a world that was outrageous in the best sense of the word.
When making a game with Kamiya-san, the world view isn't particularly locked down, so it is a fun experience. We can change how things are with each and every stage. However, there were a few things thematically within the Bayonetta world that were constants – Angels, Witches, the Sun, the Moon, etc. These motifs were unshakable. However, as we proceeded through the stages, we got excited creating the changes in architecture and culture that accompany them. As our lead character is a thin, sexy woman, the world behind her is the opposite. We went with large, heavy environments so we wouldn't fall into the trap of letting her dynamic silhouette be lost in the shuffle. The modeling staff did a great job of turning the concepts into reality, and I think that in the playable version you get a good feel for that. I really hope everyone takes an interest in the backgrounds in the game. This is especially true in the case of the stages modeled by Mune-san and Shirai. There are things that will stand out and make you say, "WTF!?" I really can't wait until I can tell you all about it!

(This bar seems awfully suspicious. But it is in our latest trailer! You can check it out by clicking the picture!)
Kamiya-san is incredibly detailed when it comes to the designs. I could tell you stories about what it took just to arrive at the items and accessories on a character… But that's something I will get into in a future blog. Actually, the Bayonetta logo was another place where this came up. I started out placing visibility above all else and could only think up simple, solid designs:
"This isn't cool!" were Kamiya-san's first words to me.
Deep down, all I was thinking was "damn!" Yet, I did my best to keep a poker face.
Our other design concepts were decided in much the same way, going through that process of back and forth. Even though, you know, I'm a rather quiet person…
This leads me to recall some of the motifs we had created. The moon, the written spells used by the witch clan, Bayonetta's theme colors of black with hints of red… And I think you've all seen the game's logo. When it gets printed in large format advertisements, take a really close look. You should notice that there are spells written into the logo itself.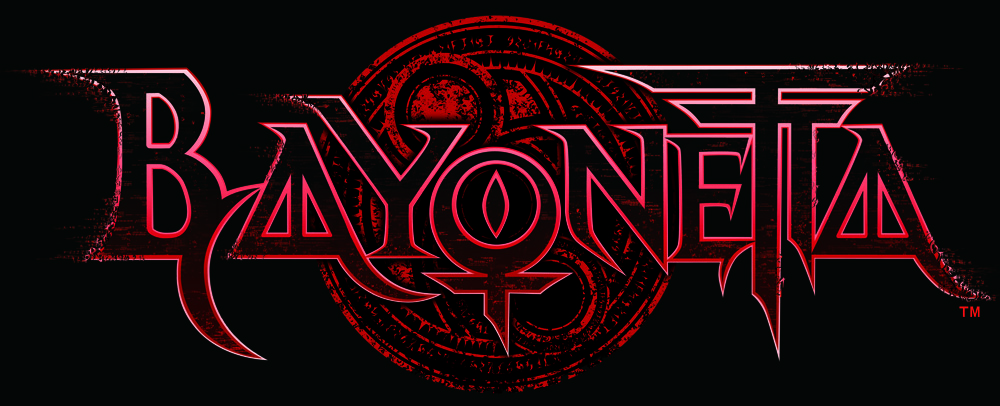 The circle behind the logo is a magical portal which Bayonetta will somehow make use of in the game. The logo itself was designed to focus on witch and demon elements, instead of focusing on femininity. Finally, the letters emerging from the other letters are a demon alphabet used by Bayonetta's clan of witches.
I've got many other concept images that I would love to share, but for now I bid you farewell. Next time I hope to show you a few more designs and get closer to the heart and soul of the world of Bayonetta.
(NOTE: See high resolution versions of these pictures on PlatinumGames's Flickr account.)
TAG