Hi everyone. Character designer Mari Shimazaki here with you again.
I'm back from Comic Con!
I went in place of Kamiya-san, who was suddenly unable to attend. It was a totally packed couple of days, so see JP's report for all the details.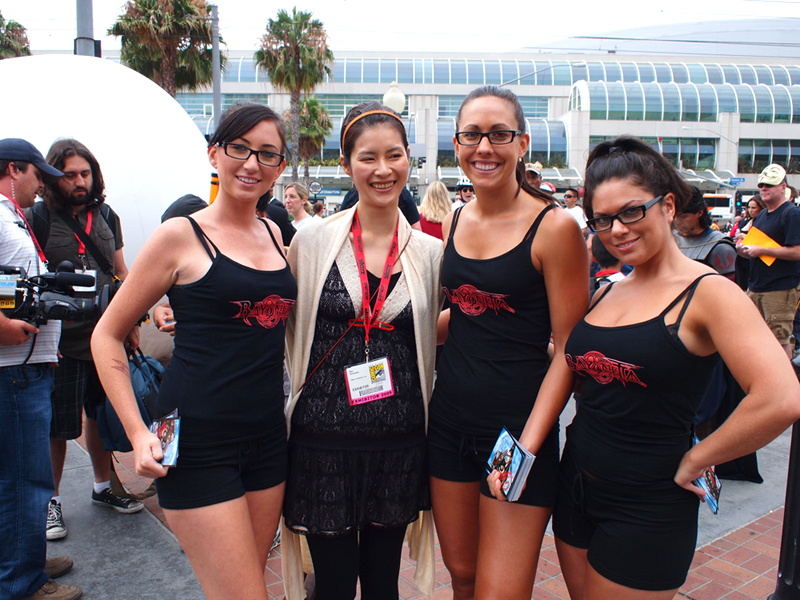 A picture of me with the Bayo-Gals, who were passing out flyers around town in San Diego. I was really happy, you know, seeing stuff like this. I got excited and jumped in there with them for a picture grinning ear to ear…
So now on to Rodin and Enzo.
Here are your odd couple. As promised, they are very Blues Brothers-esque.
First up is Rodin.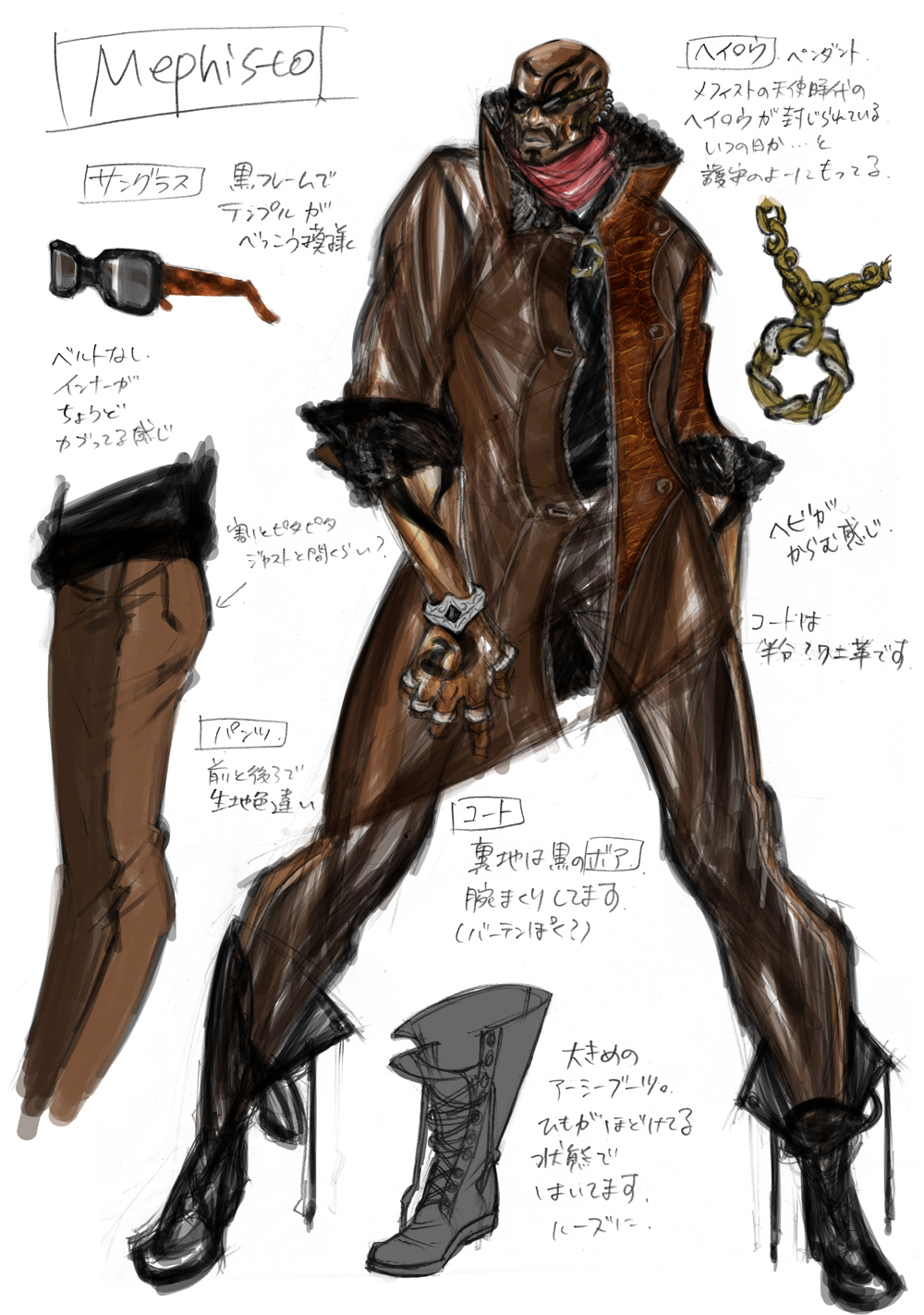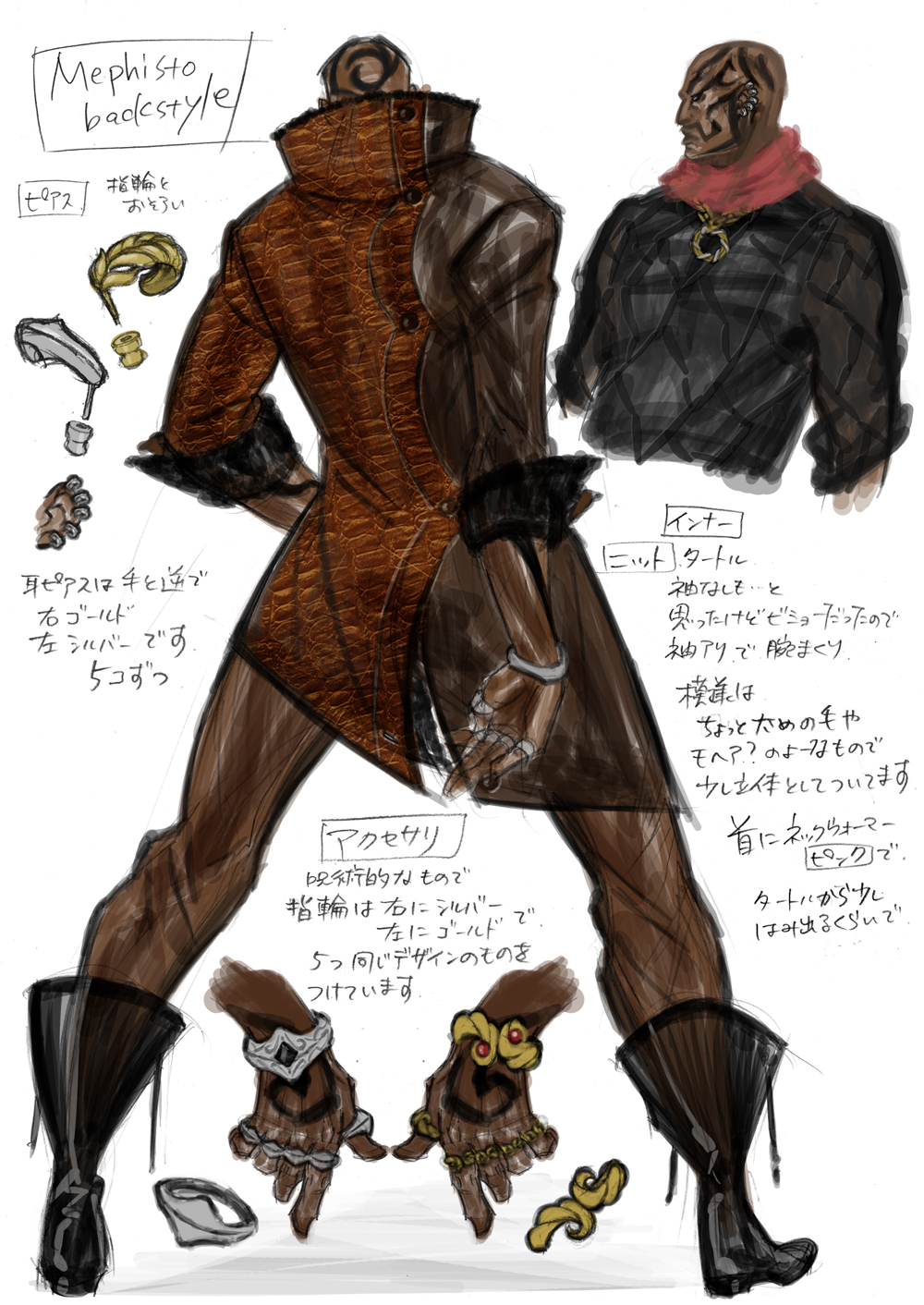 You might have seen him all over a section of our Japanese homepage known as "The Gates of Hell." Rodin is a demon gunsmith who plays a big-brother role to Bayonetta. Unfortunately, I can only show you the final design, but I can share that Rodin wasn't his original name, and he was a far funkier man at first.
I have memories of designing him and thinking that he had that so-called "spirit of an artiste," meaning he was a man who loves fine antiques and music. I would imagine that Rodin would listen to some records, get into the groove of things, and then get down to business making weapons… Even now, Rodin's love of music still remains ever so slightly as a part of his character profile, and that love is reflected in a gameplay element.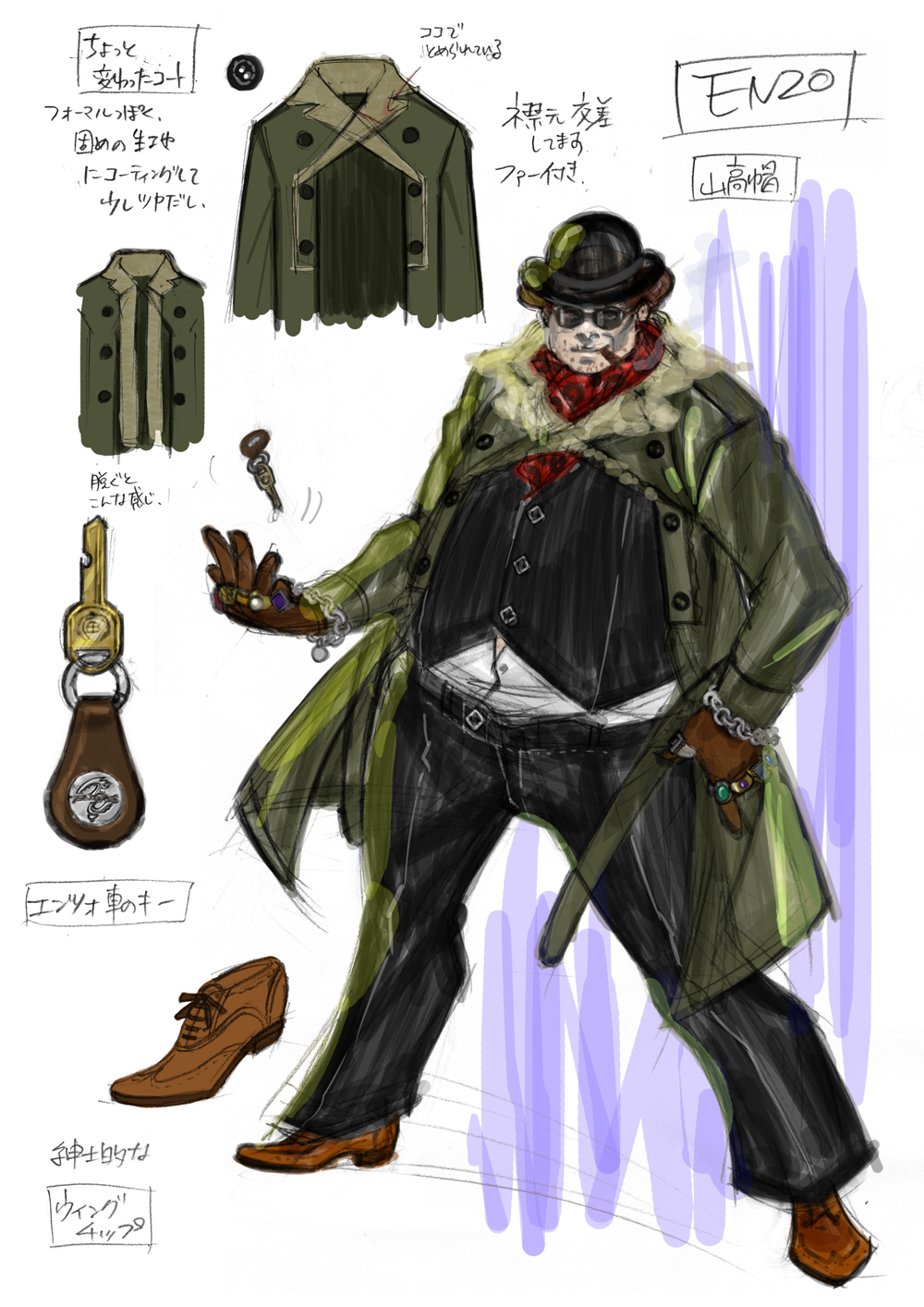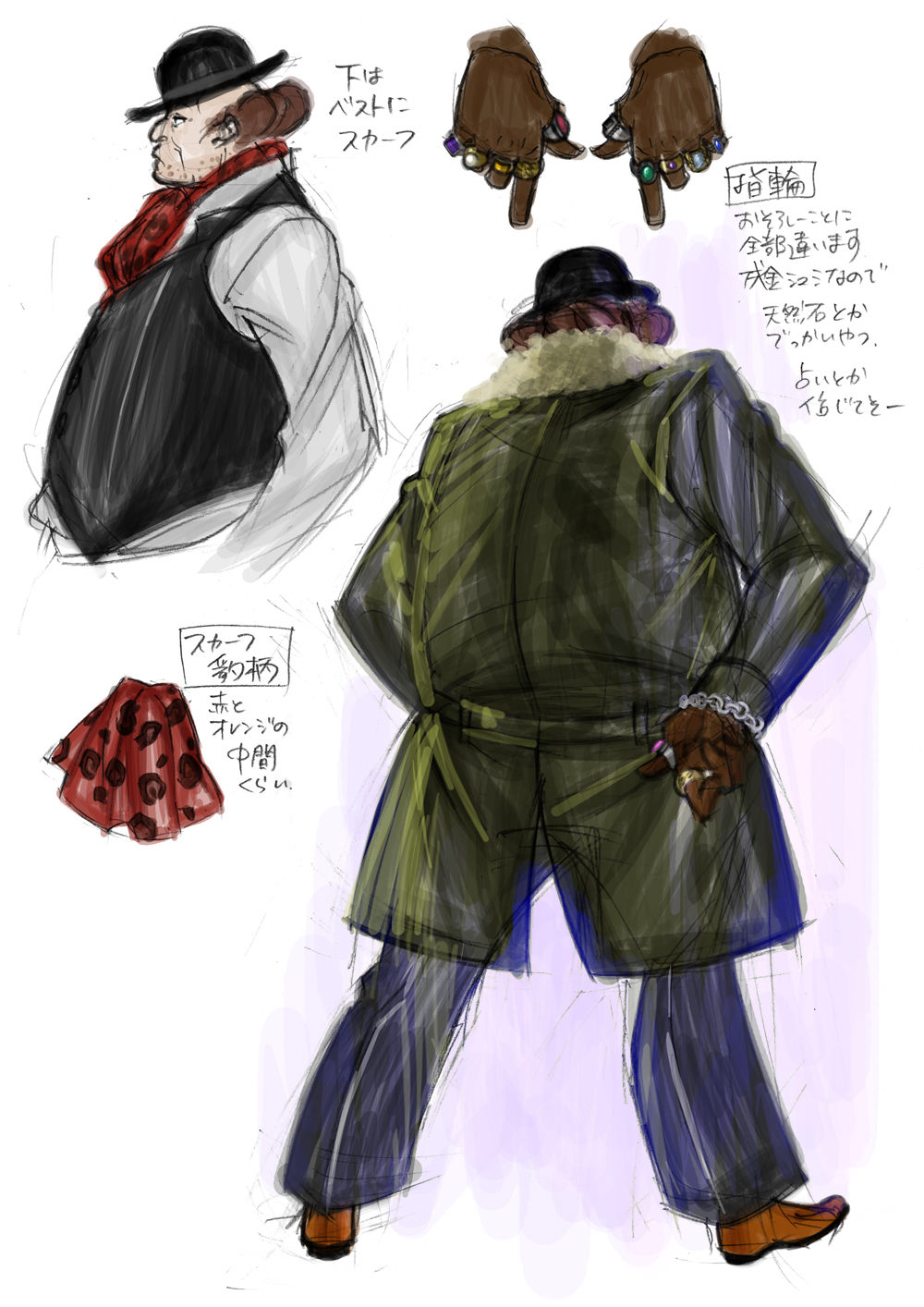 This is the underground informant, Enzo.
I designed Enzo with the idea in mind that he adores the Italian Mafia, but his personal hobbies are decidedly more bourgeois. Contrary to expectations, he is also a devoted husband and father to a large family. And boy is he a talker! That's about it, I suppose. Enzo got OK'ed in only three days, so it's actually kind of hard to remember these things! (Hehe…)
As he so eloquently explained in his blog post recently, modeler Kenichiro Yoshimura modeled Enzo for me, although he did seem to have a very strange affection for the character. It was COMPLETELY different from when he was modeling Luka (a character you see in the trailers)! (LOL)
I thought that Bayonetta is actually a game about glasses, so everyone should be wearing them! Hence the addition of Enzo's (sun)glasses. Coming up with each and every character's glasses was a secret source of enjoyment.
I wanted to end with another picture from my trip to Comic Con.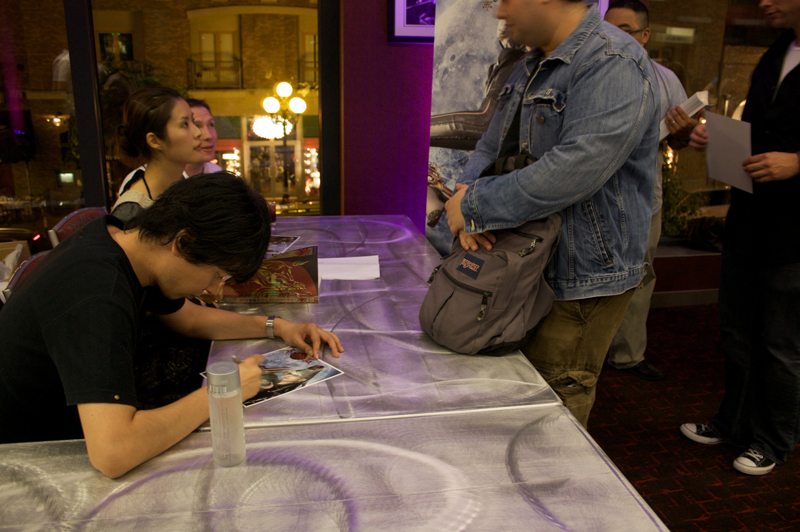 We had an autograph signing at the User Event (even though the game isn't out yet), and someone brought an Okami art book! Another person brought their PS3 system! And another brought their Devil May Cry package! It was really a day to take in how excited and grateful our fans are.
I really want to do an event like this in Japan, too! Please make it happen, Hashimoto Producer!!
Until next time!
(NOTE: Higher resolution versions of the concept art in this post can be found on the PlatinumGames Inc. Flickr Page)
TAG