Hello all. Character designer Mari Shimazaki reporting in.
We are now less than one week away from the Japanese release of Bayonetta. When the game comes out, I'm really excited about going to a huge store close-by and spreading out all the copies of the game! (A bit of a nuisance to the staff though…)
And now back to what has been sort-of the groove of my blog, explaining the design choices behind one of Bayonetta's characters – this time the man chasing after Bayonetta – Luka.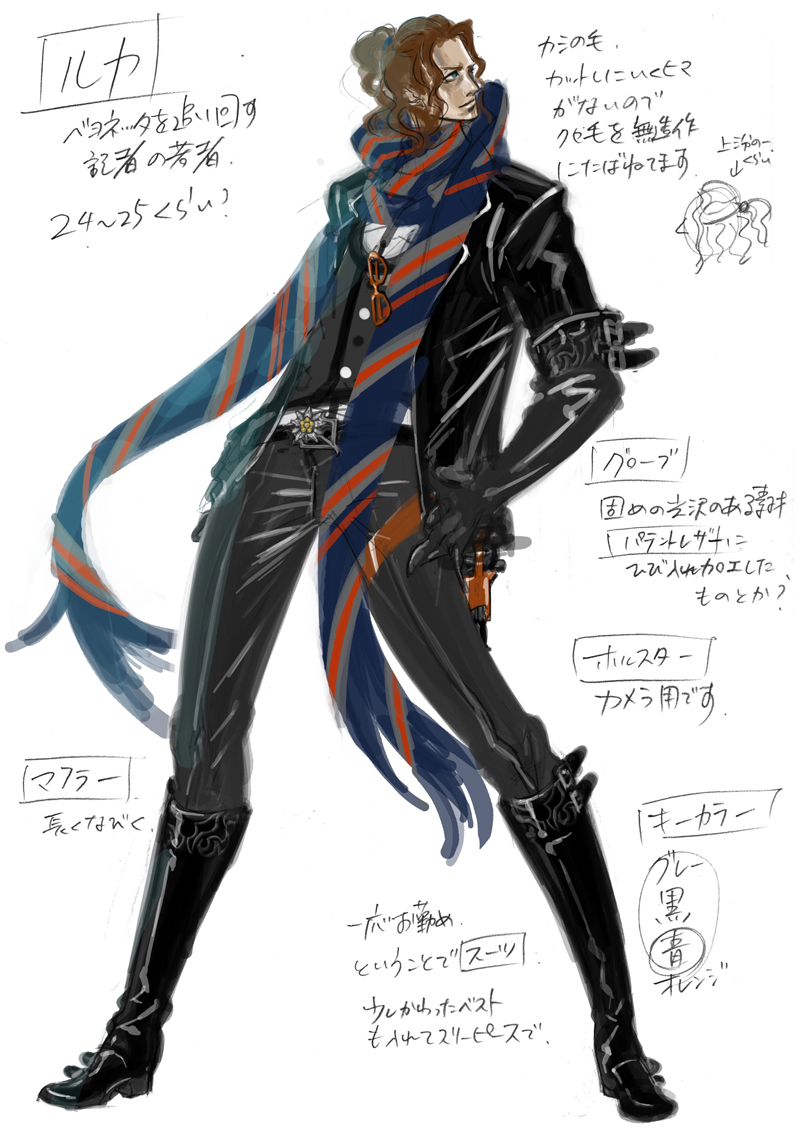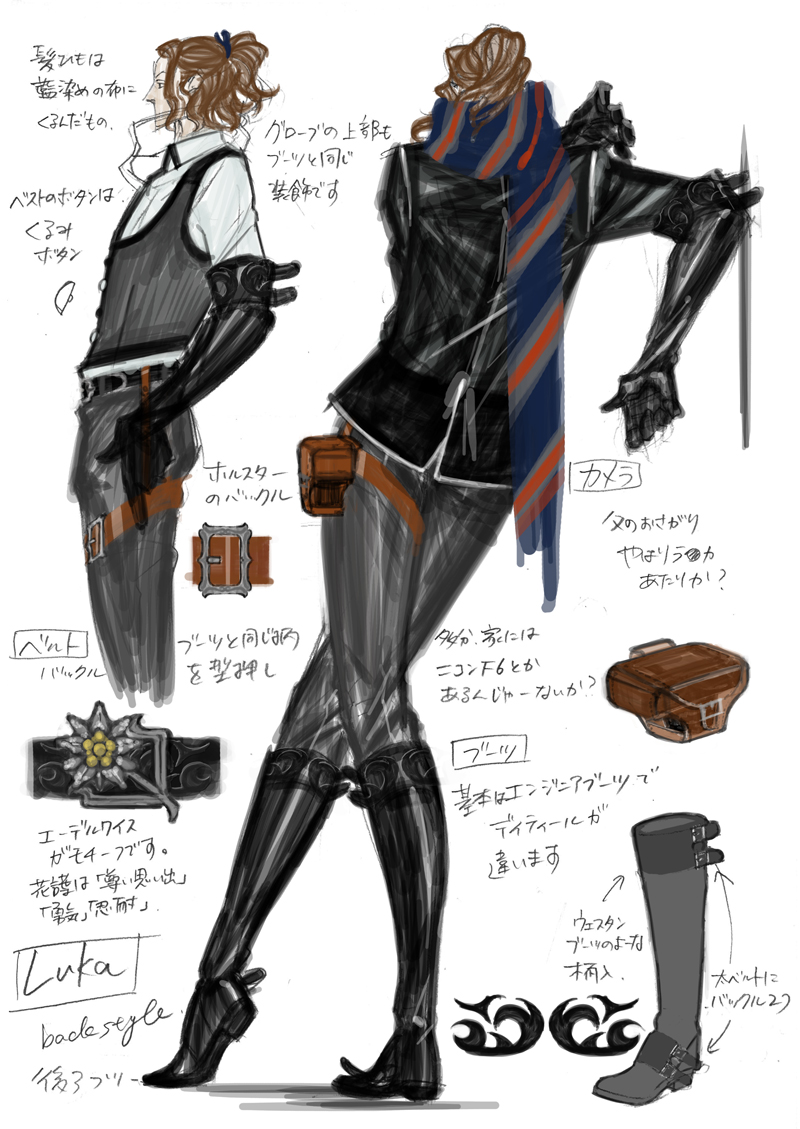 When I first drew Luka, I designed him as a bit more "adult;" however, as he is on the receiving end of the sassy Bayonetta's jabs, I thought that he should be a bit more of a brazen youngster, which is how he ended up as you see him above. Even though he is freelance, he is still a journalist, so he wears that staple of modern masculine armor, the suit. And then there is his favorite camera, which may or may not be a Leica. To chase after Bayonetta, he also has his spy tools-of-the-trade, all secreted neatly away in his gloves, boots, etc.
Since he is rather light on his feet, I wanted to make sure you picked up on Luka's movements by giving him a nice, long scarf. Putting something moving on these active characters to pick up on their motions is sort of a by-the-book design cue in Bayonetta. Also, Kamiya-san likes scarves.
Unfortunately, it has been a long time since I designed Luka, so I've forgotten a lot of the small details and motivation that went into his look.
A glance at Luka can tell you a lot though: He is a bit of a metrosexual, paying attention to his cologne, etc. He is the type to get carried away, as he loves the girls, and would be prone to saying that there is more than enough of him to go around to one-and-all.
But despite all this, Bayonetta is the only women to whom he is openly hostile. Obviously, he must have his reasons…
How will their relationship develop during the game is something you will just have to play to find out.
To switch gears now, I have an announcement to make.
I think you are all aware of MiChi, the Japanese singer who recorded the song played in the background of Bayonetta's Japanese TV commercial. Well, MiChi is going to appear with Bayonetta on a special program to be aired by MTV Japan!
MTV's Bayonetta Special will air on MTV Japan on
Wednesday 10/28 4pm-5pm (Premiere airing)
Thursday 10/29 9pm-10pm
Saturday 10/31 5am-6am
Sunday 11/1 4am-5am
* This schedule is subject to change.
Bayonetta herself is going to be the VJ for the show. MiChi will be her guest, and you will get a look into the making of the Something Missing track, as well as their thoughts on what it means to be a strong woman.
I even drew up some special art that you will get a peek at during the show.
It is a tie-up illustration between MiChi, who was kind enough to make the song for us, and Bayonetta. I can't post it here, so if you want to check it out, make sure to watch the show.
(NOTE: Higher resolution versions of the concept art in this post can be found on the PlatinumGames Inc. Flickr Page)
TAG