Hi everyone, Bayonetta composer Hiroshi Yamaguchi checking in.
Bayonetta was released in Japan last week! It was a moment that I was truly waiting for. Someone of you may have even finished everything the game has to offer, and I am truly excited to hear what you thought about the game. But the big news is that in 2 days, on November 4, Bayonetta's soundtrack will also be released in Japan.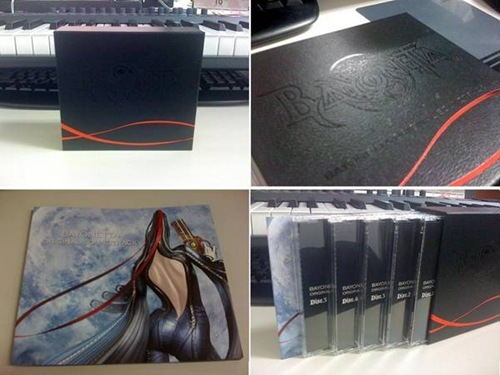 Here it is! It is an elegant design that I think is really, really cool.
It's a huge soundtrack, spanning 5 discs, and it hold nothing back from the tracks we used in the game. We've even added a few bonus tracks to the mix. There are also 36 pages of liner notes featuring comments from Kamiya-san, Hashimoto-san, all the members involved in creating the Bayonetta soundtrack, commentary on all the tracks, lyrics, a special note from vocalist Helena Noguerra, art, etc. There is plenty to read there. I think you will find your enjoyment of the soundtrack vastly increased if you read the track commentaries while listening.
It is a soundtrack that will let you relive your memories of the game. Since it spans a full five discs, it is a bit expensive, but I really hope all of you give it a listen.
Also, I wanted to tell you about a bit of an "easter egg" regarding the in-game music, although I'm writing this in a way that won't be a spoiler for those who haven't completed the game. During some of the cutscenes during the game, if you press and hold LB or LT on the 360, L1 or L2 on the PS3, the stage music that comes after will…

Everyone try to find these spots! However, I recommend you do it on your second run through the game.
Well, this is my last entry here. Your comments and messages of support really gave me strength. Thank you all so much. It will probably be a while until we meet again, but until then I will be working as hard as I possibly can! Until next time!!
TAG