Hello everyone. I'm Bayonetta producer Yusuke Hashimoto.
Today Bayonetta finally went on sale in Japan! I bet some of you are even playing right now!
Many, many things happened during the development of Bayonetta, a process which started three years ago. However, I'm finally glad that we are able to get the game into the hands of gamers, and at the same time, I am incredibly thankful to all those who have supported Bayonetta, everyone involved in the production, as well as the development team.
We developed Bayonetta with the idea in mind that it should be an "action game of the highest caliber," and it became a bit of an ultimate title for us, containing everything we are capable of in one package. Put another way, it was a "challenge to ourselves" having been previously involved in numerous action games. We founded a new studio, and had to start everything completely from scratch, but during production we always felt the fun of making games, and the fun that can be had from making games. Since we felt that way, I think we were able to fully exploit our know how to the very limits, and run full steam ahead. Completing Bayonetta was, I feel, and incredibly important step for PlatinumGames as a studio.
Games are entertainment that allow you to forget about time and just have fun. I've taken many things through this hobby we call gaming, so I really hope that even just a little piece of Bayonetta stays with all those people who pick up a controller and play the game, as if there was something to learn from the experience. Bayonetta development as a multiplatform title was filled with many experiences, but all I ever felt was "the desire to have as many people to enjoy Bayonetta as possible." I'm taking them all as lessons myself, and in turn using them as motivation to make something even better in the future, so I would appreciate all of your support.
And if you have played Bayonetta and have opinions, feelings, or even hopes for a sequel (?), please send them my way.
To change the subject, did anyone catch the special on MTV Japan, MTV GAME SPOT supported by BAYONETTA? Bayonetta appeared as the VJ, and her Japanese voice actress, also used in the Japanese TV commercials, was none other than Atsuko Tanaka! When I went with Kamiya-san to sit in on the voice recording sessions, maybe it was just a matter of course, but I completely fell in love with the voice, grinning from ear to ear and entertaining my own personal wild delusions like, "If we ever made a Japanese-language version, this is her voice." Thanks to show director Sakuma-san's passion and playfulness, it turned out to be a program you can really feast your eyes and ears on. If you are interested, definitely check it out. It will be airing again on 10/29 from 9-10pm, 10/31 from 5-6am, and 11/1 from 4-5am on MTV Japan. MTV is available through many outlets like cable networks across Japan, on Ch. 270 for Sky Perfect TV, and on Ch. 232 for Sky Perfect e2 users.
And if we ever do any more Japanese language recording, for an anime, or a sequel, or the like, I definitely want to use Tanaka-san again.
Finally, a few marketing updates. First up is the advertisement on Shibuya 109 in Tokyo. Living in the Kansai (Osaka/Kyoto) region of Japan, it was hard to feel for how this actually turned out, but once I laid my eyes on the real thing, it is truly incredible, isn't it? It left a huge impression on me as I stood gazing up at the ad amongst a crowd of people. It will be up until 11/5, so if you are heading out to Shibuya, have a look for yourself.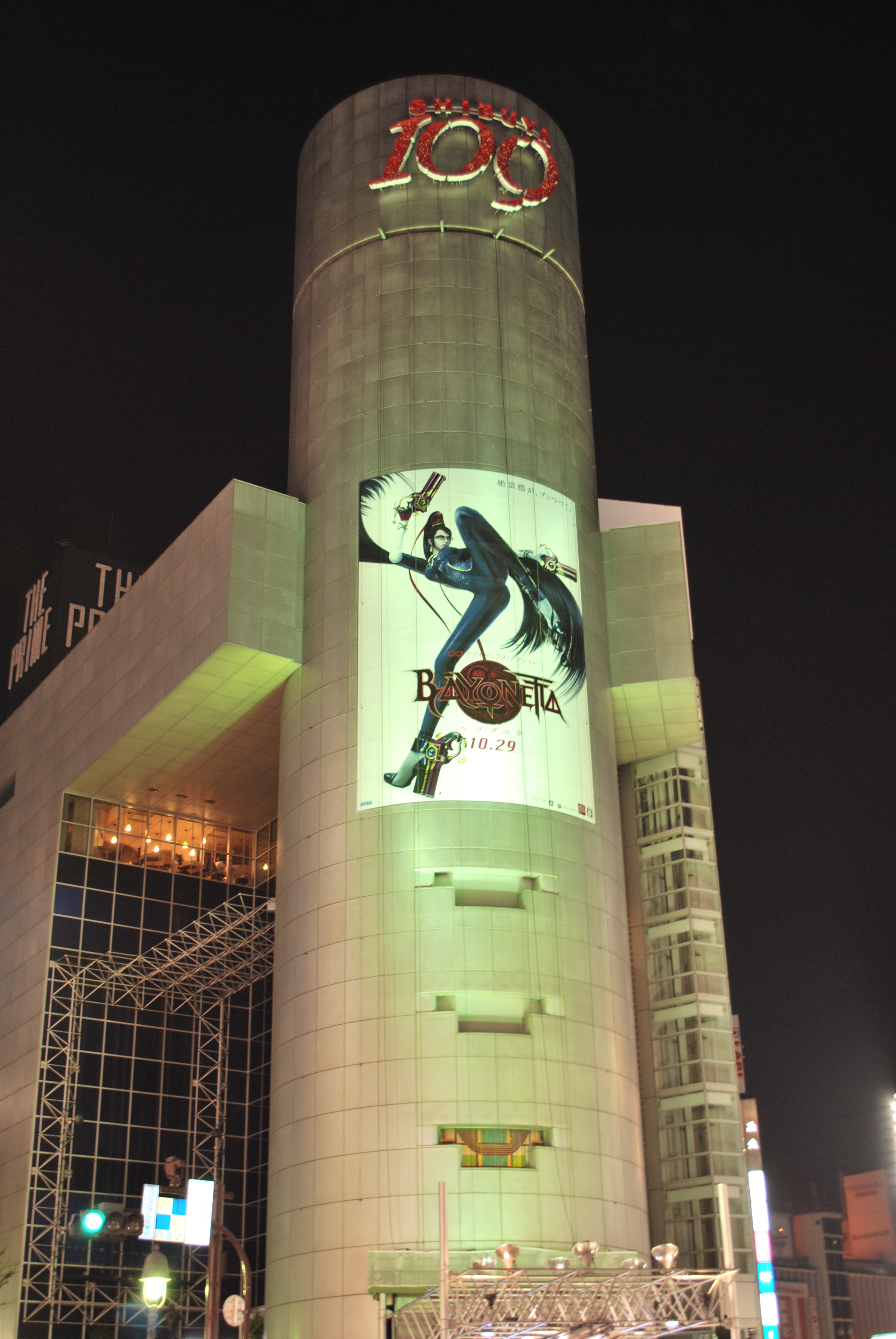 Next up are the ads in Shinjuku. These have a little bit of extra fun added as we made the ad a sort of "tear away." What did you think about them? These will only be up until 11/1, so if you get the chance and want to try a "tear-away-ad," head to Shinjuku and tear one of the cards off the ad. You might even see Kamiya-san and I "tearing away" at the ad ourselves.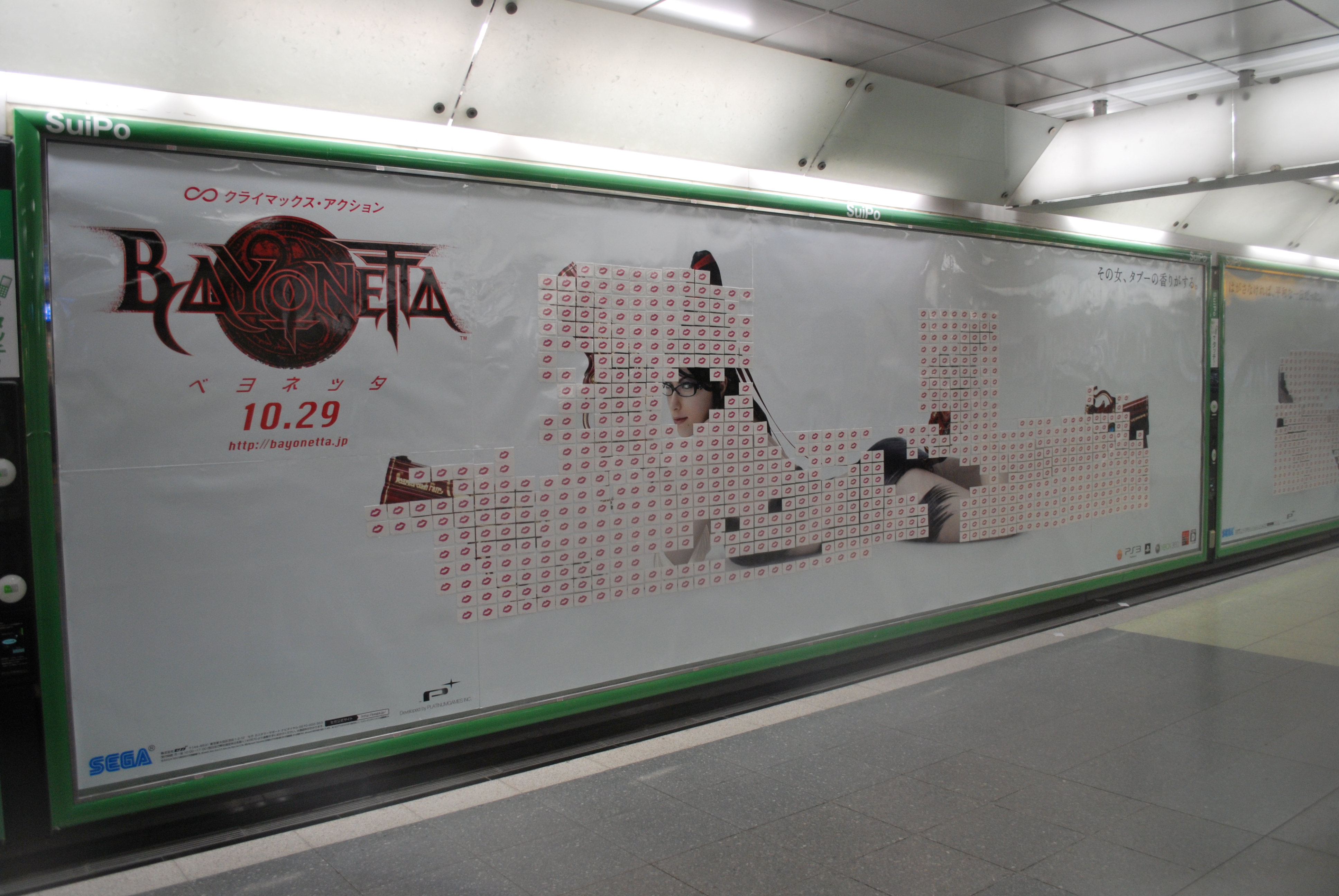 So now it is on to working on promotions for the Western release of the game, but there are still action figures, etc. to be released in Japan, and I've got some ideas on how to further expand the world the game introduced, so keep supporting Bayonetta!
(This post originally appeared on the Japanese Bayo-Blog on October 29, 2009.)
TAG