Hello, aspiring game developers! In our last feature, we got a peek into a day in the life of a concept artist. This time we interviewed Ms. Shinohara, one of our environment artists. I hope this post can shed some light on an often-overlooked role in the game development process.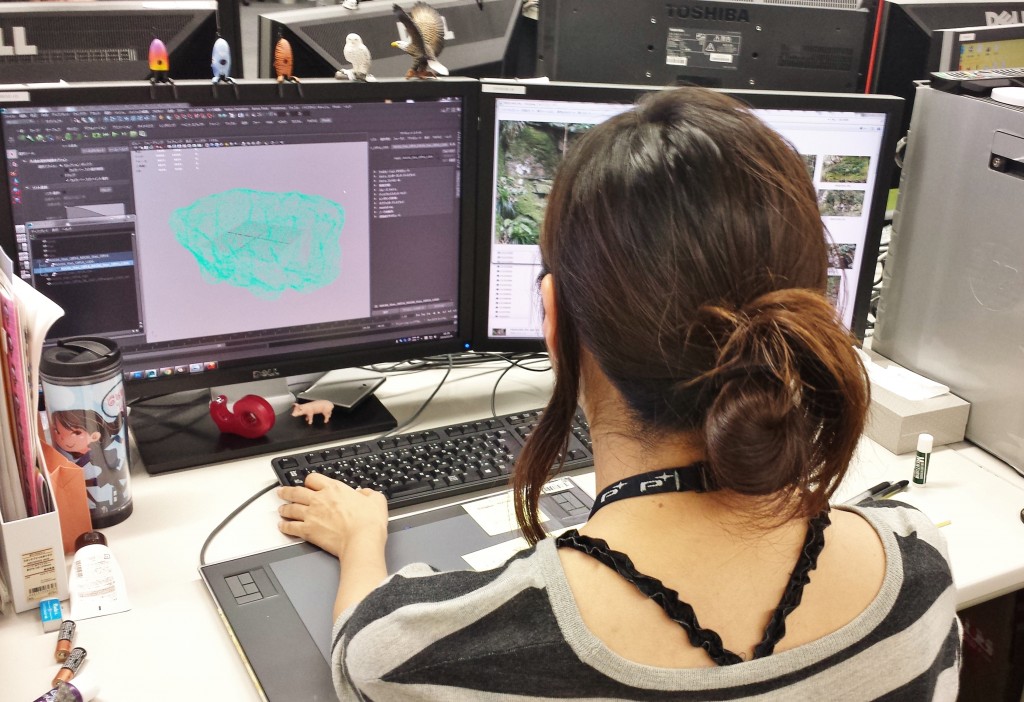 Q: What is the role of an environment artist?

There are two main roles within the environment team. One is actually creating the assets that go in the game levels, and the other is laying out the level design that makes the game fun.
On top of that, when we create game levels we don't just create assets and layouts, but also do work like lighting and post-processing that has a huge impact on the game as a whole.
Both asset creation and level design are very important elements of the game development process. I think the role of an environment artist is to integrate both of these elements at a high level of quality.
In recent years, it has also become common to split these two elements into a level design role and an environment artist role to achieve even greater job specialization.
In my current role, I don't do much asset creation on a daily basis. My job is to research and test the most efficient and cutting-edge environment creation technologies and share that knowledge with the rest of the team. You might even say that I'm a hybrid between a technical artist and an environment artist!
Q: What is the most important skill or ability for an environment artist?

Many different skills are required to become a successful environment artist.
These are just some examples: the composition ability to lay out environments, lighting skills, the knowledge and skills needed to create assets, and the technical ability required to do development work using a variety of different middleware tools.
There are so many different skills that you need that it's hard to pinpoint just one that is the most important! However, the environment artist job can be sub-divided into layout, asset creation, lighting, etc, so I think it's best to choose one area of expertise and acquire the specialized knowledge for it.
Q: Tell me about an experience at work that you'll never forget.

Once I was asked to create assets for a level that we didn't have any concept art of yet! I was just given two or three keywords and told to freely use my imagination to create the assets. However, I found it hard to come up with many good ideas, and the assets I made ended up getting rejected. 🙂
Usually, the concept art gets created before the environment team begins their work, but at that early stage of development, the concept artists hadn't even joined the team yet, so that's why I found myself in that situation.
I didn't have much of a sense for concept art at the time, and I also didn't have much background in game development, so this was a high bar to clear. However, I learned a lot about how the concept artists do their creative work – how they make "something" out of "nothing", and this ended up being an educational experience for me.
Q: What do you want to learn next for your job?

This isn't just for work, but I really want to brush up my English skills. I want to be able to read English well enough to get technical information from English websites, and to be able to communicate fluently in English. I would love to be able to have discussions and exchange information with artists from around the world.
A Day in the Life
8:00 AM Wake up
9:30 AM Arrive at work
10:00 AM Do research for an environment creation spec I'm writing
12:30 PM Lunch with coworkers
1:30 PM Write documents on environment creation and tech
3:00 PM Give team members guidance on how to best create their assets
4:00 PM More work on documents
6:00 PM Chat with coworkers
7:00 PM Go running at the gym
9:00 PM Return home
9:30 PM Cook up a healthy vegetable soup for dinner
11:00 PM Study English
12:00 Go to bed
That's all for now, folks! Be sure to let us know what you thought in the comments or on Twitter and Facebook.
TAG