Hello, everyone. PlatinumGames President and CEO Kenichi Sato here again.
April is upon us! Unlike most Japanese companies, PlatinumGames starts its fiscal year in June, rather than April. Still, this is a time of big change, and as winter fades (if you're here with us in the northern hemisphere, at least), everything's starting to feel new and different.
This time around, we're all facing a particular new uncertainty as the COVID-19 outbreak shows little signs of stopping all over the world. I offer my deepest condolences to anyone who has lost loved ones to the pandemic, and pray for the swift recovery for everyone who's affected.
PlatinumGames is taking the outbreak very seriously. We're keeping a close eye on our temperatures, and I strongly urge anyone with a fever, or who's otherwise feeling even a little bit under the weather, to stay home and rest up. We are doing our best to do what needs to be done, whether for creating games, or for avoiding spreading the infection.
Moving on, as announced (LINK), we're working on establishing PlatinumGames TOKYO – a new development hub in eastern Japan.
Our main goal in starting PlatinumGames TOKYO is to beef up our development power. We did well enough sticking to our Osaka office for our first fourteen years as a company, but now, I want us to spread out and meet more talented game creators. Tokyo was the next logical step. Working across these major cities on opposite sides of Japan will make us even stronger.
The location is a breezy three minutes' walk from Tokyo's Ochanomizu JR station.
If you're not familiar with Tokyo's Ochanomizu area, it's something of a college town,
with Meiji University right in the middle. There are lots of bookstores there, and the whole area has a strong academic vibe. However, it's also just a stone's throw away from Akihabara, the heartland of Japan's gaming culture. Tokyo Station itself isn't very far away, either, and that means zipping back and forth between our Tokyo and Osaka offices via bullet train is a snap.
Naturally, PlatinumGames TOKYO is home to its own staff of talented game creators. But it also serves as a hub office for our Osaka-based staff when they travel to Tokyo for events and meetings. PlatinumGames TOKYO is brimming with new possibilities. If you're a game creator based around Tokyo and you're interested in working for PlatinumGames, be sure to check out our jobs page!
There's one more thing that April brings to PlatinumGames every year: New faces! We held our entrance ceremony for freshly-graduated new hires on April 1. Now, I say "ceremony," but it's not a stiff, formal affair by any stretch. It's a fun environment where the new hires each get a little time to make a casual presentation and show the whole company what they're all about. Typically, every member of PlatinumGames attends this ceremony to get to know their new teammates. Unfortunately, this year we had to limit attendance to avoid holding too large a gathering – but we recorded the proceedings for everyone to watch at their leisure!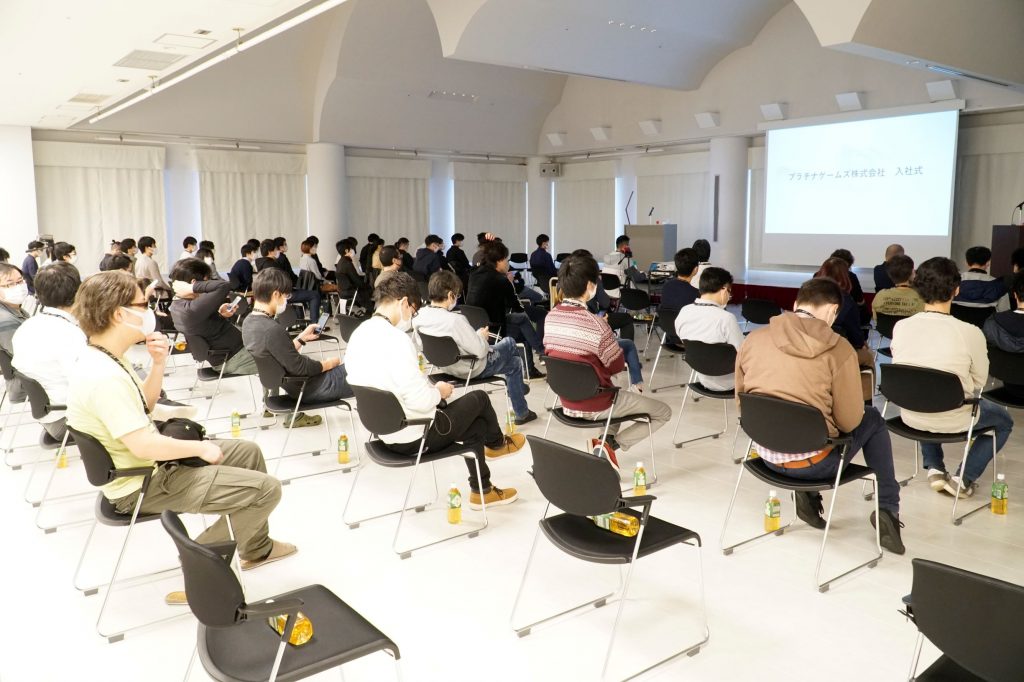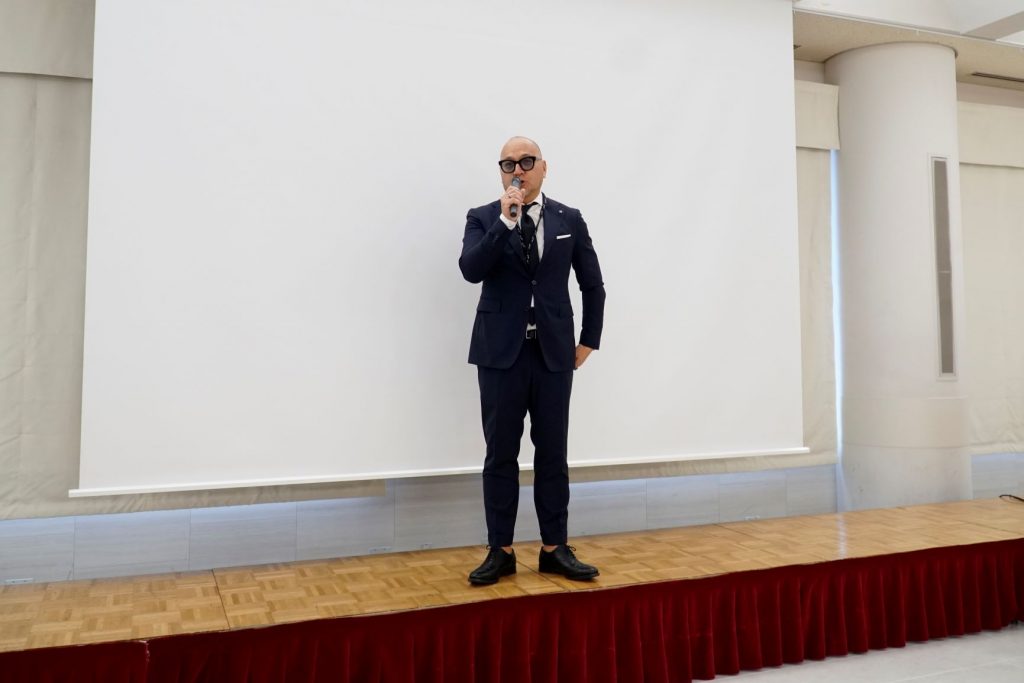 It's important to give our new faces a chance to introduce themselves to our existing staff, and share their special skills and interests. These introductions are the first part of building those lasting bonds that make us stronger as a studio.
This April, we've welcomed a whopping 33 new graduates – a new record for PlatinumGames! Talk about growth…
Each one of these 33 young creators joined PlatinumGames because they shared our passion for creating great video games. I'm looking forward to finding out what ideas they have in store to help make the world a little bit more fun.
With all the changes now facing PlatinumGames, I've come to think of 2020 as our second founding year. We're focusing on growing towards our next stage as a studio just as intensely as we did fourteen years ago, when we were a brand-new company. But even so, expanding and boosting our development power is ultimately just a means to an end. It's the results that you, as gamers, will see down the line that truly matter. We'll all keep working hard together to bring them to you.
Until next time!
Kenichi Sato
President and CEO

Kenichi Sato was born in Tokyo in 1962.
Though he began working for Isetan Department Stores in 1986, he changed careers to work in the video games industry in 1996 when he joined Sega Enterprises (now Sega) as a member of the Dreamcast marketing team. In 2000 he was brought on board as a founding member and general manager at Cavia (now Marvelous). In 2006, Sato founded ODD Ltd., the company that would later become PlatinumGames.
A key member of PlatinumGames from the very beginning, Sato stepped into the role of president and CEO in April 2016.
TAG