Hello! It's PlatinumGames president and CEO Kenichi Sato again. This August has been a hot one here in Japan. Whatever the weather in your part of the world, I hope you're all keeping cool!
The Japanese government has lifted the national state of emergency over the COVID-19 situation, but that doesn't mean the fight is over. In fact, as I write this on August 16, confirmed cases appear to be on the rise again. It's hard for a layman like me to make detailed predictions about situations like this, but about a month ago, I expected things would have taken a turn for the better by now. I'm sad to say that hasn't been the case. There's nobody who can be blamed for this unfortunate situation.
I think that moving forward through this situation is more complicated than a simple decision like "should we step on the gas, or on the brake?" When you run a company, every day is loaded with decisions to make, both great and small. But even the simplest decisions to make in pre-coronavirus days now demand much more nerve. As I've written before, PlatinumGames' stance for the time being is to make a cautious advance. We've enhanced the anti-coronavirus measures in our office as we move towards getting more of our employees who are still working at home back into the building. We're working hard to return to something like normal.
I'd like to tell you about some of the new measures we've implemented to keep our staff and guests safe.
Sanitizer Stations
The picture below shows the first thing you see when you visit PlatinumGames' Osaka office. We've installed a large alcohol hand sanitizer dispenser to ensure that everyone arrives with the cleanest hands possible. It sprays sanitizer automatically, so our guests don't even need to touch the dispenser.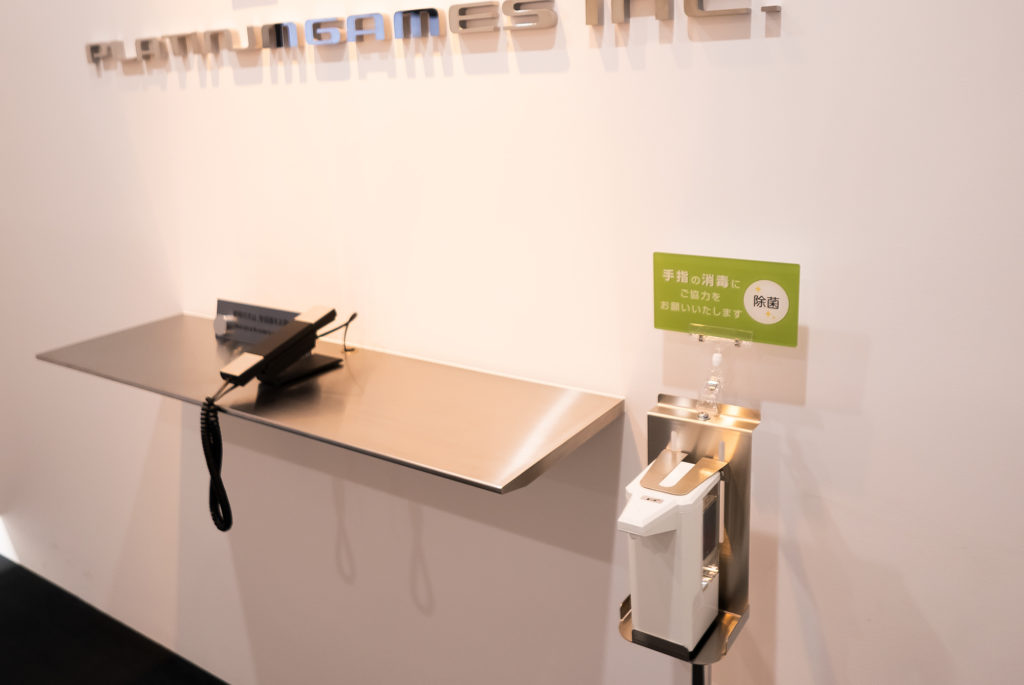 Naturally, we have similar sanitizer stations set up for employees, too. Here's one of them on the development floor.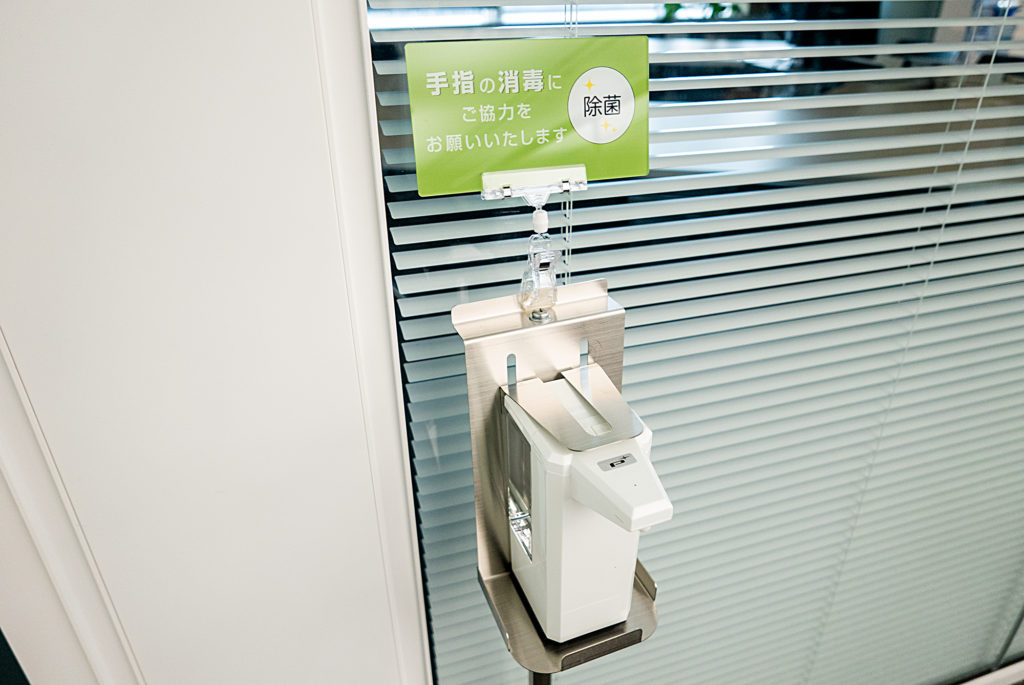 Safety Reminders
There are several precautions that our staff can take to protect themselves and others. Posters all around our office remind them to wash and sanitize their hands immediately upon arriving, and to always keep their face masks on while working, especially during meetings. It's hard to miss these posters, no matter where in our office you look.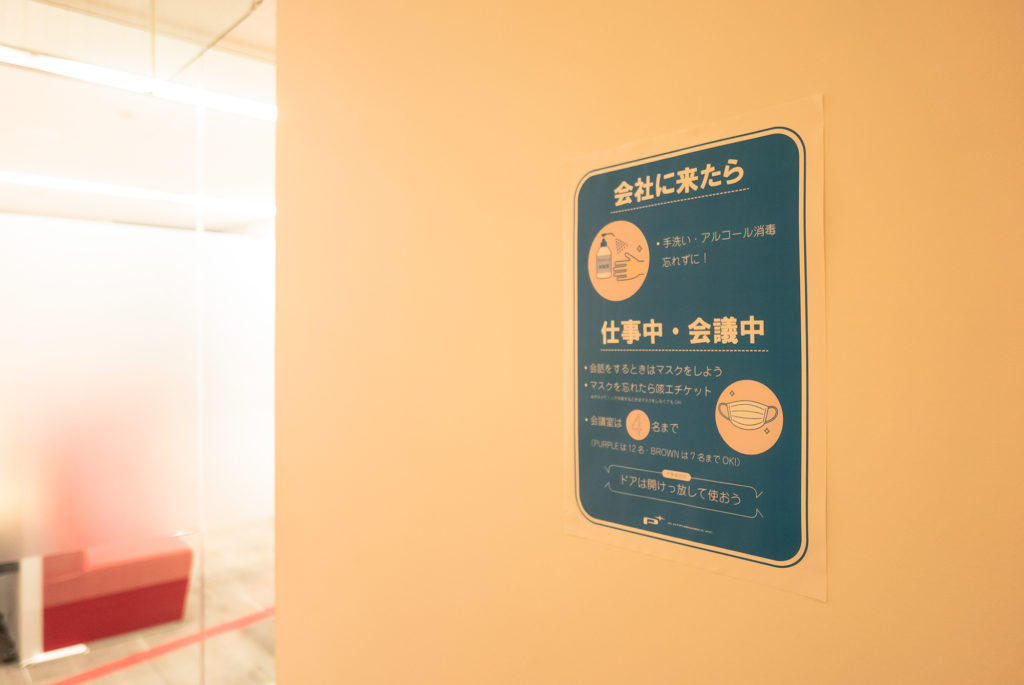 Making Space
Our offices have several meeting rooms where staff can get together to discuss their projects. It's a great environment for communication, but we have to watch out for overcrowding. We've left all the usual chairs in these rooms, but taped off and labeled several of them in bright red so that nobody sits in them. This helps us maintain a safe distance between employees and restricts the meeting rooms to about half their usual occupancy.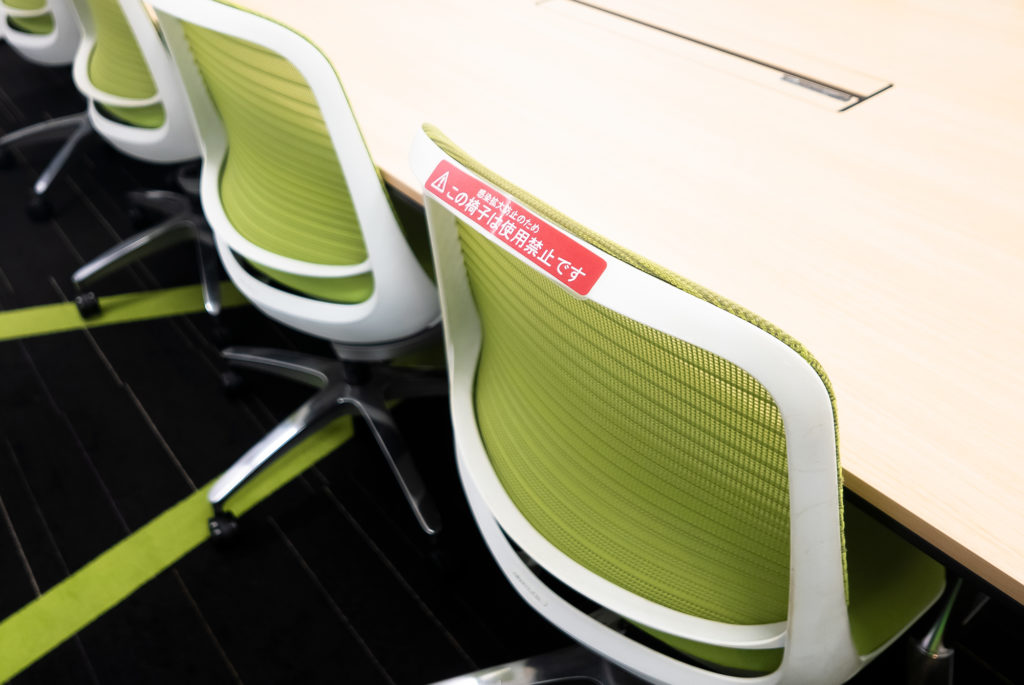 Unfortunately, I think we're in this for a long haul. I like a metaphor I heard from a TV personality, who likened the situation to baseball: We're at the top of the second inning, and coronavirus is at bat. Let's strike coronavirus out and take our at-bat to finish off the inning! PlatinumGames is ready to make the practical changes we need to take our next turn at the plate.
Thank you for reading! Until next time.
Kenichi Sato President and CEO
Kenichi Sato was born in Tokyo in 1962.
Though he began working for Isetan Department Stores in 1986, he changed careers to work in the video games industry in 1996 when he joined Sega Enterprises (now Sega) as a member of the Dreamcast marketing team. In 2000 he was brought on board as a founding member and general manager at Cavia (now Marvelous). In 2006, Sato founded ODD Ltd., the company that would later become PlatinumGames. A key member of PlatinumGames from the very beginning, Sato stepped into the role of president and CEO in April 2016.
TAG