Hi, this is Sato, CEO of PlatinumGames.
October's already here before we know it. Only three months left in the year. It feels like it started with news of COVID and may very well end with it. The whole year just feels like a blur. How has this year been for you?
The day I write this to you, October 1st, we had a small reception for all the graduates who will be joining the company next April. This year was a little different though, since everyone was in front of their PC signed into ZOOM.
If you were to liken work to marriage, this reception could be likened to the engagement ceremony. Typically there's a very distinct mood that goes along with these receptions. This year though, I was just screen-sharing a bunch of documents on my PC, so I'm not sure how the mood got across. We have a similar ceremony in April for new employees before they start their work; I hope I'll be able to hold that one face to face.
Anyway, onto this blog. First, let's talk about what's happening in the IT industry.
In August, many in the gaming community may have heard US president Trump gave an executive order to ban all business within the US with Tencent. Since it had been announced that we were in a capital alliance with Tencent at the start of this year, our fans might have wondered if this would have any effect on our business. The answer is, we are not affected by this in any direct way. We have a partnership and mutual trust with Tencent that would make us concerned for them upon hearing such news, but this has no effect on us directly. We will still continue to develop games for the whole world, the US included. But for those who were concerned, thank you for your concern in the matter.
Now, regarding something new we've been challenging ourselves with at PlatinumGames – we've opened up an official PlatinumGames online store on Amazon with official PlatinumGames merchandise. I've already talked a little about this here but take a look at our masks sometime if you're interested. We temporarily run out of certain t-shirt sizes from time to time, but we replace stock regularly. We're currently working on a new mask design that we'll have ready sometime in November as well, please look forward to it.
I've written on this blog before about how our evolution from a developer to a publisher is about how we can close the gap between us and our fans, and this store is definitely one part of that. We hope to keep on with this in spirit as we continue to tread forward.
(To our international fans: please note this store is exclusive to Amazon Japan and currently focused on those living in Japan. There are some regions outside of Japan where shipping is available, but be aware this will result in the goods needing to go through customs, with certain taxes being applied.
https://www.amazon.co.jp/gp/help/customer/display.html/ref=hp_left_v4_sib?ie=UTF8&language=en_US&nodeId=202024700 )
Another something we've been challenging ourselves with involves how we've been approaching recruitment amidst the current COVID climate.
As part of our recruitment effort, we regularly hold events we call a "one-day internship".
This basically invites game design students to our studio for a day to see what the job is like hands on.
We were hoping this year we might be able to hold our one-day internships at our home office in Osaka, as we usually do, so participants could get up and close with some of the various equipment we use for game development. However, with the spread of COVID, we're redesigned the structure this year to an online event where we talk about PlatinumGames and what it's like to work here, followed by a meet and greet from some of the team. We've been receiving a lot of applicants for the one-day internship since July, but still haven't had the chance to bring anyone into the studio yet unfortunately. The picture below is of the online meet and greet we had at the end of August.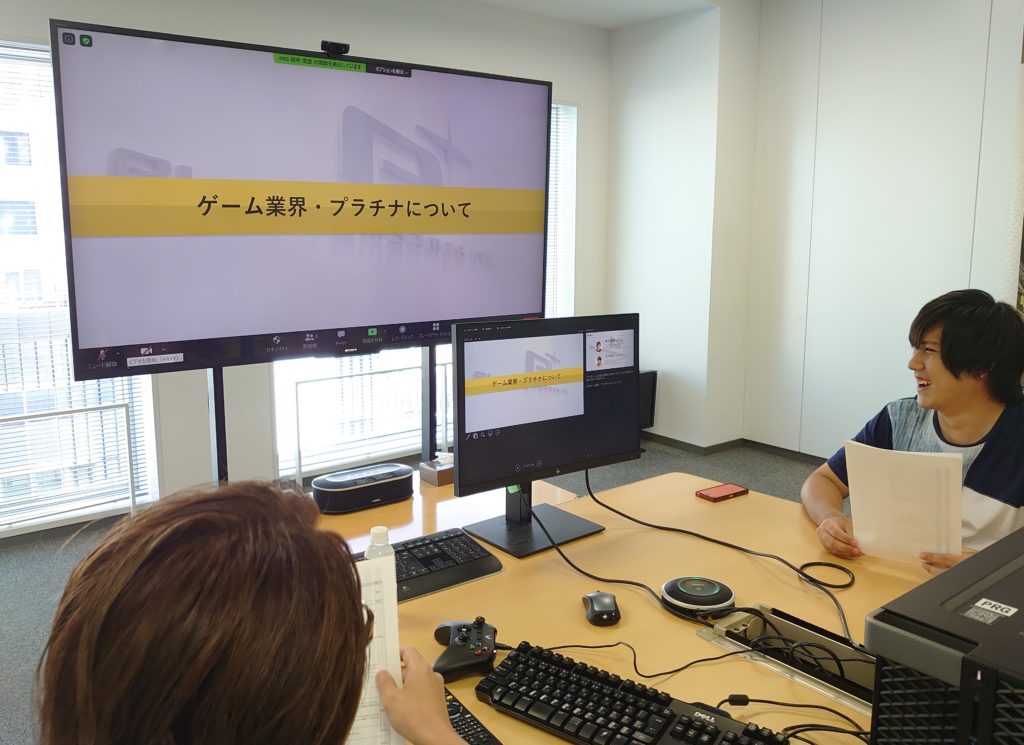 We are still planning one-day internships until February of next year, but the current climate shows no sign of slowing its pace. While holding the event online, we're still preparing for the possibility of being able to open up the office as well. We wish that day would come soon.
We'll continue to try new challenges awaiting that day.
See you again.
Kenichi Sato President and CEO
Kenichi Sato was born in Tokyo in 1962.
Though he began working for Isetan Department Stores in 1986, he changed careers to work in the video games industry in 1996 when he joined Sega Enterprises (now Sega) as a member of the Dreamcast marketing team. In 2000 he was brought on board as a founding member and general manager at Cavia (now Marvelous). In 2006, Sato founded ODD Ltd., the company that would later become PlatinumGames. A key member of PlatinumGames from the very beginning, Sato stepped into the role of president and CEO in April 2016.
TAG