Hi, this is Sato, president of PlatinumGames.
It's gotten very hot. Are you all doing well?
It's now July, and the Tokyo Olympics will be held without spectators and while Tokyo is under its fourth state of emergency, making the situation very hectic. To be honest, I was surprised by the unexpected combination of "state of emergency" and "holding an event", but it must mean that adjustments are being made right down to the wire.
There's something sad about sports with no spectators, but I am honestly happy that the event can be held. As someone involved in the entertainment industry, I have a strong interest bordering on admiration for the fields of sports and performing arts, and I feel like the results born out of fierce competition can be inspiring, maybe even trailblazing. I welcome holding of the Tokyo Olympics.
In Japan, July 7th is a holiday known as Tanabata, and at the Umeda Sky Building in Osaka where the PlatinumGames office is located, decorations have already gone up. These decorations go up every summer and will stay up past July 7th, until August.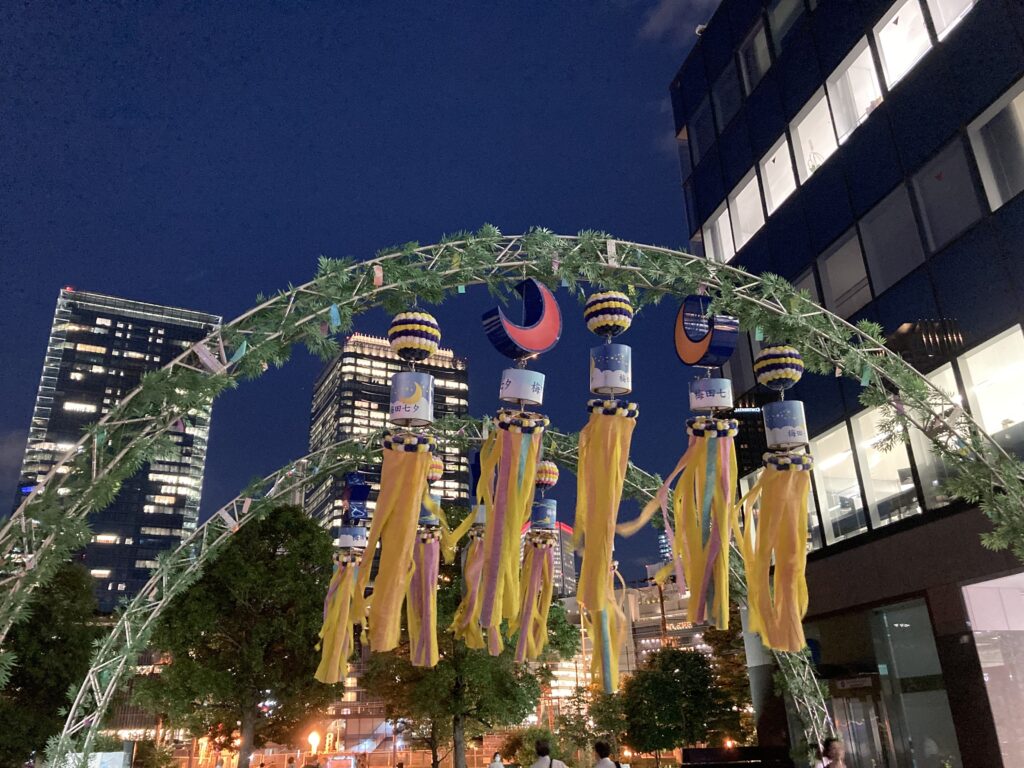 This is the 15th year the decorations have gone up. It has become a local tradition, and every year the decorations make me feel that summer is here. Previously, when they came down there would be a Bon Odori dance event but that may not happen this year. It didn't happen last year, and it's sad, but some things can't be helped.
Many events have had to change to deal with restrictions imposed by the corona virus; for example, being held without spectators, being done remotely, or not being done at all. Events are held for a purpose and cancelling them can't easily be done. Even with the corona virus as a factor, most events are planned while hoping for the best and with the intent to go ahead, judging as necessary what to do when the time comes. It's difficult to cancel, and difficult to hold events with corona virus concerns lingering. Companies and groups throughout Japan who plan events are struggling with these decisions. It must be very stressful. And the largest of these is an event held only once every four years, the Olympics.
That's why I'm showing appreciation that the Olympics are going forward to the government, the JOC, everyone managing the events and all the competing athletes, and I'll be cheering them on wholeheartedly while watching on TV at home.
PlatinumGames now operates from both our home office in Osaka, and our Tokyo office (PlatinumGames Tokyo). This was done with the intention of strengthening our development lines and making it easier for more people to join the team at a Tokyo location. Of course, we're looking forward to applicants from outside of Japan as well. While the eyes and ears of the world are turned toward Tokyo for the Olympics, we hope the creators of the world consider PlatinumGames Tokyo too. Join me! (Just a bit of promotion!)
Until next time.
Kenichi Sato President and CEO
Kenichi Sato was born in Tokyo in 1962.
Though he began working for Isetan Department Stores in 1986, he changed careers to work in the video games industry in 1996 when he joined Sega Enterprises (now Sega) as a member of the Dreamcast marketing team. In 2000 he was brought on board as a founding member and general manager at Cavia (now Marvelous). In 2006, Sato founded ODD Ltd., the company that would later become PlatinumGames. A key member of PlatinumGames from the very beginning, Sato stepped into the role of president and CEO in April 2016.
TAG