Hey again everyone! This is my third blog in a row so I'm sure you've remembered by now, but it's SOL CRESTA director Takanori Sato here.
By the time this blog has been posted, SOL CRESTA should be out! But if you're reading this, then maybe you're still not sure if you're going to buy it?
Yes, I think that must be it.
And that's why this time, in addition to the basic Arcade and Dramatic Modes, I'd like to introduce some of the other modes!
Once you know about these, you'll understand that the fun of SOL CRESTA isn't just the Arcade Mode, but there are also other deeply engaging ways to enjoy it too!
I'm going to talk about four modes today!
1) Caravan Mode!
2) Score Attack!
3) Sound Test!
4) Achievements!
So let's get started!!
CARAVAN MODE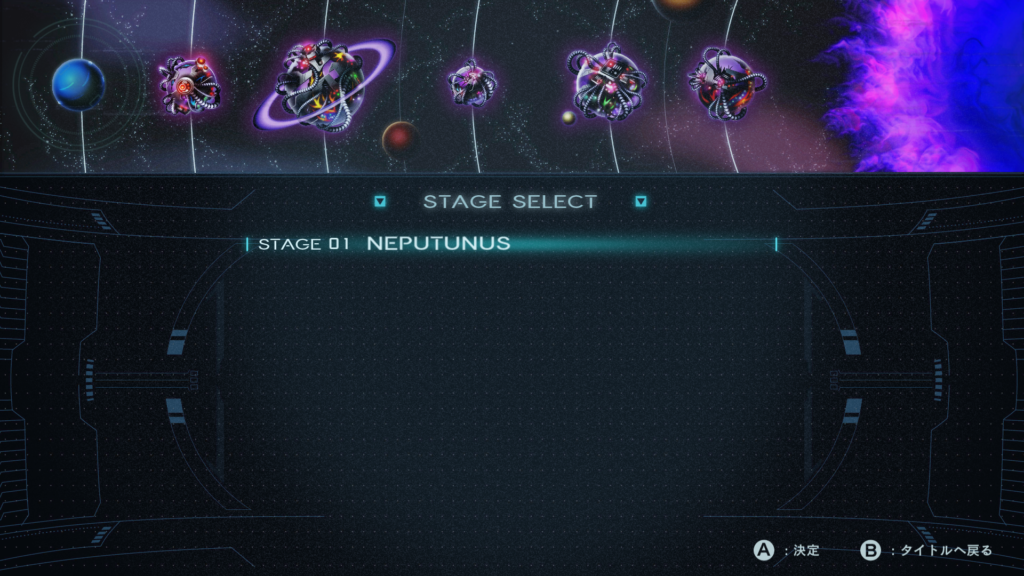 This is a familiar game mode for those well-acquainted with classic games. In this mode, you start from the first stage and have five minutes to rack up as many points as you can! And of course, you can upload those scores online and compete with players around the world!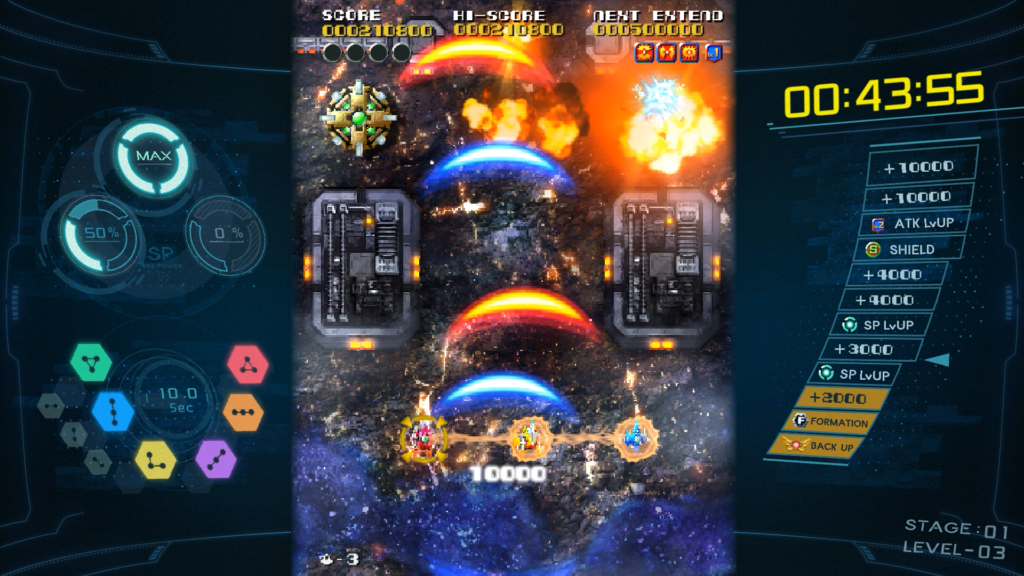 There's actually a trick to SOL CRESTA's Caravan Mode…
By playing the regular way, most players' time will run out during the boss battle on the first stage, but once you learn the trick, you'll be able to make it to stage 2!
That trick is… avoid splitting as much as you can!
When you split the Yamato, everything on screen slows down, including your progress through the stage. But the timer keeps going, so the longer you're split apart, the more time you lose.
Which means being able to split and dock at max speed is the key to getting high scores! Hone your skills and give it a try.
SCORE ATTACK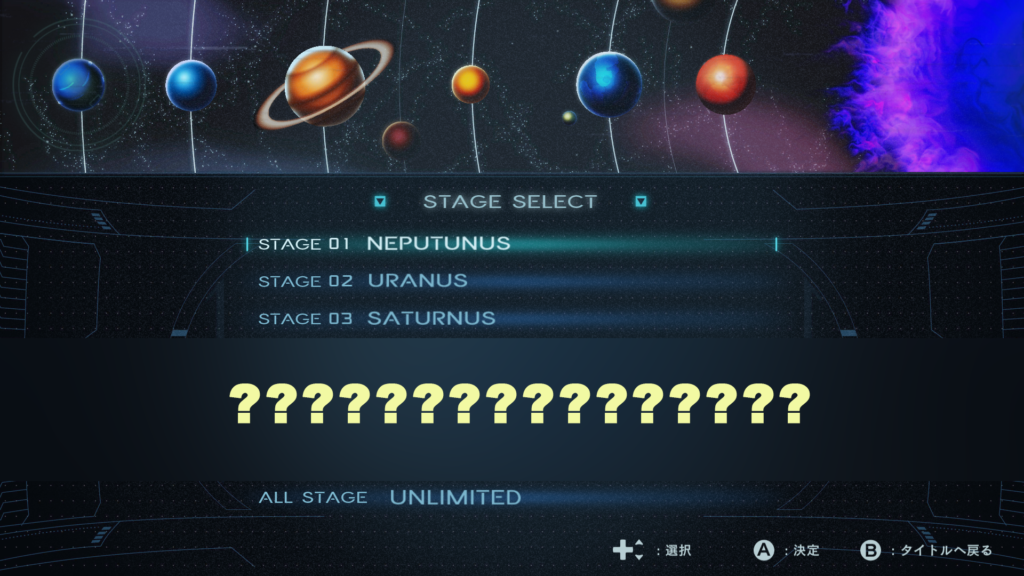 In this mode, you compete for high scores on the stage of your choice, playing it from start to finish!
It seems a bit similar to Caravan Mode, but in this mode, you can choose any stage and there's no time limit. But like Caravan Mode, you can upload scores and complete globally too!
The centerpiece of Score Attack is "Unlimited!" This setting lets you play through not just one stage, but all the stages racking up points. Starting from stage 1, you go through all the stages repeatedly until your last Yamato is down in a hellish marathon! And the difficulty goes up with each round, making it the ultimate test of skill! Make sure you're in for the long haul when you play this mode!
SOUND TEST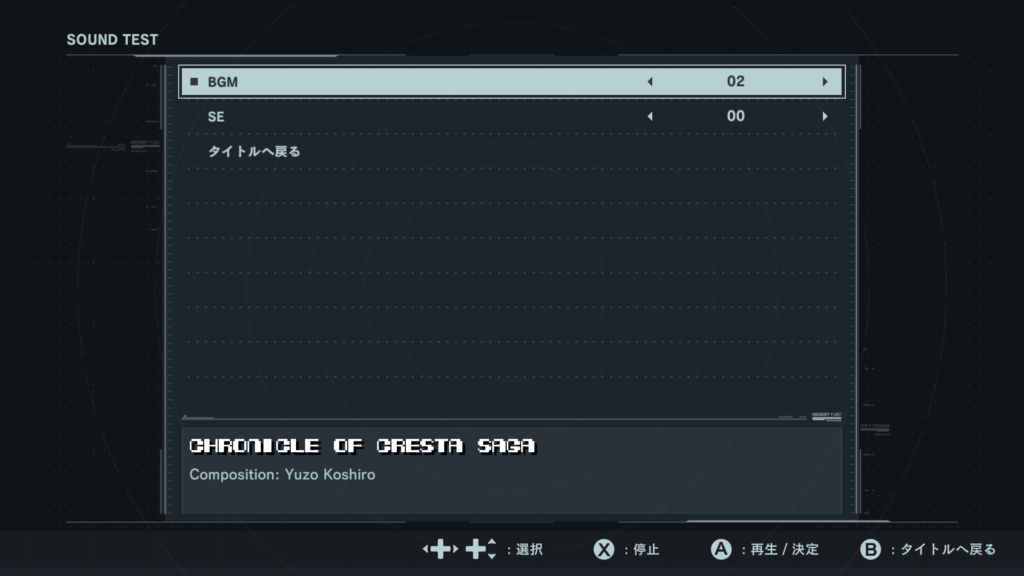 Now this is something to be happy about!
In Sound Test, you can listen to the Legendary Yuzo Koshiro's chiptune music to your heart's content!
This mode contains all of SOL CRESTA's music and sound effects, so after you've enjoyed them here be sure to pick up the soundtrack CD and get lost in the galaxy of Yuzo Koshiro tunes!
ACHIEVEMENTS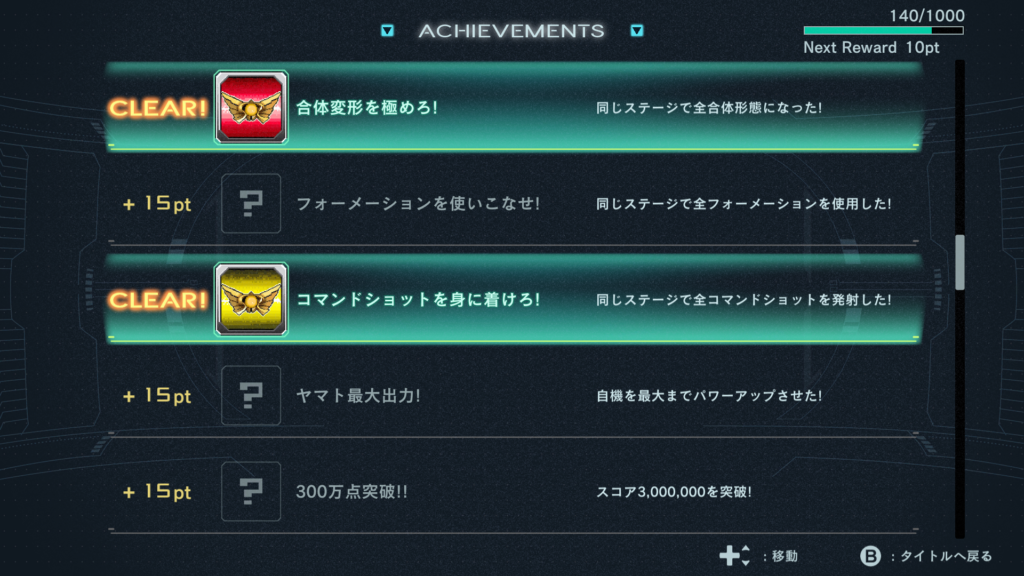 The last mode I want to show you is Achievements.
There are tons of challenges you can complete in SOL CRESTA, and the points you get for completing them unlock various bonuses as those points pile up!
In fact, the previously mentioned Caravan Mode, Score Attack, and Sound Test are all unlocked by earning set amounts of achievement points.
The achievements range from the very simple to the very challenging, with some secret achievements as well, so try your best to earn them all!
Heh heh… there are still a lot more things to unlock besides the modes I talked about this time, so be on the lookout for them!
So what did you think? Were you able to get a feel for some of the depth of SOL CRESTA?
It's a must-buy for you now, right?
That's all for now, then. See you next time!
SOL CRESTA
Release Date (Digital): February 22nd, 2022
Platforms: Nintendo Switch / PS4 / Steam
Price: $39.99/€39.99
Languages (Text): English, Japanese
Copyright: PlatinumGames Inc./HAMSTER Co.
SOL CRESTA Dramatic DLC
Release Date: February 22nd, 2022
Price: $10.00/€10.00
Language (Text): English, Japanese (Voice): Japanese only
SOL CRESTA Dramatic Edition (Bundle)
Release Date (Digital): February 22nd, 2022
Release Date (Physical): Autumn 2022
*Physical copies made to order by Limited Run Games.
*Pre-orders will be available from February 4th until March 20th.
Price (Digital): $49.99/€49.99
Price (Physical): $49.99
Platforms (Digital) Nintendo Switch / PS4 / Steam
Platforms (Physical) Nintendo Switch / PS4
Language (Text): English, Japanese (Voice): Japanese
*Contains both base game and Dramatic DLC
SOL CRESTA Dramatic Edition Collector's Package(Nintendo Switch / PS4)
Release Date: Autumn 2022
*Collector's Package made to order by Limited Run Games.
*Pre-orders will be available from February 4th until March 20th.
Price: $129.99
Includes: Dramatic Edition, outer box, mini arcade video player, 3 acrylic figures, 7 postcards, 2 Sol Medals, 1 pin badge, 1 metal ship figurine and the complete soundtrack on 2 CDs.
---
Takanori Sato
After joining PlatinumGames in 2010, he worked as a game designer on Anarchy Reigns, Metal Gear Rising: Revengeance, and The Wonderful 101 and later went on to direct The Wonderful 101: Remastered, PlatinumGames's first self-published title. His latest work as a director is Sol Cresta, the first title in PlatinumGames' Neo-Classic Arcade series.

TAG