*English subtitles available
Japanese interview originally posted on Famitsu.com. See the original article here.
Translated and reprinted with the permission of KADOKAWA Game Linkage Inc.
Former Nintendo Managing Director Takao Yamane joins PlatinumGames as a new vice president. In this exclusive interview, we speak with him and fellow PlatinumGames executives Atsushi Inaba and Hideki Kamiya about the evolution and ambitions of PlatinumGames.
In January of 2022, Atsushi Inaba became the president of PlatinumGames and instituted a new corporate structure. In February, they released their first fully self-published title for consoles, the all-new SOL CRESTA. This was followed in March by BABYLON'S FALL, a Square Enix release developed by PlatinumGames. They are currently at work on the long-awaited Bayonetta 3, published by Nintendo.
I received word that Takao Yamane, former Managing Director and developer liaison at Nintendo, had joined PlatinumGames as vice president during this busy time. In this interview, I spoke with Yamane, PlatinumGames President Atsushi Inaba, and Vice President and  Chief Game Designer Hideki Kamiya about the new structure of PlatinumGames and a host of other topics.
Interviewer: Katsuhiko Hayashi (Famitsu Group)
Atsushi Inaba
PlatinumGames President/Studio Head. A member from its founding, he became president of PlatinumGames in 2022. As the current studio head, he supervises the development of all titles.
Hideki Kamiya
PlatinumGames Vice President/Chief Game Designer. Director of Okami and several other titles during his tenure at Capcom, he later directed many popular PlatinumGames titles such as Bayonetta, and is seen as the creative face of the company.
Takao Yamane
PlatinumGames Vice President/Chief Business Officer. After a 27-year career in Nintendo's business division, he left the company and joined PlatinumGames as a vice president. Using the knowledge he has cultivated thus far, he will play a part in the evolution of PlatinumGames.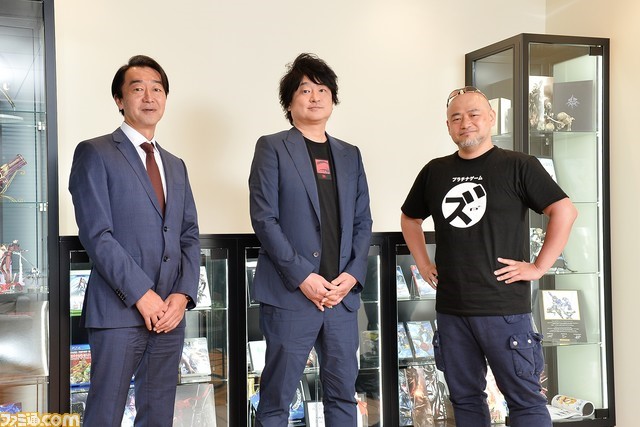 PlatinumGames' new structure and the changes to come
---
―With your being someone responsible for negotiations with developers during your time with Nintendo, and especially with your tireless efforts from the launch of the Nintendo Switch, I was quite surprised to hear that you were joining PlatinumGames, and I'm sure many others in the industry were too. First, please tell me how that came to be.
Yamane: The main reason was that, during my 27 years at my last position, I had just turned 50. Feeling like that was a turning point in my life, I thought, "I'd like to take on another challenge." Just when I was debating where I should do that, and whether it was all right to stay at the same company, Inaba said, "In that case, let's do it together." What he suggested seemed like something very substantial. I thought, "If I'm going to take on a new challenge, there's no better place," and I joined PlatinumGames.
―So it's not that you were scouted or left because of any dissatisfaction, right?
Yamane: No, that's not the case at all. My resignation was very smooth. [laughs] My desire to take on something new and what PlatinumGames was aiming to do lined up perfectly. And to be perfectly honest, I felt like my last company would be perfectly fine without me. However, I felt like Inaba and Kamiya would need me for what they plan to do with PlatinumGames.
―I see. Mr. Inaba, Mr. Kamiya, had you already been friendly with Mr. Yamane?
Kamiya: I didn't have any direct connection with him, but heard about him from Inaba now and then, so it wasn't like I didn't know him at all.
Inaba: I first met him properly around 2006. When we were releasing the European version of a certain title, I happened to run into Yamane and there was a mysterious rapport between us. We happen to be the same age too. So even though we worked for different companies, we continued to have a friendship leading up to today.
Yamane: I met up with Inaba regularly, and I think we started to discuss what we're doing now at the end of 2021.
Inaba: Right. Anytime we'd see each other, we'd talk about how things were going lately and offer advice, but every time I could see that Yamane's uncertainty seemed to be growing. Of course, since we worked for different companies there were limits to what we could discuss, but as a friend lending an ear, I said "If that's the case, then how about coming to PlatinumGames?"
―At the beginning of 2022, you became the new president. I'm sure that allowed you to decide a lot of things, but why exactly did you decide on Mr. Yamane?
Inaba: To push PlatinumGames to the next level, I became the president and adopted a new structure, but I worried about what to do after that. PlatinumGames had always focused solely on development and hadn't done any publishing, so when it came to wanting to sell our own games it wasn't just that we were missing pieces, but like half of the body was missing. Just when I was thinking about that, I got advice from Yamane. There really was a peculiar connection, with Yamane's consideration of what to take on in the next stage of his life lining up with the timing of how Kamiya and I wanted to evolve PlatinumGames. And aside from Yamane, the past few months have seen our new structure being strengthened even without any specific planning, and I almost feel like some invisible force is supporting us on our path to become publishers.
―With Mr. Inaba at the top and Mr. Kamiya and Mr. Yamane as vice presidents, what roles will you each play moving forward?
Inaba: It's all very simple now. My position as studio head overseeing development hasn't changed with my becoming president. Kamiya, as you know, manages the quality of our titles as both creator and vice president. Until now, it was the case that once we finished making a game our work was done, but if we're going to be publishers, we have to think about what comes after and as a business, do all we can to make sure what we've created reaches our customers. That's where Yamane comes in as the manager of the business side. With that, everything balances well.
―Your roles are all distinct, but all essential.
Inaba: There are no problems now, but I'm sure Kamiya and Yamane will have some arguments later. [laughs] They represent the creative and business sides respectively, after all. I'm the one who has to keep them in line. [laughs]
―[laughs] You already spoke about this a bit before, but aside from Mr. Yamane's inclusion, is the strengthening of your business structure proceeding?
Inaba: It's really moving along. For one, there's our publishing business. Of course, while we also want young staff, we don't have publishing experience so we can't just leave it to them. On the other hand, while we may want experienced veterans, they're often already in positions suited to their abilities and not easily recruited. However, as was the case with Yamane and it really is mysterious, it just so happened that many veterans left their companies or were considering doing so, and that timing happened to line up. So our sales and marketing departments are also being shored up piece by piece.
Yamane: However, we still don't have every piece we need. The work is still underway.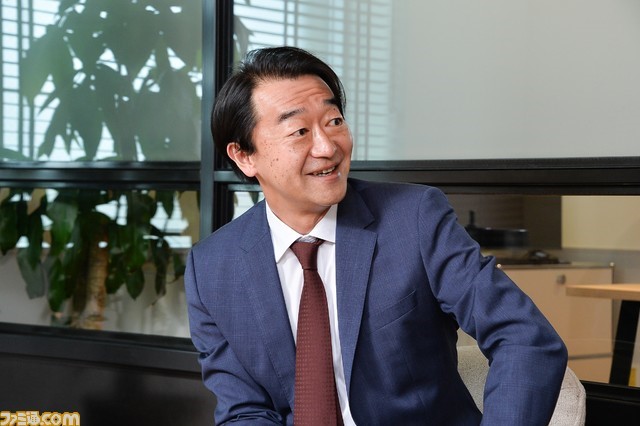 PlatinumGames as seen by Mr. Yamane
---
―Now several months after joining the company, how do you view PlatinumGames?
Yamane: First of all, I can safely say that PlatinumGames isn't a sweatshop. [laughs] Everything is above board, and the atmosphere in the office is positive with everyone working hard on development. Of course, and while this may be common at most development studios, the air conditioner temperature is very low and it's cold. [laughs]
―Oh, is that because of all the heat from the development machines?
Kamiya: I wonder… we've only ever been developers, so I don't know. [laughs] Is it really that cold?
Yamane: But everyone's dressed lightly while they're working, so I thought, "They must be okay with the cold." Also, Inaba and Kamiya are even more fearsome to the staff than I thought. [laughs]. I saw this at my last position too, but when it comes to creators, on the one hand you think, "Of course they have to probe and poke that much to assure quality," but you also think, "Do you really have to do that much?!" That's how often you hear harsh feedback flying. These two are really uncompromising. They should be, and it's one of the things that keeps PlatinumGames' quality level high. It's just kind of scary to see from the sidelines. [laughs]
Inaba: No no, I think Kamiya is scary too.
Kamiya: No no no, I think Inaba is scary too.
―[Laughs]
Inaba: Just to make sure there are no misunderstandings, there's no getting angry or yelling, just pointing things out.
Yamane: Yes, very sharply, like a katana. [laughs]
Kamiya: You just see Inaba slicing through waves of employees…
Inaba: Kamiya too. [laughs] I consider that division of roles as well. Until recently, Kamiya operated as a director, supervising only the titles he was involved with directly, but he wants to look over all the titles. This is a big help to both me and the company so now, as chief game designer, he has taken on a role where he can be freely involved with all of our titles. His wealth of experience places him among rare company in the industry, so other creators listen to his opinions. Listening to him will increase quality and light the way forward. That apparently seems scary to Yamane. [laughs]
Kamiya: In my experiences, I've seen development go smoothly, but I've also seen many instances where it lost direction or fell into a slump and have experienced that myself. I give feedback based on those experiences to projects having a hard time. Not so much "Do this and it will improve," but more "If you do that it won't work, so try this instead." By giving feedback like that, I try to improve the quality of the project as a whole. I do it very, very, gently… I feel.
Inaba: Seriously though, it's tough for everyone near the end of development. It's normal to think, "Isn't this enough as is?" But creators take several years to make one game. If you think about it in terms of how many games you can create in one lifetime, there's a limit. If you look back over the years and think, "If only I hadn't given in, if only I had done this," it's tragic. With that in mind, we advise everyone to give it their all until the end and avoid having that happen.
―So you really only crack the whip when necessary.
Kamiya: The only thing is, and this is a personal worry, but maybe because I've been in the industry so long, it's hard to work in an environment where I say something and everyone's like, "The word of Lord Kamiya has been handed down!" [laughs] So I try to stay close with the staff in the trenches and exchange opinions frankly.
Inaba: But you are a vice president, so the staff probably still places a lot of weight on what you say. [laughs]
―Amidst all that, Mr. Yamane, I believe you're engaged with establishing the business department. Is that proving to be a challenge?
Yamane: The department itself is already established, but for the purposes of self-publishing and promoting Project G.G. (WIP) and other titles globally, our staffing needs are far from being met. It's simply not possible with the numbers we have now, so I'm building an organization capable of tangible action from the ground up. That's considerably more than a challenge. It's more like, "Are you serious?" [laughs]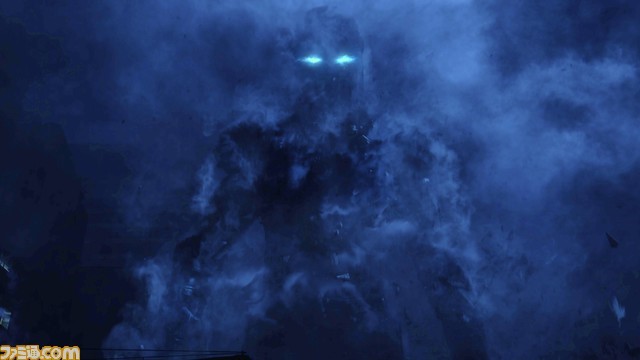 Project G.G.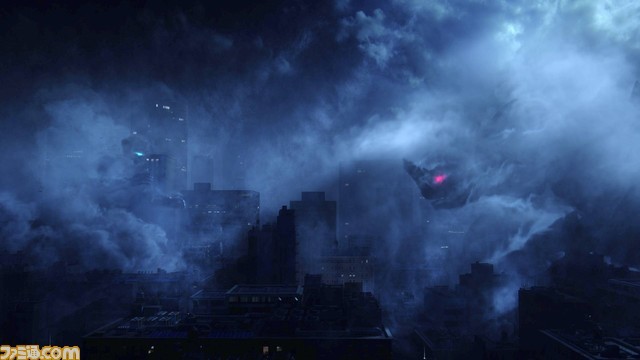 Project G.G.
―Was the appeal of taking on something like that one of the reasons you joined PlatinumGames?
Yamane: That's right. It's the kind of enjoyable experience you won't easily find elsewhere. I'm in on the ground floor of building the structure to turn one of the world's leading developers into a publisher. And more than anything, when I saw the plan for Project G.G. I was absolutely sure it would be a fun game and was trusted with self-publishing it on top of that. With confidence in the project and confident that the right team will make sure it sells, I'm putting a plan together to see how far we can take it. For that purpose, we need more than just development staff to join PlatinumGames. Desperately. [laughs]
Inaba: To be clear, I've been saying this since before Yamane joined. "PlatinumGames is missing this, we can't do that, we're not good at this, this is no good." There's no point in putting up a front, so I've been honest. But after Yamane joined, he said, "I heard you needed things… but this is worse than I thought." [laughs]
―You really are starting almost from scratch…
As for publishing, you're currently publishing some of your titles digitally while doing development work for other companies. I would imagine that moving forward you'll be putting more energy into publishing, but why did you want to get into publishing in the first place?
Inaba: Occasionally people say that PlatinumGames is company that exists to make what Kamiya wants to make. And it's not just fans that say that—sometimes staff says it too. But neither Kamiya nor I feel that way. Of course, I'm sure Kamiya wants to make what he wants to make.
What we want is to give players new experiences and ways to play. We've been able to do that to some extent thus far, but as developers, the decisions about how to grow the games we've made have been made by publishers, without direct involvement from us about how to sell them or how to please fans. Although we may want to make sequels, the final decision isn't ours to make.
Of course, there's nothing that can be done about that, but we want to become able to take responsibility for growing the games that we've made and hold dear, and proudly proclaim, "We did this." It's something I've talked about with Kamiya many times. "Self-publishing" may sound like something big, but it starts with that desire. However, if we're going to do it we want to do it on as grand a scale as possible, which of course requires operation on a global scale. In that case, we need to grow our publishing department, which we're currently in the process of doing.
―One thing I'd like to confirm is that you plan to sell Project G.G. not just digitally, but also with a worldwide physical version?
Yamane: That's right. While nothing is set in stone at this point and there are a number of ways to go about it, we want to control everything including sales, and release it globally.
Inaba: You just laid it out. [laughs]
Yamane: There's no turning back now. [laughs]
―So while you continue with development, PlatinumGames also plans to become a physical publisher. That's surprising, but also very exciting! As you work toward selling your own games, about how many titles are you currently working on?
Inaba: As developers, we're currently working on Bayonetta 3, which has already been announced, for Nintendo. There are also some other unannounced titles, with some of those in the home stretch while others have only just begun. Those announcements have to come from the publishers, so there's nothing we can say at the moment.
As for titles we plan to publish, first there's Project G.G., which we've announced. We're also working on launching another new original IP. Both are large-scale projects, so PlatinumGames really needs more people. [smirks]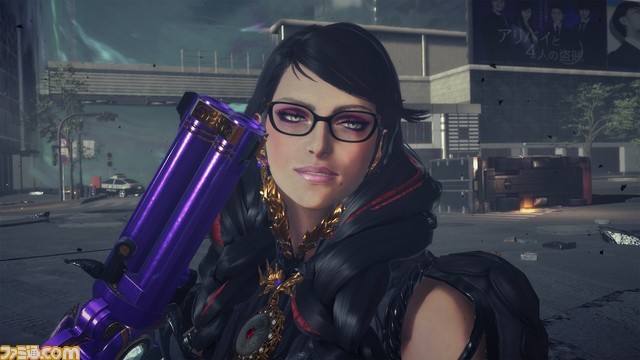 Bayonetta 3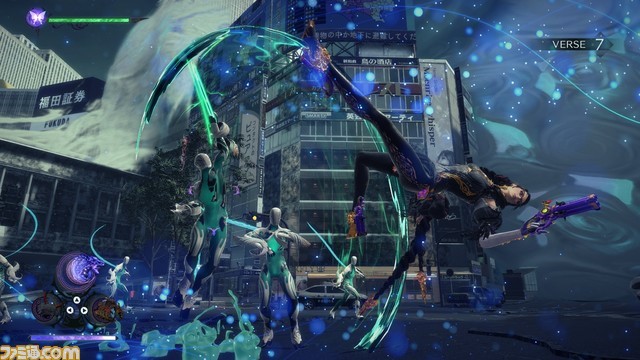 Bayonetta 3
―In a previous interview, you said that the current staff size is around 300 people, and that you were aiming for 500. Does that mean that's not the final target?
Inaba: Our final target is to have as many people as we can, but our target for the near future is to have over 1,000 people. 500 is closer to the number that would allow us to operate with no problems for the time being.
―1,000 people would make you one of the largest studios in the country!
Inaba: It feels unreal to me too. [laughs] I think of it as a likely eventuality. Both Kamiya and I have a lot that we want to do, and we talk about it every week. It's just that there are too many things, and we haven't been able to get through them all. [smirks]
Kamiya: Inaba's ambitions are just too huge! [laughs] Even I get surprised when I hear what he has to say each week. I can't tell you, but if you heard it, you'd all be shocked. If we really wanted to get it done, 1,000 people would just be the starting line. We actually don't have quite enough people for the titles we're working on now, and there's still more to come
―It sounds like you're having planning meetings weekly.
Inaba: That's right. Sometimes it's just Kamiya and I, and sometimes others participate too.
Kamiya: Our stock of ideas is insane, and including both large and small projects, there's a lot. Some have actual proposal documents, others are just rough drafts, and still other are just ideas that have gone no further than discussion. Some aren't even full plans, just mechanics that Inaba wants to try. If we had the staff we'd be able to try these out, but there's no leeway for that right now. We're thinking of new ways to play, but can only stockpile them…
―PlatinumGames' main studio is in Osaka, with a Tokyo Studio as well, right? Do you want to increase staff at both studios?
Inaba: We do, but we also don't plant to stop with just Osaka and Tokyo. Game creators gather in all kinds of places, like Hakata or Sapporo for example. We don't have studios in these other places right now, but we'd like to build more.
―Oh! Is that something that's already underway?
Inaba: We're already looking into it, but none of the staff knows. [laughs] Because of COVID-19, working from home has become more common and some improvements to game development have come about because of that. Previously the work done at each studio needed to be handled completely on site, but now you can connect via video call at any time, so there's no need to separate into Osaka and Tokyo teams. For example, the Tokyo studio can take what they need from Osaka, and things can be handled more flexibly. With that in mind, we can go to where the qualified people are instead of having them come to Osaka or Tokyo, and we're moving ahead with that.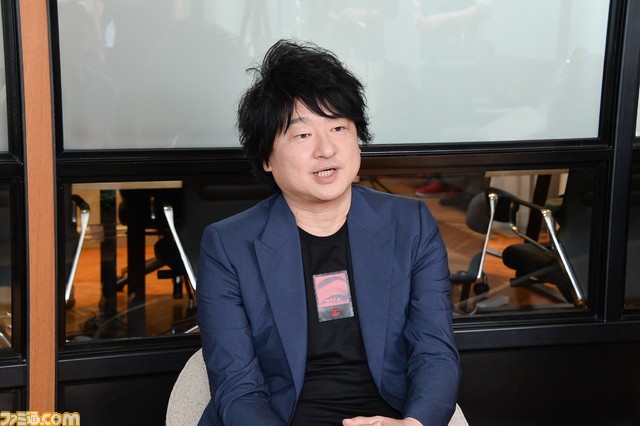 More news on Project G.G. next year!
---
―Tell me about Project G.G. Right now there's only the teaser trailer, but how is development going?
Kamiya: I can't tell you anything concrete. [smirks] I can only speak conceptually, but with my ideas alone, the scope of Project G.G. would have been smaller than it is now. Project G.G. started with the core of the game that I presented. That core is included in the teaser trailer. To put it another way, I only thought of what's in that trailer.
The growth outward from that core has a lot to do with Inaba's ambitions. Inaba had the idea of not just making a game, but of making a game that would be representative of the kind of development PlatinumGames does moving forward. Hearing that idea, I realized that would be fleshing out the core of Project G.G. would work to make that idea a reality. I personally never thought it would become a game like this. The only other thing I can guarantee is that the Shiba Inu from the trailer is still in the game. [laughs]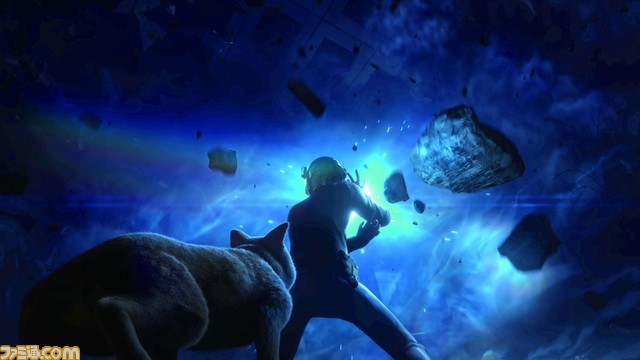 Inaba: The proposal document that Kamiya first presented had animation in it as well. The animation just expressed the game's core, but the proposal was surprisingly well made. Proposal documents usually try to puff up the idea and describe how fun it is with words, but with this one you didn't need any words because just watching the animation made it clear with one shot that the game would be fun. The core was already mostly complete.
―Mr. Kamiya, is the game content action-focused like games you've made before?
Kamiya: Other titles thus far have also had gameplay cores. For example, "Unite Build" in The Wonderful 101 or "Witch Time" in Bayonetta. You can get a hint of a similar gameplay core system in the teaser trailer for Project G.G. If we proceeded with development with that as it was, it would have probably ended up as another pure action game. However, with influence from Inaba's ambitions, the game grew to be much more. As a result, it's turning into something much more than just a simple action game.
Inaba: From that initial planning phase, it was something that could have been a small game or a large game. We decided from the start that it would be the first PlatinumGames original IP by Kamiya that we made, but in terms of the company's vitality, to me it looked like it would end up a small game if we made it as things were. From that point, there were things like our capital partnership with Tencent that let us consider making it on a larger scale and more fun. However, the core ideas behind the gameplay haven't changed from the start.
Kamiya: The idea itself may have been perfect in terms of increasing the game's scale. Viewtiful Joe, one of the games I made previously, was an action game in which you used movie visual-based "VFX Powers" to fight, and we focused on expressing those effects, resulting in a simple, side-scrolling action game. You can probably tell from the Project G.G. teaser trailer, but we want to make this a game with impact. I think that increasing the scale of the game lined up perfectly with that desire.
―We have yet to hear any additional news about it, but when do you think we'll be able to see an overall picture of the game?
Yamane: Hmm… to come right out with it, I suppose I should say, "See you next June in Los Angeles!"
Inaba: You just laid it out again.
―By "Los Angeles" you mean E3 or maybe Summer Game Fest…?
Yamane: Or to turn it around, there won't be any news until then. Stay tuned for an update.
Inaba: Laying it out means we just have to race toward that goal. Right, Kamiya?
Kamiya: Oh… if you say that… we can't be late… right? [strained smile] Right now, we're working on getting things in order, including the parts that we're expanding, so the current version is more of something intended for internal feedback than for showing outside. Once we ourselves have an idea of what the whole thing looks like, we'll have to  clean it and make it presentable to everyone, so that's the goal we're running toward right now.
―Please make sure you're on time. [laughs]
Kamiya: Personally, no matter how much the release date is delayed I don't ca-uh, it's no problem.
Yamane: You started to say "I don't care" didn't you?! [laughs]
Kamiya: What I mean is that I'd like to keep making improvements if I can. [laughs] But of course, as a company we have to keep the larger plan in mind, so I'll do my best to make the deadlines.
Yamane: But there is one thing I want to make clear; when it comes to sales and development, development takes priority. Even if I come up with a schedule and think, "This will be a hit," if Kamiya says "Sorry, but development is running six months late," I'll just smile and say, "I understand."
Kamiya: What?! Really…?
Yamane: It's something that happened at my last position, and I'm used to it. I worried about it when I was younger, but I no longer get angry or think, "Why are you going to be delayed!" If I hear the news, I'll just come up with a new plan.
Kamiya: But does that mean your smile will be a scary one…?
Yamane: No, when you work together with the development team from the early stages, you get a nose for these things. "This is probably going to get delayed," "They seem like they want to say something," things like that. When you have something of an understanding of the situation, you can't just say, "We're going to have a problem if you don't get it done by this date!"
Kamiya: We'll have to have a nice, long, open discussion about that… just please be gentle…
Inaba: You should ask for the recording of what he just said. You can use it later as evidence! [laughs]
―[Laughs] Next, I'd like to ask about the NEO-CLASSIC ARCADE series. Will you continue to renew old IP like you did with SOL CRESTA?
Kamiya: The aim of the NEO-CLASSIC ARCADE series isn't just to revive old IP. With this series, our goal is smaller-scale development that focuses our efforts on core gameplay while having development staff experience a speedy production cycle, and creates authentic gameplay experiences for players to enjoy.
As chief game designer I look at a lot of titles, and what's important to me is not making the game I envision but making sure each director utilizes their own creativity. When I give advice, I don't tell them what I would do, but try to get them to express their own individuality to realize what it is they're trying to accomplish. I want them to enjoy making their own games as creators.
―So one aspect of this project is devoted to training staff as well.
Kamiya: On large-scale projects that take a lot of time and involve a lot of people, the director's responsibilities are proportionately large, making it hard to be adventurous or even for some people to be given a chance to direct.
But looking back at my own history, in my 20s I was given the chance to direct Resident Evil 2. I want to give people these kinds of chances so we can train more creators too. I want to work with the younger staff on games that, while smaller in scope, are still packed with fun and bursting with creativity, not only with the NEO-CLASSIC ARCADE series but with other projects as well.
―Mr. Yamane, from a business standpoint how do you view SOL CRESTA?
Yamane: I wish I could have joined the company before it was released! While there are a lot of people playing it right now, I'm confident that I could have made it an even bigger hit if I had been here. Basically, at PlatinumGames the development side leads. It's like, "The game is done! Now sell it please!" [laughs] But with games, you have to consider when to release them, how to release them, and how to support that release, among other things. Had that been done right, I think it would have sold more.
Inaba: Exactly. We didn't have that, and we really wanted that point of view.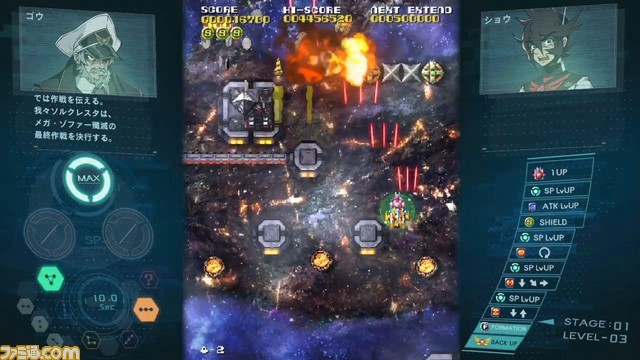 SOL CRESTA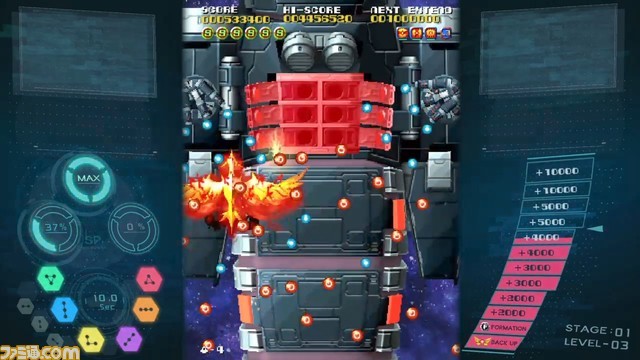 SOL CRESTA
―With Mr. Yamane having joined the company, it seems like you'll be able to accomplish things more easily moving forward.
Inaba: Right now, the company is on the brink of change, so it can be very difficult to get things done. Especially when it comes to developers and publishers, the lines of thought and ways of utilizing staff are different. Developers take on jobs considering the next several years, meaning the staff is locked in for that period of time.
However, with publishers, there's more flexibility regarding changing roles. Right now, were in the midst of that changeover, so the company isn't exactly performing the way we envision. With a larger company and more staff, we'll have more methods to consider how to release games, as Yamane mentioned.
―Earlier, you mentioned your 2020 capital partnership with Tencent Holdings. At the time you said that it wouldn't have any effect on the independence of PlatinumGames, but is that still the case?
Inaba: There's no change. Tencent's policy is to provide capital without giving orders. They've been instrumental in making sure we're able to make what we need to make and what we want to make to the fullest, and our relationship has been extremely fair. The believe in our ability to create new IP, and we do our best to meet their expectations.
―Then they don't have any requests for the titles you're making?
Inaba: They don't. Occasionally, they'll share information about trends or something like that, but it's more like cooperation than feedback.
―I see. Finally, could I ask each of you for a message to the fans from your respective positions?
Kamiya: Since we changed our structure, there have been a lot of changes at PlatinumGames. For the purposes of taking things on aggressively, I think Inaba is best suited to be at the top. Meanwhile, when I create a project, as the director I focus on giving the producer a potent weapon to take to the sales battlefield and do my best to create a high-quality product. I want to work hard at development to ensure that all PlatinumGames titles are of that quality level.
Also, over the past few decades of working with Inaba, I've often felt that Inaba was looking for a wise tactician. Having Yamane with us is very reassuring, and I think a good relationship has been formed between the development and business sides. Moving forward I'd like to exchange opinions openly to create the best possible result for PlatinumGames.
Yamane: I'm very interested in how people will view me because of this interview. I've never been in the foreground before, and I'm curious about how I'll be seen alongside Inaba and Kamiya.
The task I've been given is kind of like a time bomb. I'm here to do the footwork to make sure that Project G.G. is released, and that people all over the world play it. The timer attached to this self-publishing bomb is still ticking, and every day is busy but also fulfilling. The reason I'm able to work so hard is that Inaba and Kamiya's Project G.G. is really something special. If there's anyone out there who wants to experience this feeling too, please join us at PlatinumGames. I'm ending on a recruitment note, but please stay tuned for more information!
Inaba: This is something I always say, but I want PlatinumGames to keep being the kind of company where you have no idea what we'll do from one day to the next. We've decided to always be doing something that may shock you or make you smirk, but it will always get a response like "Look at what they've done!"
It's gotten gradually more difficult to actually do that in the game industry. When big games are being made, a lot of money is being put to work and people tend to avoid risk in favor of safety, making it harder to include any strong individuality. You often hear about works failing because of that inability to add individuality, even with things like Hollywood movies.
At PlatinumGames we want both creators and players to feel excitement on par with having no idea what tomorrow might bring. No matter how big the company gets, we want to make sure that enjoyment is maintained, and with Kamiya and Yamane here, I'm confident that we can keep it going.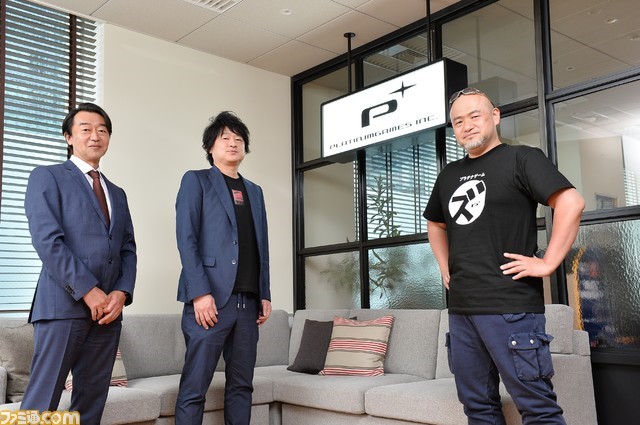 TAG