Producer Yusuke Hashimoto here, now with a completely stuffed mail box since all the games I ordered online all showed up the other day. (Strangely enough, my package delivery box was empty though…)
So Bayonetta will be released on 1/5 in North American and 1/8 in Europe and Australia! I hope all of our fans overseas are looking forward to it. It's been a quick two months since the release in Japan. When I think about the opportunity to expand the borders of the game and have even more people try it out, I can only get excited. So that is why I wanted to write a blog entry about some of the marketing efforts we are partaking in overseas. First up is the TV commercial we will be airing overseas.
[wpvideo Yp5oR4I3]
The commercial features a soundtrack provided by La Roux, an incredibly popular band in Europe. Compared to the Japanese commercial, it is a much darker, but very cool! For me, this kind of dark commercial hits my personal sweetspot because it fits the game's atmosphere quite nicely. Actually, for the Japanese MTV Special for Bayonetta, La Roux came in for a chat with MiChi. During filming, the director of the show, Sakuma-san, mentioned that he thought that La Roux were "insane." We watched one of their music videos, and I had to admit it was pretty cool. What was funny was the we watched the same song that we ended up using in the commercial, "In for the kill (Skream's Let's Get Ravey Remix)." When I think about the track, I realized that Bayonetta really has been an incredibly collaborative project, from our cutscene action director Yuji Shimomura's involvement and on down the line.
Continuing on, I have to mention the Scarborough Fair model that will come as a pre-order bonus for Bayonetta in Europe. At first, I wanted them to make a full set of the four guns, Parsley, Sage, Rosemary, and Thyme, or if they could only make one, to include a set of the four dangling accessories to be attached; however, due to a variety of reasons, including cost, we could only make one gun… It is a shame that we couldn't make four, but I am still happy to see one of the in-game items come to life. Check it out: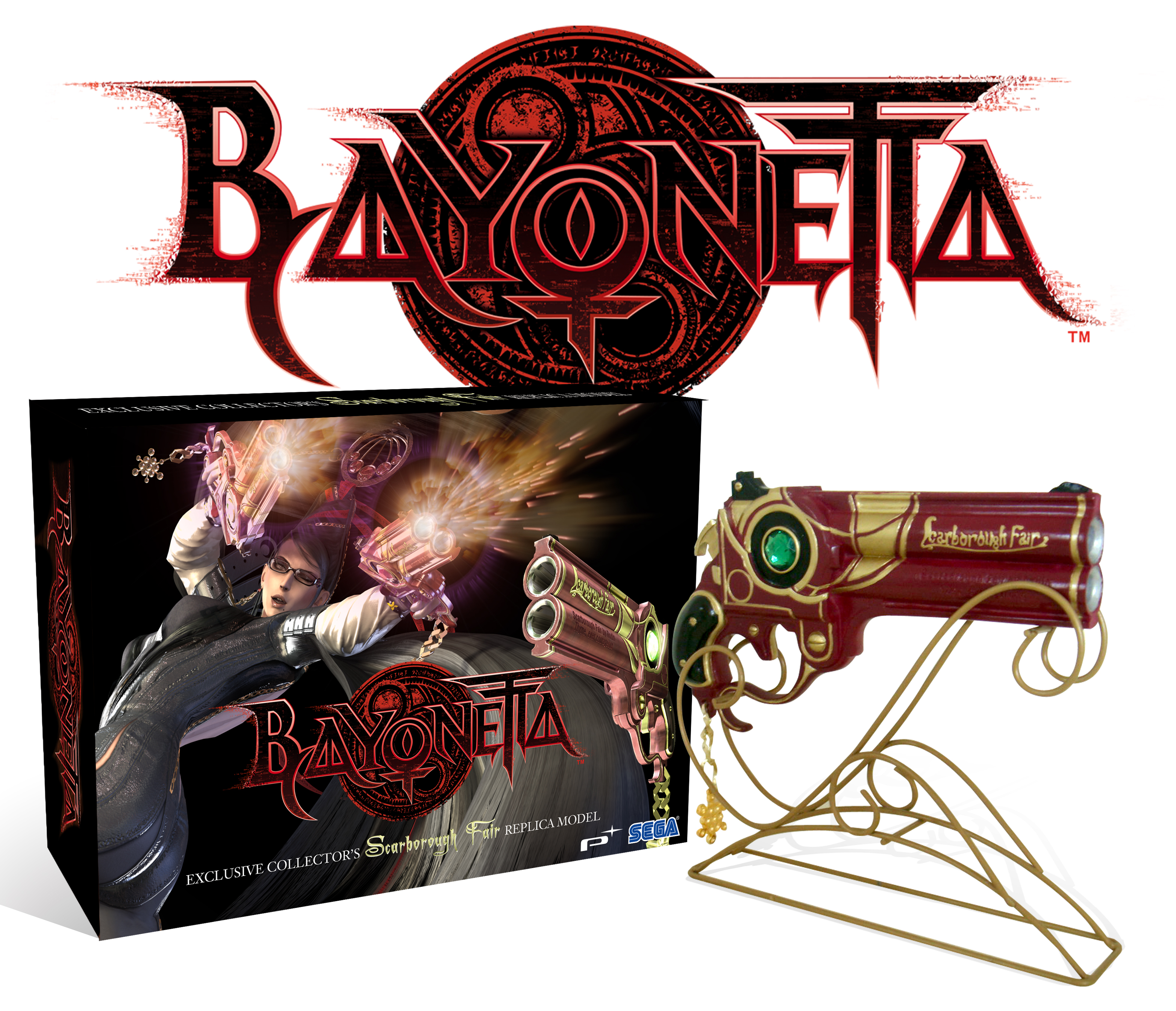 By the way, it seems Bioshock 2, coming out next year, is going to have a vinyl record as one of the items in its Western limited edition. (I wanted to do a gold disc or a vinyl LP for Bayonetta as well…) I'm really looking forward to the game, but I am also a huge fan of these sorts of limited editions, ones that are filled with the spirit of those making the game. I wanted to do all sorts of limited edition items for the Japanese release (Bayonetta/Jeanne glasses, Black cat earrings, lipstick, Bayonetta's brooch clock, a Cheshire stuffed animal, or even a cellphone strap of the Bayonetta doll from the map screen), but as an original title, it is hard to get these sort of things actually made.
I'm always taking applications for manufacturers who want to make products out of things our users would enjoy, so if you think your company is up to the task, get ahold of us here at PlatinumGames. Also, we'd love to hear from our fans about what things they think would make great items, so make sure to get ahold of us and let us know!
That wraps up the PR related stuff, so I thought I would leave you with some of the character designs for the dance-battle-famed Joy.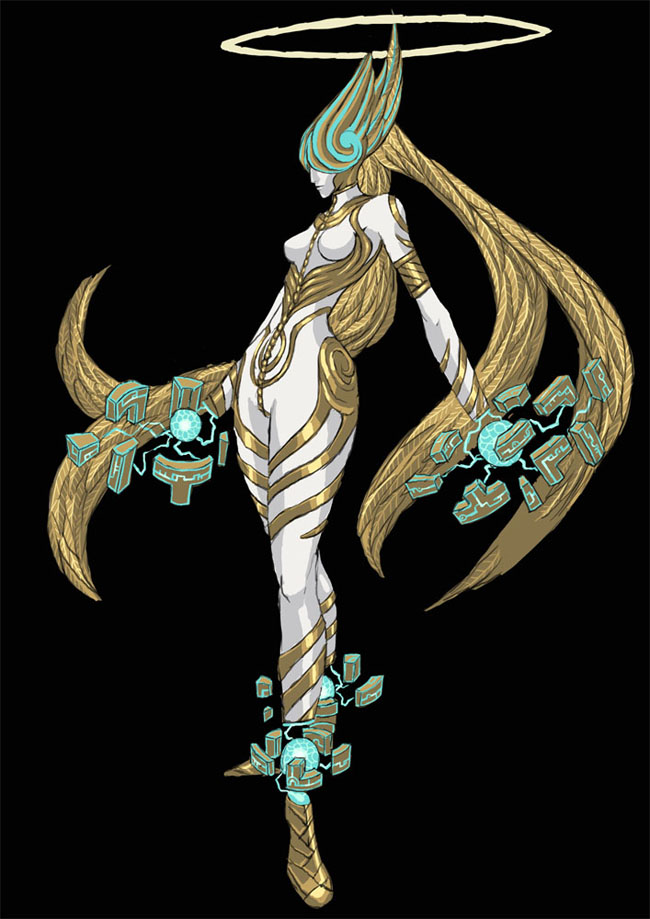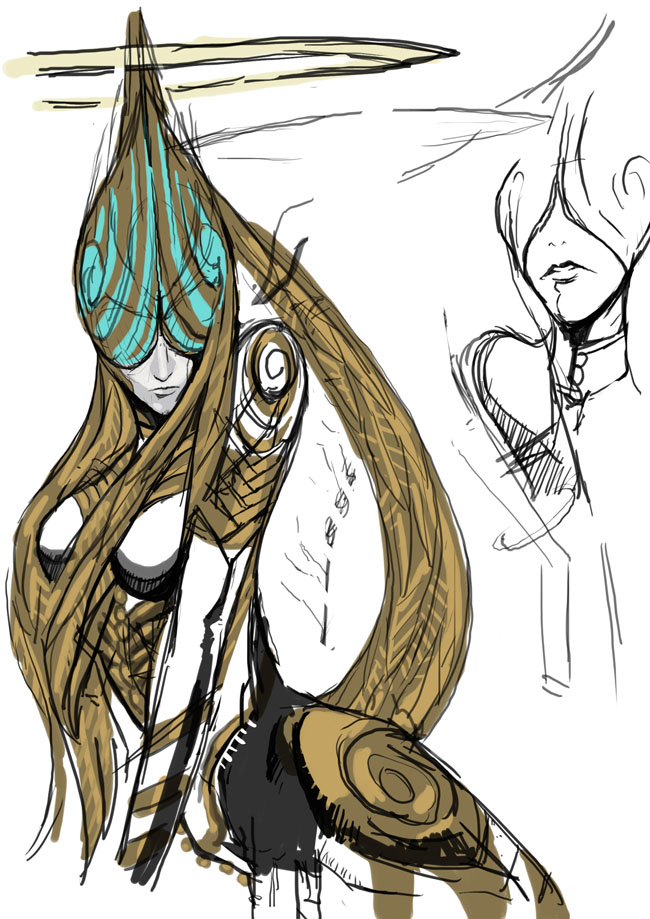 There really aren't that many chances to design female characters, especially in the enemy realm, so it was fun to design Joy. Her weapon changes shape in real time, and I tried adding something at its very tip, like something out of an ancient (?) civilization. However, when I designed her, I had no idea her torture attack would end up being anything like THAT…
We've seen quite a few users uploading some impressive gameplay videos, and I am looking forward to seeing what kind of videos users overseas come up with. Finally, we've got a really cool thing were planning for that may surprise you, so look forward to what's coming soon!
TAG