Hi all, JP here again with more behind-the-scenes of the Metal Gear Rising: Revengeance soundtrack.
First of all, a thank you for the overwhelming response to the previous blog. It has been great fun to read all of your comments regarding your favorite tracks, and it is clear to everyone here how much you love the soundtrack! Hopefully we get to make a second one… and even better!
Now on to the artists that we didn't get to touch upon during the previous blog.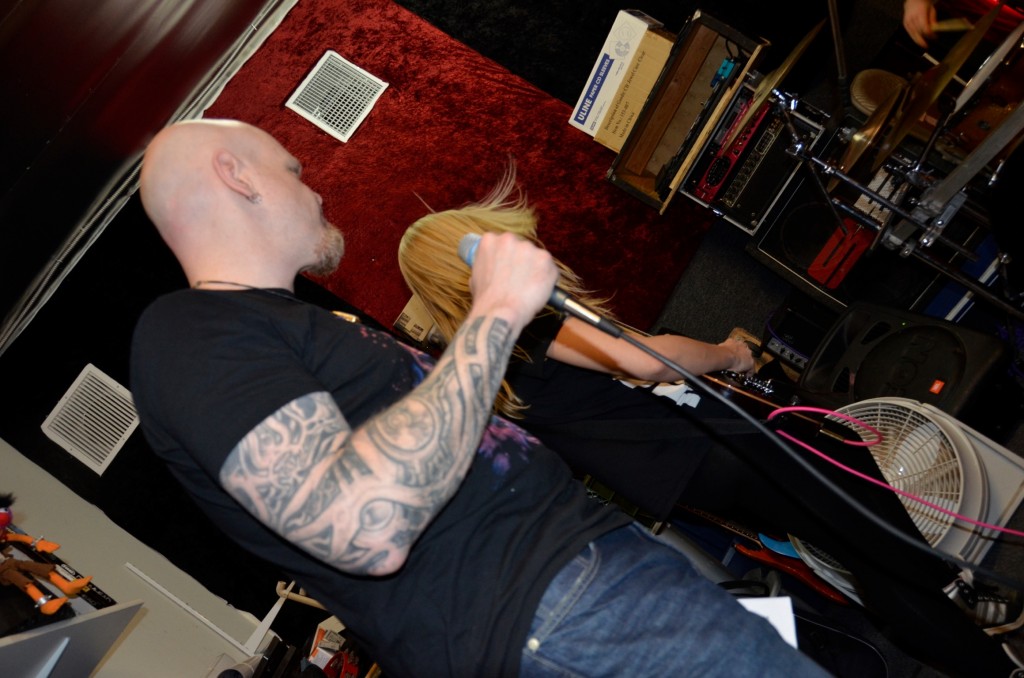 Jason rehearsing with Nita Strauss.
Jason Charles Miller
Jason is the incredibly tall and imposing singer behind the band God Head, but his geek credentials go far past that. He's been a voice actor of tons of games, participated in gamer-focused Youtube video projects with the likes of Felicia Day (Gamer Girl, Country Boy), and is just generally tons of fun to hang out with.
Jason's creativity and energy really brought an awesome spin to the MGR soundtrack. Rules of Nature would have never been Rules of Nature without his shouting and ability to change gears on the fly; however, he gets even more credit for Red Sun. Red Sun was actually going to be performed by a European speed metal singer, but an untimely stage accident prevented this from happening. We walked into the studio without a clue how to salvage the song, but Jason just stood in front of the mic and came up with an incredible take of Type-O Negative-style vocals that took the track in an entirely new direction. With Kenji Saito watching on via Skype we kept pushing further until we arrived at the final product. It became a weird combination of darkness and beauty that is the perfect fit for our dear friend Sundowner.
While Jason still has a metal streak in him, he is becoming increasingly successful at merging rock and roll music with his country roots. Make sure to check out his work before Nashville steals him away from games! You can listen to his work at www.jasoncharlesmiller.com or follow him on twitter atFollow @jasoncmiller

Kit Walters
Kit Walters is a far prettier man than I can ever hope to be. He is also more likely to melt your face off with awesome vocals. Just take a listen to Stains of Time or A Soul Can't Be Cut. What is interesting about Kit is that his personal music lends more towards the pop/dance realm. That being said, Metal Gear Rising wouldn't be what it is without him! Unfortunately, I wasn't in the studio when Kit recorded his vocals, and he wasn't able to make the live show, so I haven't had the chance to meet him and congratulate him on the absolute ass-kicking job he did on Stains of Time. I guess I'll just have to fix that next time. You can follow Kit at Follow @kitwaltersmusic

Jimmy Gnecco
Jimmy Gnecco is best known as the lead singer of Ours, a moody, incredible band that is touring the country right now. His talent is unquestionable and this has made him a prolific singer. From recording a duet for the Spider-Man 2 soundtrack with Brian Eno of Queen, to being one of the first choices to replace Scott Weiland in Velvet Revolver, Jimmy's voice is so unique and his vocal range so incredible that you feel like you are being compelled to listen to his tracks just to hear what he sings next.
On MGR, we gave Jimmy the two-part task of bringing the final battle to life. What resulted was a track that many of you feel is the best on the CD, It Has To Be This Way, and it's co-part Collective Conciousness. I'd write more about the tracks, but the best thing for you to do is just go listen to them. They say everything for themselves.
You can follow Jimmy's exploits and get tourdates for Ours at www.jimmygnecco.com.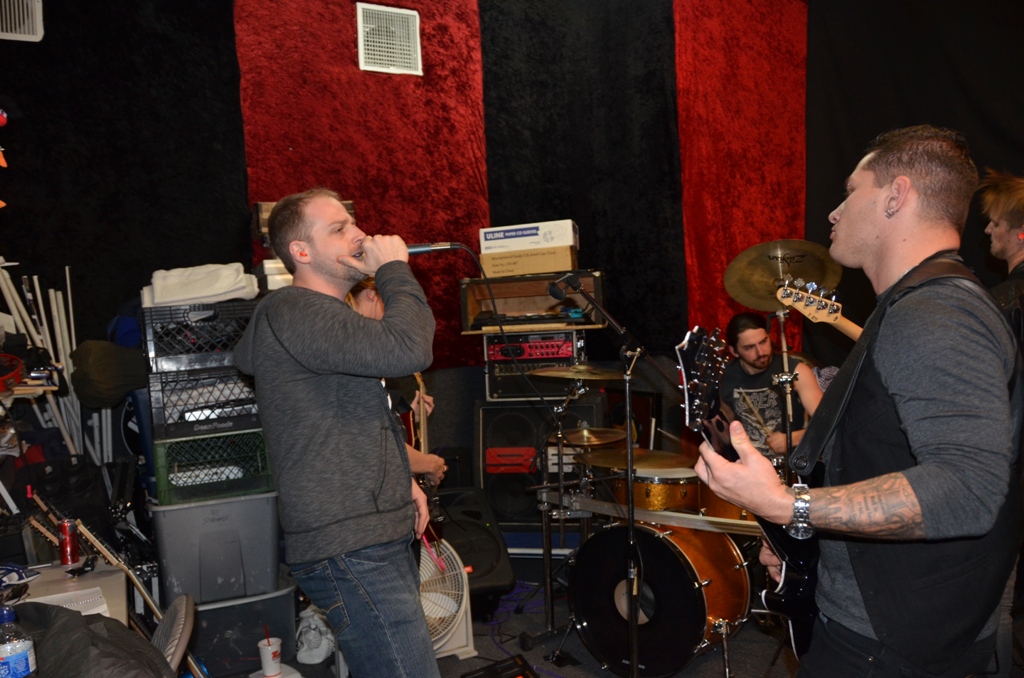 Graeme rehearsing with Johnny Death.
Graeme Cornies
A special shout-out to Graeme Cornies. Graeme runs a music production company in Toronto called Voodoo Highway that has produced music for film, tv, animation, commericals, and of course games! Not only does he sing three tracks on the soundtrack, more than any other singer, he also played guitars, wrote lyrics, and even co-wrote the end theme. Graeme is also a voice actor based in Toronto, so he is no stranger to gaming.
When schedules were tight and we needed a special touch, Graeme was the go-to guy, and he never disappointed. He was also the first singer we recorded for the project, in a multi-point Skype chat linking LA, Osaka, and Toronto together. Even with the distance separating us, hearing him sing "Time to leave them all behind!" over the internet was the first time that I knew for sure that our soundtrack was going to be special. Thanks for all the incredibly hard work under crazy circumstances, Graeme. I know you've made plenty of new fans because of it, not the least of which a room full of game developers in Osaka. You can follow Graeme on twitter atFollow @GraemeCornies
, and check out Voodoo Highway at http://www.voodoohighwaymusic.com.
Finally, I want to give a shout out to some of the session musicians who made both the soundtrack and the live show so amazing:
Ralph Alexander – Ralph is a young, up and coming drummer on the LA scene and was responsible for the amazing live drumming (along with Damien Rainaud) on the soundtrack. Yep, those were all live drums, and yep, he really is that good. Before he joins a mega-band, becomes famous, and quits taking our calls, I wanted to thank him publicly for all his hard work. You can follow Ralph and his crusade to bring more blues rock to the masses with his band The Heavy Heavy Hearts and download their first EP for free at: https://www.facebook.com/TheHeavyHeavyHearts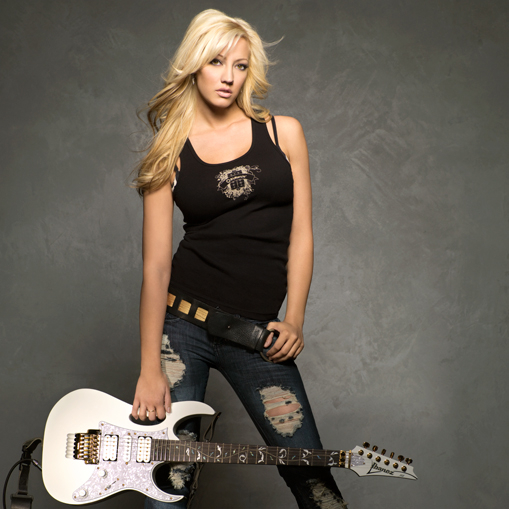 Nita Strauss – If you have a guitar, you probably wish you could play like Nita. Unless, of course, you are Nita, and then you just make everyone look bad. When it came time to find someone to play the Dragonforce-style parts of Stains of Time, Nita was our first choice. In fact, I'll never forget when Jamie said that he found "this girl who can really shred." Understatement of the millennium. For updates on her bands Consume the Fire and The Iron Maidens, follow her category 5 mayhem at Follow @HurricaneNita

Johnny Death – Another man who plays guitar like he could rip your head off, and looks the part too. Johnny brought a really awesome edge to our tracks and our live show. He brings that same edge to his amazing band Before The Mourning, who just put out their first music video and also have a Free EP for download. Check them out at https://www.facebook.com/BeforeTheMourning.
Finally, special thanks to Jussi Ilmari, Ron Underwood, and Howard Jones for stepping in and performing at the live show.
Jussi Ilmari is a highly in-demand songwriter/producer who has worked with everyone from Before the Mourning to FloRida to Paul Van Dyk! Follow him atFollow @ohnonotjussi
!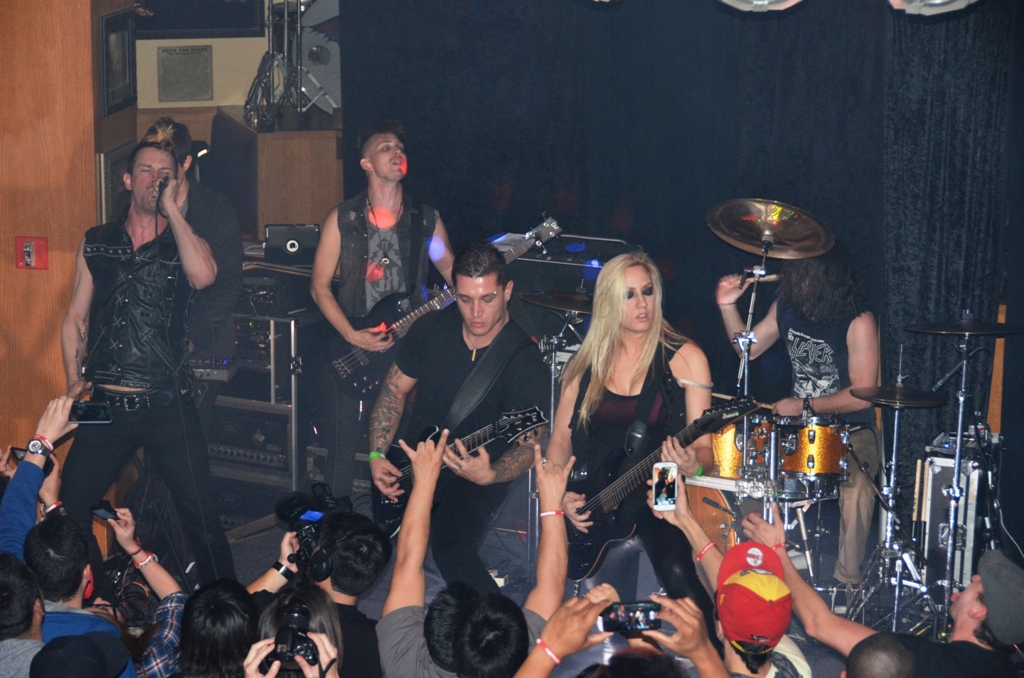 The band on stage with Ron.
Ron "Thunderwood" Underwood is the Thunder behind the mic for the LA band 9electric. 9electric is loud and awesome. If you like the MGR soundtrack, you are going to love their stuff. Check them out at http://www.9electric.com.
Howard Jones is most famous for being more awesome and famous than most modern metal singers. Being in Killswitch Engage will do that for you. Now he is on to his next project, but he was kind enough to fill-in for Jimmy Gnecco and rock "It Has To Be This Way" live for us. Also, he confessed to being a huge gamer on stage. Be sure to give his next project lots of love when it surfaces. (P.S. Sorry there isn't any video of Howard's performance! It was something special for attendees!)
There were so many talented musicians on the soundtrack and live show that it seems almost unfair to only shine the spotlight on a few of them. If I've offended you by your lack of inclusion, just leave me a nasty notes in the comments and I will be sure to plug your next project on my twitter or next blog post! I promise.
However, just in case I miss anyone, I wanted to share the full lyrics and credit list to the CD with everyone reading the blog. I know there has been some debate on the lyrics, and those of you who purchased the CD online didn't get a booklet, so here is the next best thing! It also gets me off the hook because it has credits for everyone who performed on the CD!
That's all she wrote folks! If you have any questions about the soundtrack, feel free to ask me on twitter!
P.S. Nope. I didn't forget! Congrats to these three lucky fans who won signed CDs! Derek Rich, Mike Oshiro, and Andreas von Perbandt, we will be in touch to get your info!
TAG