Hi everyone. My name is Akiko Kuroda, and I'm the producer for Bayonetta 2 and the Wii U port of Bayonetta. This is actually my first job as a full-fledged producer, so being given two titles was quite a sudden crescendo to climax action. I'm doing my best to make sure both games are as amazing as they can be.
As far as technical talk goes, I'll leave that to the other staff. For my entry, I'd like to discuss my trip to the industry's biggest gaming expo, E3. Similar to last year, we brought a playable demo of Bayonetta 2. This year we were able to announce the Wii U port of Bayonetta, and that it will be sold packaged with Bayonetta 2, which met with a very positive reaction (Thank you to everyone who showed their enthusiasm. Wait just a little longer guys!).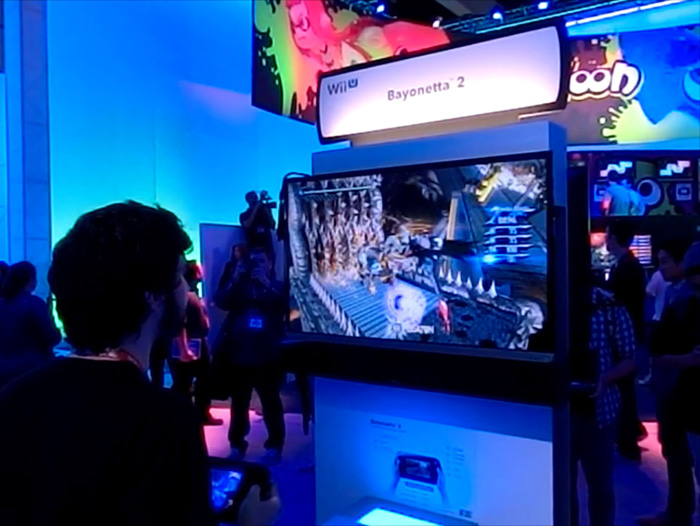 Here's a pic of one of our stations in Nintendo's area. The wicked witch was very popular!
Hashimoto and I had a very important reason for attending this year's E3. We were there to promote. Media journalists from around the world gather at E3, and it's our job to make sure they leave with a story that makes gamers happy. Luckily for us, a lot of the media wanted to hear us talk about Bayonetta and Bayonetta 2. I'm sure a lot of their articles have already gone up by now. Have you had the chance to read any of them?
We were asked all sorts of questions. A favorite question of mine was, "Most games fall back on a hero rescuing some helpless female character. What were your reasons to have Bayonetta feature a strong female protagonist?" This was more a question directed toward the Bayonetta series rather than just Bayonetta 2. There were people who doubted the choice of a female protagonist ever since we first revealed the original game's development. Our internal team, on the other hand, didn't mind. We just thought it would be interesting to have the main character be a witch. From there, we expanded on the concept: instead of thinking about how a female protagonist would limit us, we thought about what we could do because Bayonetta was female. Of course, a likeable character is an important thing, but to us, getting the controls right is always top priority. I'm sure there might be fans out there that have some reluctance towards playing as a female, but we're confident that we've made Bayonetta look and feel as great as any PlatinumGames character should.
We also had some questions about the Touch Controls we implemented for the Wii U GamePad. We were able to show the controls in action at E3 and how easy it can be to perform huge combos with some simple Touch Controls. The Touch Controls really give the game a unique new feel and it only takes a simple tap to switch over. We're sure there are some hardcore action fans who think they don't need them, but we recommend you try it out at least once. You might be surprised.
Of course we got questions about the possibility of Bayonetta 3. You guys are so impatient. Bayonetta 2 isn't even out yet! But yeah, we'd love to make 3 if we could…
In addition to the regular media runaround, this time Nintendo also held a special streaming event called Nintendo Treehouse Live*, and we got to take part.
*One by one, developers introduce their titles on a live broadcast across the web.
Nintendo's goal for the event was to present titles with a more real, at-home approach instead of just deliver something scripted. There was some prep before we went on, but most of the talk was Hashimoto doing ad-lib.
To refresh your memory, Hashimoto, director of Bayonetta 2, was the producer of the first game. Back during its development, he traveled around the world doing countless press interviews, so he's a pretty seasoned media veteran. He can improvise and go along with each situation without ever missing a beat. That means I was left to mostly sit quietly and play the game. Still, I had to be able to show off anything he would mention at the drop of a hat, so it required some level of skill… okay? (I actually hurt my right hand before the event from practicing too much… lol)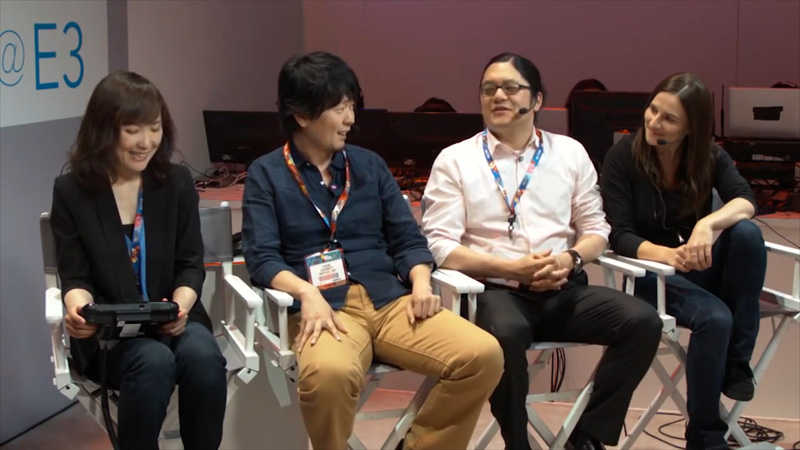 Believe it or not, you don't really get the chance to convey what you want about the game, or show it to your fans in such a direct way so often, so it felt great to be able to take part in Treehouse Live, and I hope to be able to do more events like it in the future. Also, as a game fan myself, it was pretty cool to see Miyamoto-san and Tezuka-san (Yoshi's Woolly World) up so close! I heard 60,000 people tuned in to hear about Bayonetta 2. Normal numbers for attendees at a conference stop around the 100s, so it's hard for me to even imagine that large of a crowd.
If you haven't seen our Treehouse Live presentation yet, you can check out a digest of it here:
You'll get to see what we included in our E3 Bayonetta 2 demo, as well as other info we only made public there!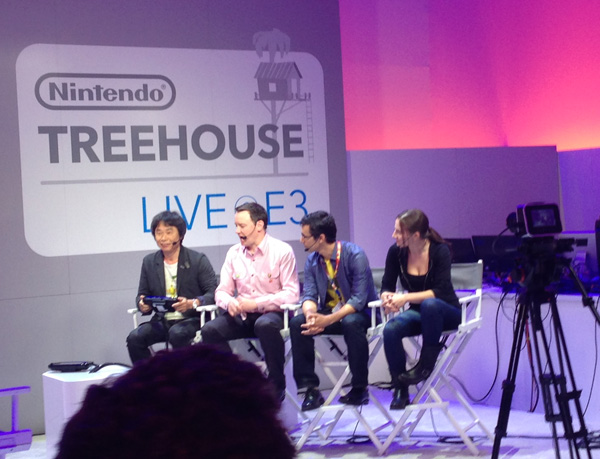 I was able to score a shot of Miyamoto-san playing some Wii U. I'm just now realizing we were in the same seat with the same controller!!
Most of my work at E3 was media interviews and Nintendo's event, but if I get the chance later, hopefully I can share even more. We've only got three more months until Bayonetta 2's release as well, so keep checking here as we reveal more new information.
I spent a lot of time at the Nintendo booth during E3, but that meant being able to meet Miyamoto-san, Code Name: S.T.E.A.M.'s developers, MonolithSoft's Xenoblade Chronicles X team, and talk about a lot more I can't elaborate on! I also got to meet Aonuma-san, the current producer of the Zelda series, and thank him for letting us borrow Link's costume. His reply was, "Anytime you have any other interesting ideas, let me know!" I'm holding you to those words, Aonuma-san…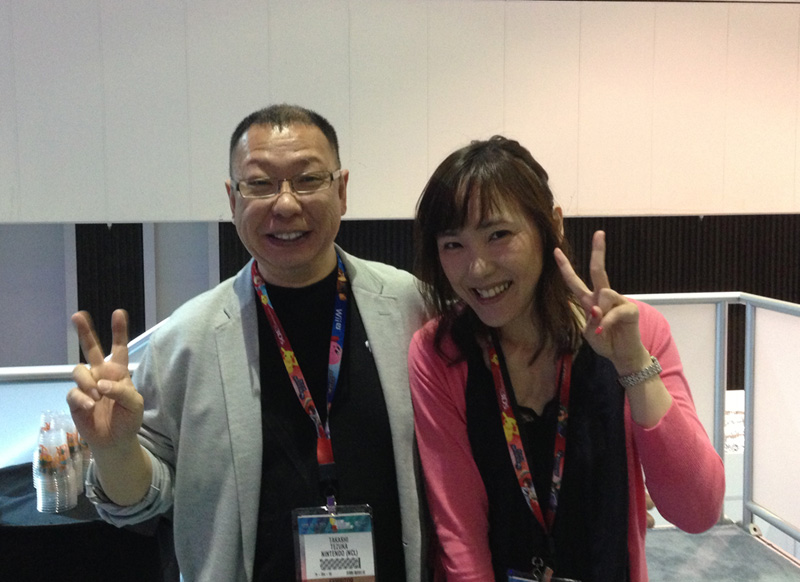 Here's a pic of me and Tezuka-san. Yoshi's Woolly World definitely takes the cake for cutest game at E3 2014.
P.S. I've been making some character-themed bentos on my twitter (@pg_kuroda). Have you been checking them out? I made a special bento for this blog: the Masked Lumen from Bayonetta 2.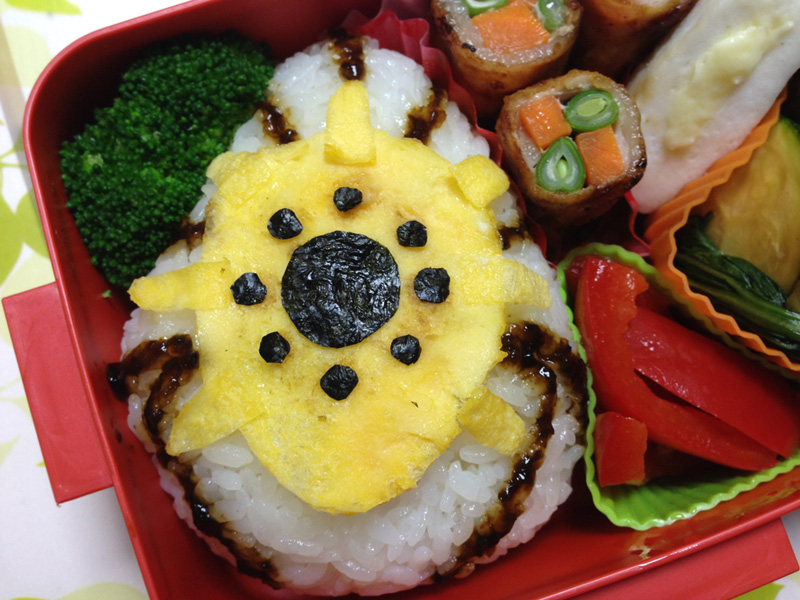 Who is this guy? Well, you'll just have to wait and find out.
I'd say follow me for more Bayonetta 2 info, but my twitter's mostly in Japanese, of course. Follow me anyway!
Thanks for reading my blog! See you again!
TAG