Hello, I was the Nintendo costume collaboration designer for the Bayonetta Wii U port, my name is Yong-Hee Cho. For this blog, I'd like to talk about the design process for creating these costumes.
It all started one day when Kamiya walked up to my desk and said, "Hey Cho. Draw Bayonetta in a Princess Peach outfit for me. Thanks."
He walked off to leave me thinking to myself, "P-p-p-princess Peach and Bayonetta? How am I supposed to find the common ground between these two characters!? They're like night and day…"
At the same time, I was intrigued, and wanted to try to design something for two characters that different.
So, she was the first character I started out with. I decided to first just draw Bayonetta, so I'd have a base design to work off I could "dress up" in other costumes.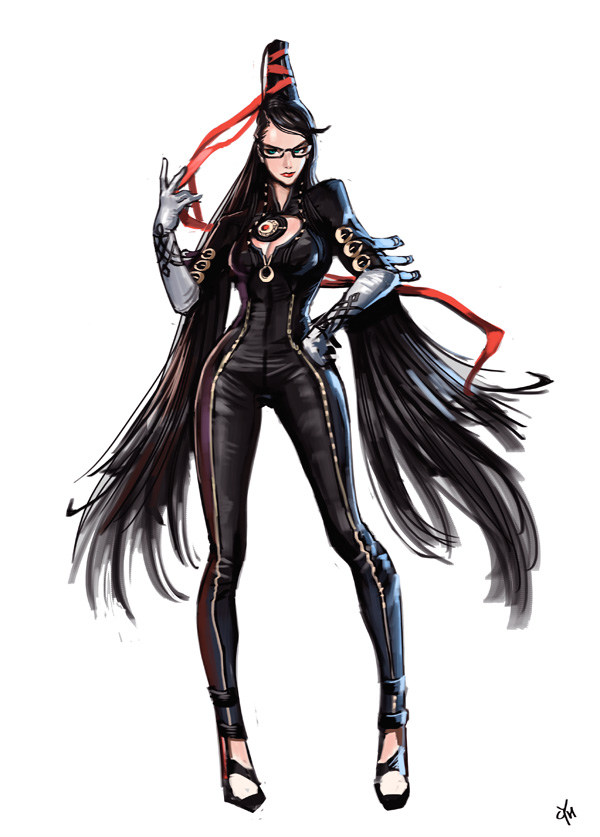 (Really, it's not necessary to go this far, but… I wanted to.)
Next, I put together some various costume ideas for Kamiya to look at. Right now, we're still at very rough concept art.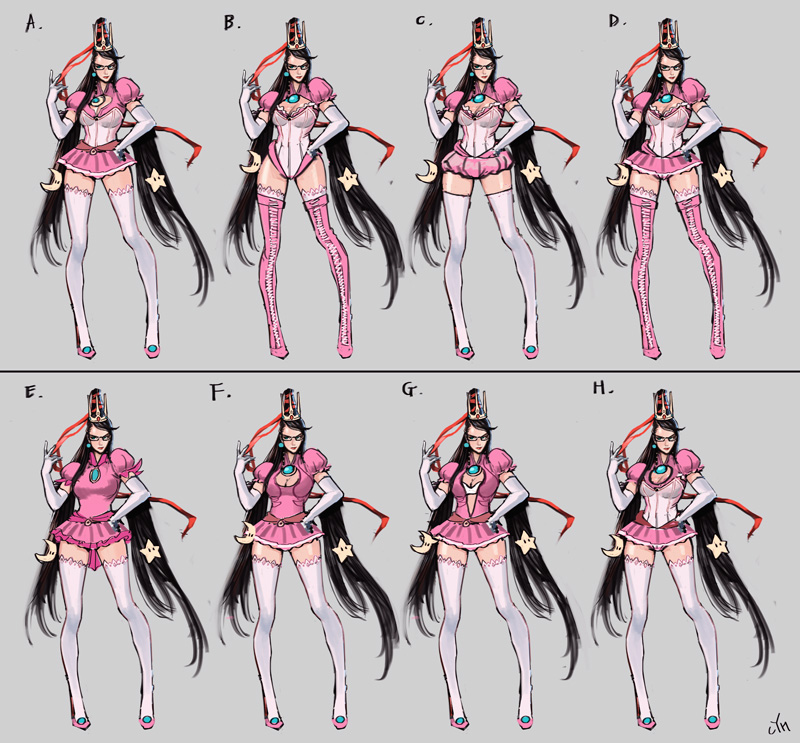 Personally, I thought it'd be fun to rearrange the Peach look a little bit, but Kamiya wanted it to be as close to the original as possible, so we ultimately went with (F).
He also requested two revisions:
Don't let her hair down like that.
Attach a Mario charm somewhere.
This is how the Mario charm turned out.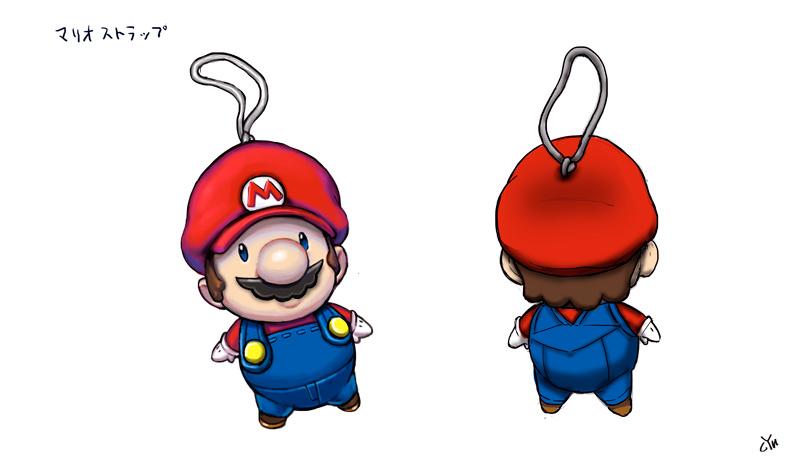 Here's what Bayonetta looked like after I incorporated his feedback.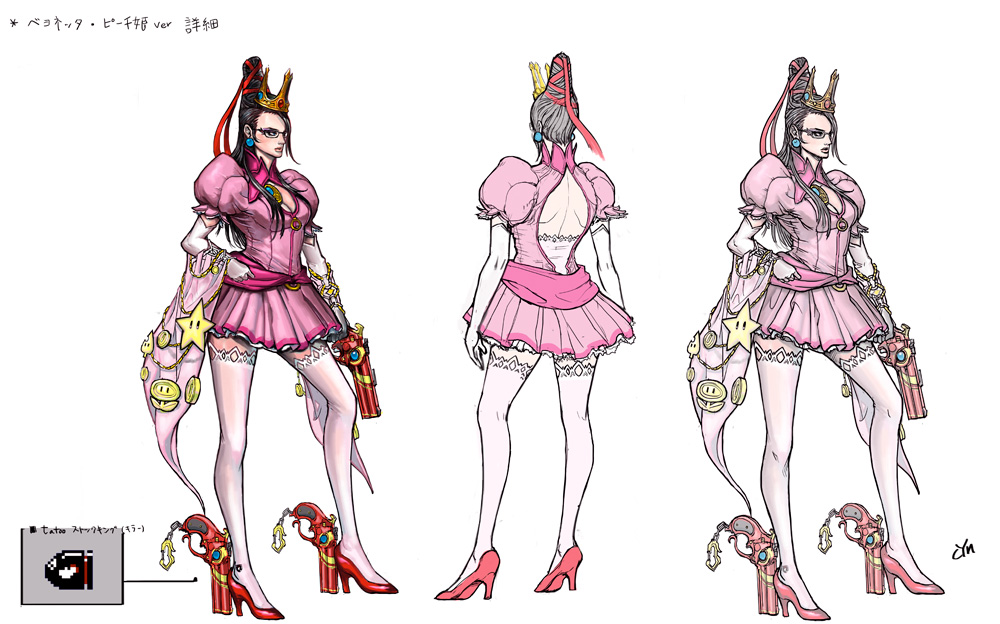 I used this Peach to make the Daisy costume (Daisy has Luigi instead of Mario, of course).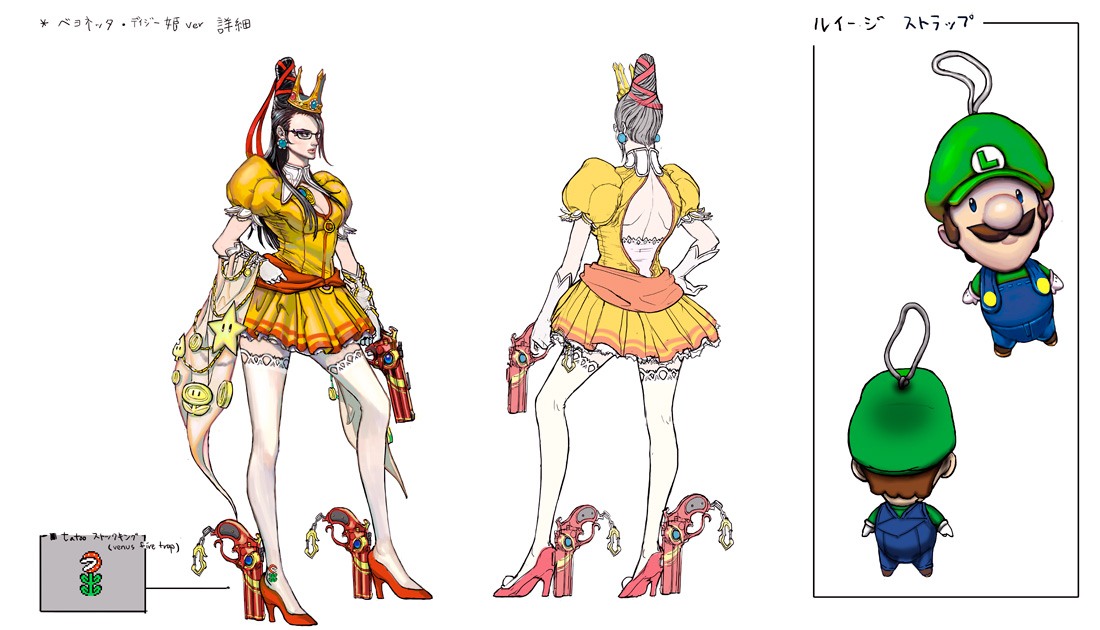 The next costume I did was for Samus Aran of Metroid fame. I'm really into mechanics, so I had the most fun designing this costume.
Here's the first piece I drew.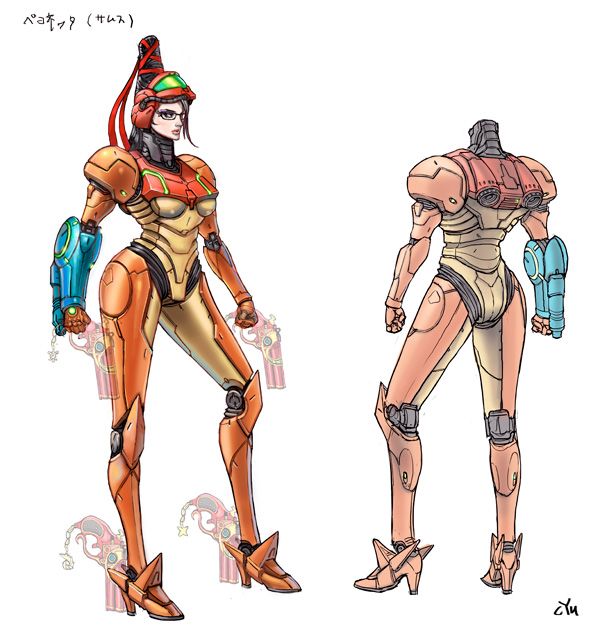 When Kamiya took a look at it, he said he wanted it to be the Powered Suit from the first Metroid game for NES. The original Metroid is around 30 years old now so unfortunately there's not a whole lot of artwork to base my design on. I ended up just studying the game sprite and package art. This is how it turned out.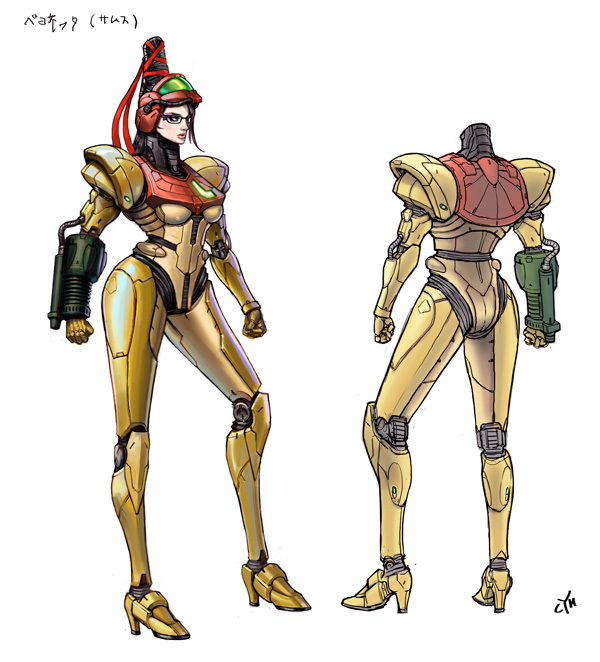 It's supposed to have more of a retro look. What do you think?
As I designed these costumes, I would think, when we have the player transforming into Peach, wouldn't it be cool if we could change game play up somehow as well? Then, one day I thought, what about having Bowser's punches and kicks be used for Bayonetta's Wicked Weaves? I pitched the idea to Kamiya and he said "sounds good, do it." The next idea I thought of was having Samus Bayonetta change to her Morph Ball. This, unfortunately, didn't make it into Bayonetta Wii U, but… it did make it into Bayonetta 2! Thinking of these little extras is really one of the rewarding parts of working in games.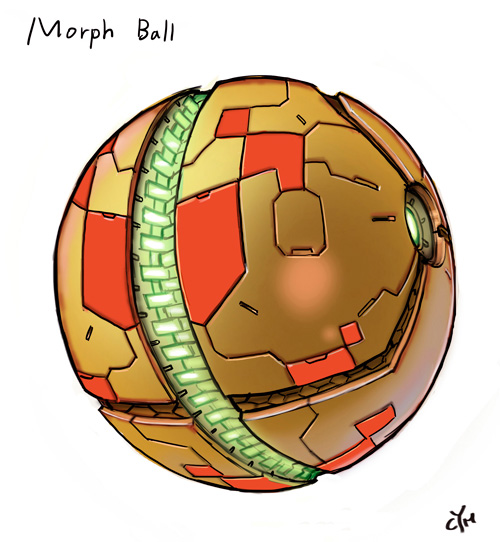 Here's what the Morph Ball looks like. Those red parts are kinda based on the 8-bit graphics of the first Morph Ball from Metroid.
Last is Link. I don't think this costume was a grand departure from his design, so Kamiya approved of it quickly. All of these costumes, however, needed to be run by Nintendo as well.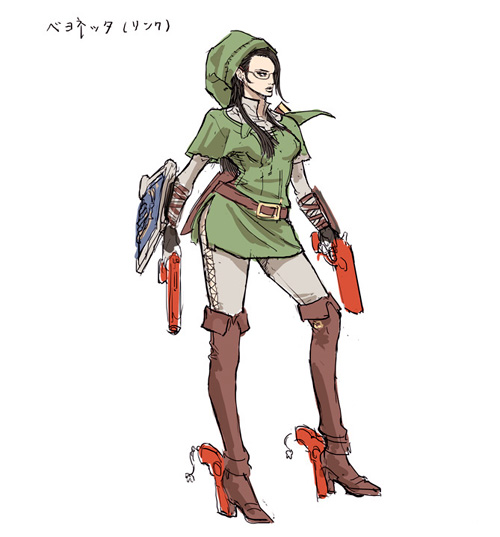 When I gave the designs to Nintendo to check, I was worried about how "kid-friendly" Bayonetta looked. Like, I didn't think it'd be a good idea to show too much cleavage, you know… but when Nintendo looked at my Link design, they actually suggested to me to open up her top a little more… Wow.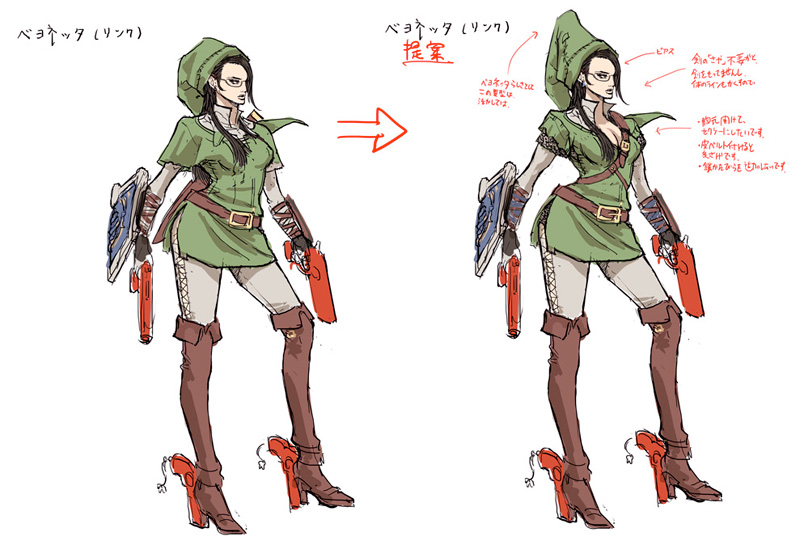 Here's what the final approved design looked like.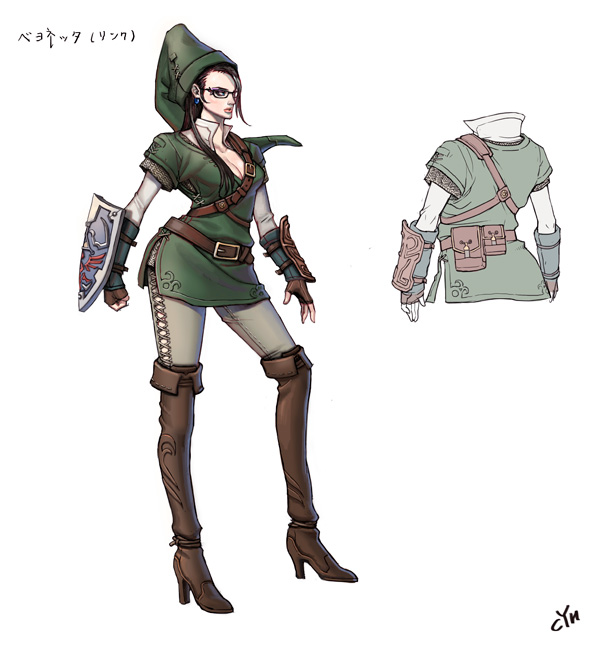 Overall, I think I was able to keep Bayonetta's personality in these new arrangements, so I was pretty pleased. Each costume comes with different sounds and visual effects as well, so be sure to check them out in both games. Thanks for reading! See you again.
TAG