Hi, my name is Hirono Sato, I was a game designer who planned the "Climax Situations" in Bayonetta 2.
We've tried our best to have just as many impactful game play situations in Bayonetta 2 as we did in the original. Just how did we do it? I'll illustrate that here with some examples.
Define your Objective.
The first Climax Situation I worked on in Bayonetta 2 was the fight with the giant dragon angel boss Glamor.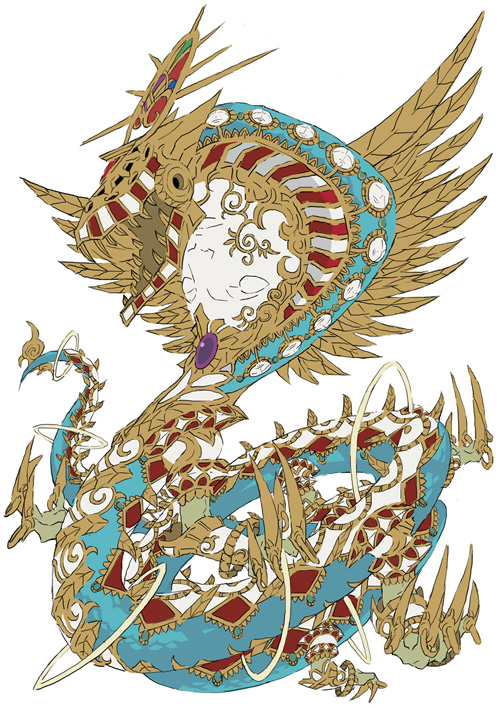 Director Yusuke Hashimoto's Glamor concept art
I was asked to take this boss and think of a way to fight it that would really blow people away.
When I was assigned to this boss fight, there were actually two versions of it already. The problem was, the director wasn't a terribly big fan of either of them and was asking me to rework some of what wasn't interesting about it. You usually get problems like this in development; I always deal with them with the following mindset—
You can't make something lackluster fun with just a little fix.
Sometimes, you have to look over the entire problem from another angle.
I know that the team tries their best. But if something is boring, it needs to be given a complete facelift.
The problem with the proposed Glamor boss fights when I started working on them was that neither of them felt fast-paced or suspenseful enough. So I got an idea that appeared in the original Bayonetta as well, surfing.
In the first Bayonetta, you fight this giant boss while surfing and I wondered to myself if we couldn't make something similar work for Bayonetta 2.
At this point in development we already had the plans for a "mysterious youth" character that Bayonetta needed to chase after and save, so there was no problem justifying a surfing battle with regards to the scenario.
Also, this is obvious, but in order to surf, you need water to surf on. At first we were thinking of having Bayonetta fight Glamor inside some kind of whirlpool, but that was the same idea they used in the original Bayonetta, so I wanted to try something different.
Eventually I came to the idea that if Glamor has this dragon-like appearance, maybe we could incorporate a tornado somehow (Japanese: Dragon-竜 Tornado-竜巻). Yeah… like a tornado of water…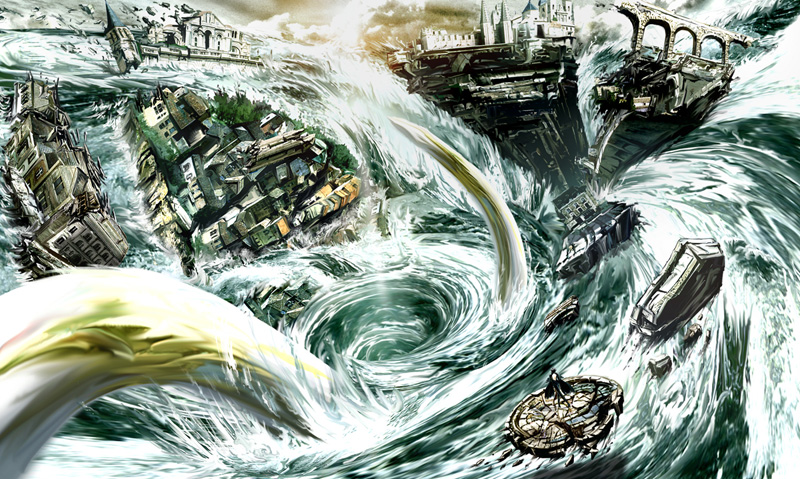 Concept art by our artist Kan, back when the fight was planned to be inside a whirlpool.
Implement the Idea into the Game.
We had the basic concepts for the fight: Surfing, chasing Glamor, fighting on a tornado made of water. The next step was to combine these ideas and implement them into the game. It's very important that you're careful here to not ruin your perfectly good ideas when you try to build them inside the game.
Fortunately, one of our artists created an awesome piece of concept art depicting Bayonetta surfing on a tornado, chasing after Glamor. All we had to do was bring this work to life within the game.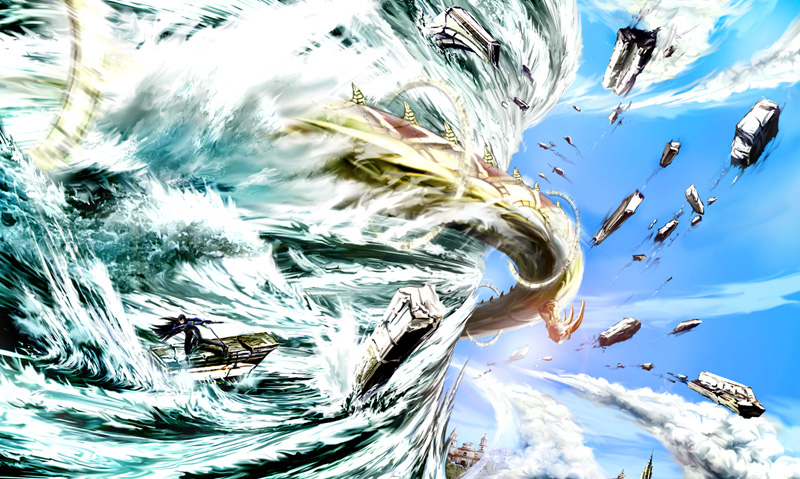 Concept art surfing on a tornado of water
Since we couldn't really have the exact same combat here as the rest of the game, we made the fight principally about dodging debris from buildings destroyed by Glamor. Though, if you were just doing this the whole fight you'd probably get pretty burned out, so we made sure there was a section halfway through where you could just wail on her.
Think of What Else You Can Add.
Now that we had our basic layout for the fight, next we had to think about how we were going to give it a climactic ending.
What about having the the tornado shoot up into the sky and end the fight in a "sea of clouds"? With that wording, it probably wouldn't be unnatural if we had Glamor swimming around in there, and that would be pretty epic too.
Since Glamor is essentially running away from you in this fight, we also figured it'd create a healthy dose of suspense if we were able to express "if she gets this far, it's over" somehow. Well, since we're fighting an angel in the sky, why not have a door to Paradiso then?
The director and some of the rest of the staff, however, were not appeased. A lot of people spoke up and said, "I think we're tired of seeing Glamor at this point." Honestly, I kind of felt the same way.
"We needed something more!" Well, when you're making a game, you hear that a lot. Whether you can do something about it or not, sets the pro game designers apart from the rest. When this happens, I don't want to just make a gimmicky change, I want to add something that wasn't there before. So instead of trying to change something about Glamor's moveset and so on, I multiplied Glamor into three and had you fight all of them at the same time.
We're nearing Paradiso, the enemy base, so I thought it would only be natural if the player was encountering more angels. I think this was successful in giving the fight a stronger sense of urgency/peril.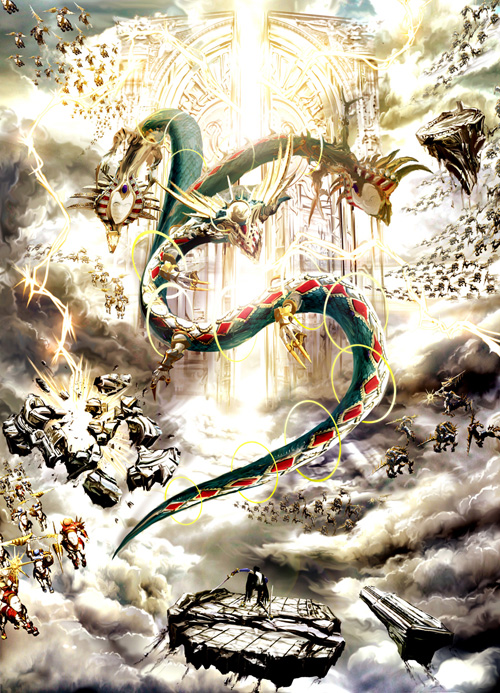 This is just one of the dozens of Climax Situations that we've included in Bayonetta, so do yourself a favor and try it out more than once, try it out multiple times—I hope you can get as much enjoyment out of it as possible.
TAG