Hi everyone, this is the producer of Bayonetta 2, Akiko Kuroda.
If you've been following me on Twitter, it might look like I've recently switched jobs and started working in the pastry industry, but I can assure you — I still work at PlatinumGames. Don't worry, I just have a sweet tooth..
Usually, as a producer, I'd use the developer's blog to discuss how I promoted the game and exactly what that entails. This time, however, I've decided to change the pace up and talk about some lesser known Bayonetta 2 facts. Buckle up!
Some Tips about the Chain Chomp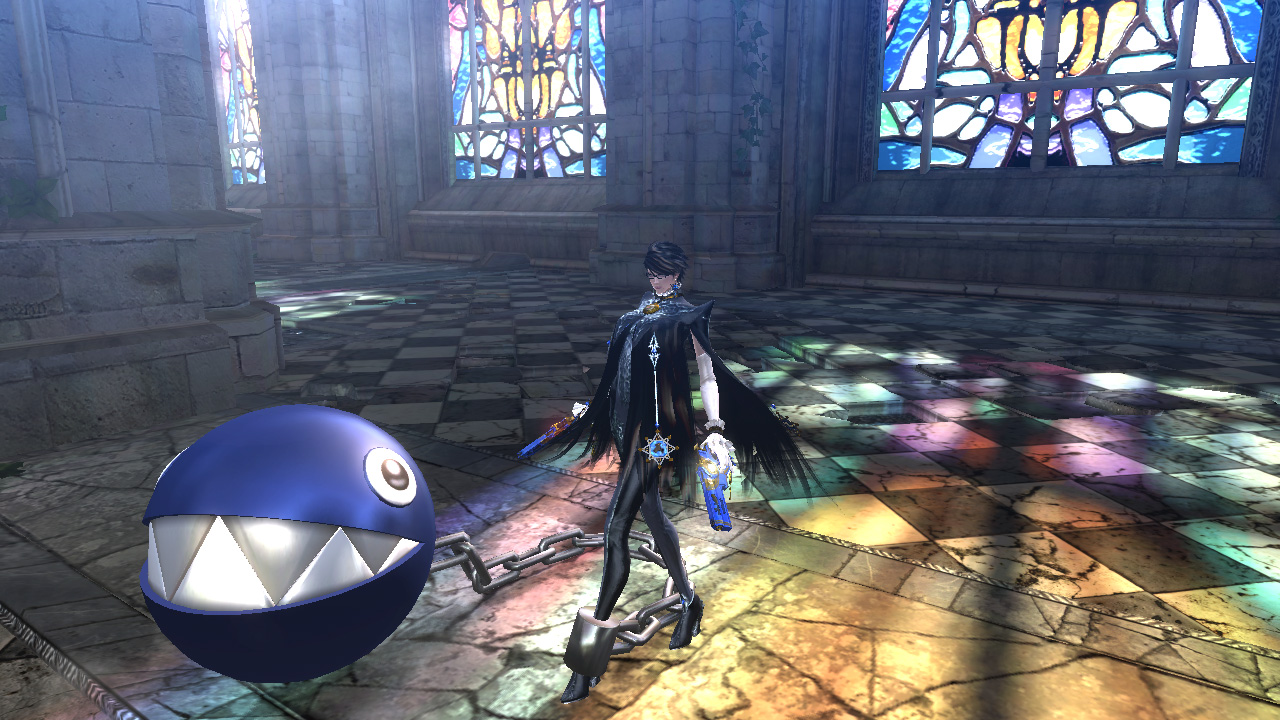 Something tells me a lot of you have probably already acquired the hidden weapon we did with Nintendo, the Chain Chomp. As a dog-lover, I can't get enough of this little guy's canine tendencies. The way he hops along connected to his "leash", the barking sound he makes, how he starts attacking before you even ask him… and especially the way he falls asleep when he becomes bored: everything about this guy is simply great. I've got nothing but puppy love for this guy.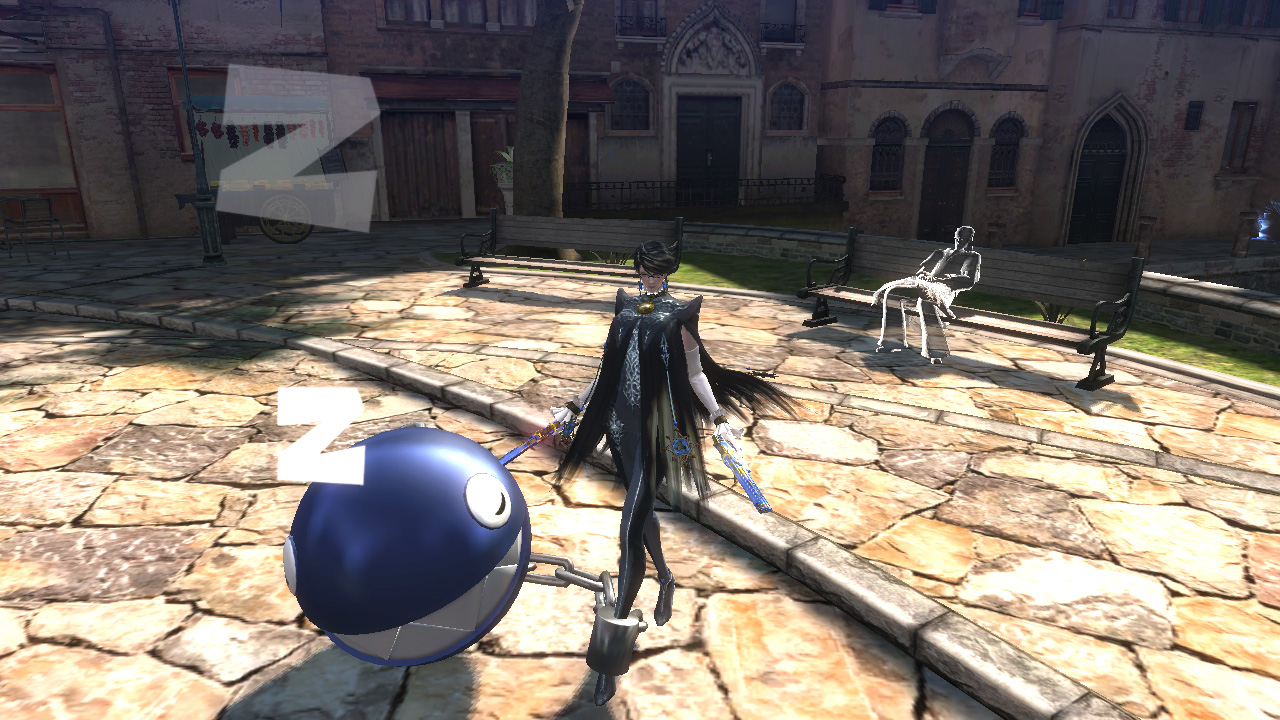 (Here he is taking his typical midday nap).
Phew! Okay, sorry. I'll try to keep a cork on the Chain Chomp PDA. Let's get to something you can actually use. So, we all know that the Chain Chomp is a weapon, but did you know you can also use him to sniff out treasure? Sometimes, Chomp might start barking and tugging on his chain as you're proceeding through the map. This means there's a treasure nearby and he's trying to get it. If you feel like you might be missing some of the game's treasure chests, try him out for a bit.
Just be warned that he won't react to treasure chests in other dimensions. I guess he can't catch their scent or something.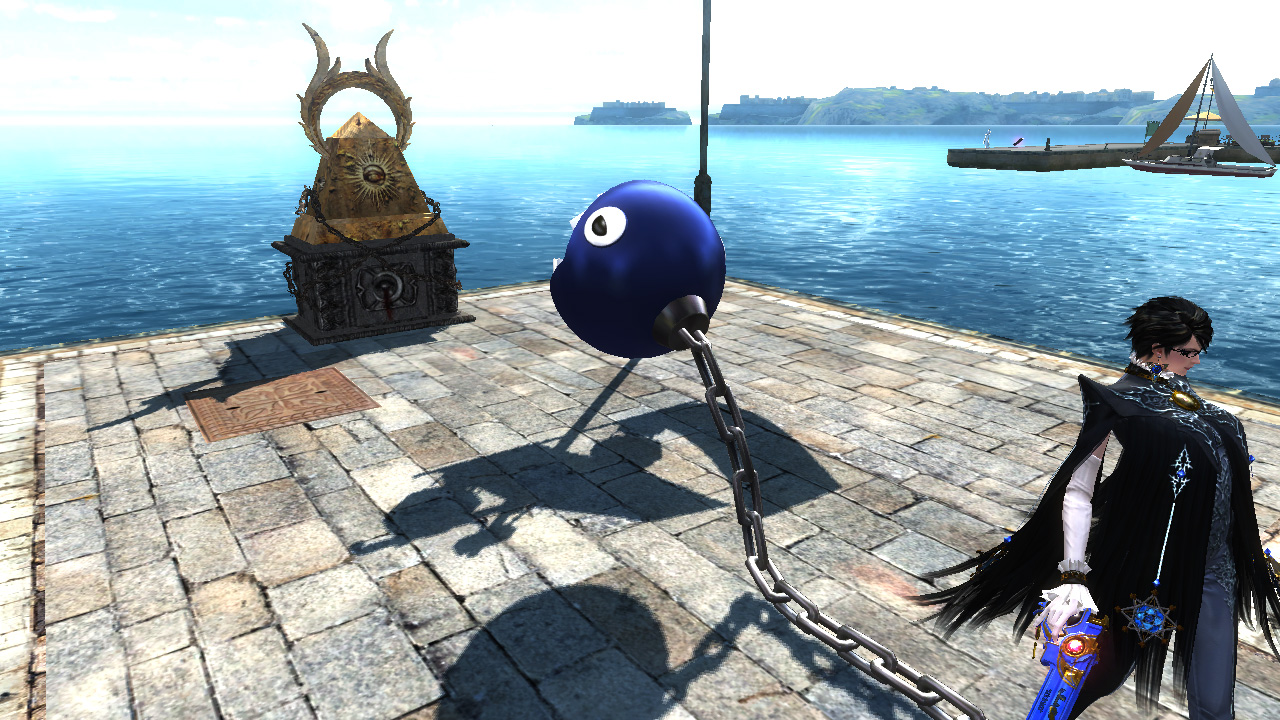 Chain Chomp attempting to drag Bayonetta to a treasure chest.
I still can't believe Nintendo let us use the Chain Chomp for the game. Originally, when the director Hashimoto sent them some collaboration ideas, we included the Chain Chomp thinking we had little to no chance they'd actually allow us to use one of their most iconic characters as a weapon. Nevertheless, they pretty much gave us consent without batting an eye. We were thrilled.
Later, I was testing it out in a check of the game and saw it get hurled at the enemy and explode. As a producer, I was a little terrified of the thought that we were going to actually show Nintendo one of their most cherished characters blowing up in front of their faces. And yet… they were completely on board with it. I don't know how it happened, but I'm grateful for it!
Cancelling your Umbran Climax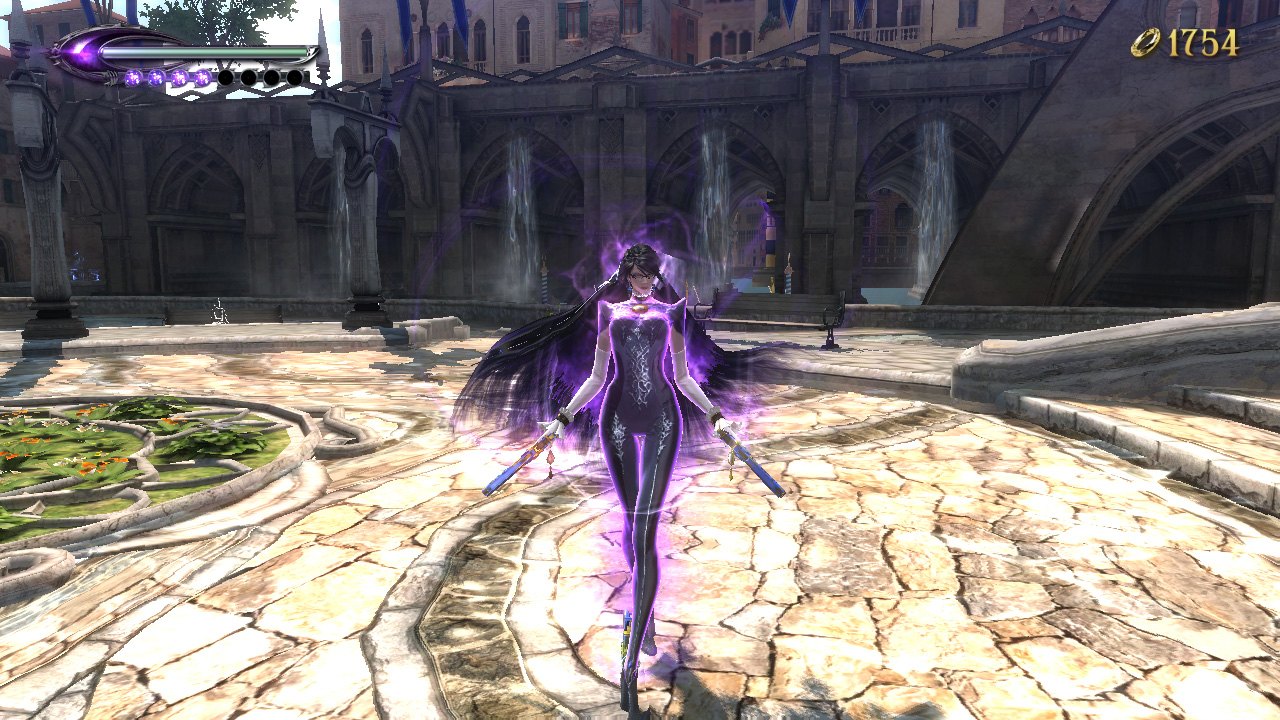 I mentioned this on Twitter a while back and got a pretty large fan response, so I thought I'd introduce it here as well.
We all have those times in our lives when we start an Umbran Climax and end up killing everything on the screen in one second, watching our gauge drain slowly to zero with no way to stop it.
Bayonetta, standing around watching her magic gauge drain slowly because she completed a verse right after activating her Umbran Climax. Where are the forces of Paradiso when you need them!?
I've got news for you. After you've started the Climax, try pressing the L button again. You'll exit your Umbran Climax and preserve the rest of your magic gauge. You won't be able to enter Umbran Climax until you build you gauge up to full again, but at least you won't have to expend any gauge without actually using it.
The Beetles
Some of you may already know, but we here at PlatinumGames have a continued tradition of hiding beetles in our games.
I haven't heard of anyone finding it in Bayonetta 2, but it's there! Get to looking.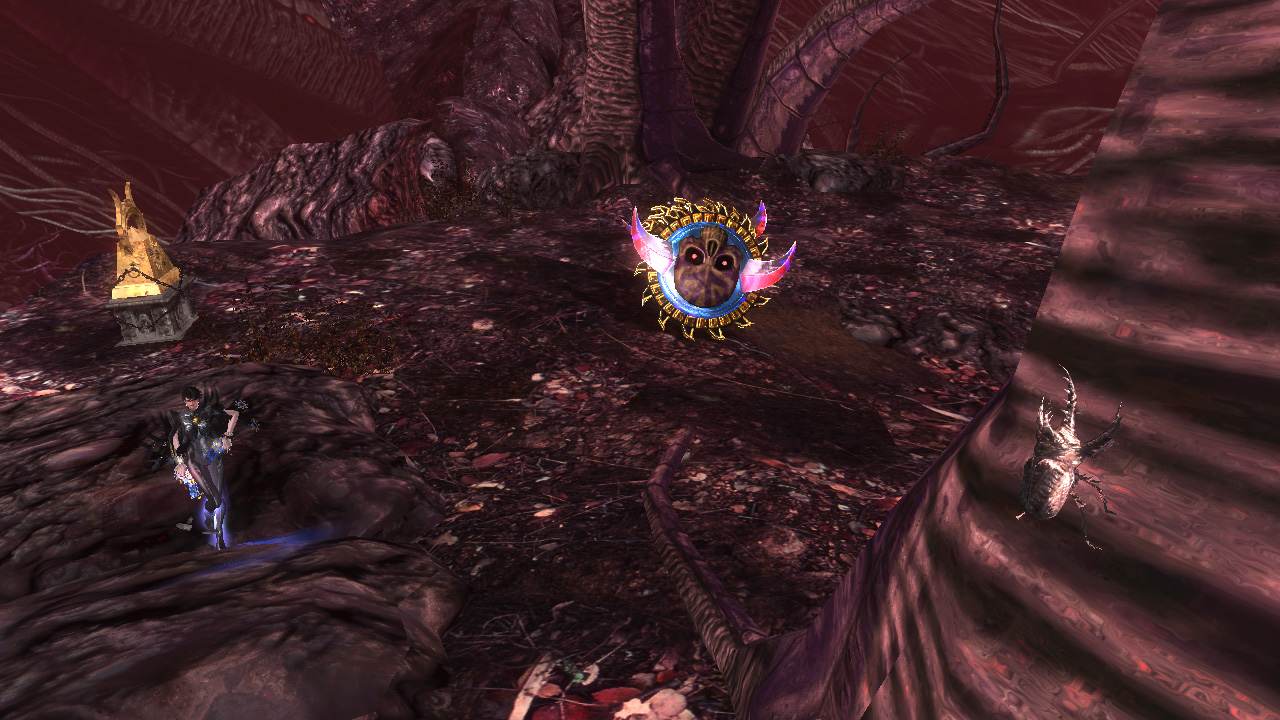 Here's proof!
There should be a good number of hints in that screenshot, so use that as a guide and see if you can find it. And yes, of course there's one in the original Bayonetta as well. It's said that those who find the beetles in both Bayonetta games will be rewarded with eternal happiness. Like you need it! You're playing Bayonetta 2!
Okay, well that's all I've got for now. Hopefully I can drop by again sometime!
Take care.
TAG