PlatinumGames announced three new titles at E3 2015! (More info here.)
As with every year, several PlatinumGames employees attended E3 as a learning experience. Fifth-year up-and-coming game designer Isao Negishi writes about his trip.
==========
Hello, everyone! I'm Isao Negishi, a game designer. Just like every year, an observational group from PlatinumGames attended E3! Though actually, this was my first E3 and my first time ever in the US, so the entire trip was a new and exciting experience for me.
Since you're looking at this website, you probably already know, but this year at E3, three new titles were announced that PlatinumGames is involved in developing: Star Fox Zero, Transformers: Devastation, and NieR New Project (temporary name).
Both the number and the content of the titles must have been a big surprise for everybody!
Some fans even wrote things like "PlatinumGames won E3 this year!" (That's probably an exaggeration, but I am happy about it personally, haha.)
All right – let's take a look at this year's E3!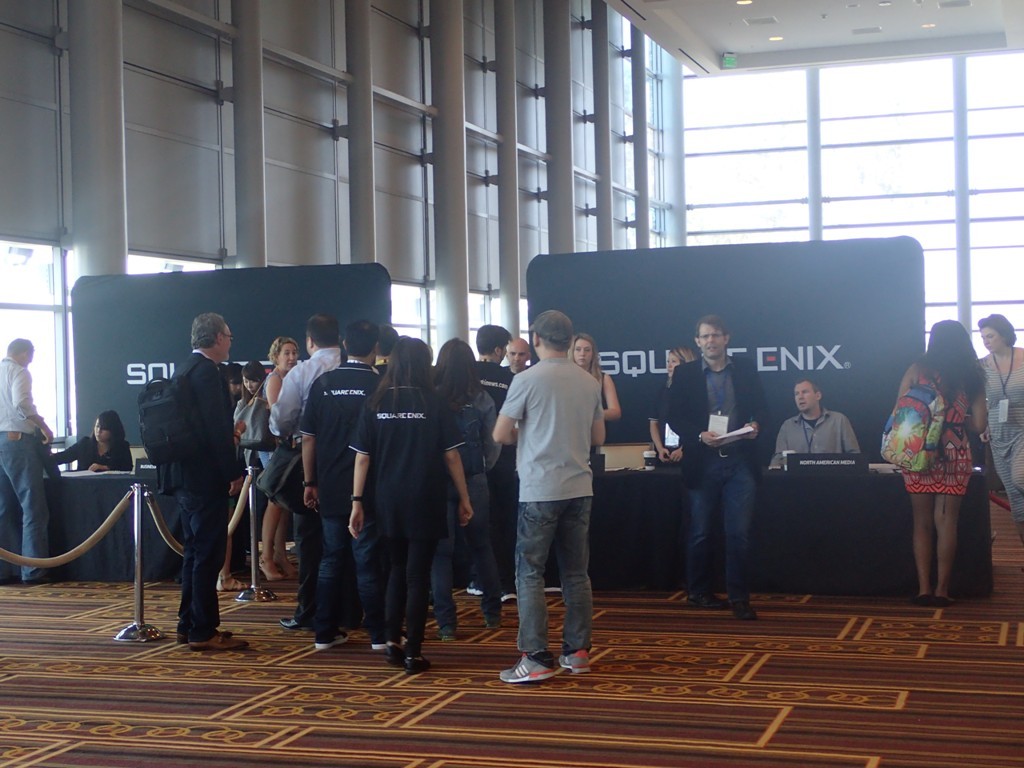 I'm a member of the NieR New Project development team, so on the first day, I got to attend the Square-Enix conference.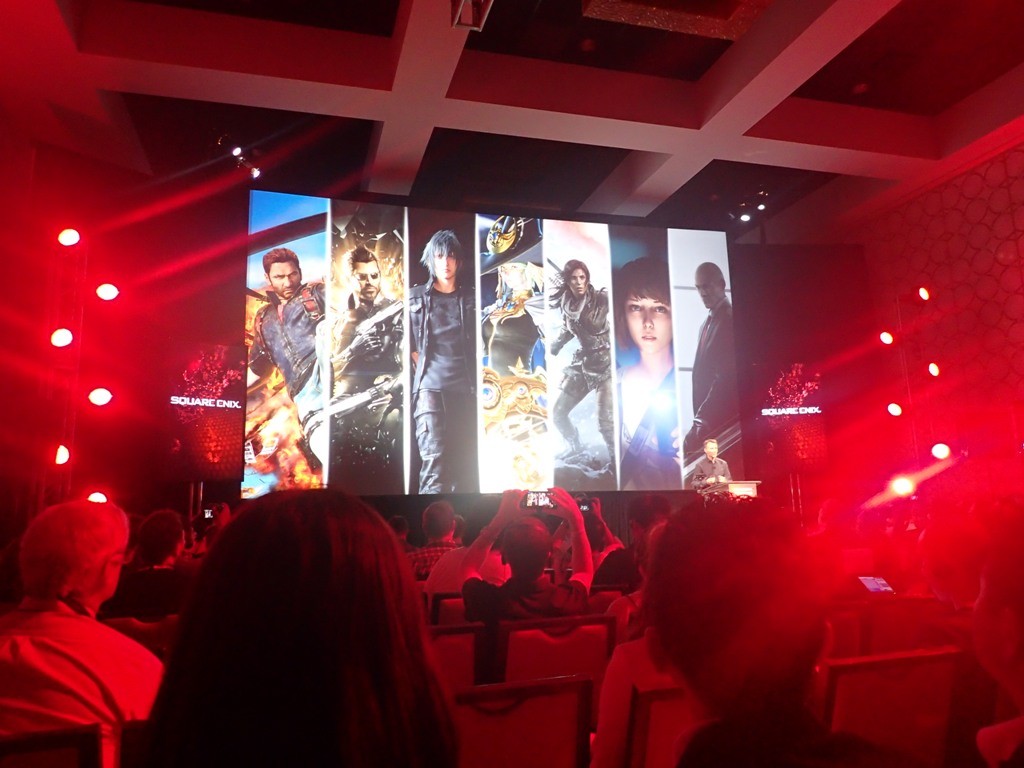 Finally, it was time to get started. This was the opening screen. Here you can see prominent titles like Just Cause 3, Deus Ex, Rise of the Tomb Raider, and more.
NieR New Project was a surprise announcement, so it wasn't on the screen. (Heh heh.)
First at bat was Just Cause 3! And second was…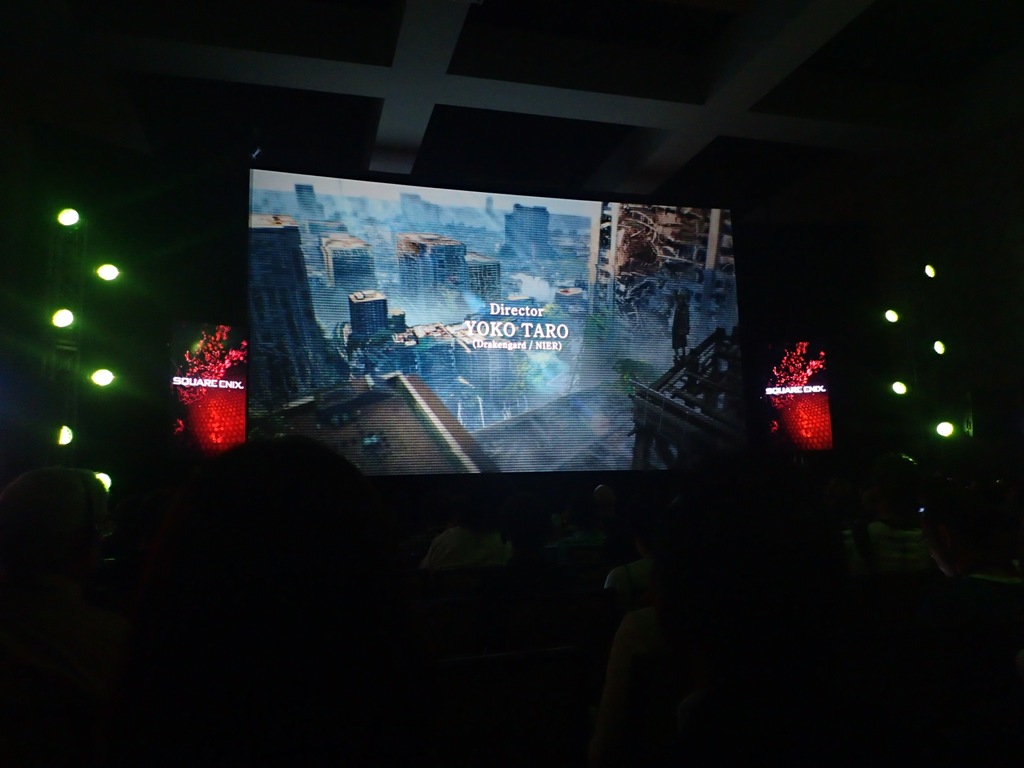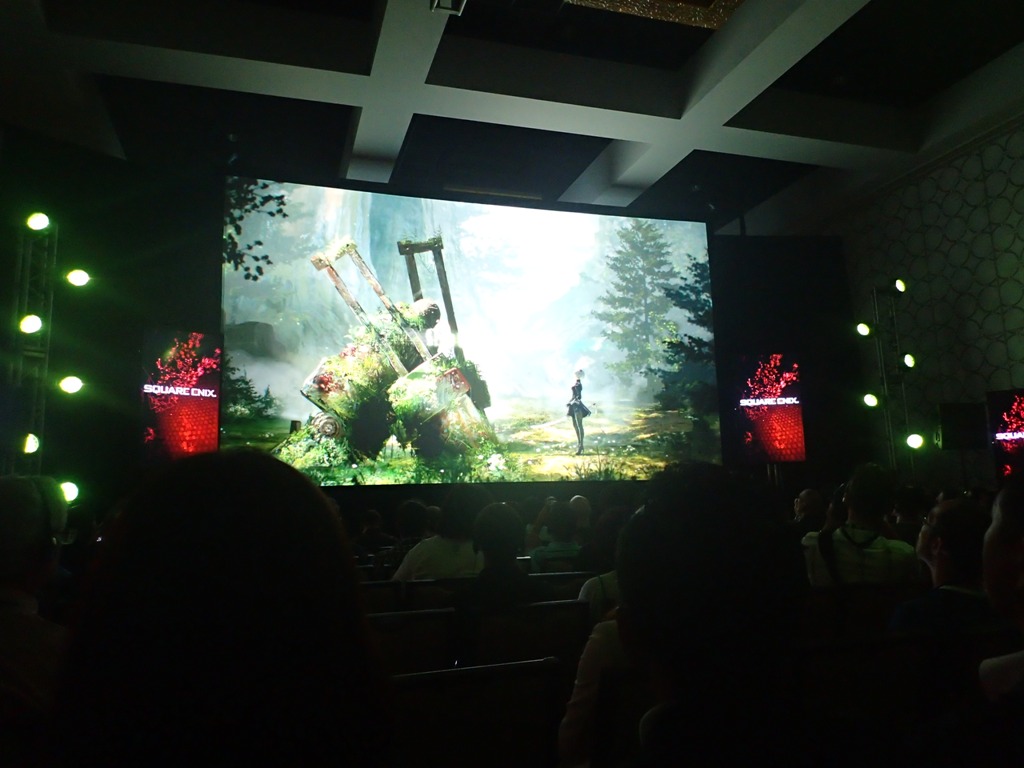 NieR New Project!!!
I'm a fifth-year game designer, but it was my first time to see a title I was working on being revealed live right before my eyes.
Of course, I had seen the trailer several times already and knew what it was about. But seeing it play on the big screen with the volume loud, and sharing that experience with everyone in the theater and the thousands of viewers watching live online, felt completely different from usual.
I was beside myself wondering how everyone would react. As the trailer played on and everyone learned that it was NieR, how would they react? Joy? Disappointment? Indifference? I had no idea.
I didn't know that directly witnessing their reactions would be such a thrill. And at E3, the biggest exhibition in the world! I am one lucky guy.
So I wanted to watch the screen and the attendees' reactions at the same time. For a moment I couldn't decide which to focus on, but I ended up turning my eyes toward the screen and picking up their reactions with my ears.
The audience reaction was not over-the-top excitement. Instead, the attendees caught their breath quietly. I heard whispers of excitement, like…
"…It's NieR!"
"…Whoa!"
This is just my personal opinion, but I thought this reaction was actually very NieR-esque, in a good way. 🙂
Of course, there are also the guys who get THIS excited:
(https://www.youtube.com/watch?v=0DYRzTvrrP8)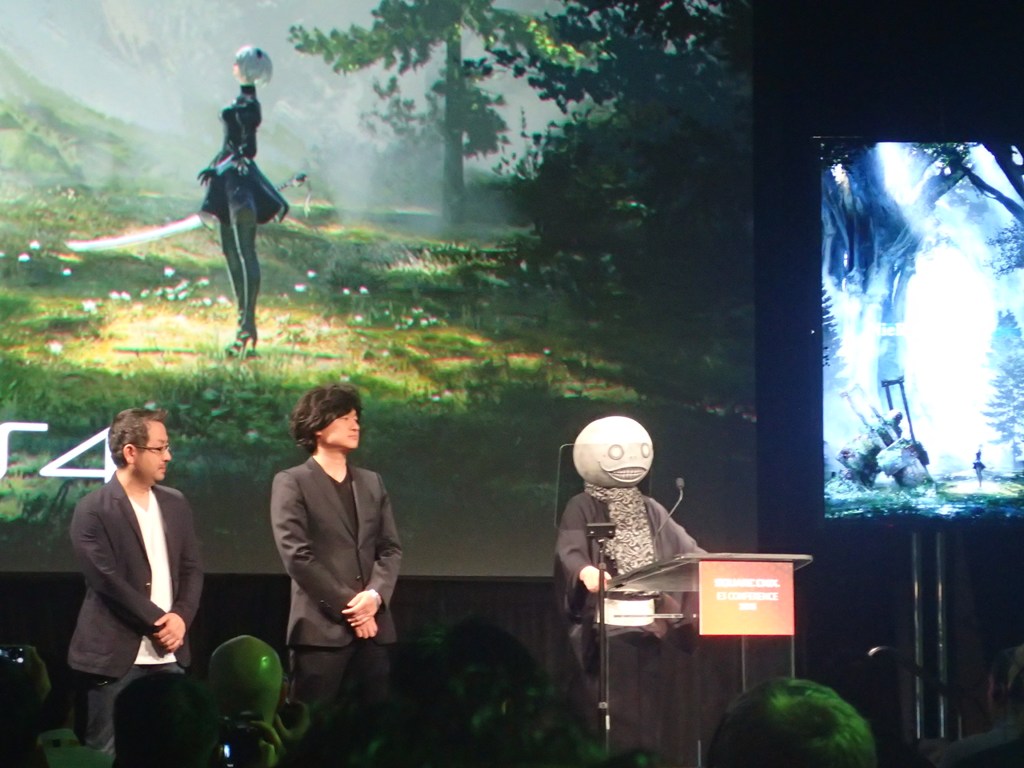 Watch the conference here.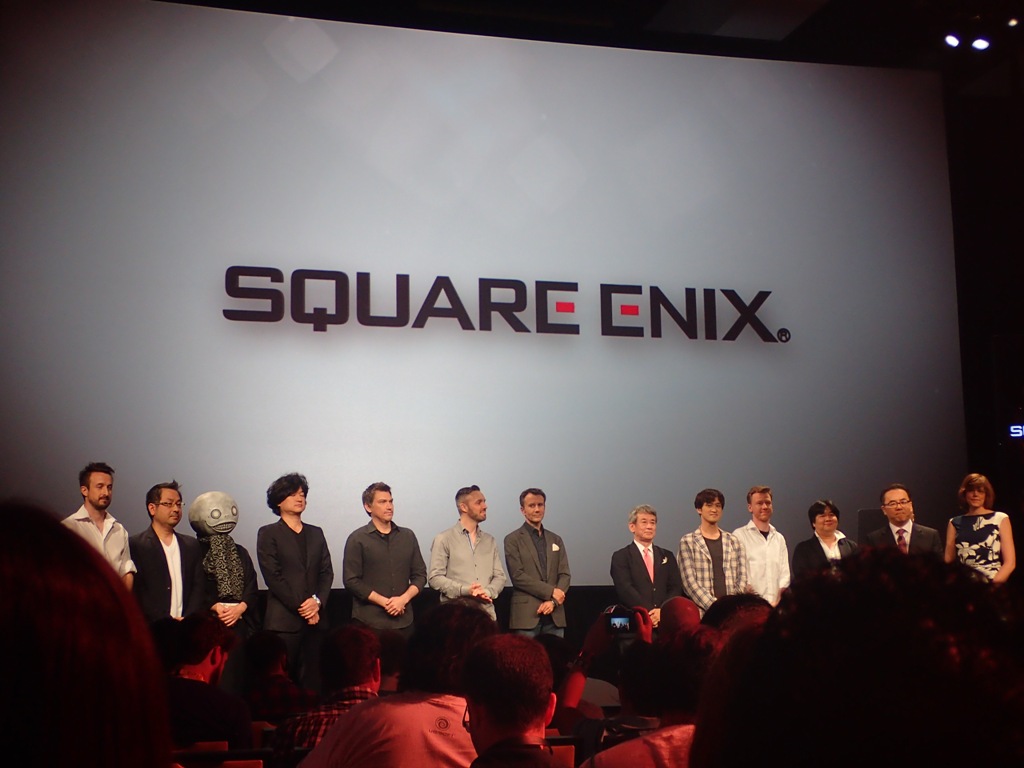 After the Square-Enix conference, I walked over to the E3 venue.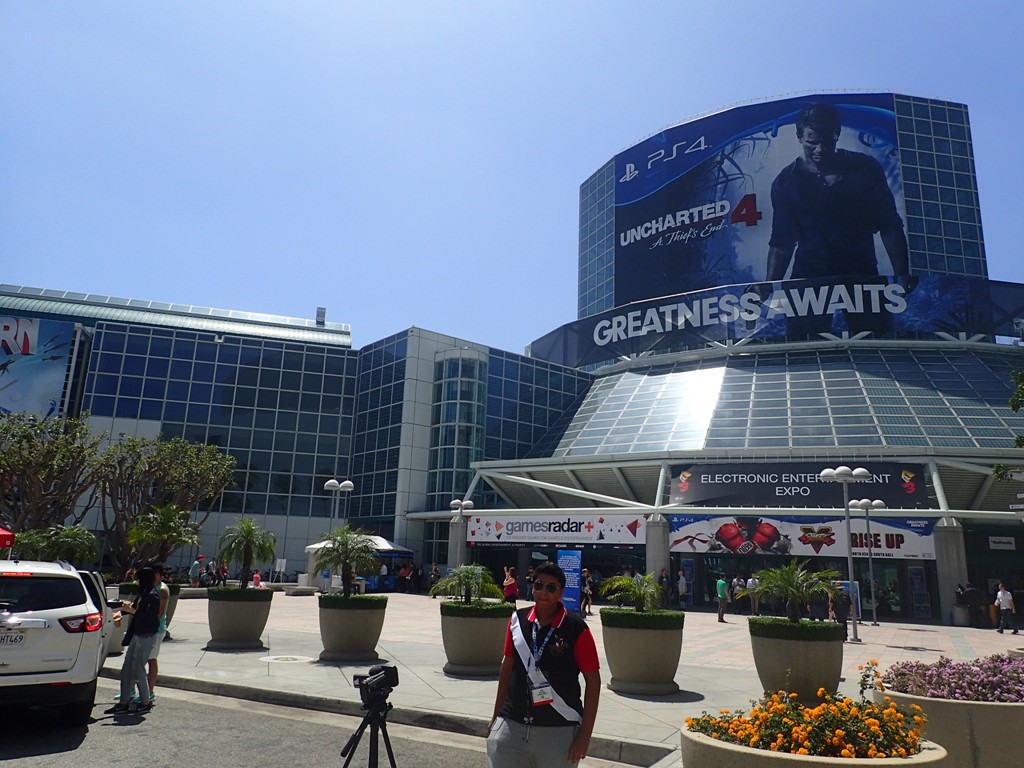 At E3, the first thing that jumped out at me was Uncharted 4: A Thief's End!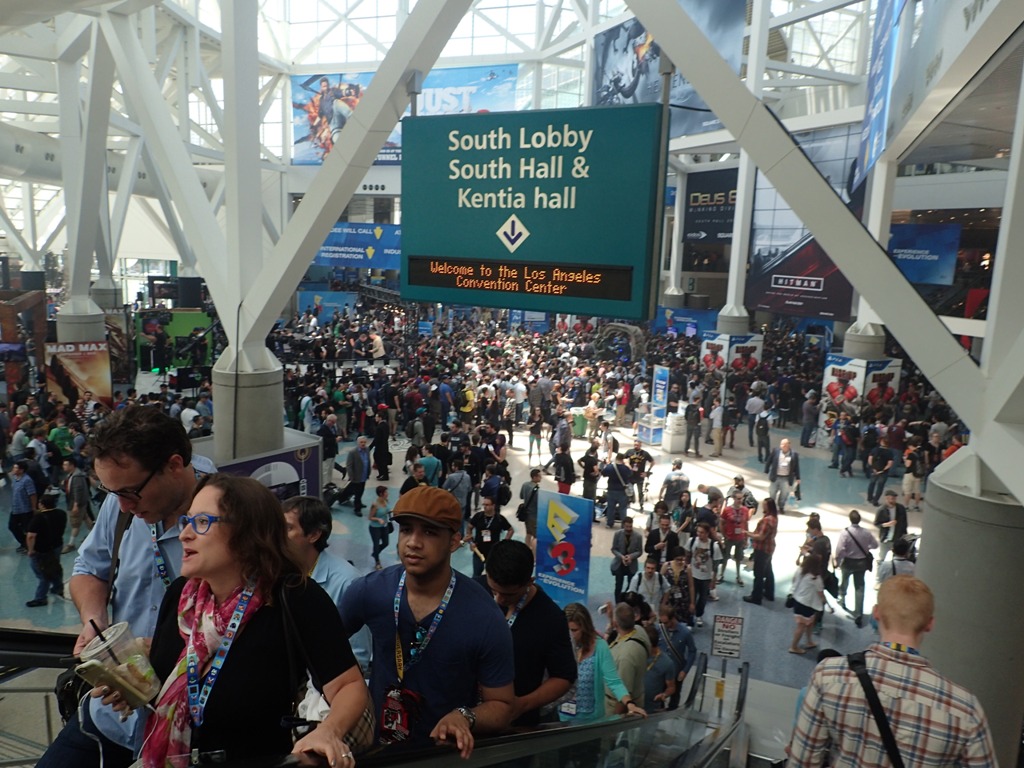 The first day opened at 12, so the lobby was packed with industry people waiting to get in.
There were a lot of displays in the lobby!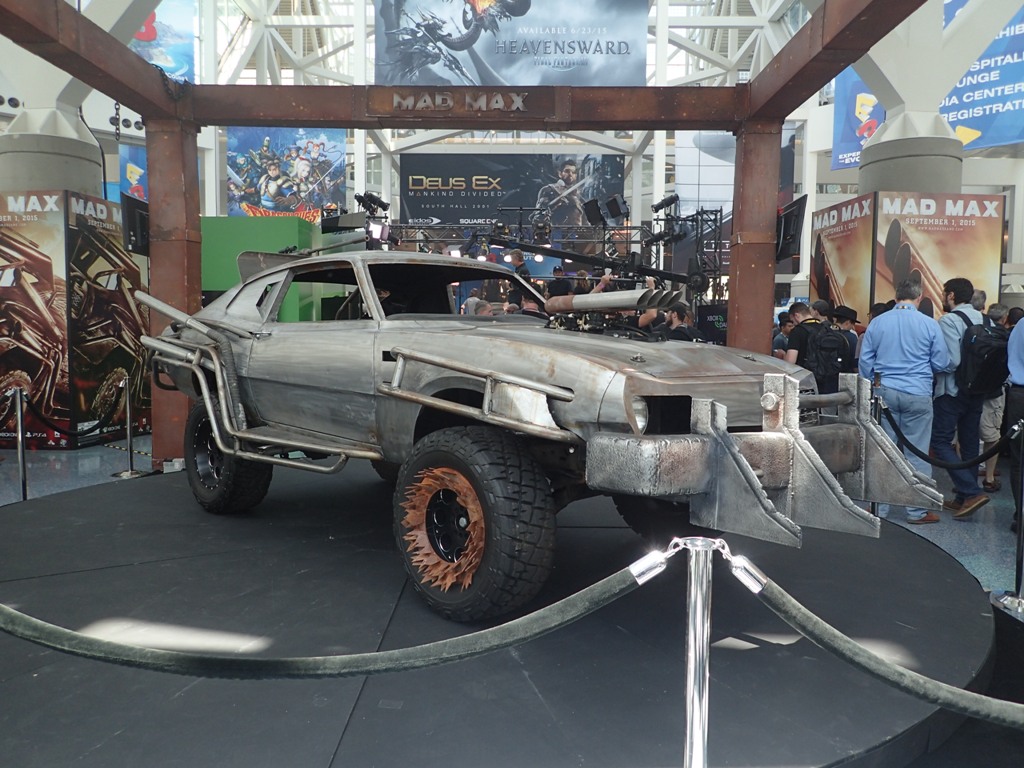 The interceptor from Mad Max!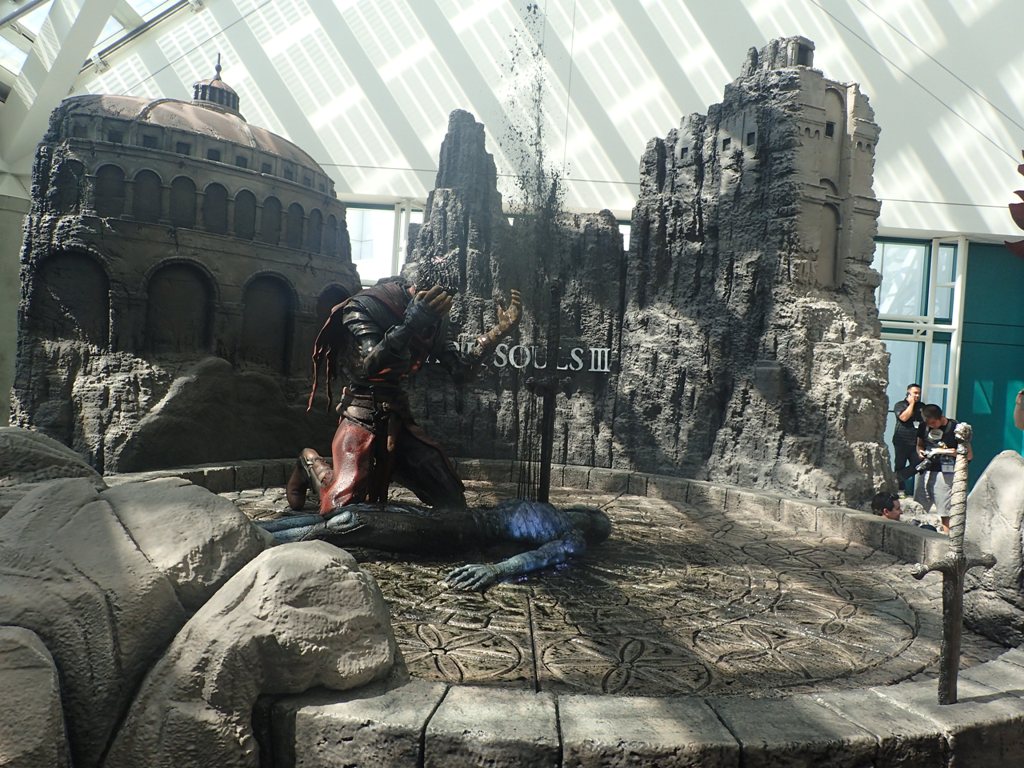 Dark Souls III display. Black water is spewing out from the blue corpse.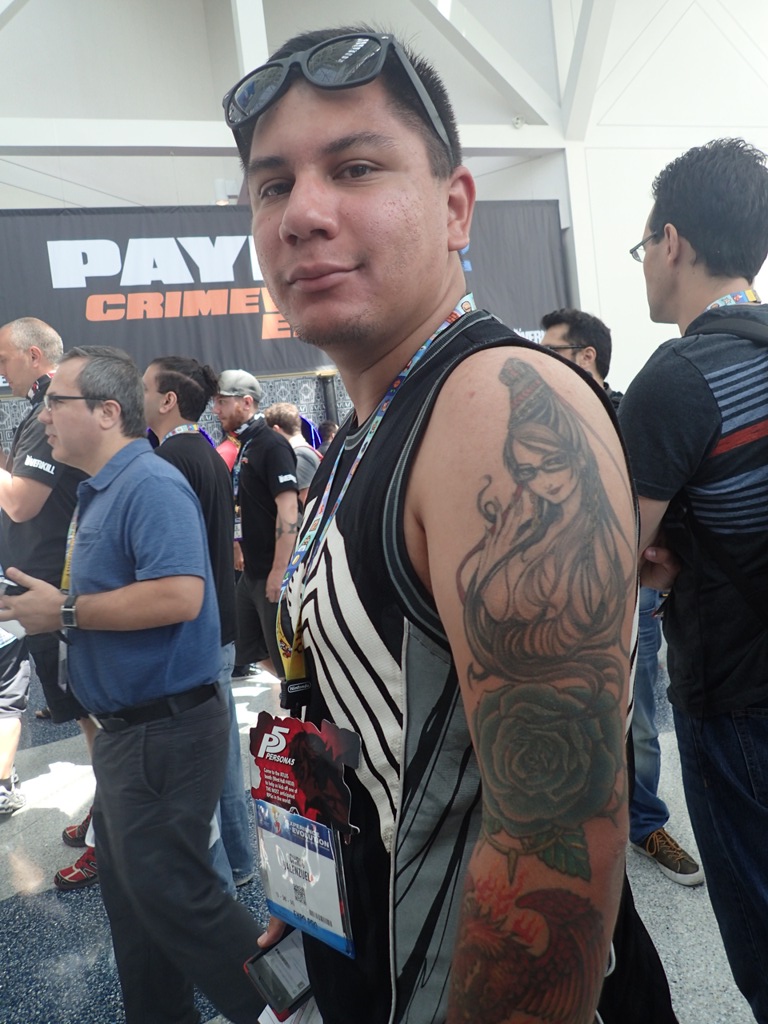 I even met a guy with Bayonetta immortalized on his arm!!!
When I spoke to him, he asked me, "Do you like Bayonetta too? Did you buy Bayo 2?" After that, I had to reveal my identity, and we exchanged a firm handshake.
As you can see, there was a lot of excitement even before the doors opened. It was like a party.
Then finally it was 12 – time for the doors to open. The crowd raised a wild roar as they entered the show floor. That's America for you – everyone was hyped.
On the first day, I wandered around the third party booths until it was time for the Star Fox Zero Treehouse Live.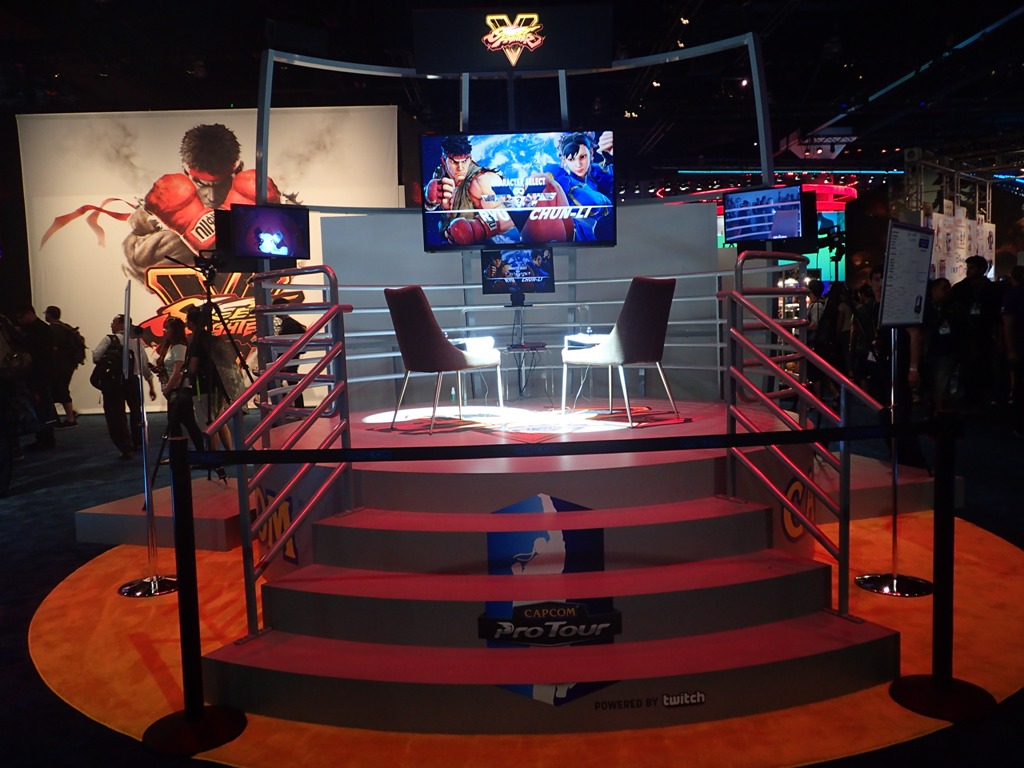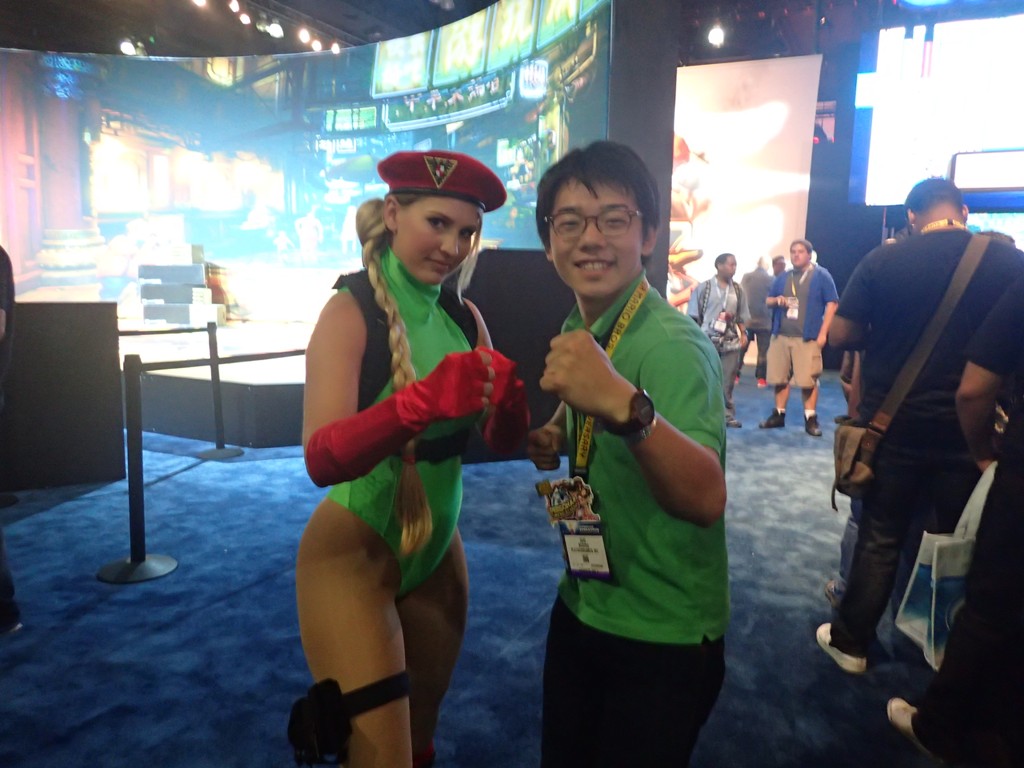 This is the Street Fighter V booth. This very glamorous Cammy was kind enough to take a picture with me.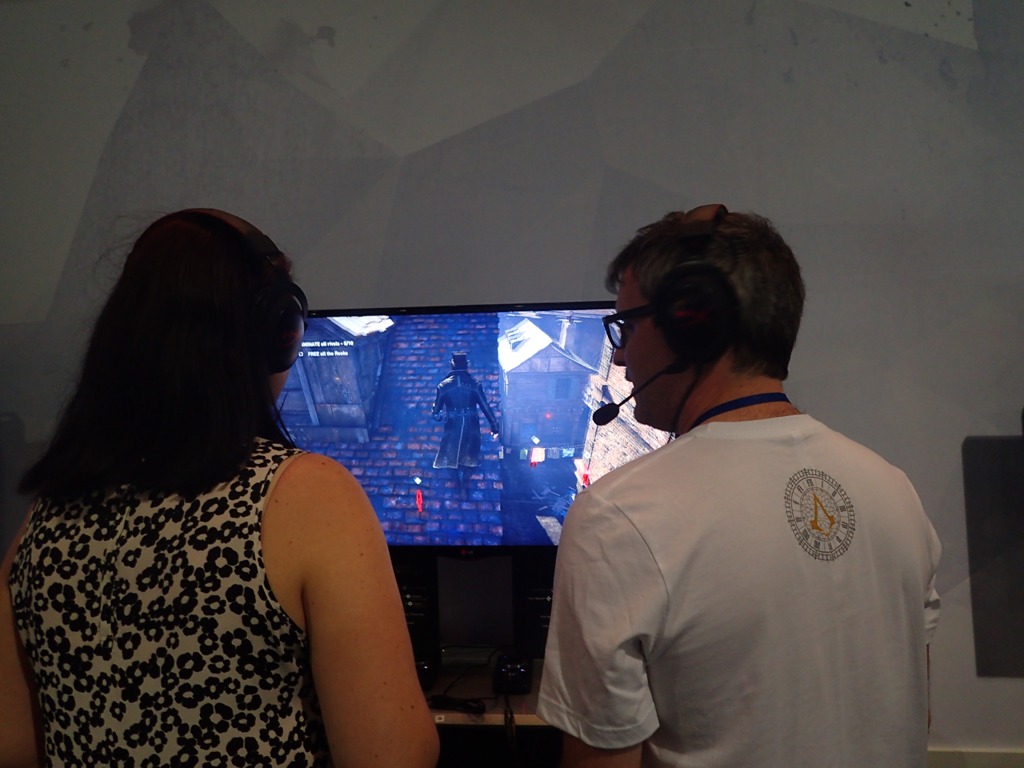 Asassin's Creed Syndicate demo at Ubisoft.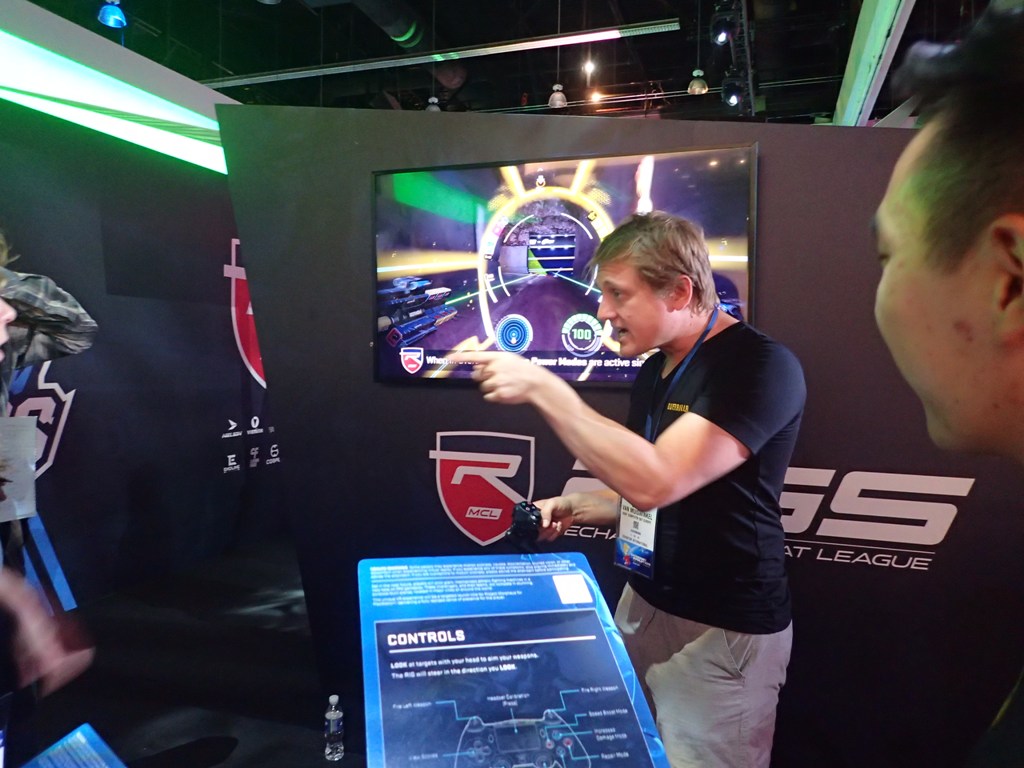 This is the demo for Rigs, a first-person robot battle arena game that uses the Morpheus.
Finally, it was time to go, so I headed to the Nintendo booth. There, I found that Star Fox Zero, collaboratively developed by Nintendo and PlatinumGames, was showcased front and center!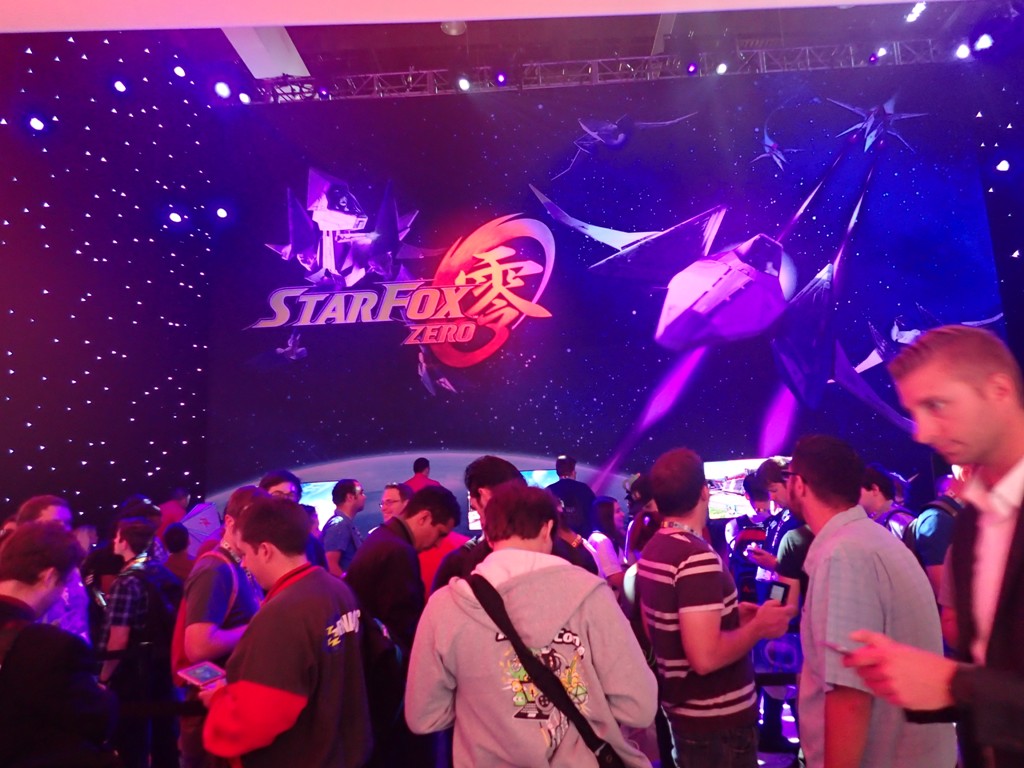 There were huge lines in front of the demo stations. Everyone was whiling away the time playing Smash Brothers on their 3DS.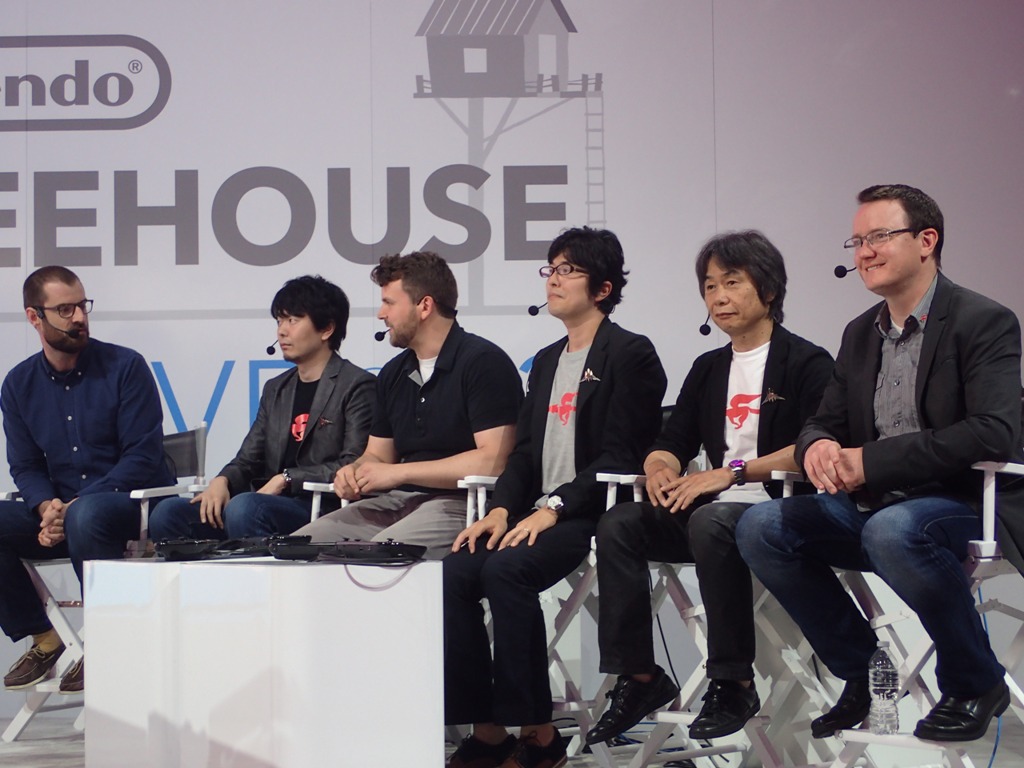 Then the Treehouse Live event began! Hayashi-san, the director at Nintendo, and Hashimoto, the director here at PG, explained the game as they played.
Watch the Treehouse Live segment here.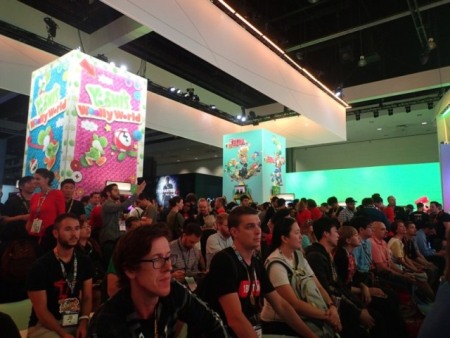 The audience seating was full. Everyone's face looked so serious. The announcement must have made a big impact. As proof of that, I constantly heard Star Fox being mentioned around me after this event.
Some people who noticed from our ID cards that we were PG staff even asked to shake our hands and told us to keep up the good work!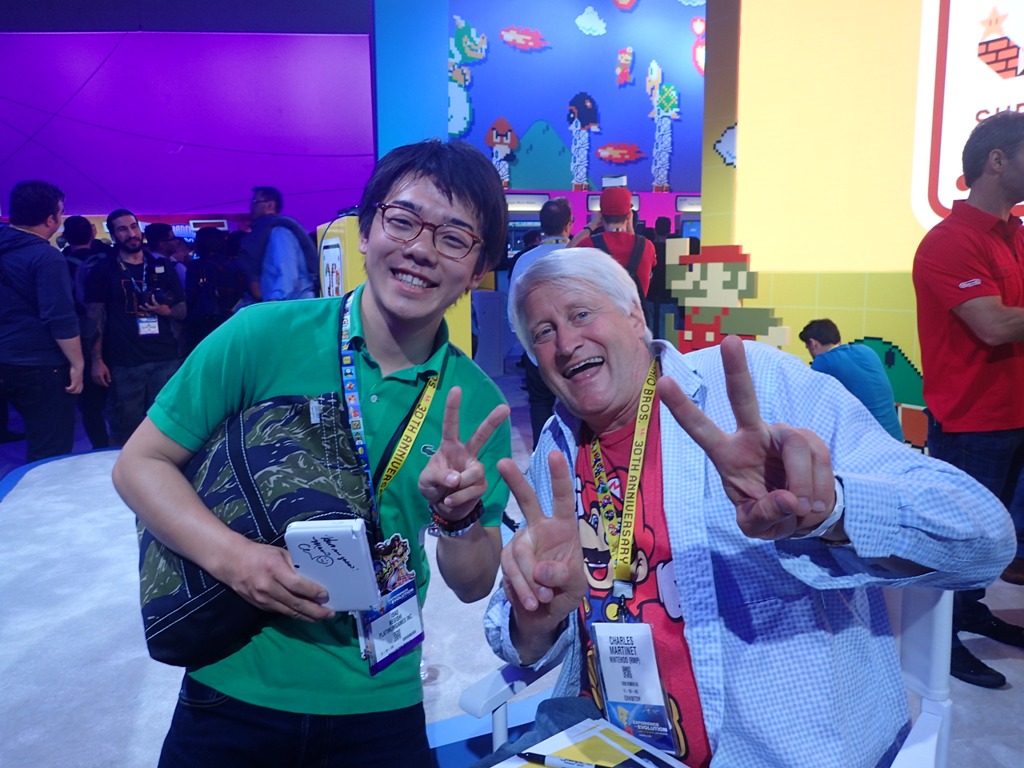 Next door, at the Mario Maker booth, I was lucky enough to get my DS signed by Charles Martinet, the voice of Mario!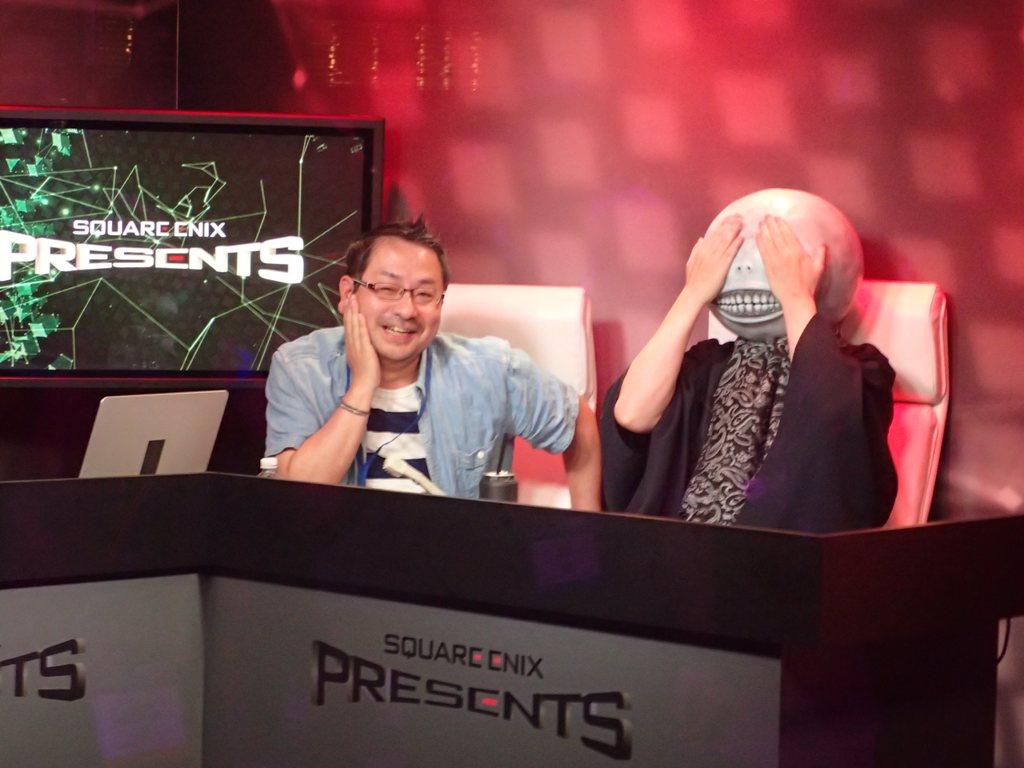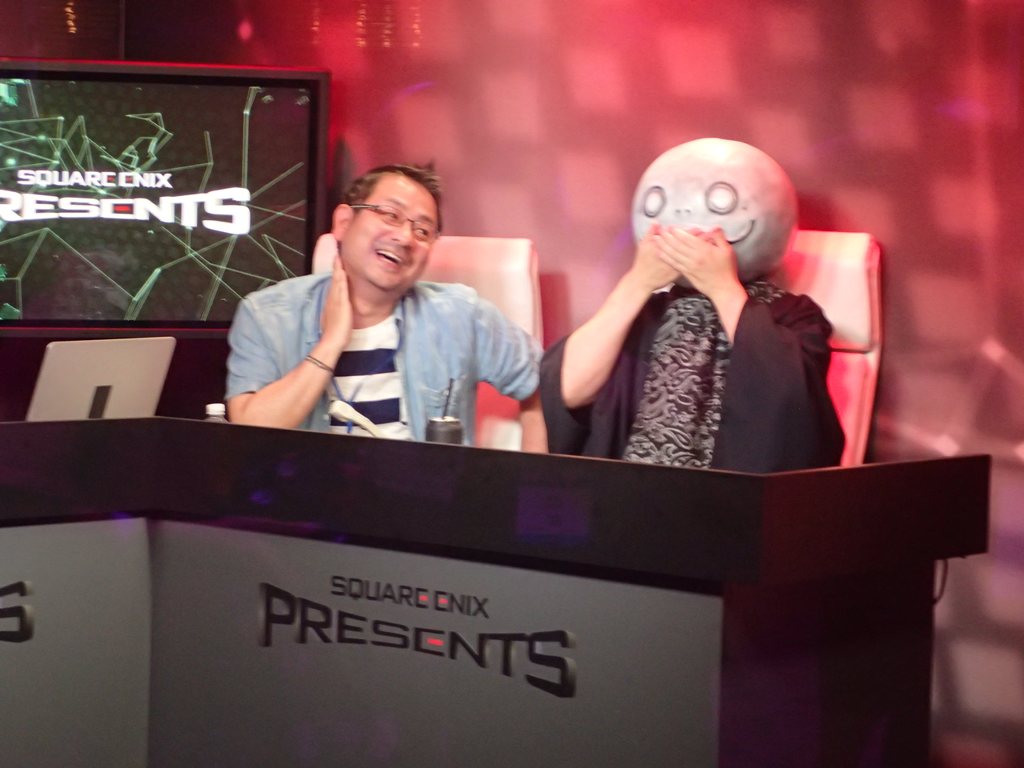 On the second day, I encountered NieR New Project producer Saito-san and director Yoko-san right after their NieR New Project interview at the Square-Enix booth! They struck a pose when I pointed my camera at them.
There was a live event for Transformers: Devastation at the Twitch booth featuring producer Kurooka and director Saito from PG, but I couldn't make it.
Liz saw the event – check it out on her blog here!
Well, what with one thing and another, my E3 trip was over before I knew it.
Because E3 is a trade show, I thought that only a narrow range of content would be shown, but that turned out not to be the case at all. There were spectacular events and displays all over the show floor. The attendees' pure passion for gaming made a big impression on me. Being right there live for all the reactions and excitement was a truly worthwhile experience.
Finally, I'm sure that we at PlatinumGames gave all of you some great surprises at this year's E3.
Rest assured that we're working hard to make an even bigger impact next year. Get ready to be blown away!
TAG