Hi! I'm Yoshikaze Matsushita, a character modeling artist here at PlatinumGames.
As a character modeler, my job is to take the characters and enemies that our concept artists dream up and turn them into the cool 3D models that appear in our games. It's a demanding job that requires a lot of spatial awareness and imagination.
A good character modeler always strives to improve their skills. To that end, PlatinumGames welcomed Hollywood sculptor/character designer Hiroshi Katagiri into the office to give a special seminar to our modelers. Mr. Katagiri has done special effects makeup in Hollywood for over 20 years. In that time, he's created characters for films and TV shows like "Pirates of the Caribbean: On Stranger Tides" and "Pacific Rim."
I've summarized some of what we learned from him here – aspiring character modelers, take note!


---
Capturing Atmosphere
---
Mr. Katagiri opened the lecture with a slideshow presentation, describing the things that artists should keep in mind when creating a character to make sure that their unique traits and personality come across.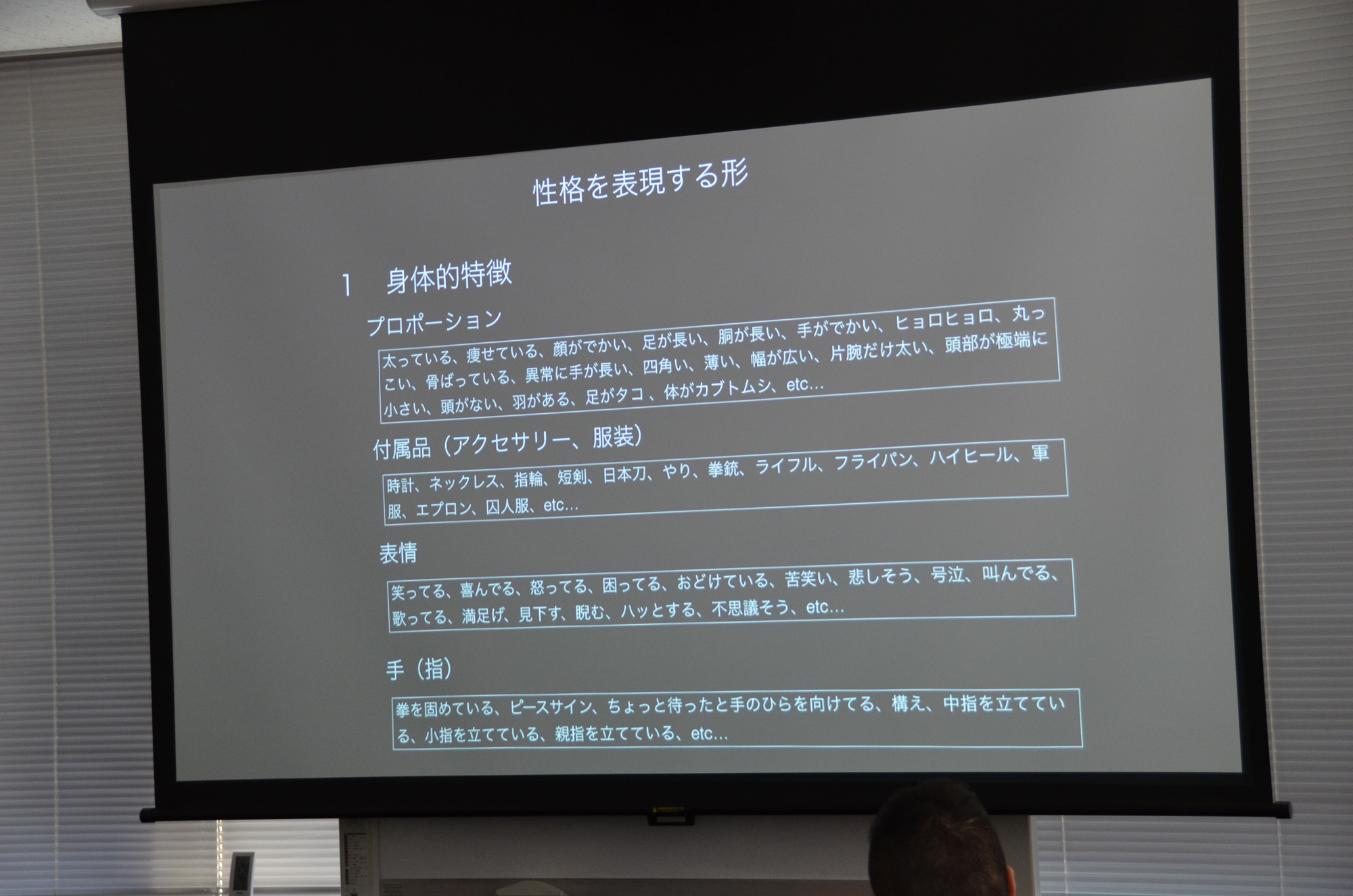 "If you don't grasp a character's atmosphere and the impression they should give," said Mr. Katagiri, "that character won't feel like a unique individual, no matter how much detail you pile on." This sentiment made quite an impression among the gathered character modelers. Since conveying a character's atmosphere is a huge part of our job, it's an important truth to keep in mind.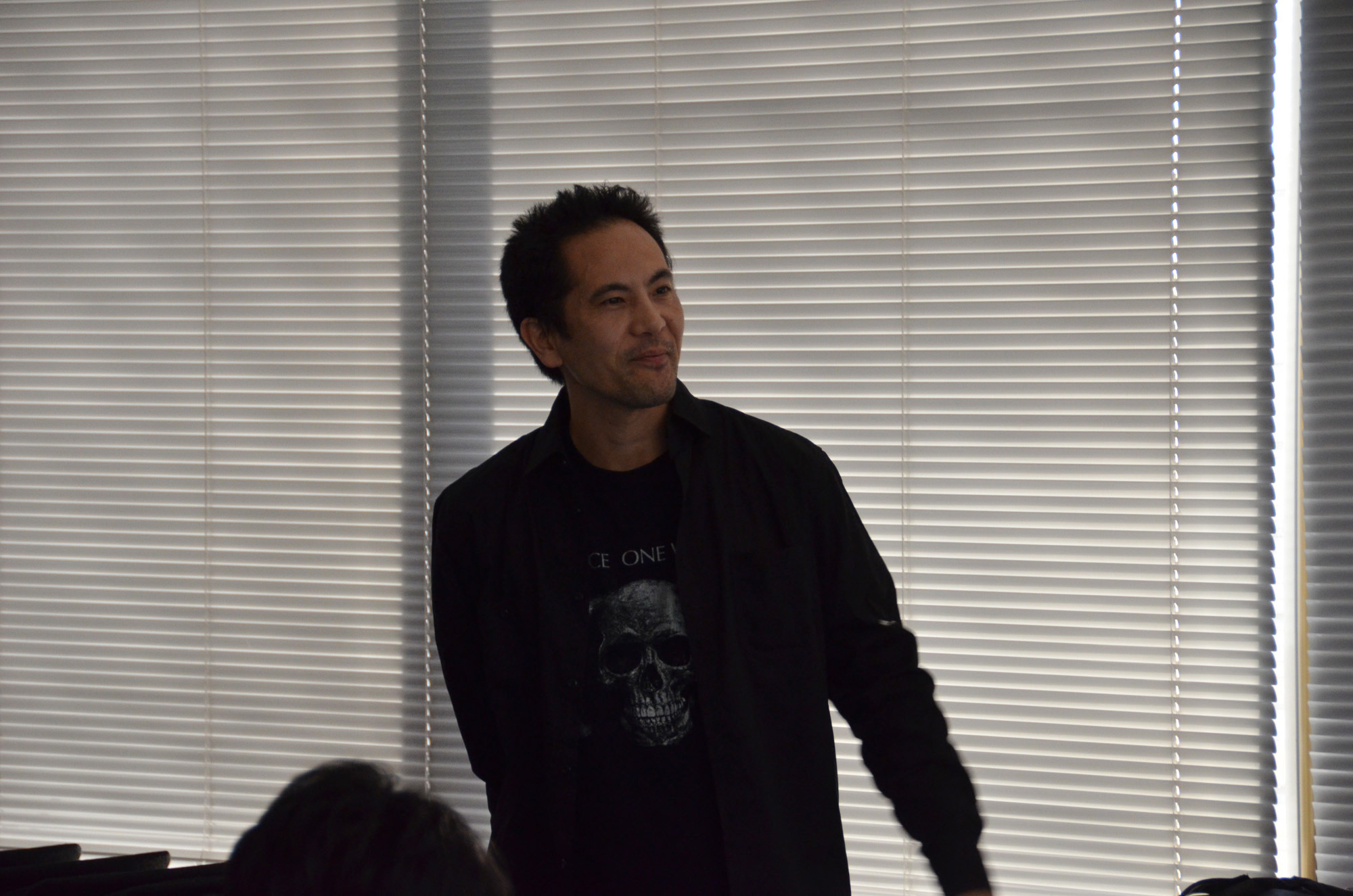 Mr. Katagiri's atmosphere, by the way, is warm and friendly!
---
Katagiri's Body of Work
---
Mr. Katagiri has brought lots of different characters to life, from modeling the mermaids in "Pirates of the Caribbean: On Stranger Tides" to creating the robot models that formed a base for the CG work in "Pacific Rim." He shared the nitty-gritty on his past work with us – including some rare and fantastic work from projects that never made it to the screen!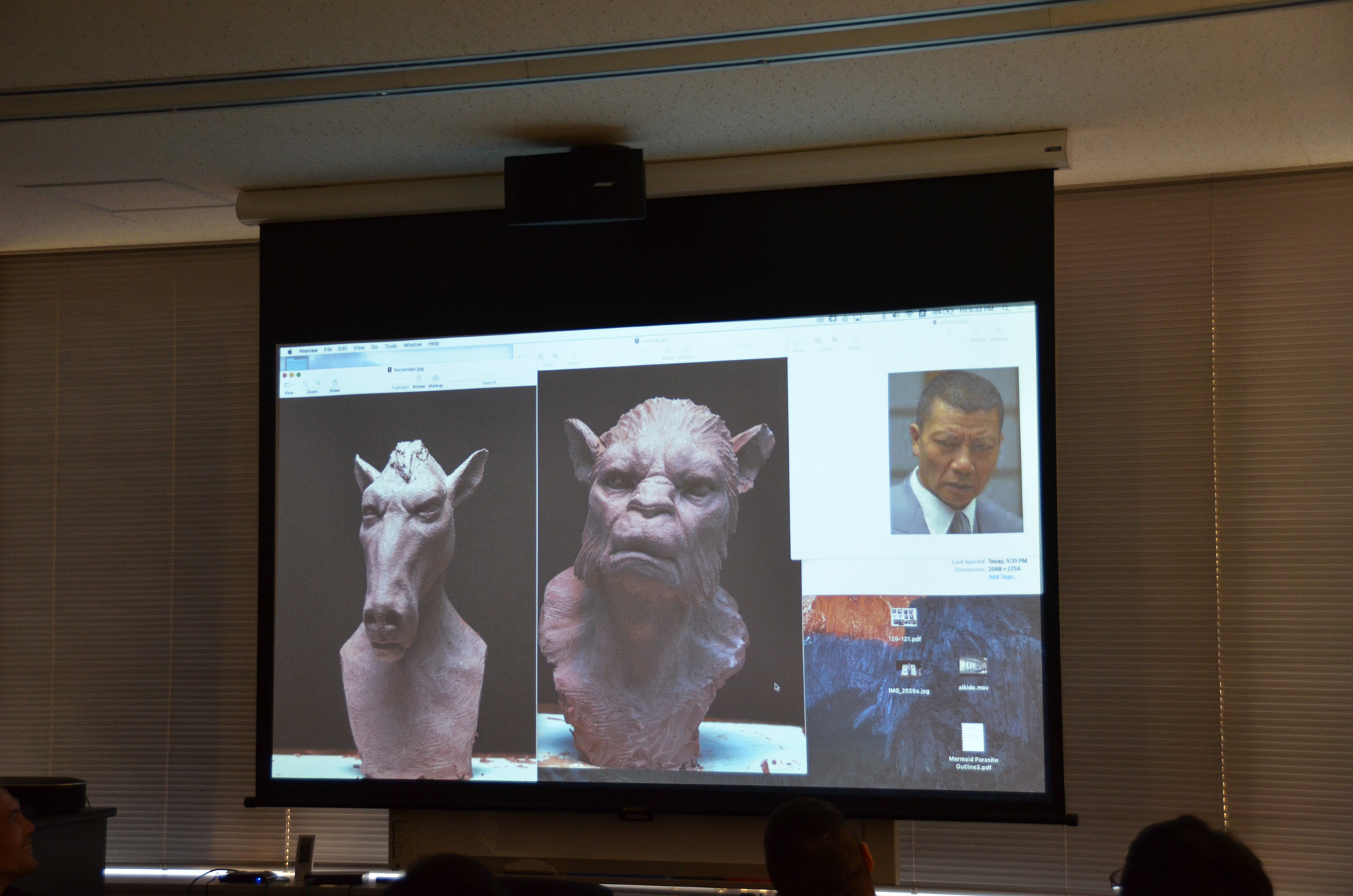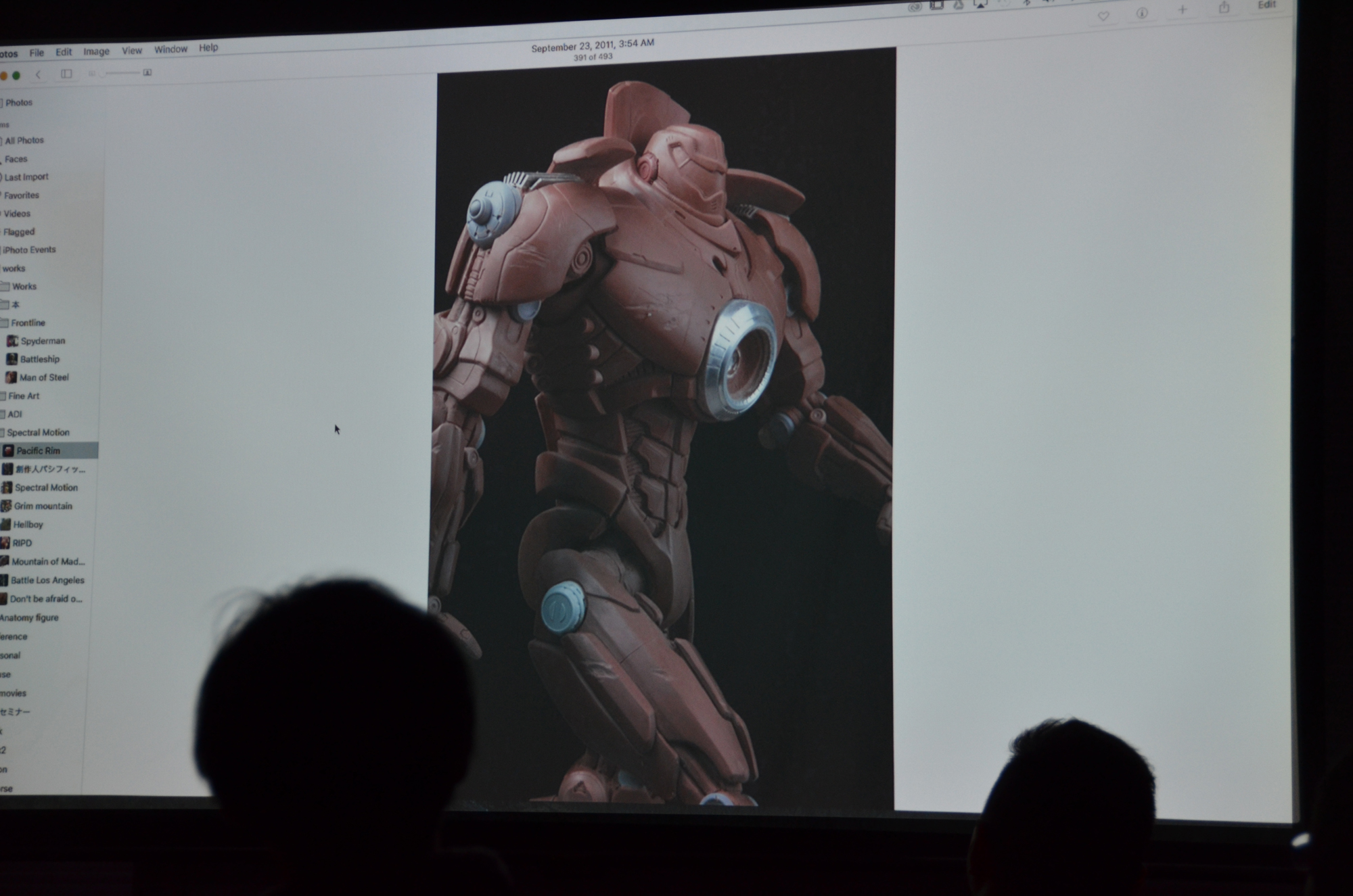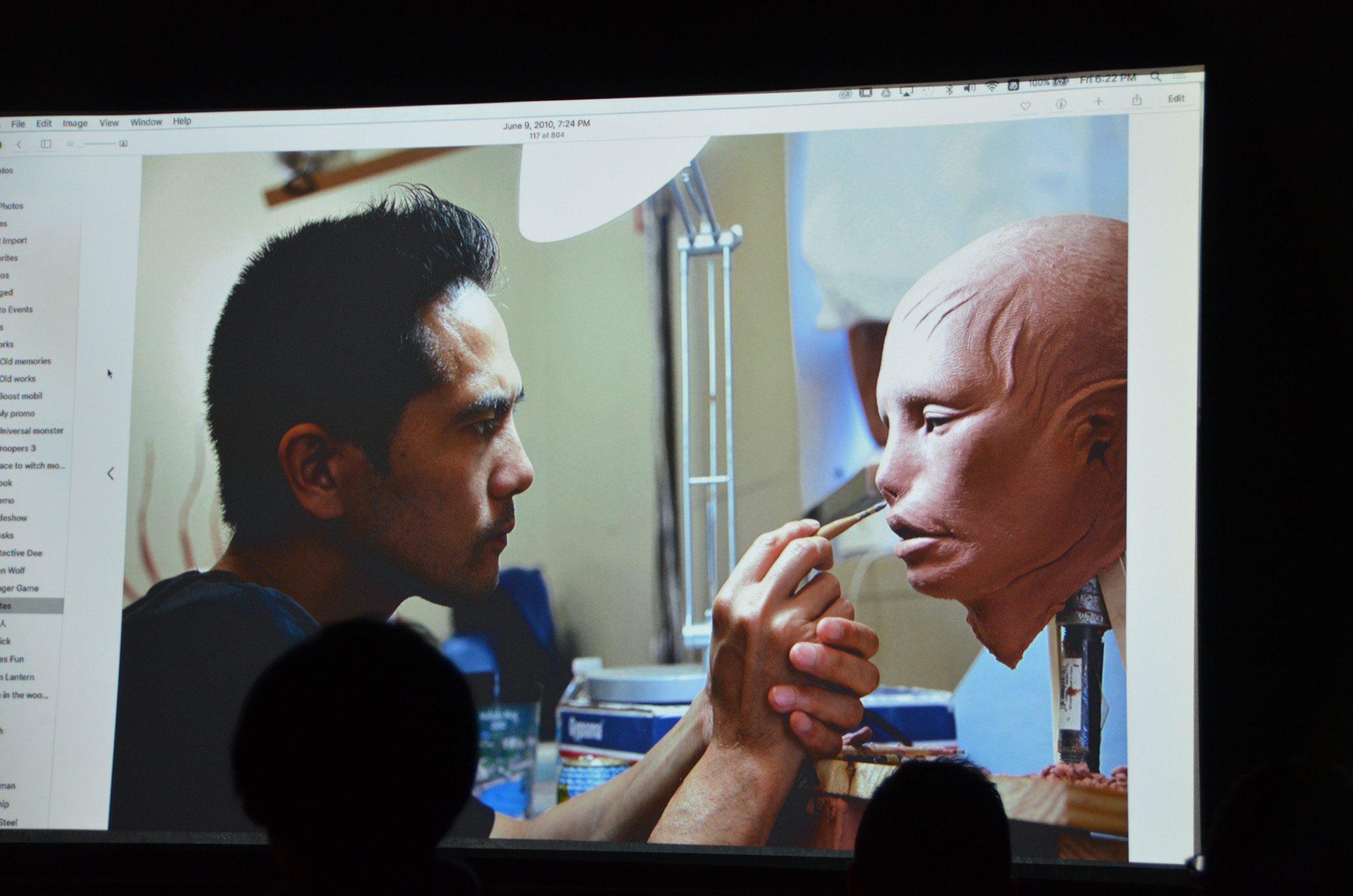 ---
Sculpture Demonstration
---
After the slideshow, Mr. Katagiri brought out some clay and proceeded to create a life-size character bust right in front of us!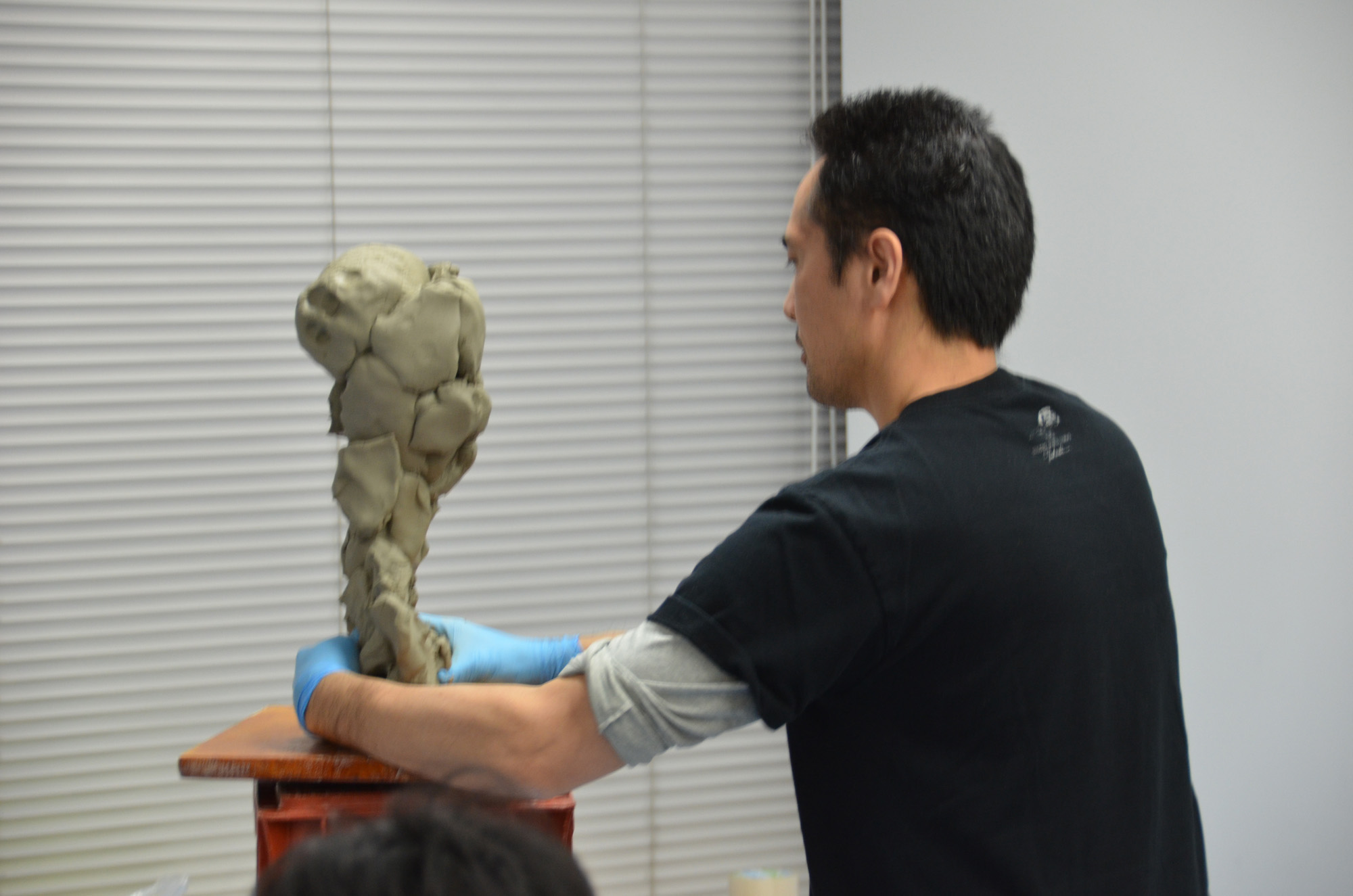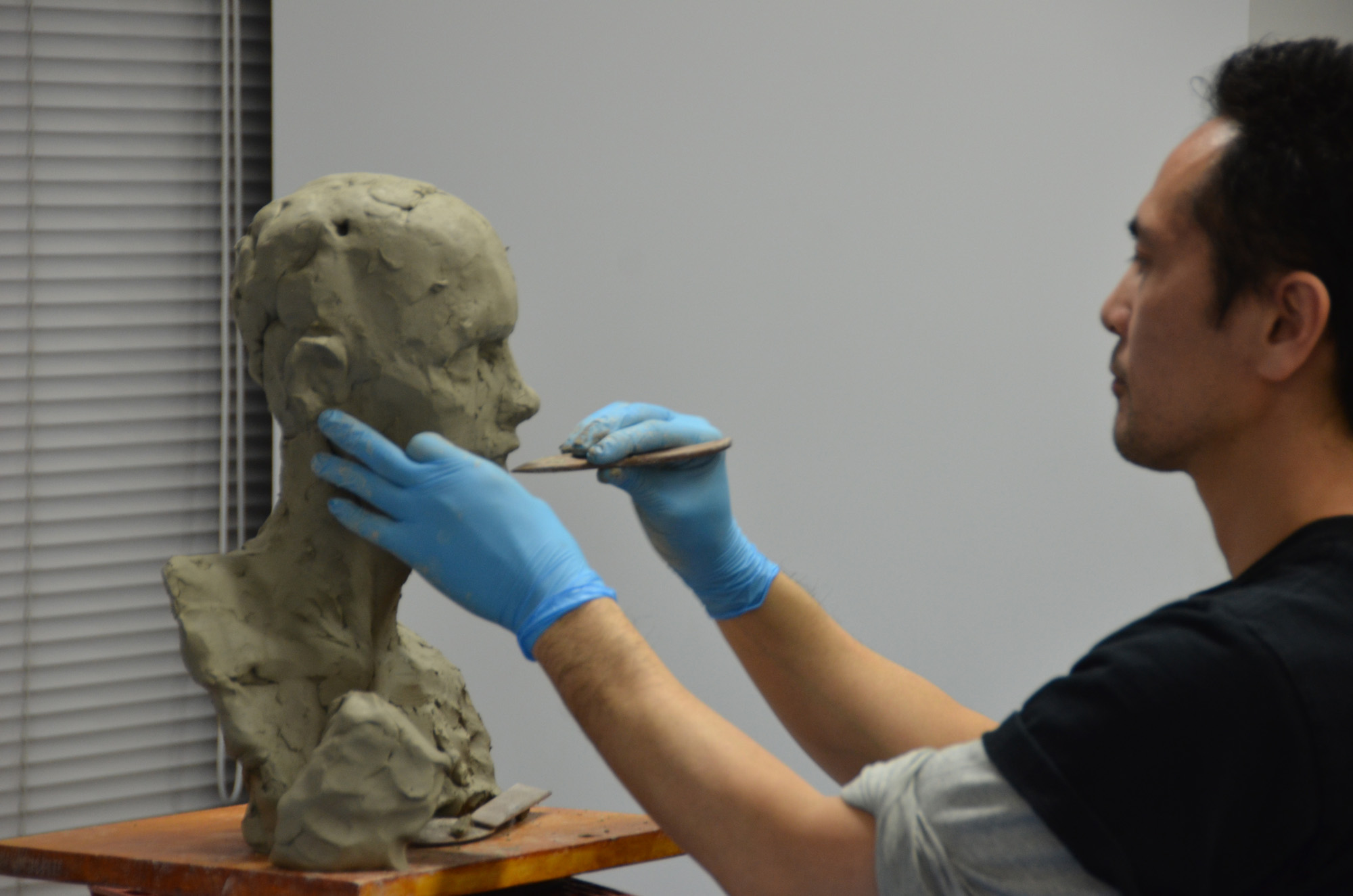 Presenting the finished bust, "Young Woman About To Punch Someone!"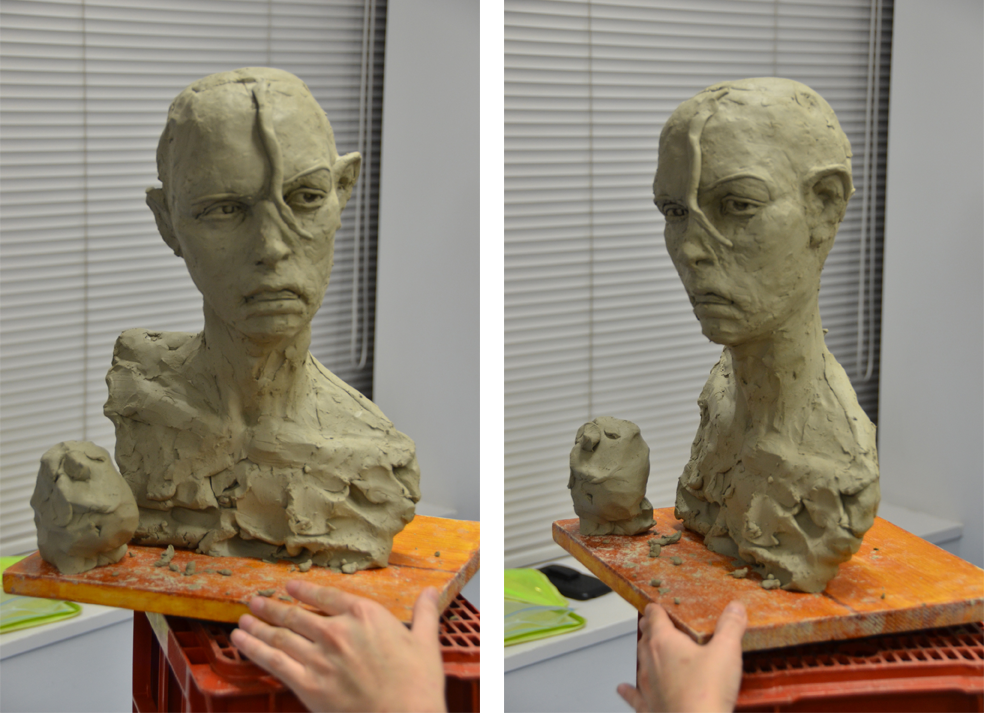 In no time at all, Mr. Katagiri created a compelling death glare that left us all speechless!
Next, we asked him to change her facial expression and he obliged. Meet "Young Woman Feeling Relieved and Satisfied After Punching Someone!"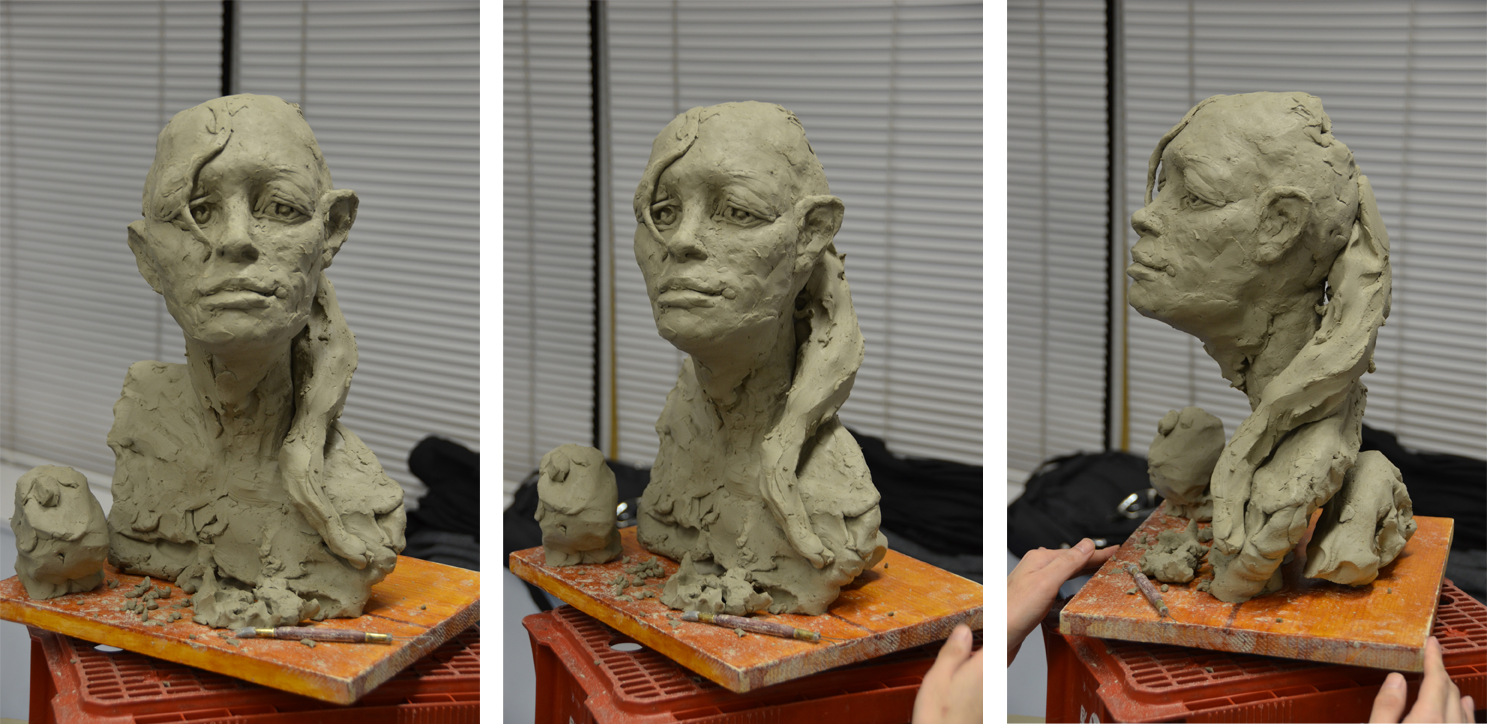 You can really see the relief clear on her face as all her tension melts away!
Finally, he decided to make an even bigger change to the bust to make her into a completely different person. Before our eyes, "Young Woman Feeling Relieved" turned into "Old Woman Getting Surprised!"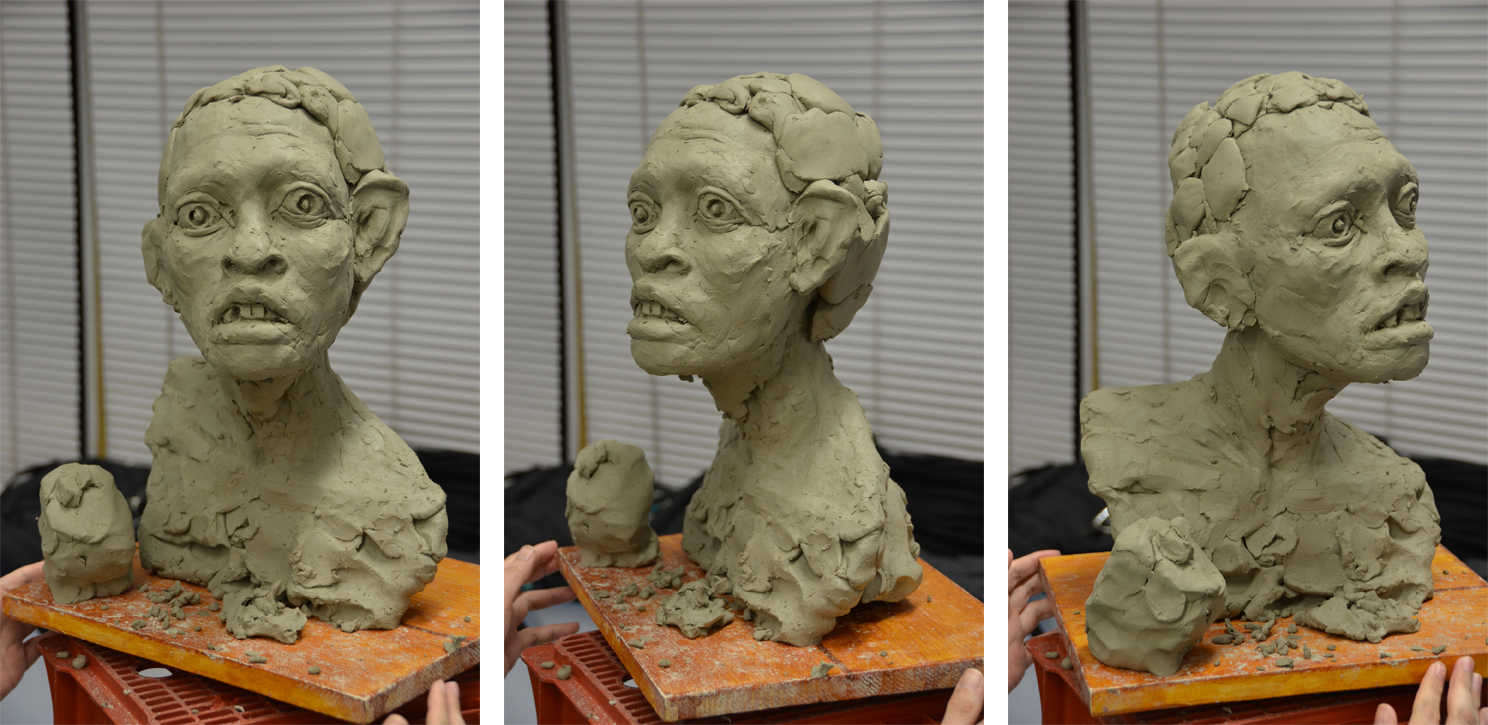 The seminar was originally scheduled to last two hours, but Mr. Katagiri took the time to share so much fascinating information and demonstrations that before any of us knew it, we'd passed the three-hour mark.
We learned so much from Mr. Katagiri about his approach to creating characters; from the basics of sculpture (three-dimensional representation, balance, flow, rhythm and more) to the higher-level thought processes behind sculpting and some ins and outs of the work itself. I can't wait to see how we apply everything we learned from him on our future games! Mr. Katagiri, thank you so much for your time!
This time around, Mr. Katagiri tailored his talk towards character modeling artists, but since he got such a positive response, we decided to ask him back to talk to our animators and concept artists as well! Hopefully we'll be able to blog about those talks as well.
Hiroshi Katagiri Follow @samuraihk
Hiroshi Katagiri moved to the United States in 1990 at the age of 18. At 19, he began working in a studio run by special effects artist Joji "Screaming Mad George" Tani. After that, he went freelance as a character creator for film and TV. He won an Emmy award in 1998 for his makeup work on The X-Files.
From 2000 to 2006, he worked as one of the main artists at Stan Winston Studio, a Hollywood effects house famous for is character work in such films as Terminator, Alien and Jurassic Park. While at Stan Winston Studio, Katagiri worked on A.I., Jurassic Park 3, The Time Machine, War of the Worlds and more.
Nowadays, in addition to creating characters for a wide variety of films as a freelancer, Mr. Katagiri strives to provide guidance to the next generation by leading sculpture seminars in both the United States and Japan.
Yoshikaze Matsushita
Yoshikaze Matsushita graduated from the Osaka University of Arts and joined PlatinumGames in 2014. In addition to modeling the enemy characters that appear in our recent NieR:Automata, he also created the "Emil head" mask that fans know and love from director TARO YOKO's public appearances.
TAG