Welcome back to the Platinum Review! In case you missed our first edition, this regular series on the PG blog wraps up PlatinumGames news and notes from the past couple weeks in a tidy little package.
---
Halfcoordinated Knows How 2B Radical
---
Halfcoordinated kicked off this year's Summer Games Done Quick on July 2 with a blistering speedrun of NieR:Automata, reaching Ending A with just one hour and 43 minutes on the clock. If you aren't familiar with Halfcoordinated, he's an accessibility advocate and talented speedrunner who blows through action games with just one hand. If you didn't catch his run live, be sure to check it out below or on Games Done Quick's YouTube page:
This isn't the first Platinum title he's run at a Games Done Quick event, either – he beat Transformers: Devastation in under 45 minutes at Awesome Games Done Quick 2016 and Vanquish in 1:46 at AGDQ 2015. While you're watching, check out the #Got2BRadical hashtag on Twitter to see a side of 2B I guarantee you've never seen before.
---
NieR:Automata Staff go Hog Wild
---
The NieR:Automata team recently celebrated a job well done with a big wrap-up party. The centerpiece of the festivities was a roast whole pig, and game designer Takahisa Taura and director YOKO TARO were on hand to carve it for everyone.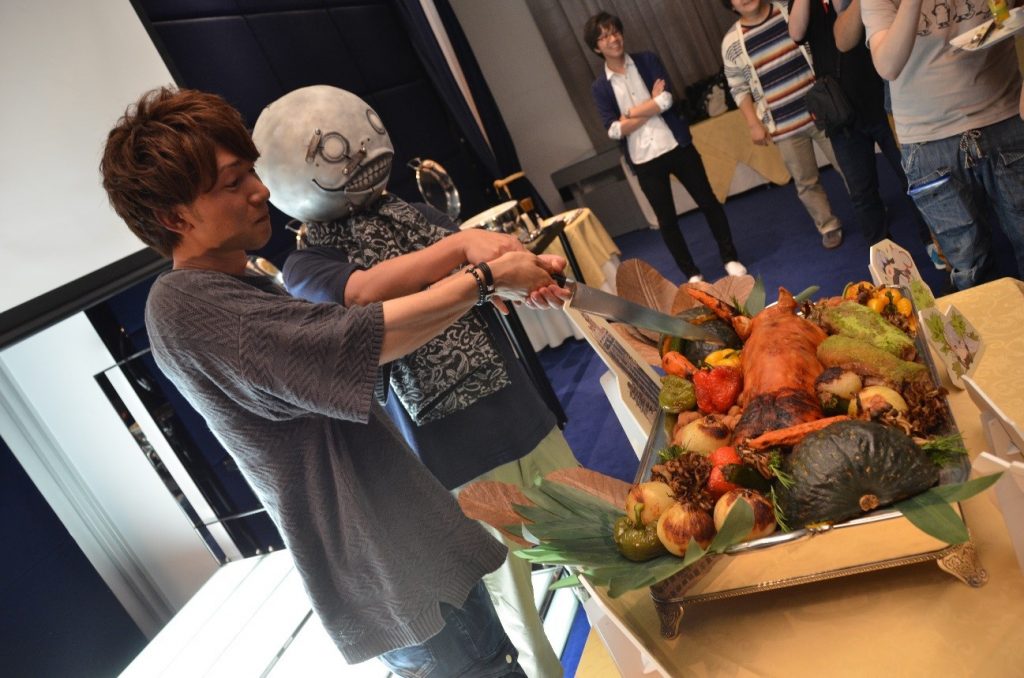 Look closely, and you can also see some adorable YoRHa table decorations by PG artist Tomoko Nishii. Taura liked them so much he wanted to take them home:
うちのデザイナー西井さんが描いてくれたイラスト……可愛い!(貰って帰ろう) pic.twitter.com/cYwxVfyjji

— 田浦 貴久 (@PG_taura) 2017年6月23日
No word on whether anyone tried to drift the pig before roasting it, though.
---
Brand-New Art – and a Japanese Lesson
---
We've recently split our Twitter into two accounts for two separate languages, English and Japanese. English tweets will continue at @platinumgames, but our Japanese tweets have a new home at @platinumgames_j. To kick things off, we had a bunch of our artists make original artwork celebrating fan favorite games from across our history. You can find all of this art collected here, but for now I'd like to take a closer look at one very special piece from Hideki Kamiya: Kaminetta!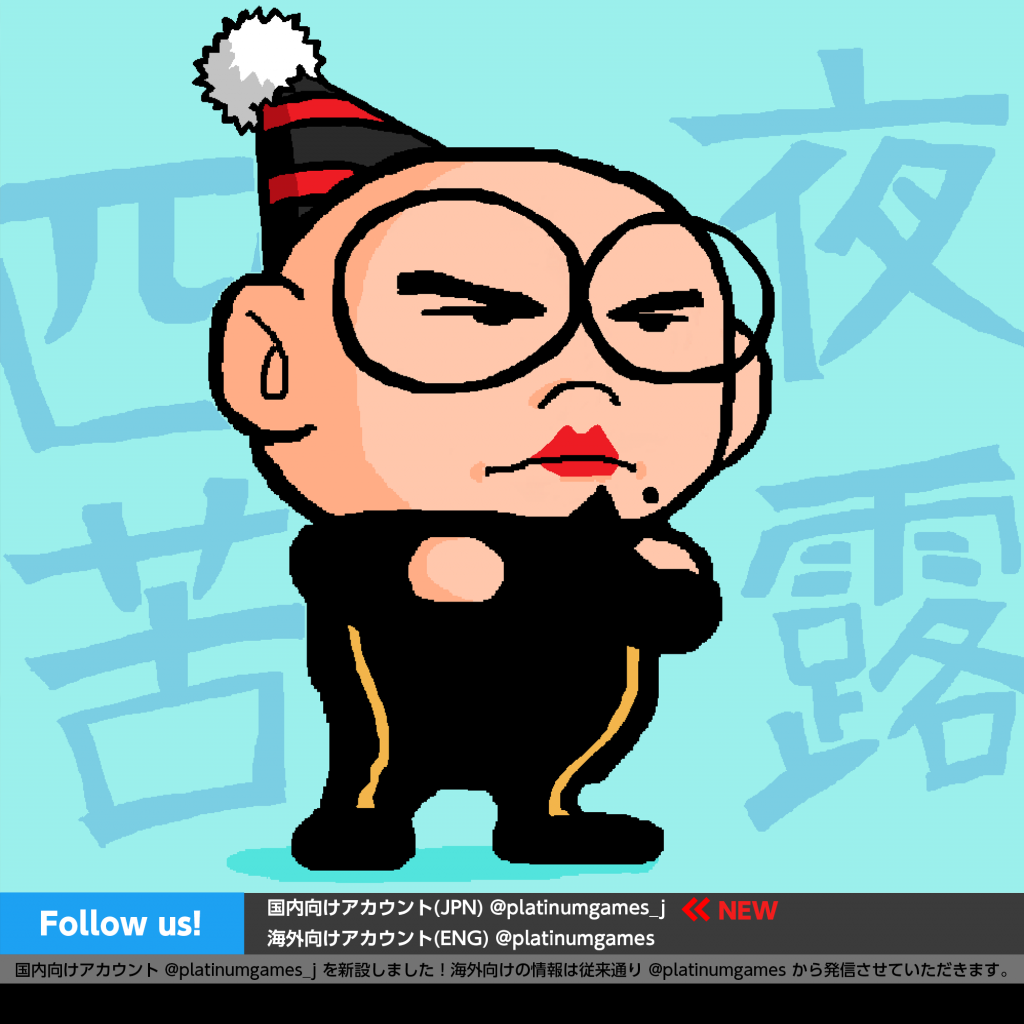 Don't ask how Kaminetta manages her Wicked Weaves.
Time for a short Japanese lesson! See those kanji characters behind Kaminetta? To Japanese readers, they look bewildering and a bit threatening at first glance:
夜 – night
露 – dew
四 – four
苦 – suffering
(Japanese is often read right-to-left and top-to-bottom.)
But read them out loud, and they just say yoroshiku – a friendly, everyday Japanese phrase, as if to say, "thanks in advance for following our Twitter." This sort of creative misspelling, hiding common phrases in complex kanji, is typically associated with biker gangs in Japan. Here's another well-known one:
愛 – love (ai)
羅 – gauze (ra)
武 – military arts (bu)
勇 – courage (yuu)
So 愛羅武勇 is ai rabu yuu. Get it? Try reading it out loud.
---
International Outreach through Recreational Sadism
---
Over on the Japanese side of things, our local fans got a Platinum-plated English lesson, too! In the latest entry in an ongoing series on our Japanese blog, PR rep Kazuyo Tsukuma breaks down some of Bayonetta's sharpest verbal barbs.

Yes, ma'am.
"Try to remember patterns for useful expressions, rather than just individual words. By making small changes to these patterns, you can come up with expressions to suit all sorts of situations. Now get out there and torment a masochist near you!"
We assume our English-speaking audience doesn't need the explanations. But if anything Bayonetta says goes over your head, well… ask your mum.
---
Bayonetta amiibo are Almost Here!
---
That reminds me: the Bayonetta amiibo are just ten days away! As a part of the Super Smash Bros. series, she'll be available in both Player One and Player Two versions – in her outfits from Bayonetta 2 and the original Bayonetta, respectively – on July 21.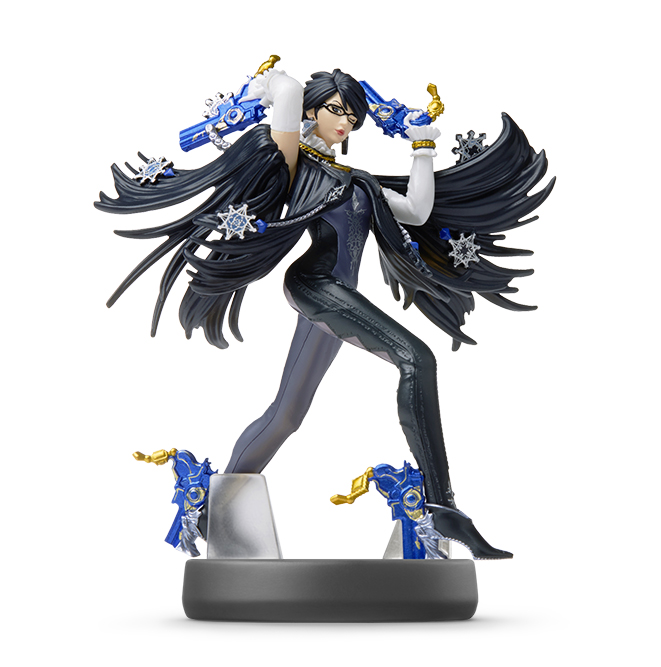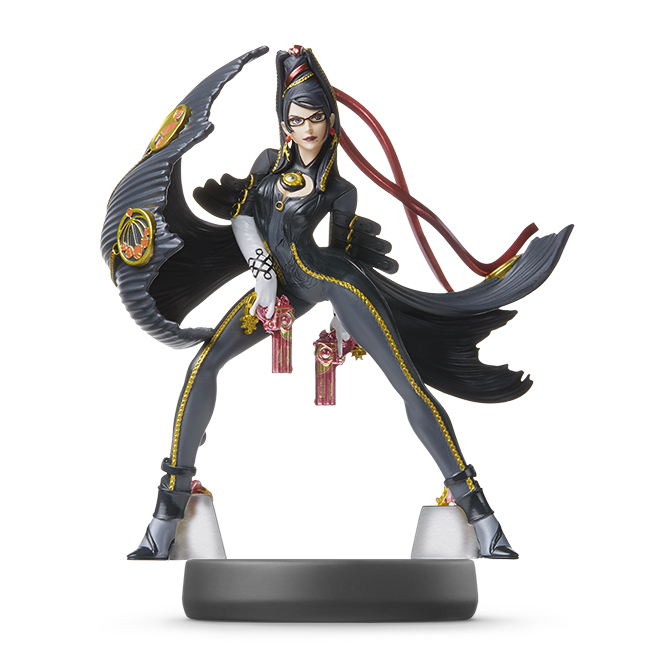 Product pages are now up on Nintendo's American and European websites:
And with that, we're done for now! As always, hit us up on Facebook or Twitter and let us know what you think!

John Neal Follow @pg_neal
John joined the localization team at PlatinumGames in 2015, providing translation support on PG titles like NieR:Automata and TRANSFORMERS: Devastation.
TAG