Hi everyone, Sato here again..
Now that December is upon us, how is everyone doing?
PlatinumGames' head office is located in a building called Umeda Sky Building in Osaka. This building is well known for "Wonder Square", a plaza in front of the first floor entrance where various events are held, including some of Osaka's largest attractions. Every year a large Christmas tree is set up in late November and a "German Christmas Market" is held. The market is packed with food stands selling sausages and mulled wine, customers lining up the streets, chorus bands performing on stage, and even an antique merry-go-round being displayed, right until this year.
Unfortunately, the Christmas Market has been canceled this year, and though I understand the decision due to the large crowds the event attracts, I also can't help but find it sad that we have to skip this longtime tradition.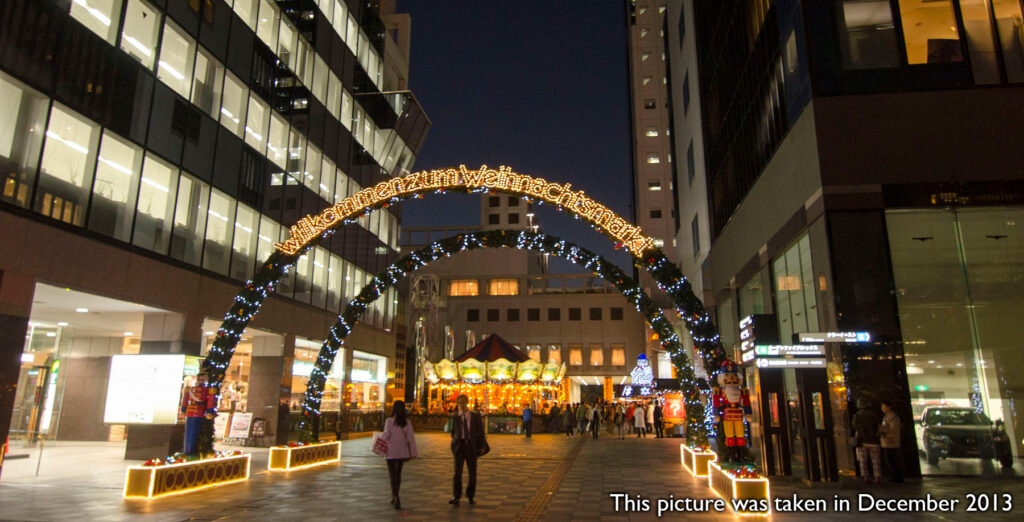 This year we've had a lot of occurrences like the above, where the traditional way is no longer applicable. This is where I think sometimes creativity needs to come into play. Not to exaggerate, but I have a new appreciation for the meaning of something being "always there". That's why, for our annual PlatinumGames' year-end party and New Year's event we've decided that while we can't gather like we have in the past, we'd like to try holding the event remote. We've never had to think that much about the meaning of a year-end party, but I feel strongly lately that it is a very important event that builds bonds between those who work in the same company. I am currently making plans for the event and hope to share more details by next month, so please look forward to it!
In reaction to the various restrictions caused by COVID, we are adopting a new system to provide all employees with a work environment at home and in the office, helping reduce the number of employees we have in the office at any given time by 1/3, while other teams can work from home. Also because of this system, we will be able to shift all employees back to remote smoothly if the situation ever worsens or a state of emergency is declared again by the national or local government. All of this has required purchasing twice the amount of equipment and enhancing our IT security, which came with a significant cost, but I felt this decision essential for us to continue on as a developer. We have finished preparation as of last month, and we hope to use this new system to accelerate our development.
I also feel it is also very important to be able to have face-to-face opportunities to interact with our fellow employees, so in parallel to developing this new infrastructure, I have recently started holding a regular lunch event known as "Sato's Table", where I select five other employees to have lunch with me over zoom. Since it's still online, I'm not confident of just how much of an impact it can have compared to real human contact, but I already have realized that during this lunch, we tend to notice things we usually don't, and I feel this has been beneficial in some way. I've also noticed that we seem to appear more relaxed with each other than in a real lunch meeting, which might just be a byproduct of the situation. I look forward to learning more about each other as these meetings continue.
I know I've said this before, but I'm sure a lot of us can relate to the effects that COVID has had on our work and everyday lives – I feel we have no choice but to continue to act with caution. In the midst of it all, I hope we can all find a way to overcome this through our creativity and new ideas.
Until next time!
Kenichi Sato President and CEO
Kenichi Sato was born in Tokyo in 1962.
Though he began working for Isetan Department Stores in 1986, he changed careers to work in the video games industry in 1996 when he joined Sega Enterprises (now Sega) as a member of the Dreamcast marketing team. In 2000 he was brought on board as a founding member and general manager at Cavia (now Marvelous). In 2006, Sato founded ODD Ltd., the company that would later become PlatinumGames. A key member of PlatinumGames from the very beginning, Sato stepped into the role of president and CEO in April 2016.
TAG