Hi, designer Mari Shimazaki here!
I was the lead character designer and art director for Bayonetta 3.
It's been over two months since the release of the game. I hope you've been enjoying it!
This is the third Umbran Studies entry regarding character design, and I'd like to introduce you to the original designs and 3D models for two of the βBayonetta (pronounced "Beta Bayonetta") characters.
Let's take a look.
---
Bayonetta β1
---
Let's use the same order as in the video. First up is Bayonetta β1.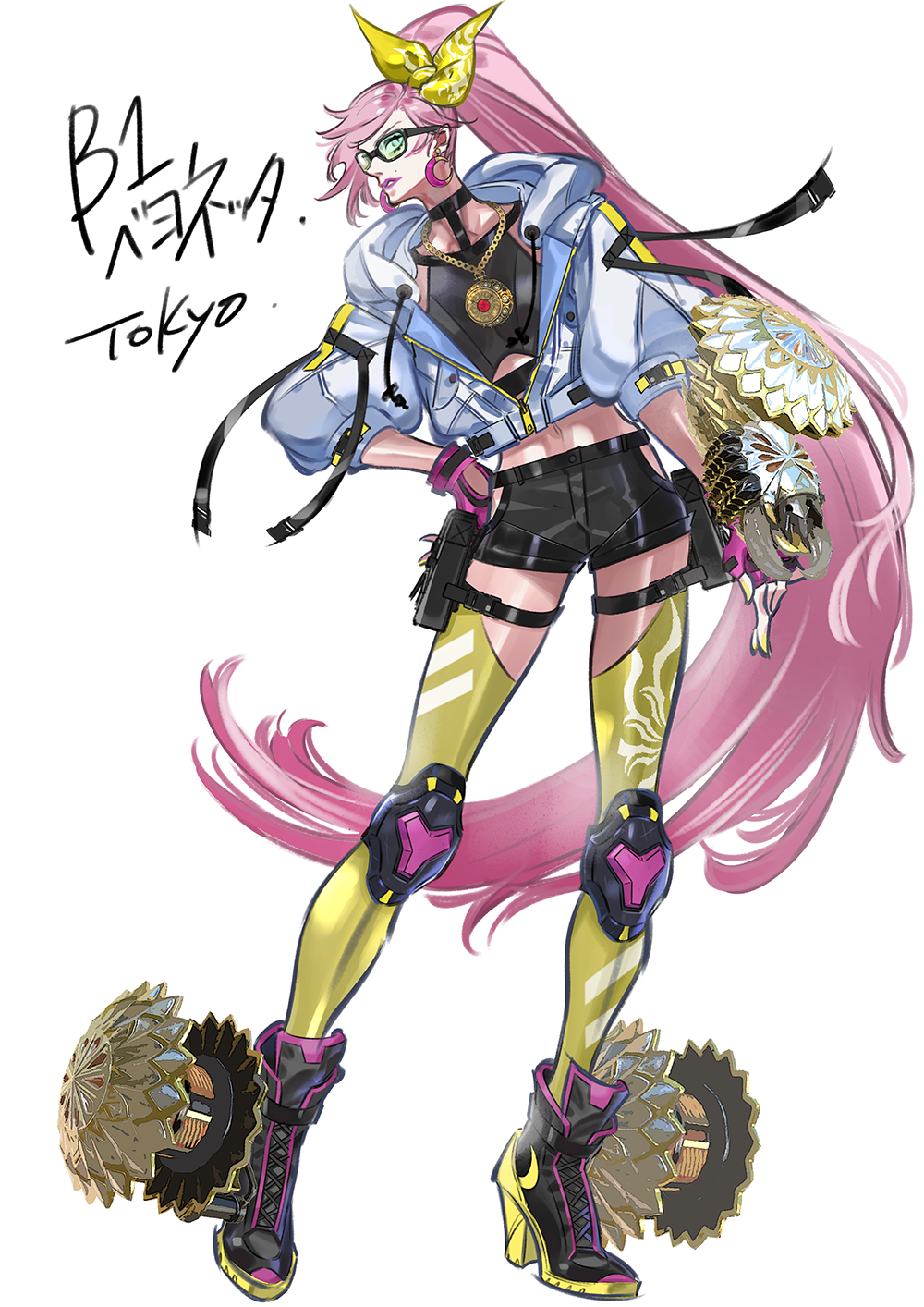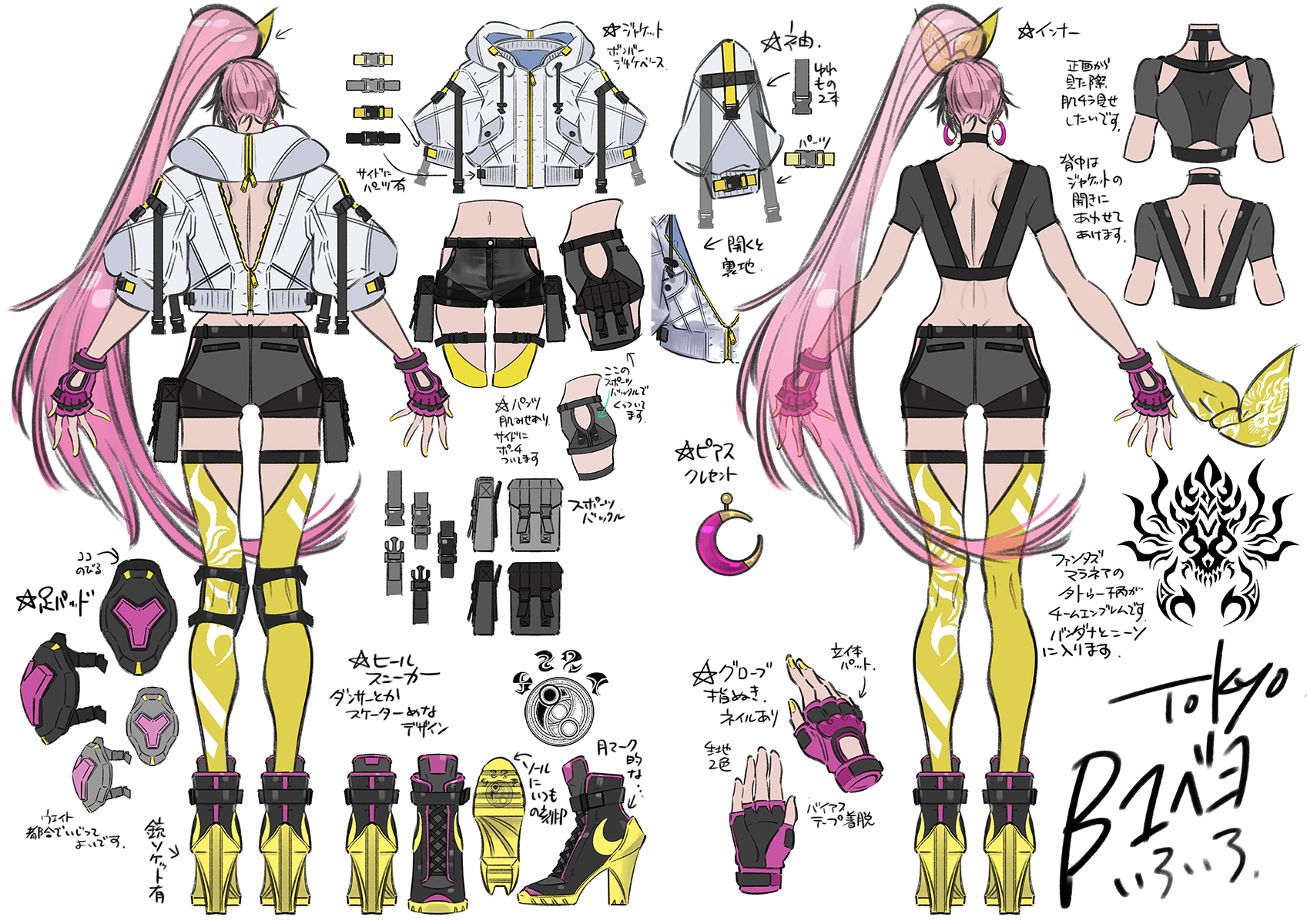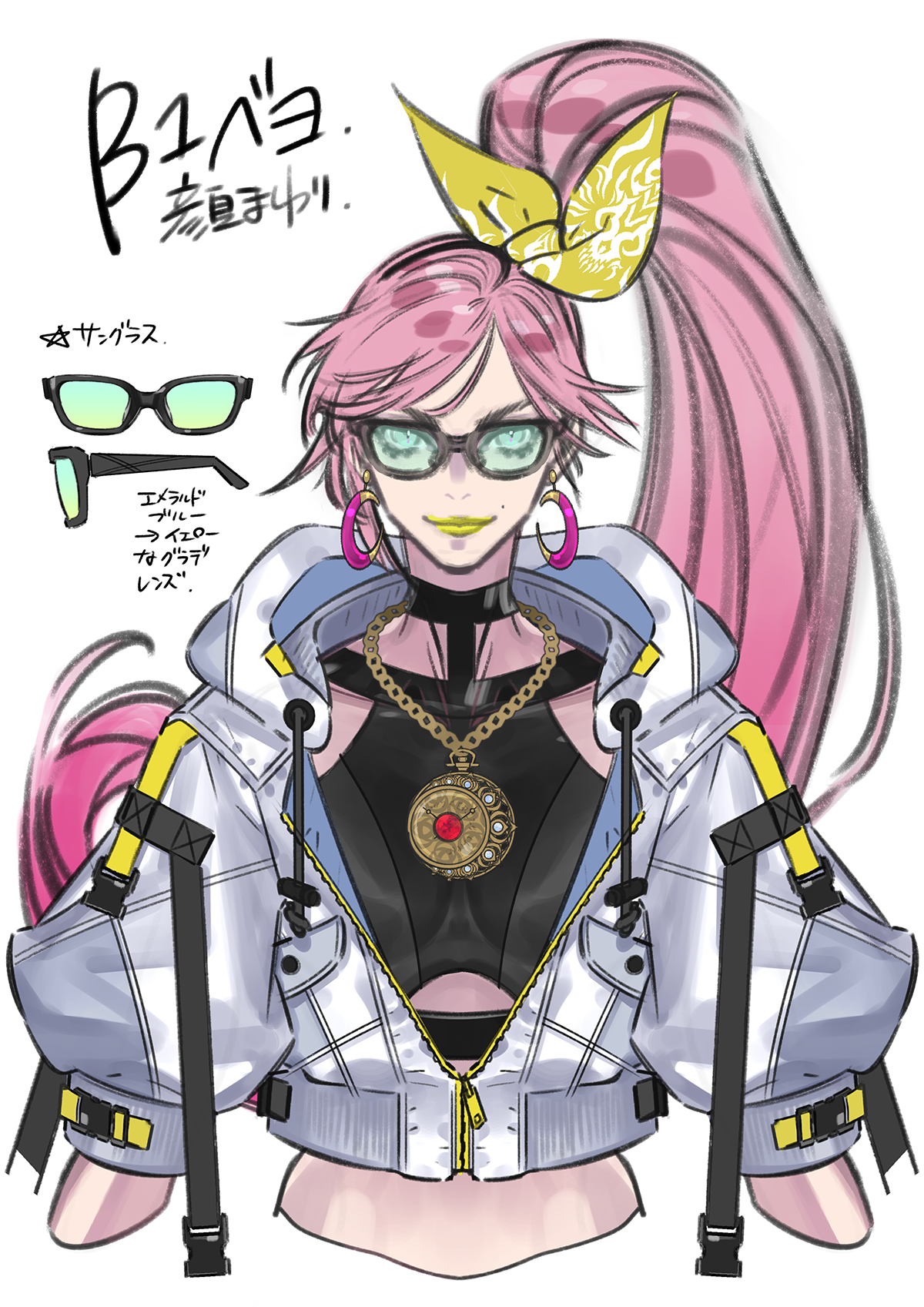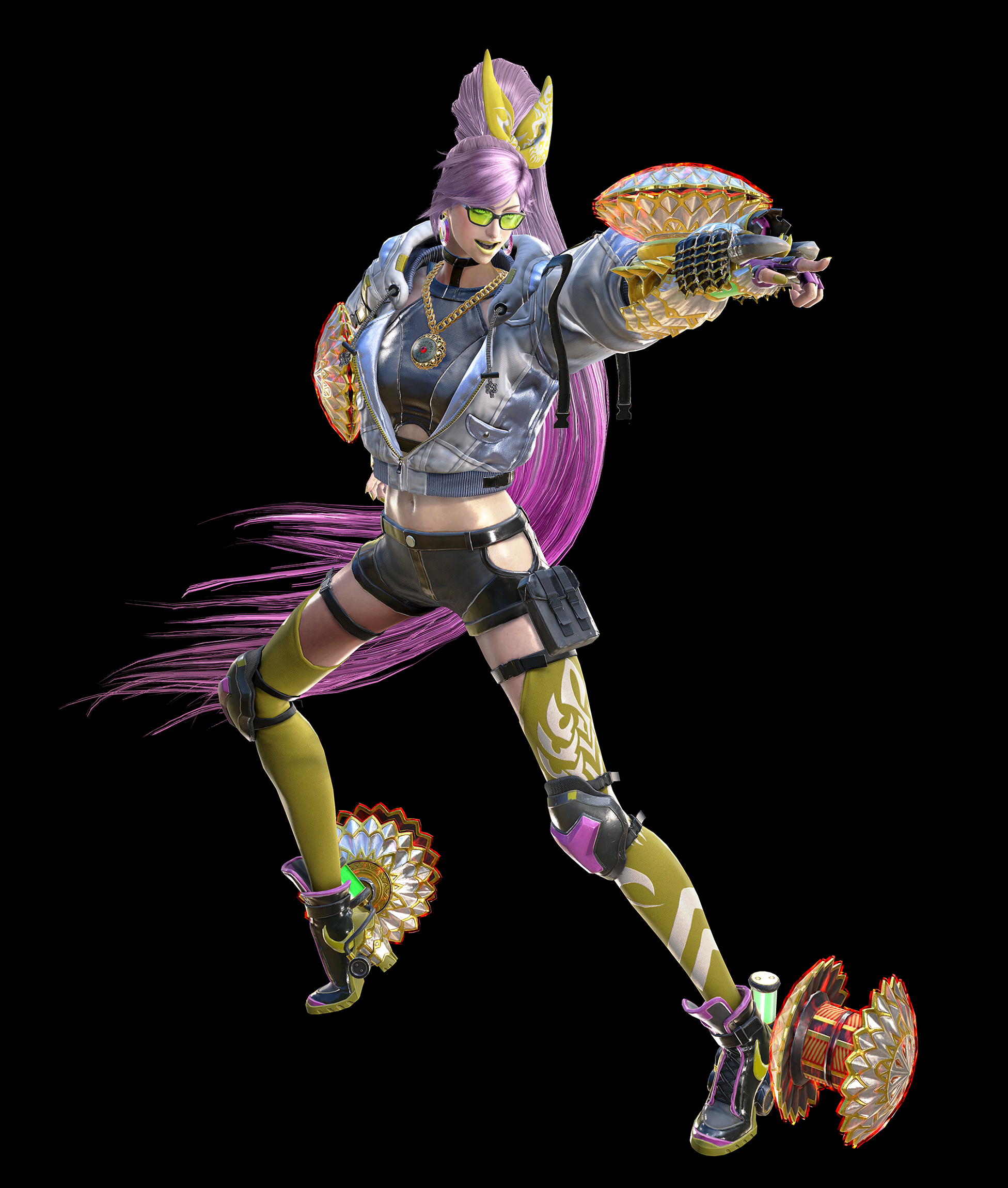 Bayonetta visits a few parallel worlds in this game, and each has its own version of Bayonetta. It's fun to see what the Bayonetta of each world is like and how they interact with the main Bayonetta.
The Bayonetta we find in Tokyo is Bayonetta β1. She's the leader of a street gang that rules the streets of Tokyo. (She's not really there to fight, though. She just wants to live as she pleases.)
I thought about what makes a "Tokyo-like" witch and a "Tokyo-like" design. She happened to be given the Yo-Yo weapon (the foot parts kinda look like roller-skates), so she ended up as this street gang witch clad in street fashion. I don't think any other woman can pull off high-heeled sneakers as well as she can!
When it comes to Bayonetta, one of her more intruiging points is how her clothes are formed with her hair. Unfortunately there were a few reasons we couldn't do that with the βBayonettas, so instead I focused on creating designs that fit in perfectly with each parallel world while also having their own distinct and unique taste.
The βBayonettas differ visually to the main character, but if they didn't stand out in their own way then that wouldn't be very Bayonetta-like. So to try and make the designs as lavish as possible, I came up with some elements and worked with the 3D modelers to bring a sense of style with movable parts that would sway when she moves.
There was a lot more to do for this game than the previous entries, and I remember how difficult it was to keep up with the scheduling and coordination while still keeping each design as precise as ever.
---
Bayonetta β3
---
Next up is Bayonetta β3.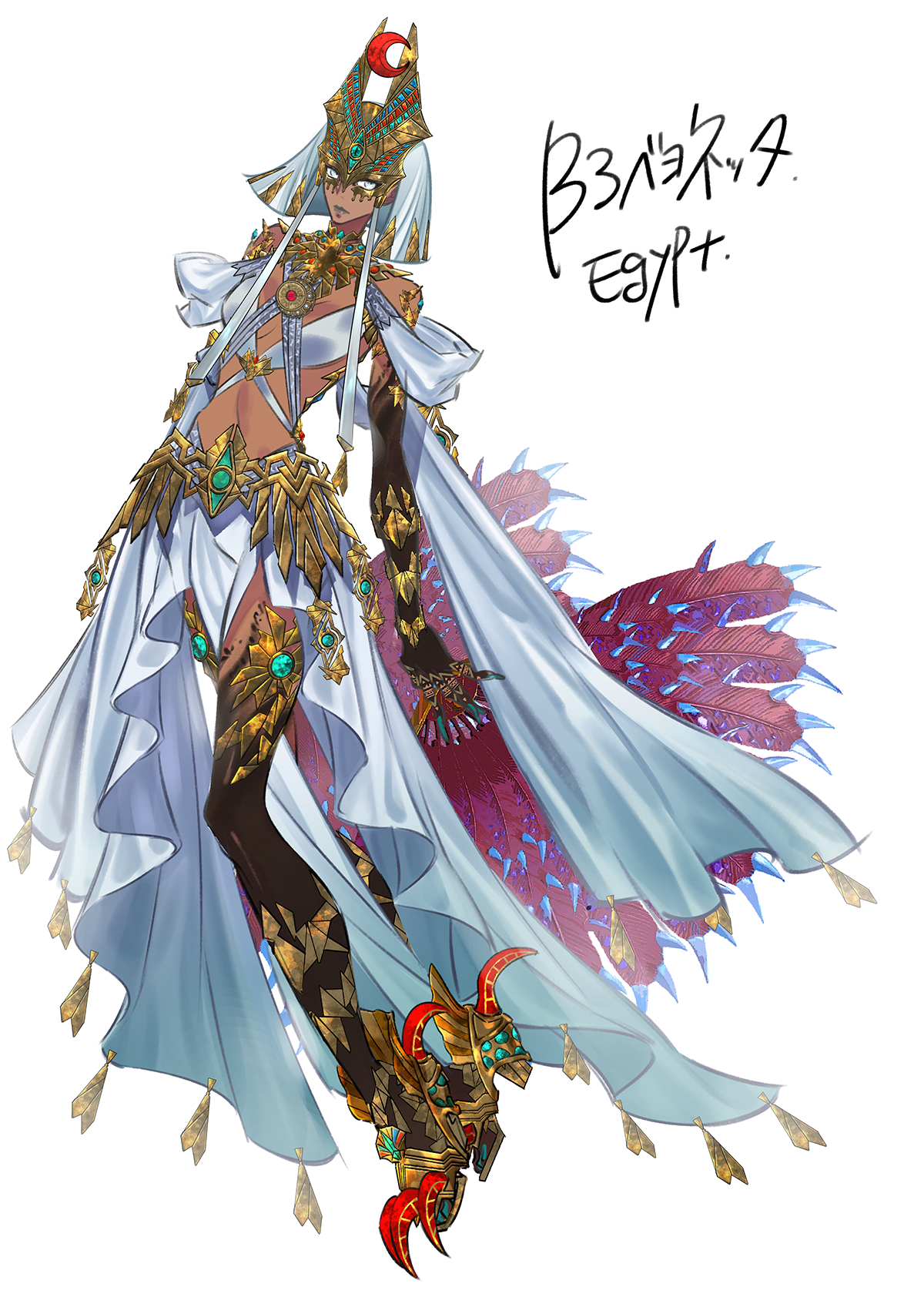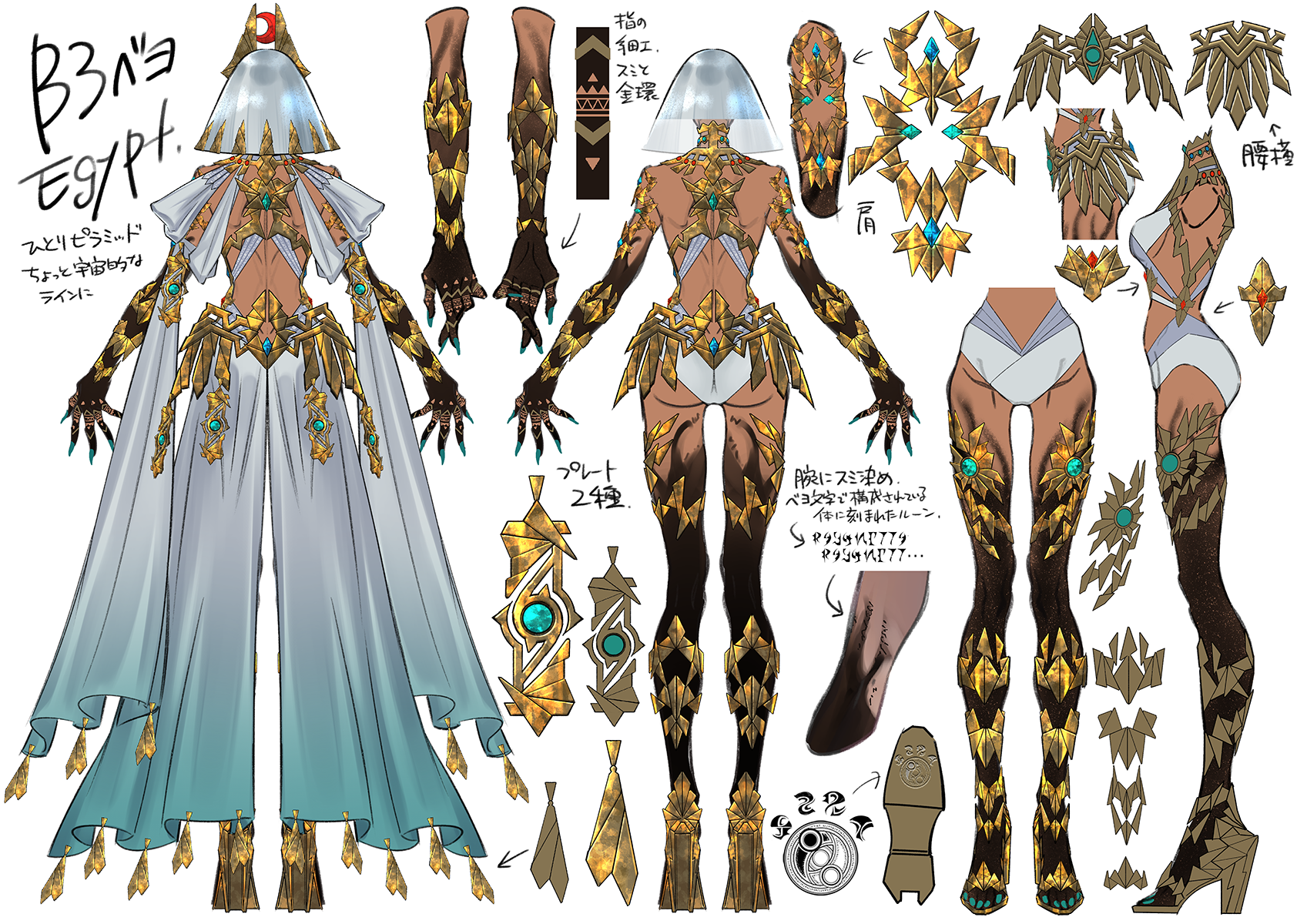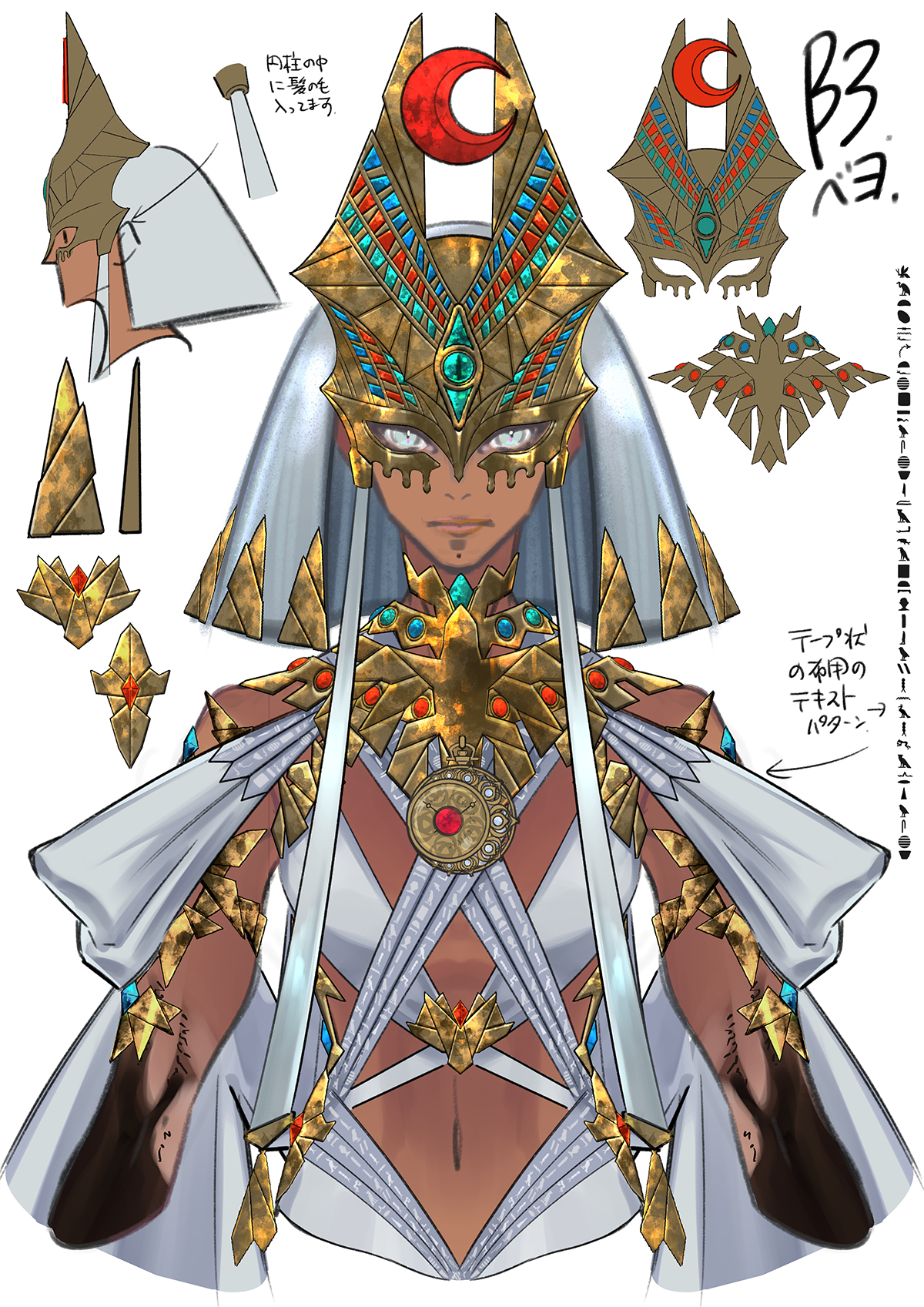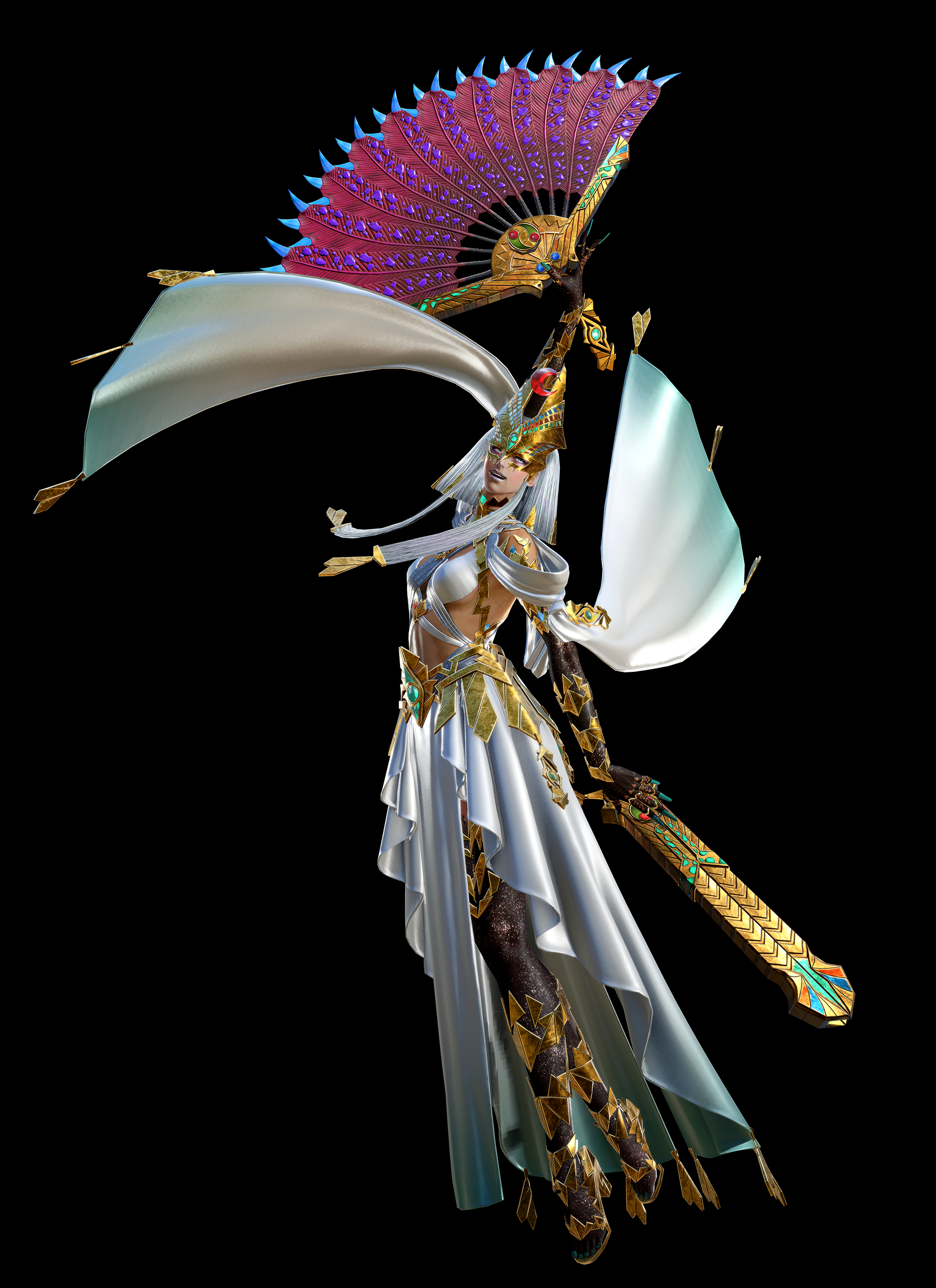 The Bayonetta from Egypt, otherwise known as Bayonetta β3. I'm quite partial to this one.
I basically wanted her to look as though she's pyramid-incarnate, hence the unique-looking mask.
Other than their lipstick, the βBayonettas all have the same facial models so I had to set them apart using marks on their faces, different glasses designs and masks etc.
I went for an ancient and traditional style for β3 in order to match the Egyptian background art, and I felt it would be in-character for of all the Bayonettas' costumes to stand out in their own way. This is also why the βBayonettas don't share much in the way of fashion sense.
Quite a few of the parallel worlds have a historical theming to them, but if the Bayonetta of that world fit in a bit too much then she'd start to blend into the background. I don't think that would be very apt for Bayonetta.
By the way, we also get to meet Jeanne β3 in this world. The Bayonetta/Jeanne relationship is quite different to what we're used to…If you haven't played the game yet you can look forward to what kind of story will play out here.
---
Mari Shimazaki
Freelance designer.
Worked on Bayonetta, Bayonetta 2, Bayonetta 3, and many other titles as a character designer and art director and is currently working on several projects.
twitter: @MariShimazaki
TAG