Hi there everyone! I'm Hitomi Kurokawa, and I'm oh so happy to be able to tell the world just how cute Cereza and Cheshire are.
I was honored to be given the opportunity to compose the music for the theme song Le Chéile i bhForaois Sholas na Gealaí. Please take a look at this video, which was just released!
Let's roll back the clock to 5 years ago, which is when I first met Bayonetta Origins: Cereza and the Lost Demon. Yes….our first day back at the office in 2018. Does it ring any bells?
You may have an inkling if you read the Umbran Studies entry titled Bayonetta 3 Music Vol.2 We Are As One.
When Inaba-san came up to a tipsy Yamaguchi….yes, I was actually sat right there!
I was asked to "write a theme song that instantly conveys the world of a brand-new Bayonetta."
I still remember how shocked I was at the time, as I'd never written a track meant to have lyrics before, and to be given the monumental task of composing a new theme song…for a brand-new kind of Bayonetta?!
Supervising director Hideki Kamiya told me that he wanted it to be a piece that "told the story from beginning to end", so I got to work on reading the scenario right away. What an adventure story…so full of human nature! You just can't help but want to cheer on Cereza and Cheshire, and it's packed with feelings I've never felt from Bayonetta before. One thing that particularly sticks in my mind is the changes in Cereza's heart as we progress.
You've probably worked it out from the trailers already, but Cereza and Cheshire must work together in order to progress through the game, so their connection is something of the upmost importance.
Cereza is also at that age where she is particularly emotional. When it's just her and Cheshire, there's a sense of apprehension, and although they sometimes get along swimmingly, sometimes they don't get along too well…. There really are a lot of emotions to be seen between the two of them.
So I really wanted the theme song to represent Cereza's humanity and growth, and that's how we ended up with this track. When it came to Kamiya-san's request to compose something that condensed the story from beginning to end, I thought about expressing that through how Cereza's heart changes as she gets lost in the forest.
For example, the intro of the track represents the anxiety and fear she feels as she first gets lost at the start of the game. Deep down I'm hoping you'll listen to the song again after clearing the game and notice little bits that represent certain parts of the story…
---
Lyrics and Vocals
---
The lyrics of the song tell us Cereza's thoughts. I'm sure a lot of people are wondering what language the vocals are in, but it's no fictional language.
Bayonetta spent her time as a child and apprentice witch in Europe, so it was fixed from very early on that the lyrics would be in a Celtic language, which are a very old family of languages from Western Europe.
We were lucky enough that Irish composer Michael McGlynn just happened to be able to write lyrics in the Irish language (also known as Irish Gaelic). We thought it would fit in perfectly with being part of Bayonetta's origin story, so we decided to go with Irish lyrics.
Michael is well-known for writing lyrics that would sound beautiful even to the Celts of old. Thanks to these wonderful lyrics written in a language that fits the story so well, the track oozed the world of Bayonetta Origins: Cereza and the Lost Demon.
Also! We absolutely can't forget about the young lady who provided the vocals, bringing the whole thing together!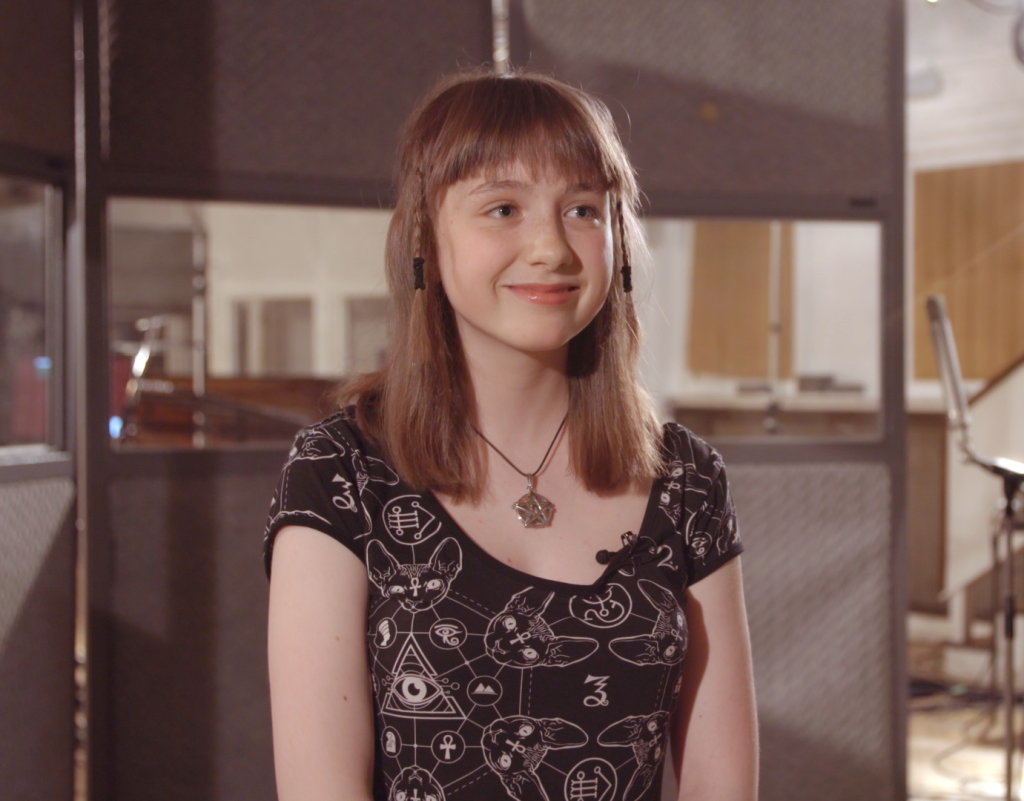 Lauren McGlynn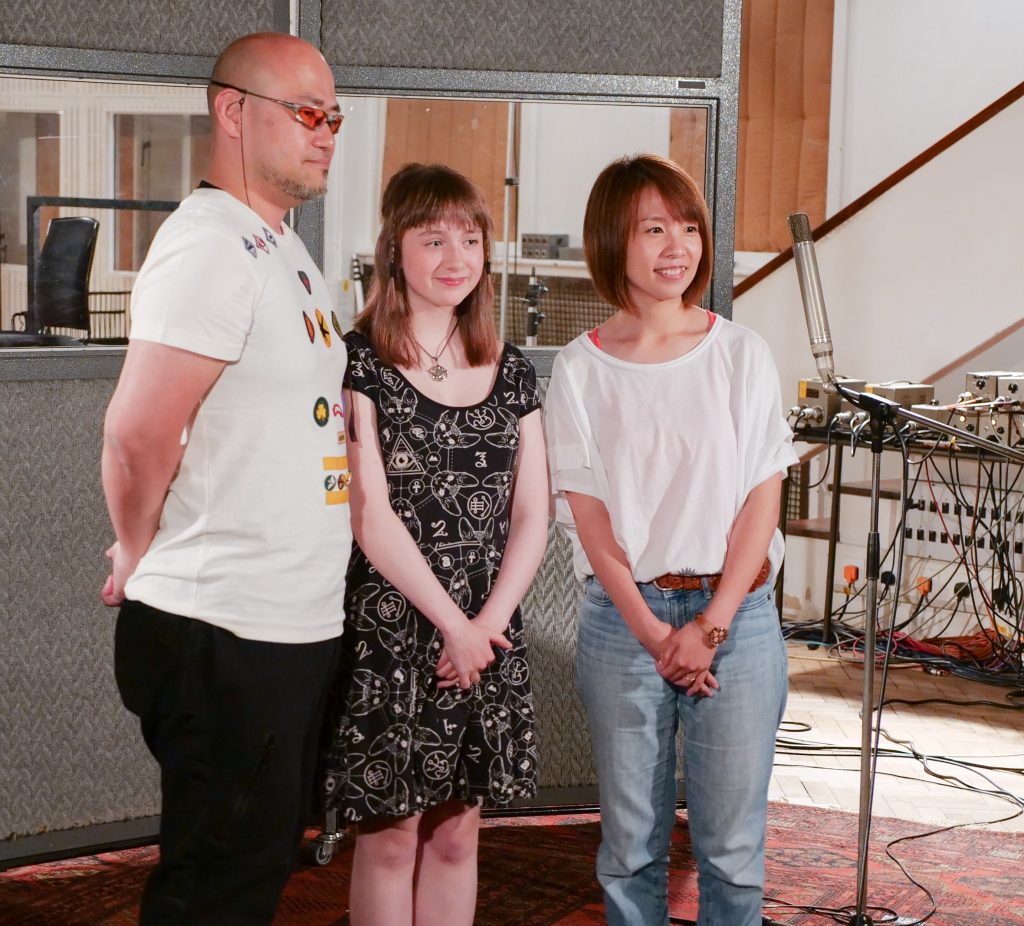 A photo to commerate the recording
Her name is Lauren McGlynn and she's actually Michael's daughter!
When looking for a vocalist, we wanted a girl who would be around the same age as Cereza. There really aren't that many girls that fit the criteria of being aged 9-15 with strong vocals who could also sing in a Celtic language. However, not only did Lauren check off all those boxes, she also has a clear voice that perfectly evoked Cereza's adolescence—not too childish but not yet an adult. We ended up choosing her for the job without a second thought.
On the day of the recording, she came into the studio looking adorable in her slightly witchy outfit she'd picked out especially. Who would have thought that this 13-year-old would then go on to grace us with such incredible vocals. Despite the recording session being so long, Lauren worked hard until the very end. It's thanks to her that we can feel the true emotions of the lyrics, and it turned out very Cereza-like.
---
Recording at Abbey Road Studios
---
The orchestration and conduction were handled by John R. Graham, who has experience on the music for Japanese historical dramas. The recording and mixing engineer was multi award-winning Daniel Kresco. Everything was then tied together by music producer Koyo Sonae, who we worked with for a long time on this project.
We had so many pros backing us up and we were also able to record at the London studio famous for "that" crosswalk—Abbey Road Studios.

Abbey Road Studios
It really was amazing to be able to do the recording itself in Europe, the birthplace of witches. When I first saw the huge orchestra of over 100 musicians, I was so overcome with emotion that I couldn't say much other than "whoooah!". It was a very emotional experience, and I don't think much will be able to top it.
After so much hard work, I'm overjoyed to be able to finally present this track.
I went ahead and headcanoned that the flamboyance we hear in the previous Bayonetta tracks represents her only after she grew up. So for this track, we didn't want to use the same musical phrases. We directed the orchestra to put more power into the emotional cadence, but I think we may have been able to create a brand-new Bayonetta unlike anything we'd heard before.
Of course, in true spin-off fashion, players of previous games may notice the odd nostalgic track or two dotted throughout. But we'll learn a bit more about that in a later blog entry.
There are plenty of other tracks which express the story of the game itself, and I hope you can enjoy this new Bayonetta world through the music!
---
Hitomi Kurokawa

Joined PlatinumGames Inc in 2011. She has worked as a composer for The Wonderful 101, Bayonetta 2, Star Fox Zero, The Legend of Korra, BABYLON'S FALL and Bayonetta 3 among others.

TAG