(This blog post originally appeared on the Japanese Bayo Blog on November 12, 2009.)
Hello again, everyone. Hideki Kamiya here. I just wanted to tell you all that I'm really getting a kick everyday out of watching the gameplay videos you are uploading. Uploading and watching videos of gameplay on the net was something I couldn't do when I was a kid… I would stand behind people in the arcade and watch them play, figuring out strategies, or have a gallery of people behind me, pleased that they watching… Times have changed, right. I really don't have anything to say against it personally. As long as people behave themselves and have fun, I'm happy.
Which brings us to my next point. I'm a little late to the party with this, but Bayonetta went on sale without a hitch! For the games that I've worked on up until now, I would hang out in the corner of a big box store and watch over sales that day; however, this time I had some work to do in Tokyo, so while I was there on the business trip, I checked out quite a few stores in Shinjuku, Shibuya, and Akihabara that were selling the game.
So how did it go? Well, to be honest, I couldn't really tell! LOL. We were going around to the stores around lunchtime on a weekday, so there weren't really that many customers in the aisles, and nowadays stores don't really have people carry games up to the register, but instead look at a row of empty boxes and just tell the staff member which game they want. I didn't really get to see the old school moment of someone picking up the game and taking it to the register to purchase… But what I did see were people standing in front of the empty boxes thinking about things, so I tried to send them a really strong telepathic message – "Just buy it already, go home, and have some fun!"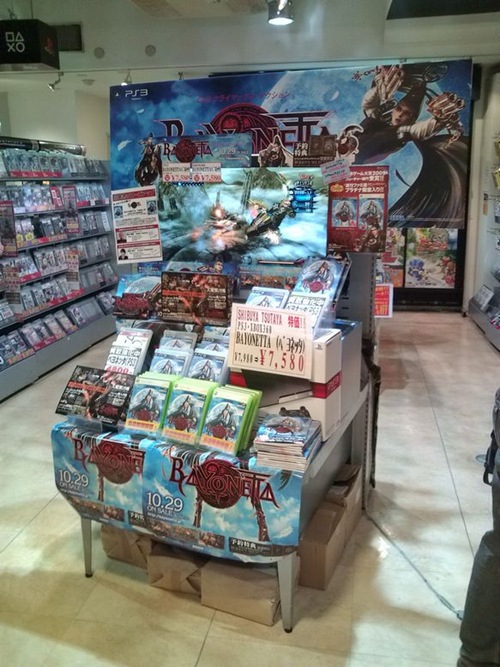 Picture: It's definitely lunch time on a weekday. So I ended up by myself in the store since no one was around…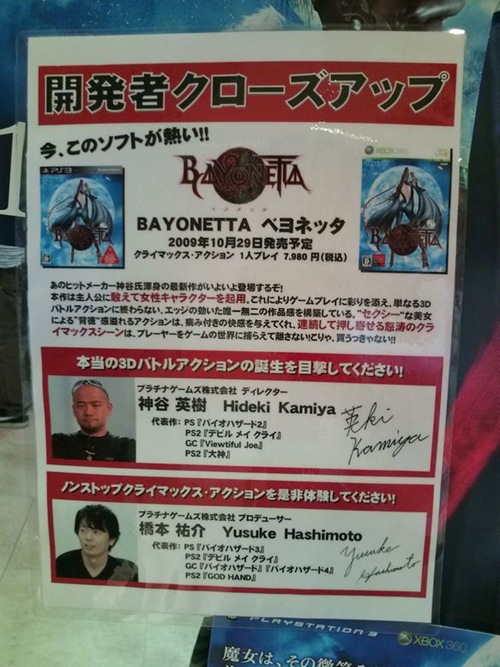 Picture: What the hell is this!? LOL.
That evening, we arrived in Akihabara, and when we went into Yodobashi Camera, we discovered that the 360 version of Bayonetta had sold out! The shipment numbers might have been a little tight, but it is a good thing when more people buy your game than the store imagined, don't you think? (Apologies to all those who couldn't pick it up!)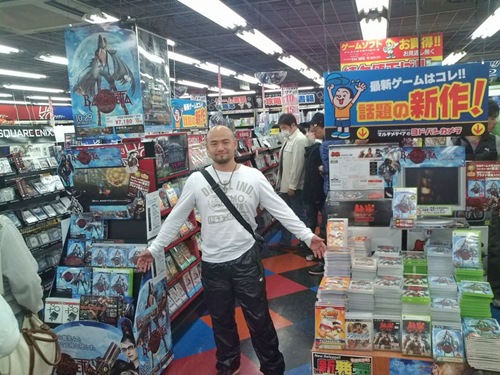 Picture: It's the evening, and you can see more customers in the store. Seeing in-store displays like this really makes you happy.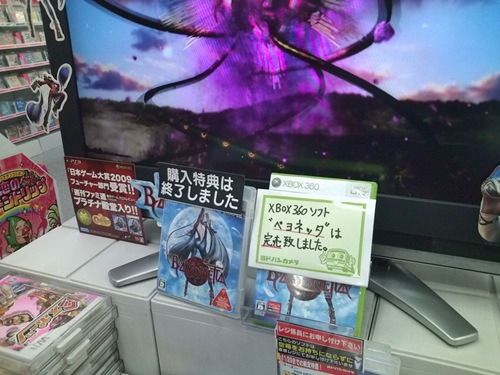 Picture: The 360 version is sold out! It seems new titles really do have an uphill battle with regards to shipment numbers.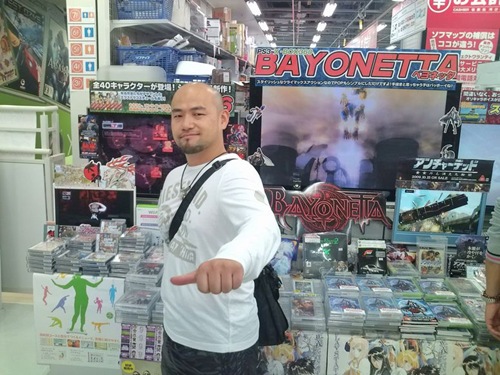 Picture: Seeing Bayonetta lined up with the Wii version of Okami made me kinda happy. LOL.
While we were going around to stores, we also took some time to check out some of the advertisements that were placed up in and around the Kanto region (Tokyo metropolitan area). I had previously taken a look at the ads, but seeing them in person is a whole different kind of impressiveness. I'm sure people around other areas of Japan wanted to see these as well, so my apologies. The development staff of the game in Osaka were quite envious as well. But the most important thing here is how to get people who don't know about Bayonetta interested in the game. I hope that even one more person checks out the official site because they saw one of the ads and thought, "What's this!?"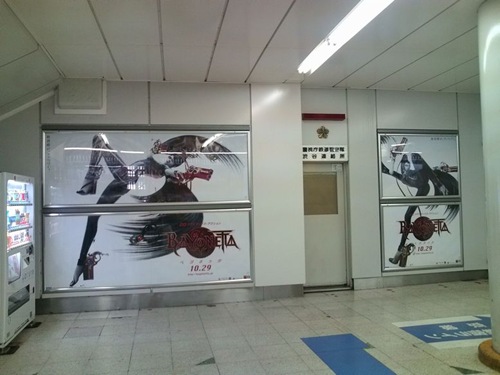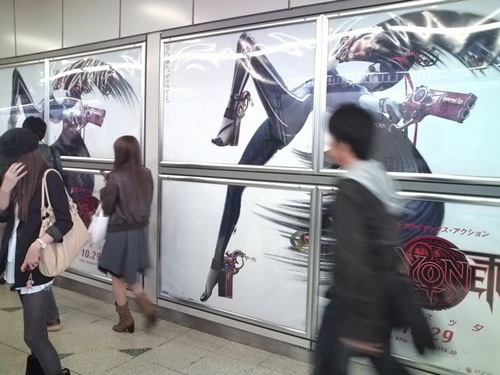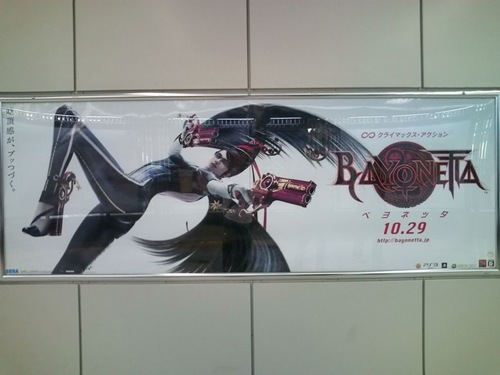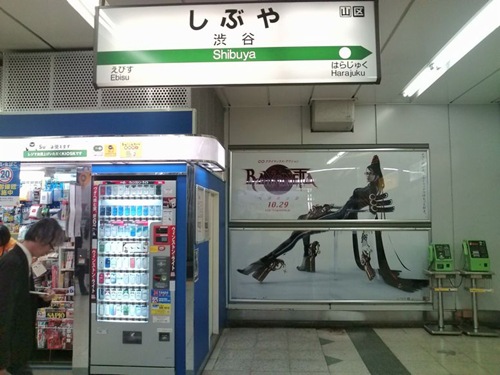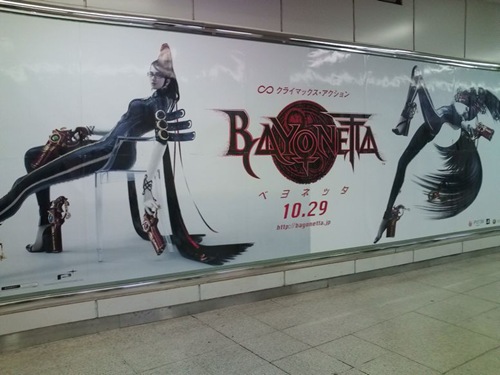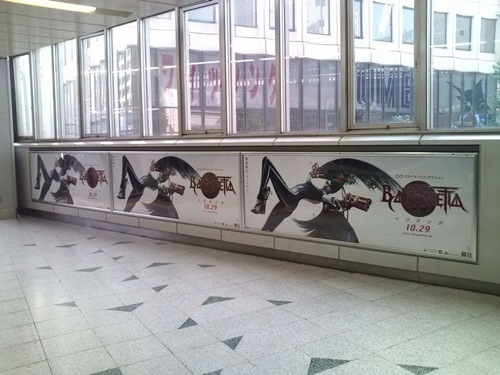 Pictures: Ads in Shibuya station. Get off the platform and right before your eyes is Bayonetta! If you look around, you will see tons of these large advertisements lined up. It was quite a sight, and there were even more than the ones shown here.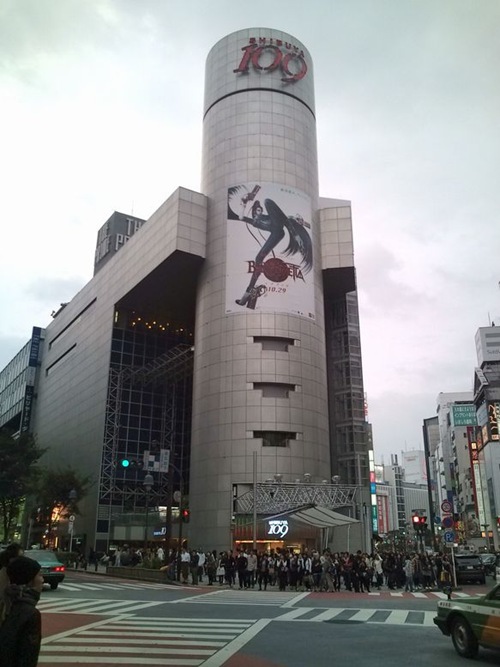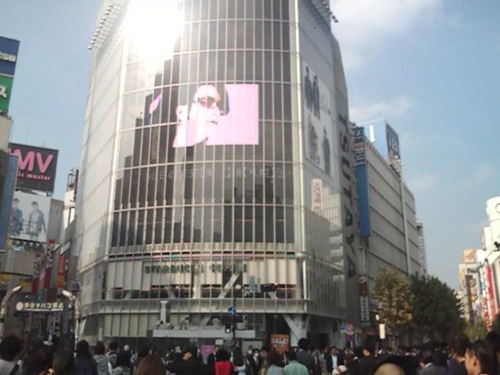 Pictures: Once you exited Shibuya station, the TV commercial was being played on the huge display right in front of you! Every 30 minutes the ad would play once, so I waited with bated breath for it to air. LOL. If you looked to your left, there was another ad on the huge cylinder of the 109 building. To see a game advertisement on the 109 building is an incredibly rare occurrence, or so I am told. But since it is the ever-so-fashionable Bayonetta, I think that is why they probably let us get away with it.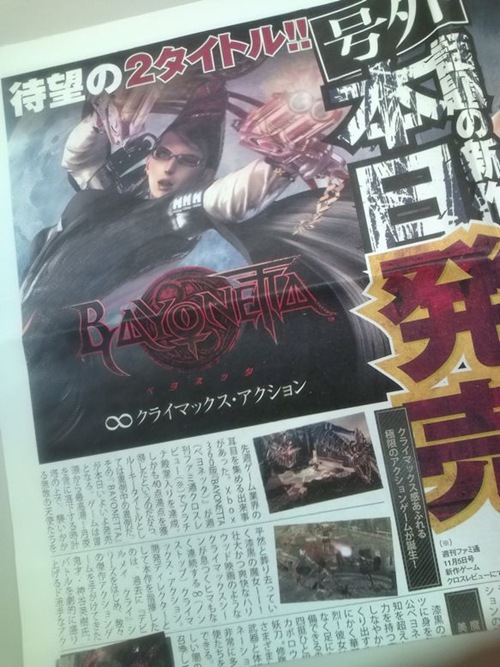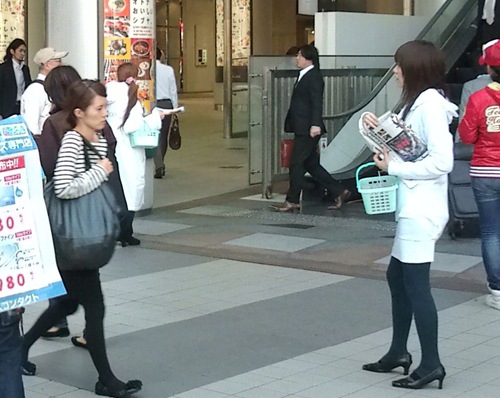 Pictures: In front of the station, Microsoft was handing out special flyers. I got one myself.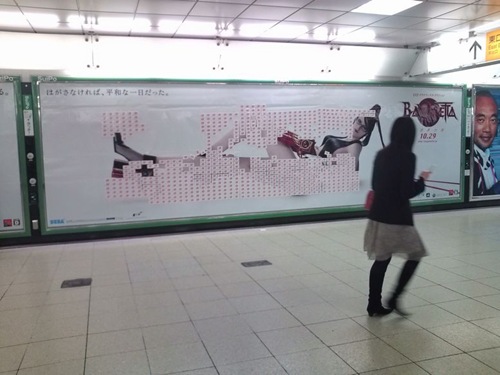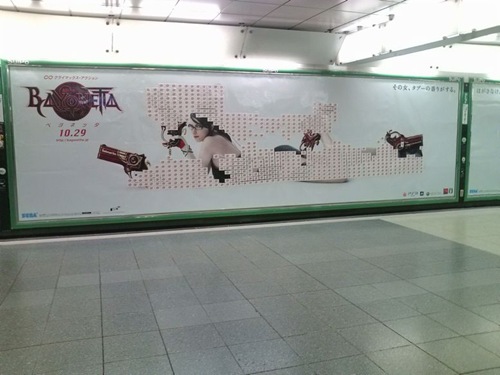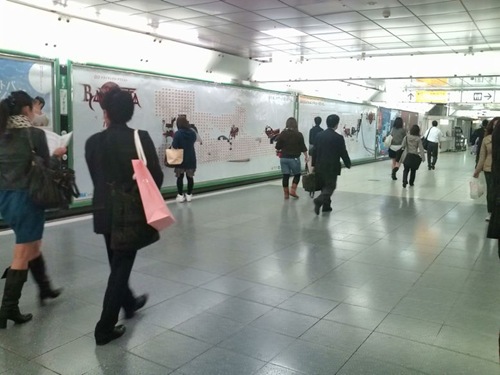 Pictures: This is the Shinjuku station "Peel-Away" poster! The "bad cards" were posted to cover up Bayonetta's supple curves. By pulling them off, you were not only revealing Bayonetta, you could scan the card and go to a special website on your phone via QR barcodes. They were also scented with the faint smell of Bayonetta's perfume. Watching things, girls, old men, and even grannies that would seemingly have no interest in games were looking carefully at the ad and pulling off the cards.
Pictures: She is really pretty, huh… The Bayonetta in the game is a bit harder edged, don't you think? This girl doesn't look like she would kick angels in the butt, knocking them into a guillotine and sending their heads flying… (LOL)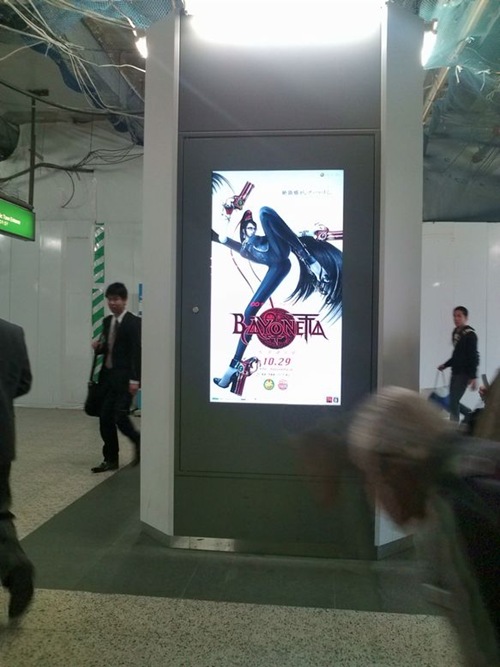 Picture: A digital advertisement in Akihabara. Bayonetta's ad would be shown a few times a minute.
Finally, on to why I was in Tokyo – Hashimoto and I were there to appear on a live internet Game TV show called Ge-cha. The original plan was for me to give them a "Super Play" demonstration, but I don't know if that now the game is out and I've been freed from my obligations, that I've also been abandoned by the gaming gods, but I kept making a series of basic mistakes and taking damage, but I really ended up crashing and burning… Now that Bayonetta is in everyone's hands, I think that there will be many 'Super Players' coming out of the woodwork, so I won't have to play Bayonetta in public anymore. At least, I hope so! LOL.
But putting that aside, recording the show itself was really a lot of fun. My deepest thanks to all those on the staff and those who appeared on camera.
Speaking of live shows, I have announcement to make… Producer Yusuke Hashimoto and I will be appearing live on a Nico Nico Live broadcast! Maybe I'll be playing live…? Even if I screw things up, please be kind to me… Until next time!!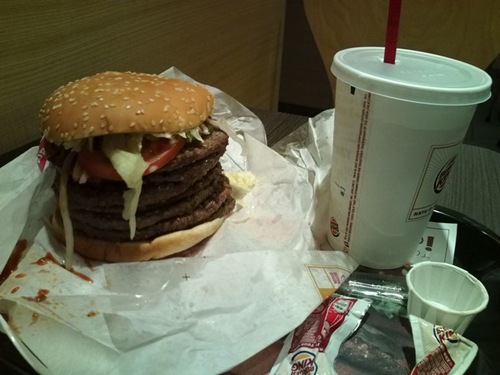 Picture: Since I went to Shibuya, you know I had to have a Windows 7 Whopper at Burger King. I ended up leaving three of the beef patties behind…
TAG