On Monday, February 18, Konami held a launch event as part of the Metal Gear Rising World Tour. Fans were able to get autographs at GameStop, then enter a VIP party at the nearby Hard Rock Cafe where there was a special event in store. The incredibly talented artists on the Metal Gear Rising: Revengeance soundtrack would be performing all of the vocal tracks from the game… LIVE!
Along with our friends at Konami/Kojima Productions and IGN, we've filmed this incredible show, recorded great sound, and are happy to give you a front row seat for a special live performance of the first truly metal Metal Gear.
Stay tuned to this blog for behind the scenes information on how we made this amazing night happen.
METAL GEAR RISING: REVENGEANCE LIVE IS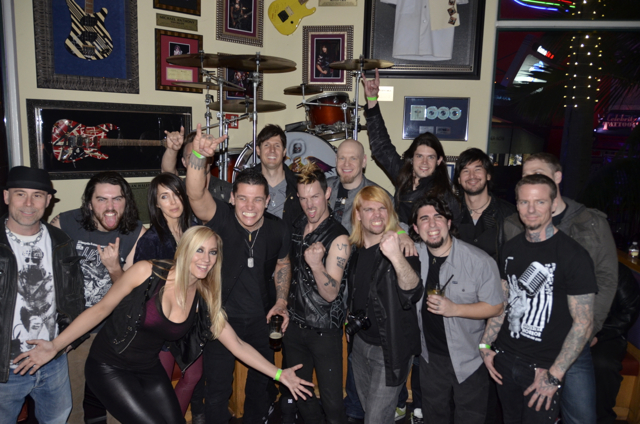 Vocalists:

Jason Miller
Graeme Cornies
Tyson Yen
John Bush
Free Dominguez
Ron Underwood

and secret special guest Howard Jones.

Nita Strauss – Guitar
Johnny-Death Young – Guitar
Jussi Karvinen – Bass
Jamie Christopherson – Keyboards
Ralph Alexander – Drums
Damien Rainaud – Drums (Red Sun)

Crew:
Logan Mader/Jamie Christopherson – Musical Directors
Wedge Brannon – Front of House Engineer
Mikey Lopez – Lighting
Micah Electric – Back Line Tech
Andrew Ferrara – Back Line Tech
Evelina Christopherson – Band/Event Coordinator

All songs written by Jamie Christopherson
except
It Has to Be This Way, Collective Consciousness, The Stains of Time, The Only Thing I Know for Real, Red Sun, A Stranger I Remain
Written by Jamie Christopherson and Logan Mader
and
War Still Rages Within
Written by Jamie Christopherson, Pete Crossman, James Chapple, David Kelly, Graeme Cornies
Lyrics by Jamie Christopherson
TAG