Hey there, it's Ichi.
Just a few more days left until the North American release of The Wonderful 101! I'm sure everyone in the US is itching to punch some GEATHJERK in the face, and the time is almost upon us!
In the meanwhile, European players may already have vanquished the alien threat and seen the ending of the game.
Some of you may even have started a second playthrough on a higher difficulty already. Or perhaps you're backtracking through stages to find any items or team members you might have missed?
Whichever is the case, it should be clear that this game has a crazy amount of content and you won't be fully completing it that quickly. However, sometimes you might just want to take a break from your single player adventures and "Unite Up!" with friends and family.
So for today, let's have a look at the "Wonderful Missions," a co-op mode that allows up to 5 players to play together.
If you're going to play the Wonderful Missions, you're obviously going to need enough controllers for everyone. The person using the standard Wii U GamePad will be player 1, so if you're going to play with 5 players, you'll need to get controllers for 4 more people.
Be aware, however, that this game cannot be played with the Wii Remote alone. You'll need a Wii U Pro Controller or a Wii Remote + Classic Controller Pro combo.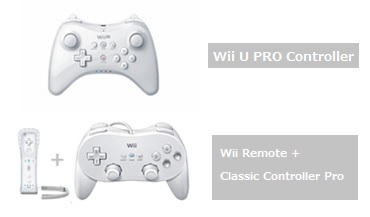 The game controls more smoothly with a Classic Controller Pro than you might think. We highly recommend it!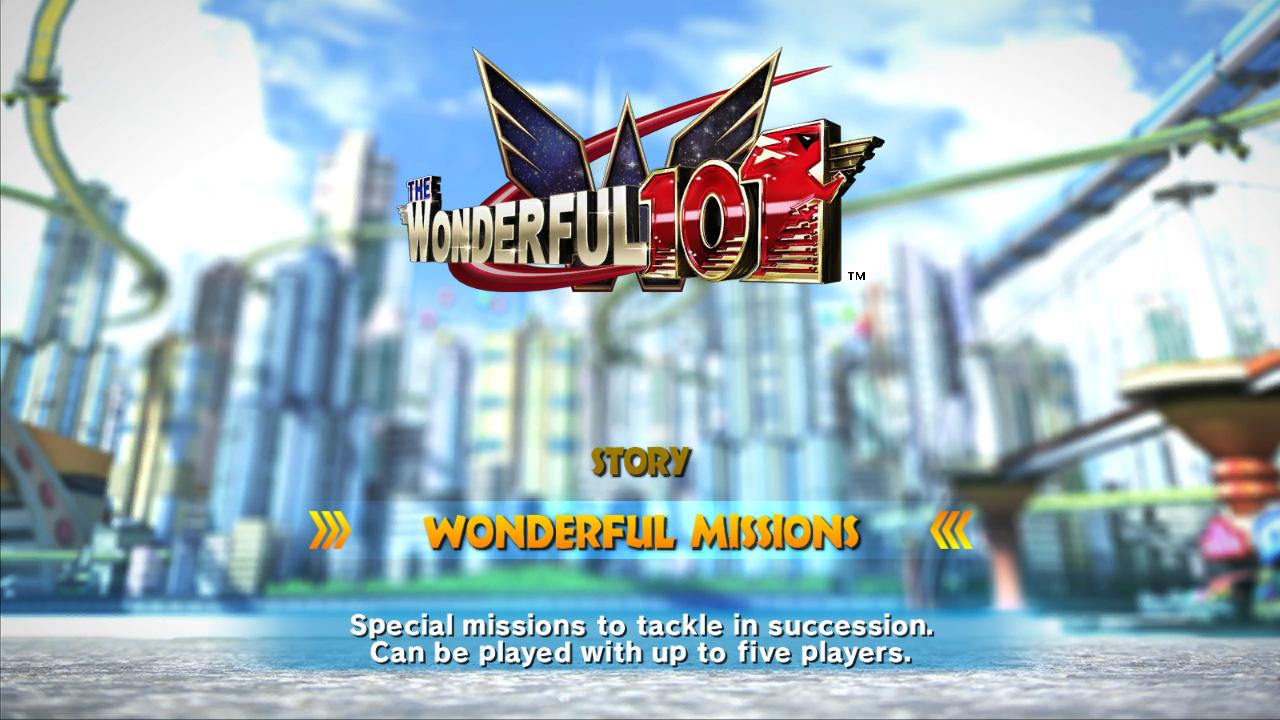 Wonderful Missions exist separately from Story Mode on the title screen. They contain stages that were specially designed for co-op play, and the point is to defeat the hordes of GEATHJERK as quickly and wonderfully as you can.
You can support your friends if they're not very good at action games, or you can aim for spectacular combinations to rack up amazing scores.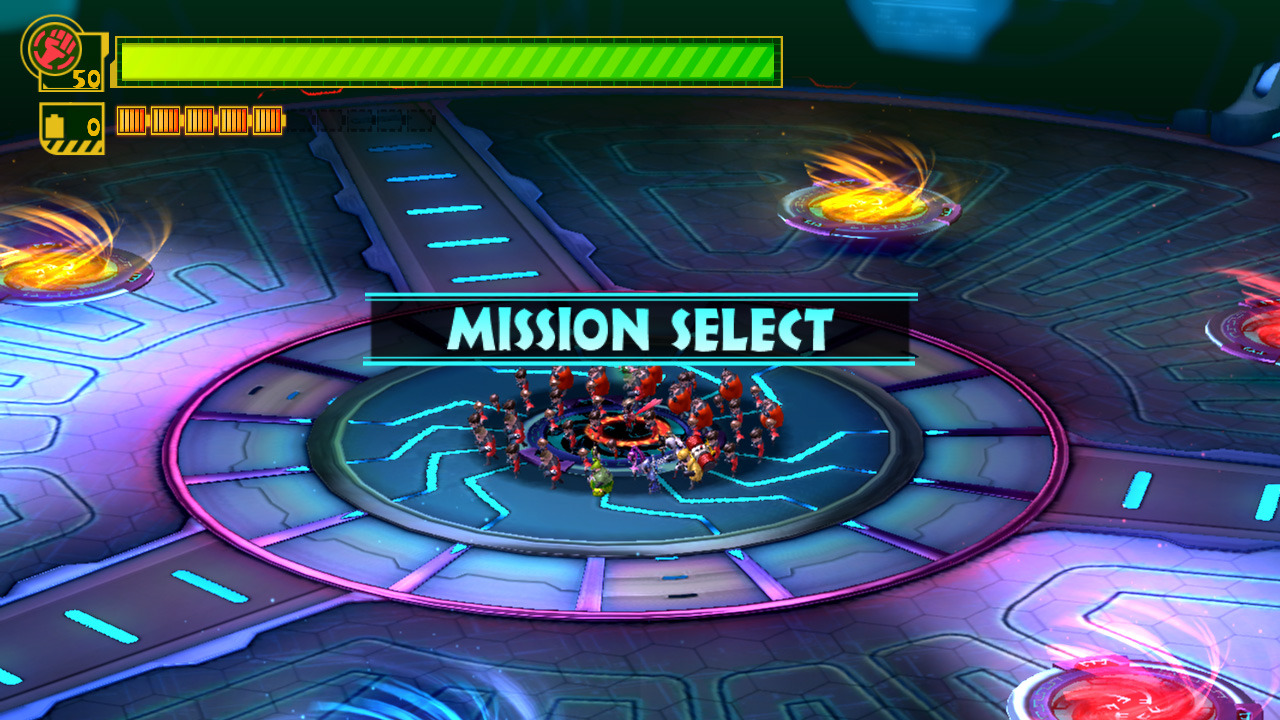 This is where you select Wonderful Missions. It's also a good place to take a breather.
If you select Wonderful Missions, you'll be brought to the arena pictured above.
This is also the place where your friends will be able to join in or drop out.
Once all players have gathered together, you can start the challenge.
There are separate stages for each of the 3 difficulties: Easy, Normal and Hard, so pick the one you like and enter the portal!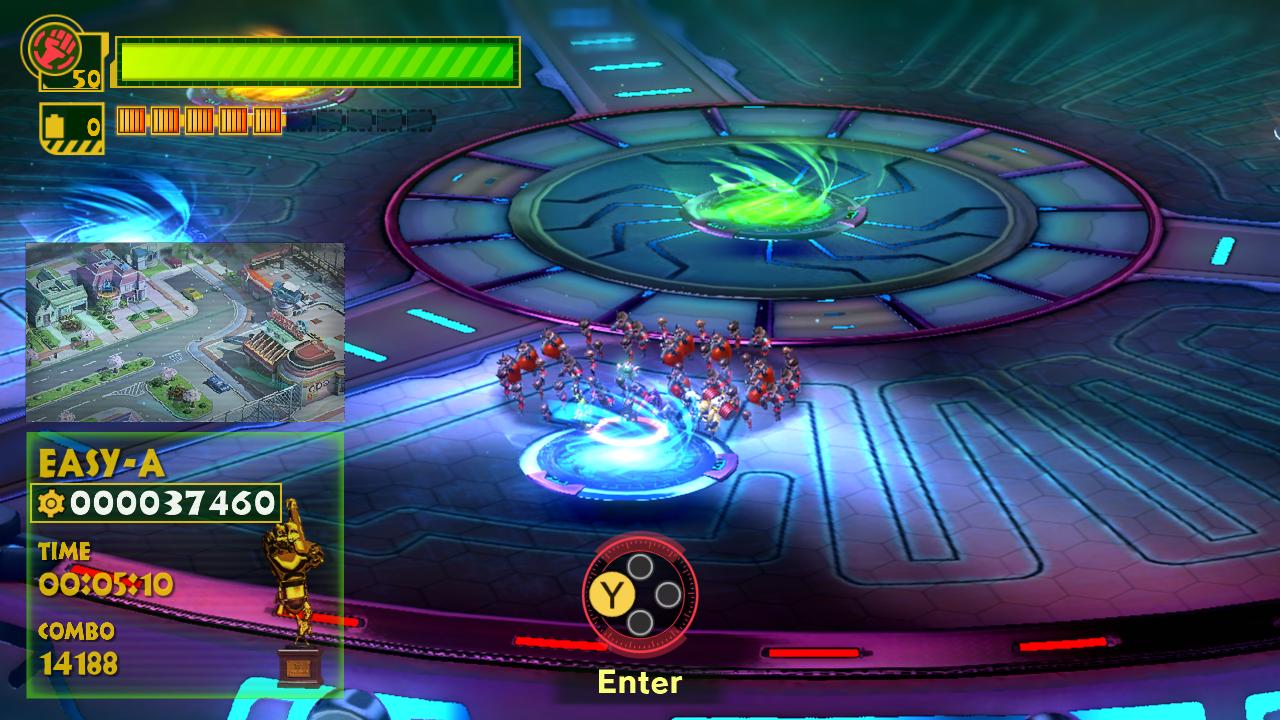 Brave heroes can even face the challenges alone.
Once the stage starts, enemies will swarm you instantly. Cooperate with your buddies to destroy them.
Each team starts with a total of 50 members distributed equally.
In other words, if you play alone, player 1 gets all 50 members. If you play with 5 people, each player will start with a team of 10 members.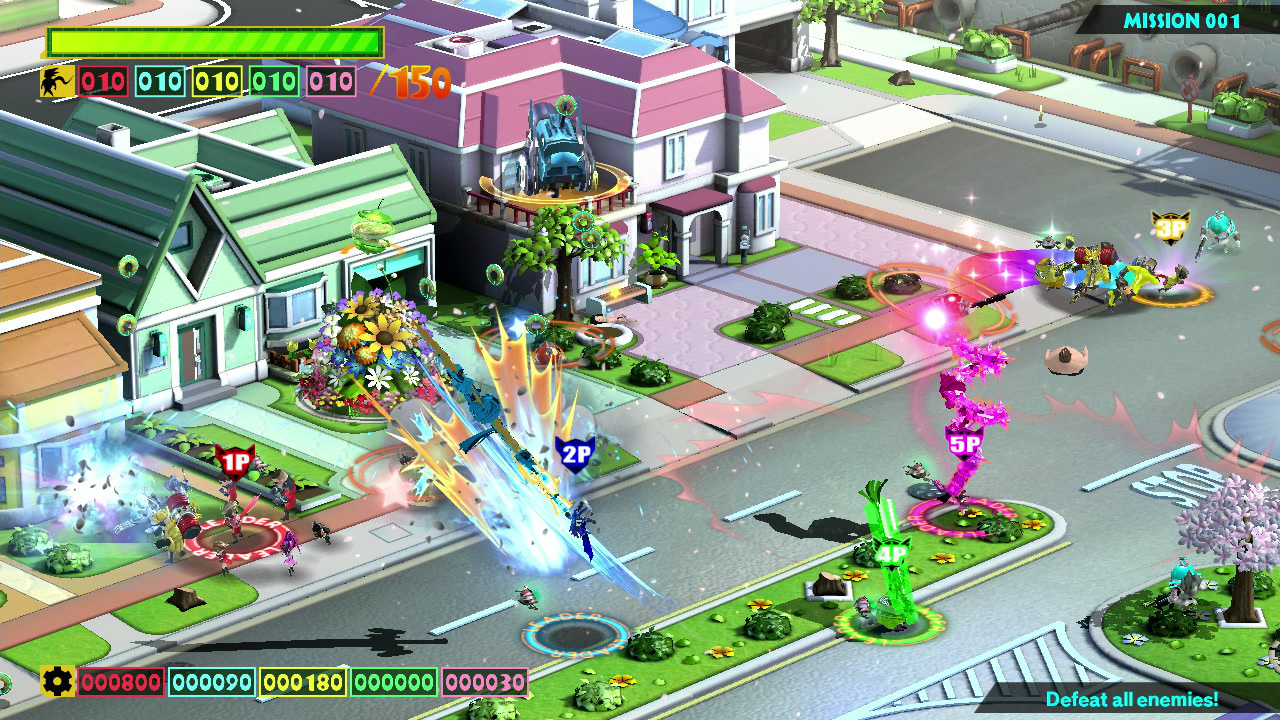 Basic combat works the same as in the main game, but there are some new rules.
For instance…
– The Vitality Gauge is shared by all players.
A true hero never lets his buddies get in trouble.
– You get unlimited use of the Unite Gauge.
Let loose a flurry of Unite Attacks on your opponents.
– Hand, Sword, Gun, Whip, Hammer, Claw, Bomb; all Unite Morphs are available from the beginning.
Everyone should pick the weapon they like best.
– Any skills and Unite Morphs you obtained at the Wonderful Mart in the main game can be used here.
Try the missions after getting stronger and you might get an even higher score!?
However, Custom Blocks have no effect.
– Drawing the Wonder-Liner will not slow down time.
Heroes should work together to create an opening for quickly drawing symbols.
– Items obtained during the stage can only be used by the player in possession of the Wii U GamePad (player 1).
"Ugh, there's too many of them! Requesting the launch of a Fire Victory Torpedo!"
"Negative! Torpedoes fully depleted! Vitality Gauge dangerously low!"
"Then eat that bowl of noodles we picked up before!"
"Roger!"
If you want a certain item to be used, don't hesitate to let your fellow players know. It'll be fun to shout at each other!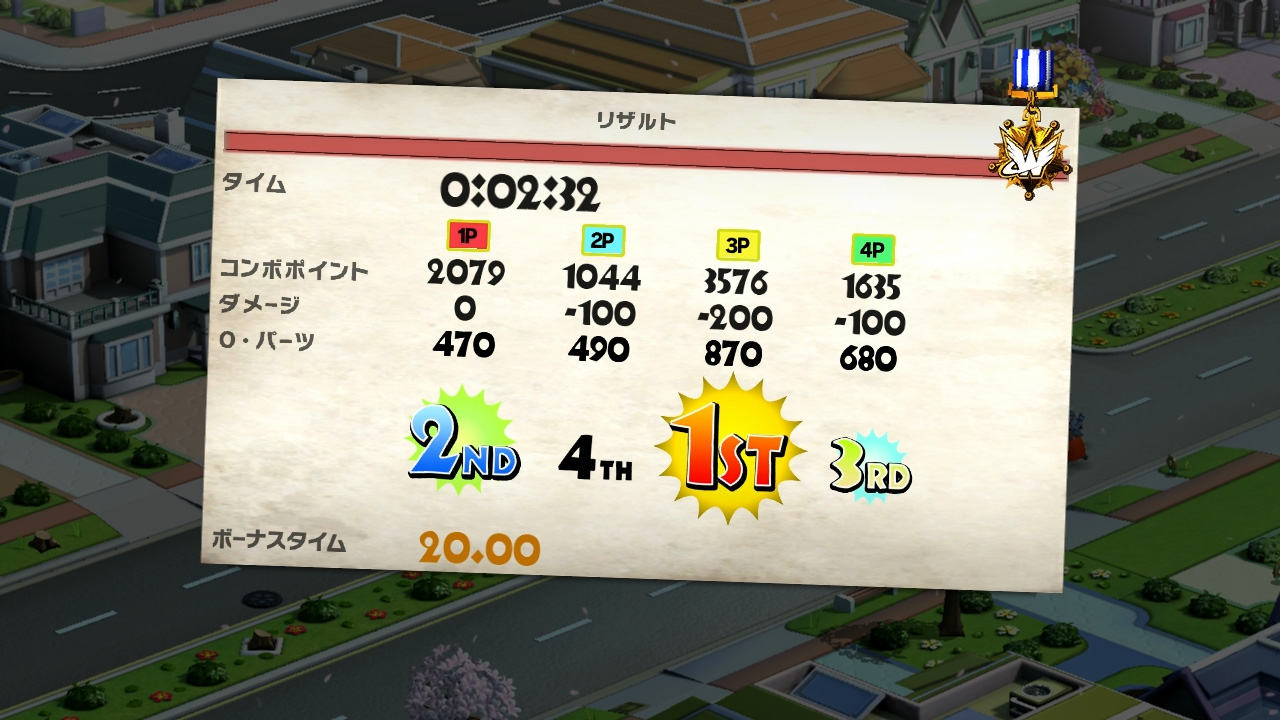 Phew… we managed to get through this somehow…
Once all enemies have been defeated, each player's mission results will be displayed.
The number of combo points affects the rank of each player, but it does not influence the evaluation of the mission itself. It's the O-parts you pick up during the mission that have a major impact on the mission evaluation, so if you're going for a high score, make sure to leave no cash uncollected.
Contrary to the main game, there is no O-parts bonus for racking up combo points, so the important thing is to keep defeating enemies at a steady pace.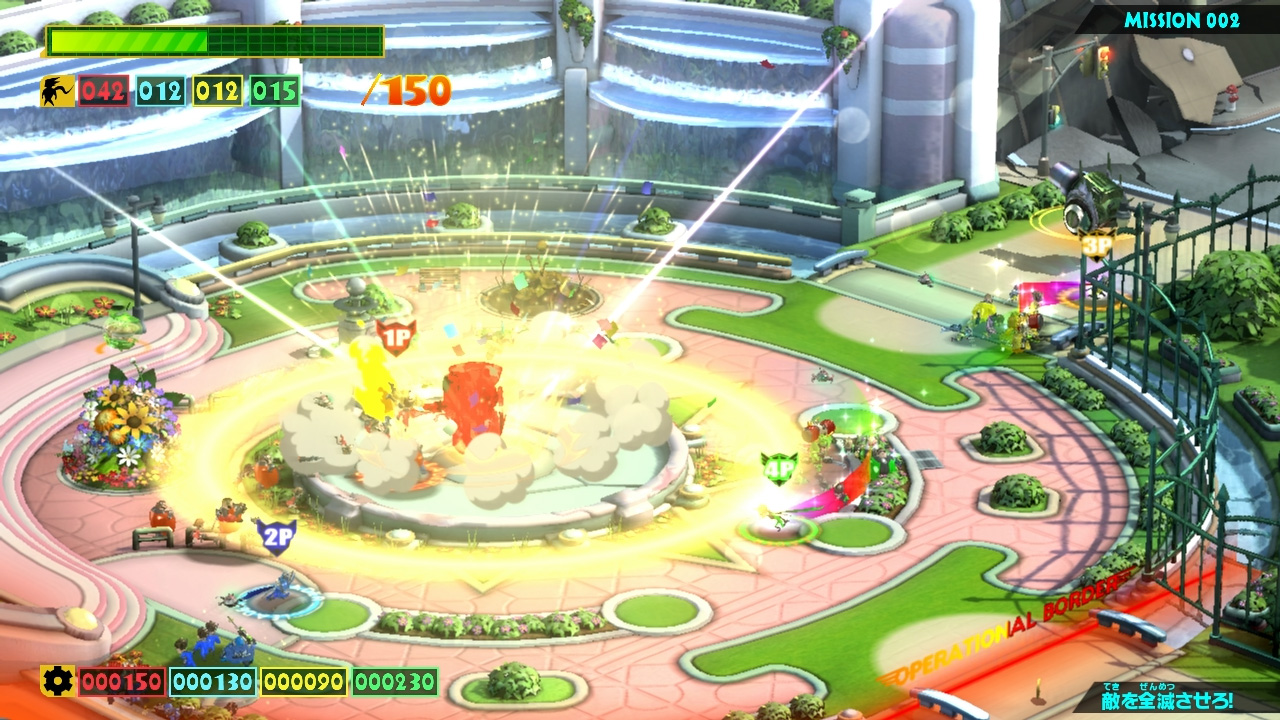 You can even find money by hitting certain spots!?
And then there's Bonus Time.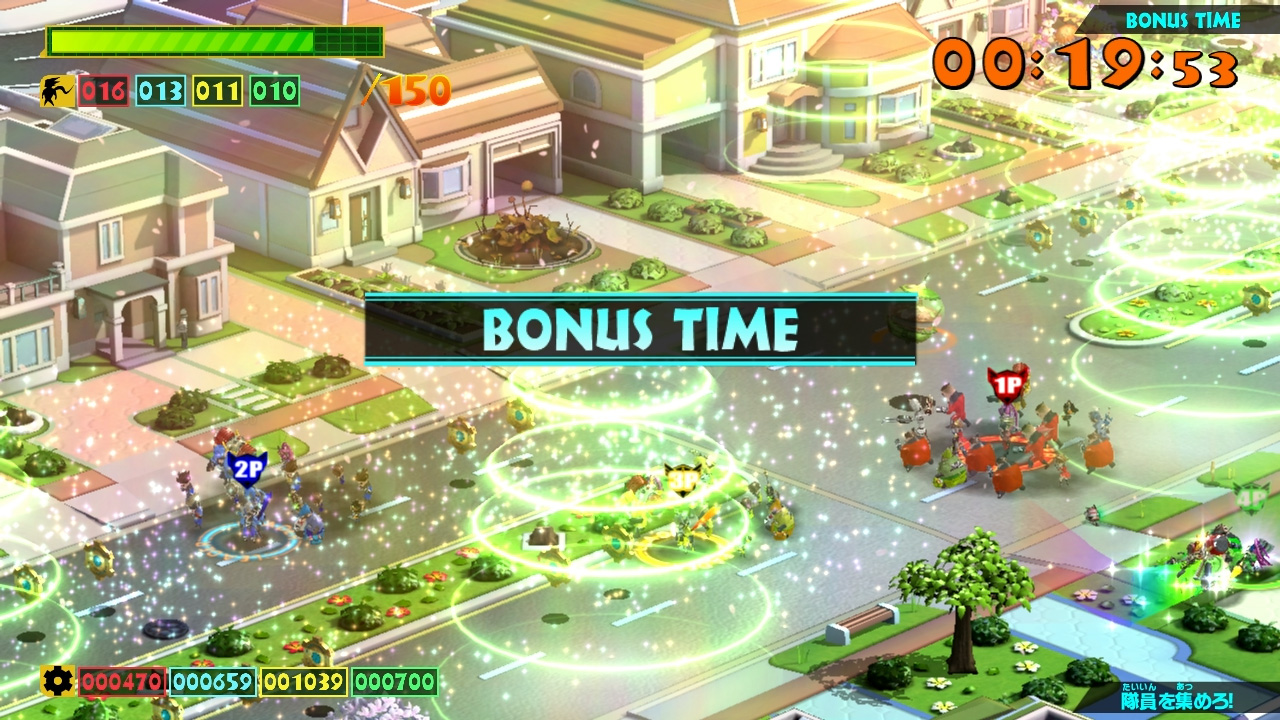 Yahoo! Money! Items! And, uh, citizens!
Just look at all that money spawning everywhere!
But it's not just about moolah, the citizens have come running to your support too, so making an active effort to recruit them is a wise course of action as well. They provide some much-needed power, so they're bound to lead to internal strife amongst players.
The length of Bonus Time depends on the results of the preceding mission. This means that diligent heroes will be rewarded with due riches, just like in real life…?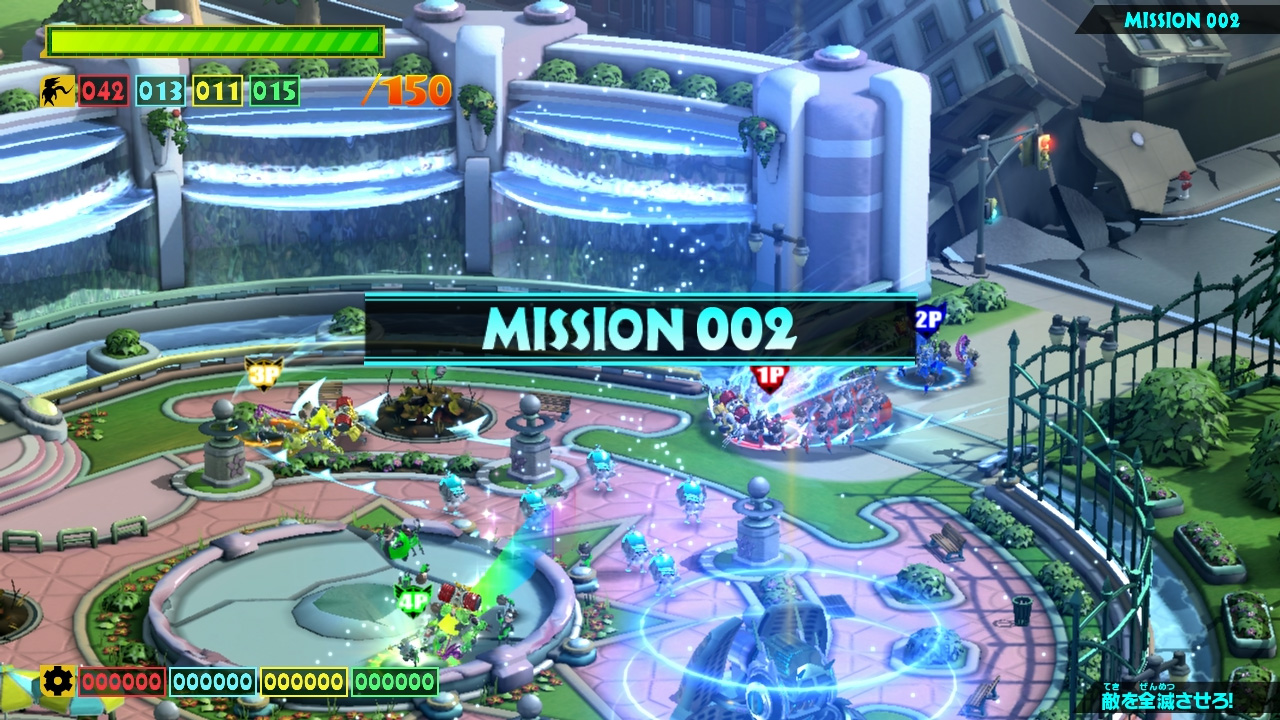 Party's over! The next mission is already waiting.
Each stage is made up of 3 missions.
Use the 2 Bonus Time periods in between to create as big a party as you can.
Keep in mind though that there is a limit to how many members you can drag around. Once the total number of members reaches 150, you won't be able to recruit new members anymore.
In other words: first come, first served. So does this mean that players that lose in the battle for recruiting troops will have to fight with a tiny party until the very end!?
The answer is 'no.'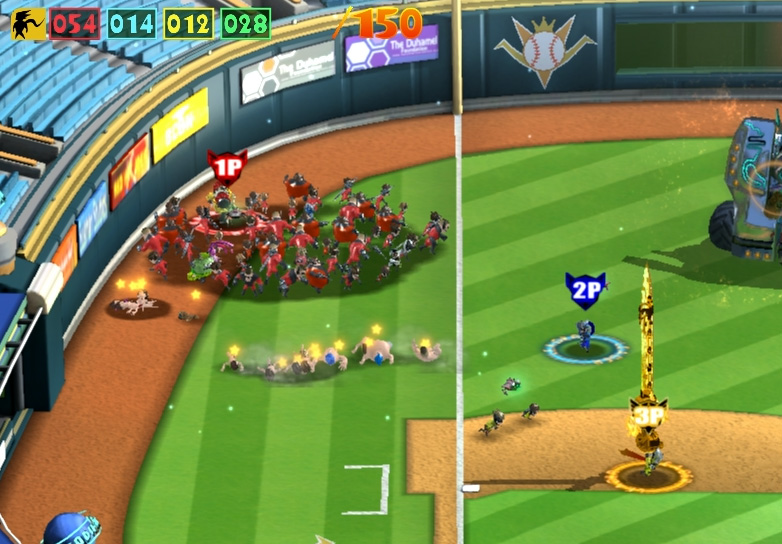 What's this? Some downed members up for grabs?
That's right, there's a rule that states that "heroes that have been downed by an enemy attack can be recruited into anyone's team."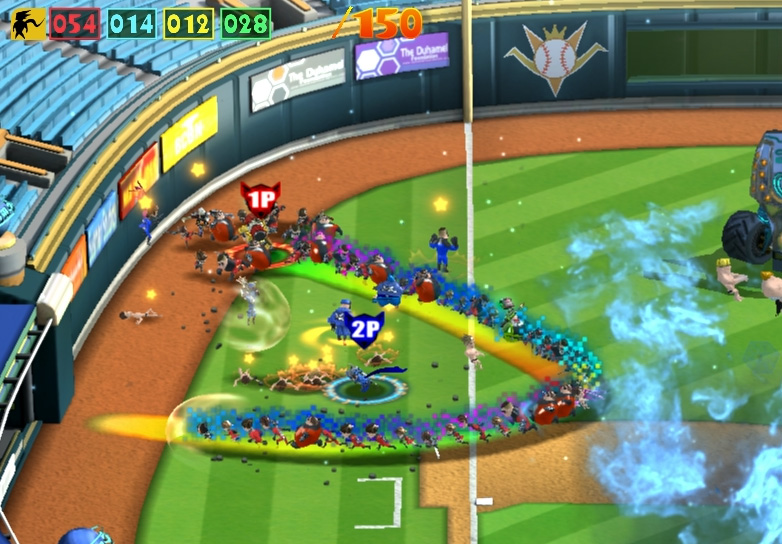 Work that Wonder-Liner magic. Don't look at it as stealing; it's more like borrowing indefinitely.
When collecting heroes from someone else's team, you don't have your leader touch them, but you draw a circle around them with the Wonder-Liner.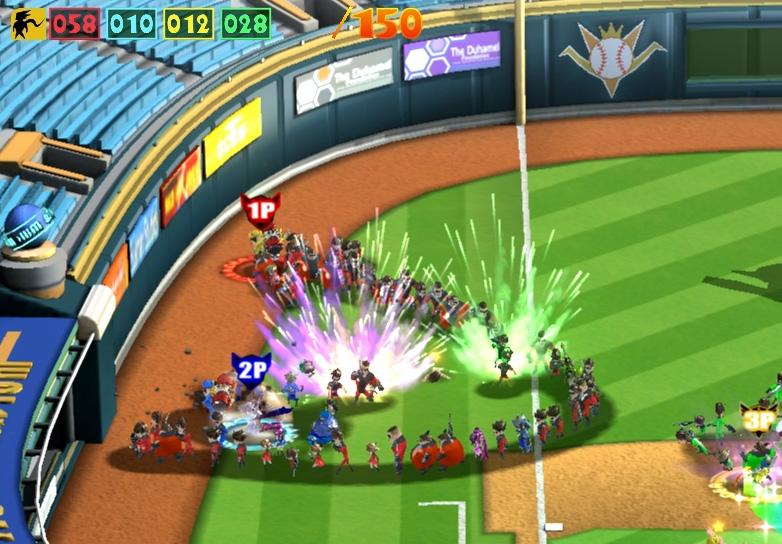 Yoink! I mean, uh, rescue mission successful!
Pretty sweet, no?
This allows you to quickly regenerate scattered heroes, even when one of your buddies is in danger. When you have more members on your team, your Unite Morphs will be bigger and you'll even be able to use Multi Unite Morphs. Surely that's enough incentive to turn even the Dalai Lama into a thieving scoundrel.
Or so you'd think…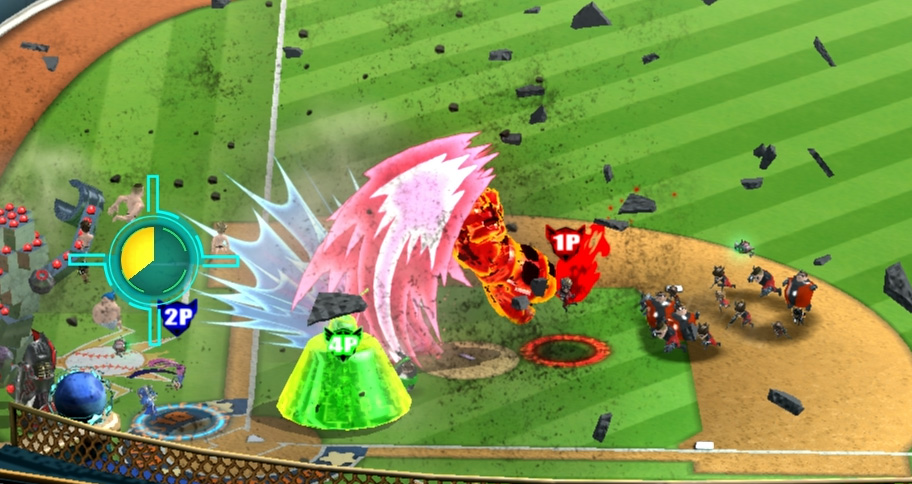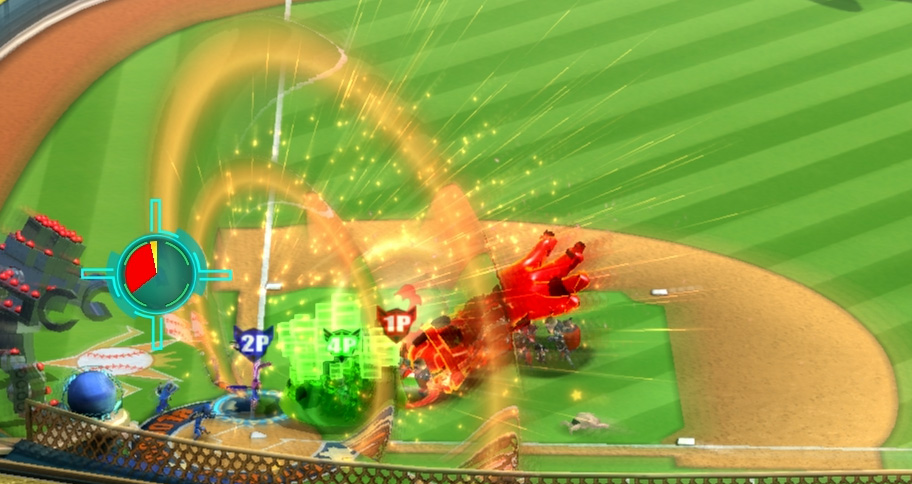 Just when you least expect it, someone you trusted Unite Gutses you in the back…
What is this madness!?
In the blink of an eye, your buddy (that jerk holding the controller next to you!) uses Unite Guts to repel the attacks of his own teammate!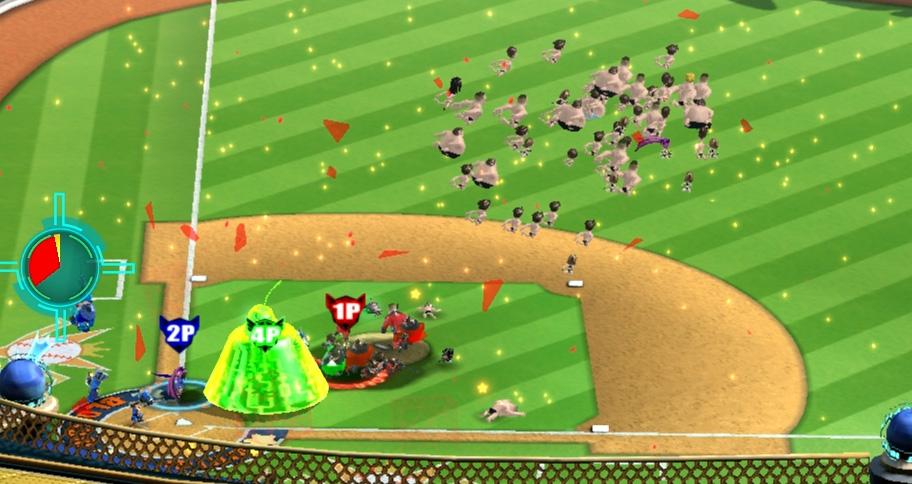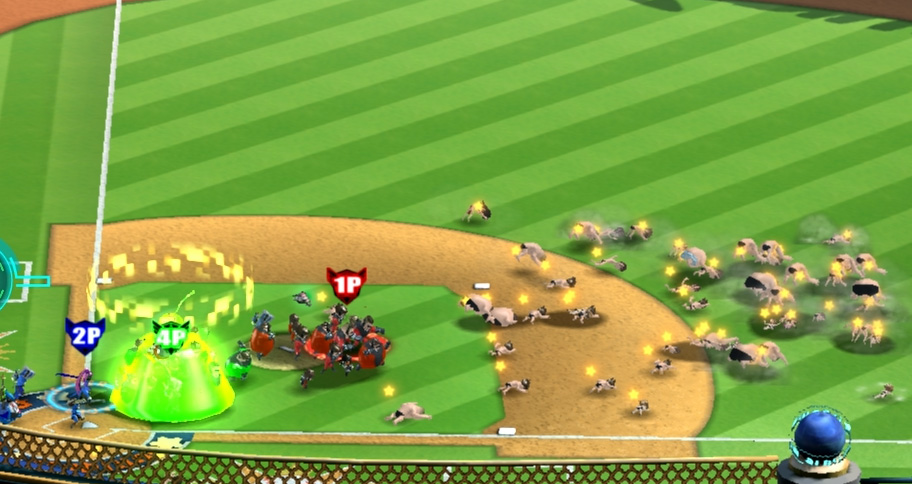 And of course that means heroes scattering everywhere.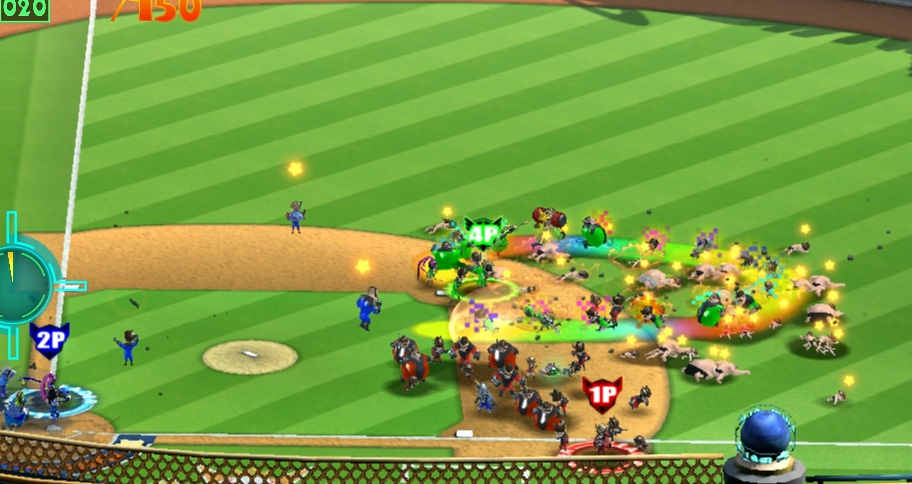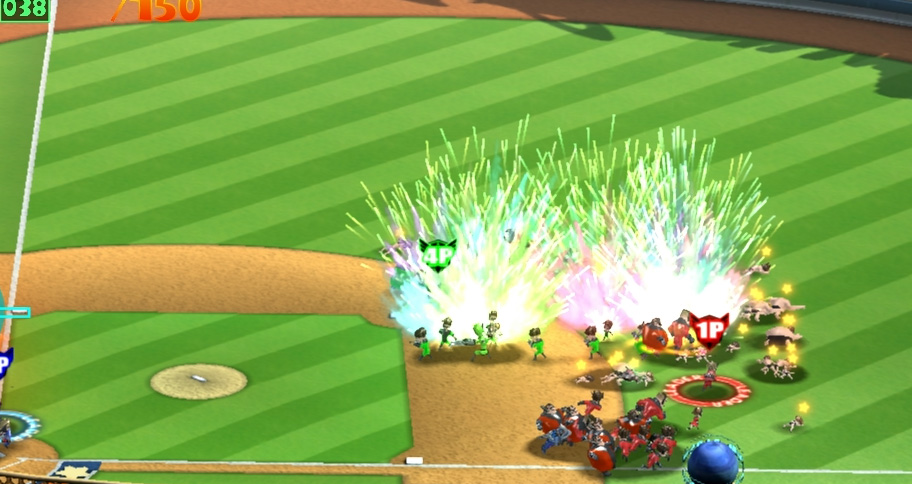 And then all of them were stolen. It all happened so fast, officer!
There are more ways of having fun with the game than just playing fair.
But of course you're all smart enough to cooperate with your fellow heroes to protect earth from the GEATHJERK scum, right? You would never start a mudslinging contest with your friends in the face of an alien invasion, would you? WOULD YOU?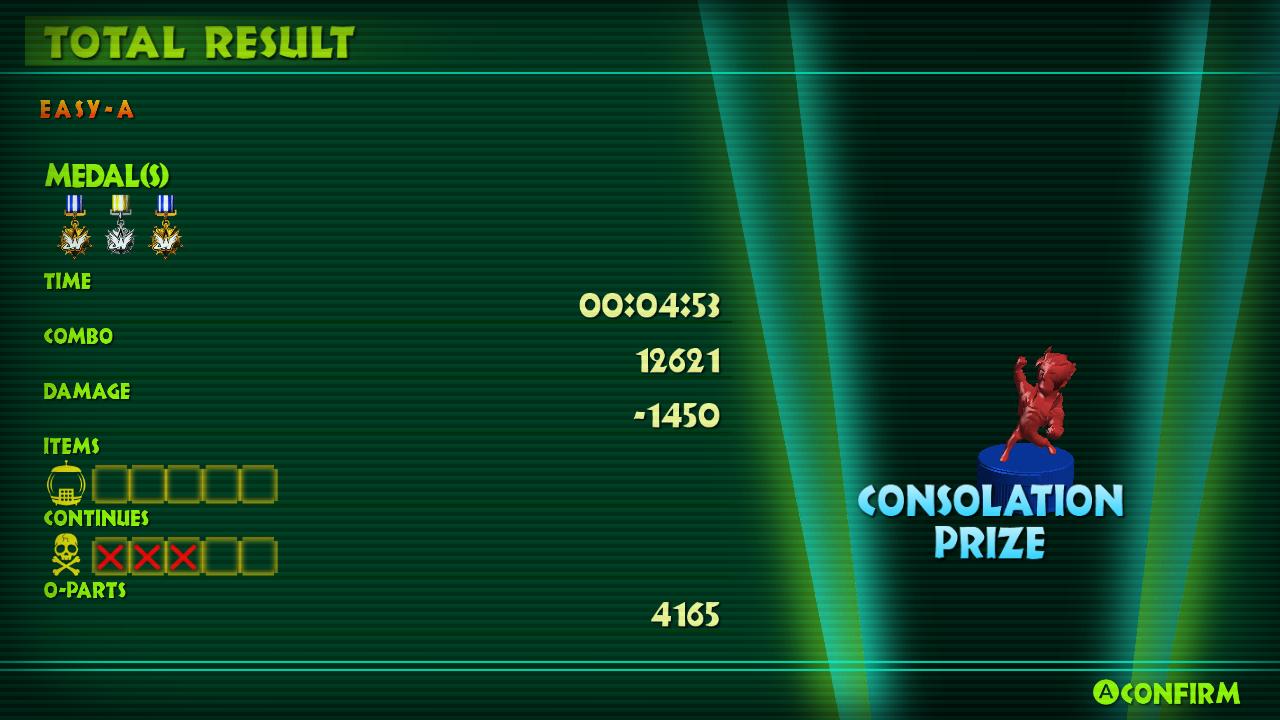 I need to go find some new friends.
Once you've battled your way through all 3 stages, you will get to see the overall results. At this point all should be forgiven, and you should just praise each other's hard work.
A portion of the money (O-parts) you earn here is transferred to the main game as well.
Wonderful Missions don't consume a lot of time, so they're good for making a quick buck in between story missions, for practicing combos or just for taking your mind off things.
And of course they're a source of great fun if you compete with your friends to get the highest score.
Don't forget to post your results on Miiverse! (*Click here for more information on Miiverse!)
Everyone's aching to see how you're doing.
Until next time!
TAG