Hello everyone. Once again, this is the arcade-frequenting, karaoke-loving game designer Ryoya Sakebe. Chances are good you'll find me at one of these places on my days off.
This time I'd like to share a couple behind-the-scenes tidbits from the development of Bayonetta 2.
(Spoiler warning!!)
The dedicated among you may already know some of these, but bear with me.
1) Where's Loki?!
In the first part of the game's story you travel with your companion Loki. He is able to transform into a flying squirrel, and while on the move he hangs out within Bayonetta's substantial bosom. Lucky jerk. But when Bayonetta unleashes the Beast Within and transforms into a Panther, where do you think he goes? Don't worry, she doesn't leave him behind!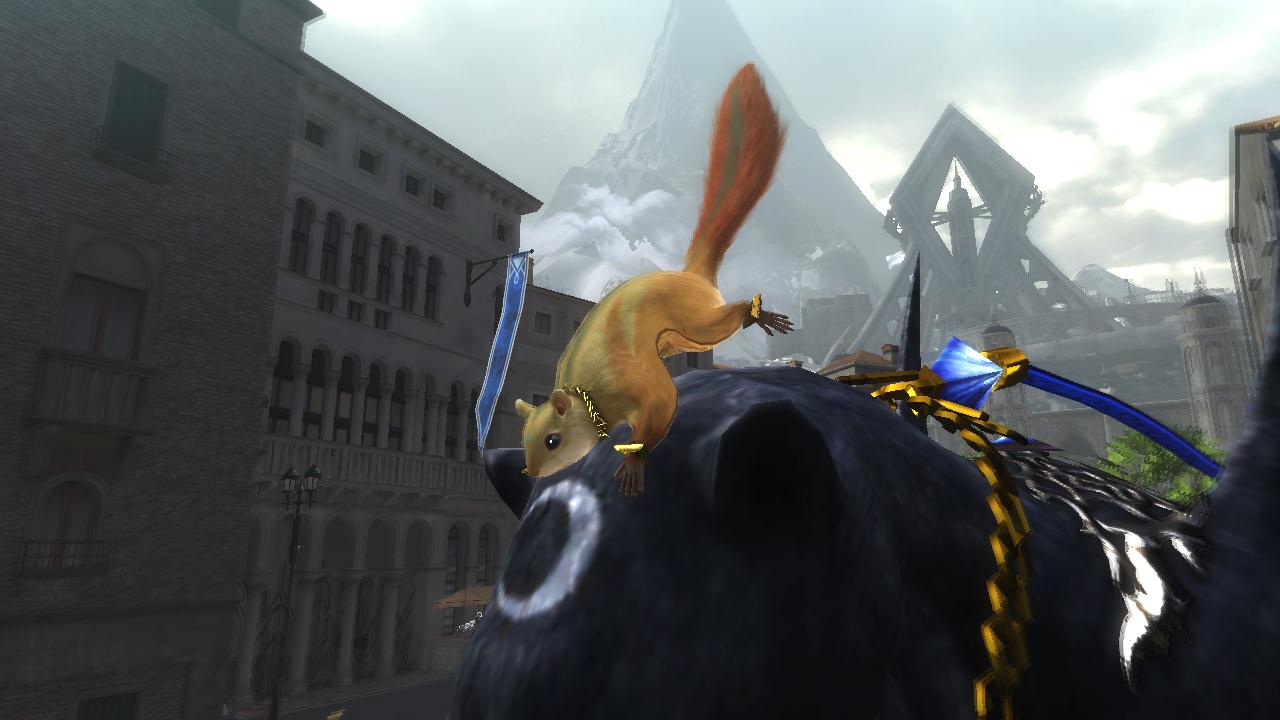 ↑Here's Flying Squirrel Loki holding on for dear life. Move the camera around to get a closer look; he's super cute!
2) Don't fall for the PKP combo trap
If you fully execute a combo, your final hit will summon a Wicked Weave, dealing much more damage than a regular attack. Out of all the possible combos, the quickest way to get out a Wicked Weave is the Punch-Kick-Punch combo (known as PKP for short.) What an easy way to rack up a ton of damage, right? Wrong. You still have a long way to go…BD (sunglasses smiley)
While the PKP is fast and can stun enemies, we purposefully made it less powerful than other combo finishers. Moreover, if you send an enemy flying with PKP, you'll have to go chase them down before you can start your next combo. If there are any true Platinum rank chasers among you, please remember: you will never achieve true strength while relying on PKP.
3) The secret effect of Tetsuzanko
Here's another little known fact.
Pressing Punch after moving the analog stick from back to front executes the devastating "Tetsuzanko". Purchasable from Rodin's store, it takes a different form depending on the weapon you have equipped.
With Rakshasa equipped…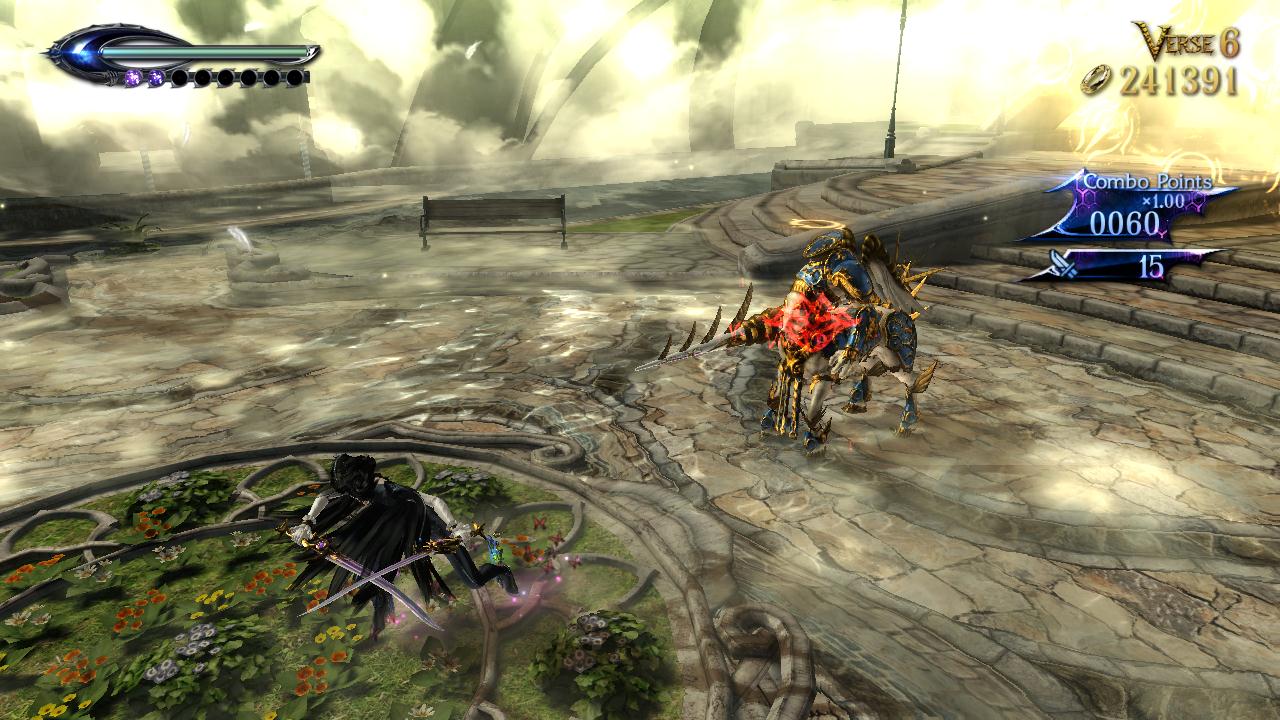 ↑The start of the Tetsuzanko animation with Rakshasa equipped. Leap back away from the enemy and…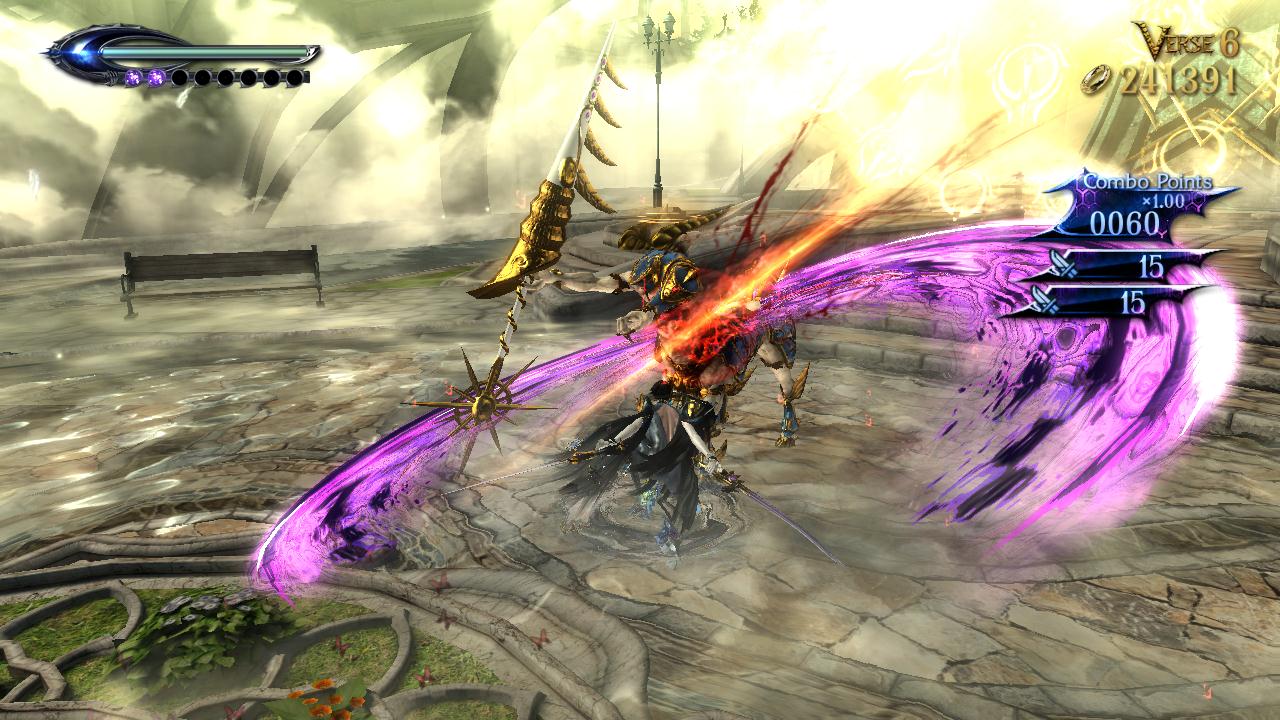 ↑Close the gap in an instant with a slash!
This movement makes it a bit of a tricky attack to use effectively. In fact, the part of the animation where you jump back is not just for show; it allows you to dodge enemy attacks. Which also means you can activate Witch Time! While you're slashing away at an enemy, if it looks like it is about to attack, quickly input the command for Tetsuzanko. In a single fluid motion you will jump back, dodge the attack, activate Which Time, and launch an attack of your own. Just think of the combo points! It can be tough getting the right timing in the middle of a difficult battle, so give it a try against Accolade, or some other easy enemy. Trust me, you will feel like a total boss.
Well, that's all I've got for you today. There are still plenty of fun little facts and stories left to tell, but they will have to wait for another day. See you!
TAG