Tokyo Game Show 2016 was held from September 15 to 18 at the Makuhari Messe event hall in Chiba, Japan. This year, PlatinumGames was proud to participate in not one, but two special stage presentations! Here's the lowdown on everything we did at TGS 2016, thanks to Twitch and Square Enix.
Platinum flexes its Bayonetta 2 chops at the Twitch Booth!
Gamers from all over the world tune in day and night to watch each other play games live on Twitch, from casual playthroughs of old favorites to white-knuckle e-Sports matches. In 2015, Twitch reported they hosted broadcasts from over 1,500,000 streamers to over 100,000,000 viewers – in one month! PlatinumGames sent one of our programmers to the Twitch booth at TGS 2016 to show off his skills at Bayonetta 2 (which, in case you forgot, is celebrating its second anniversary this month).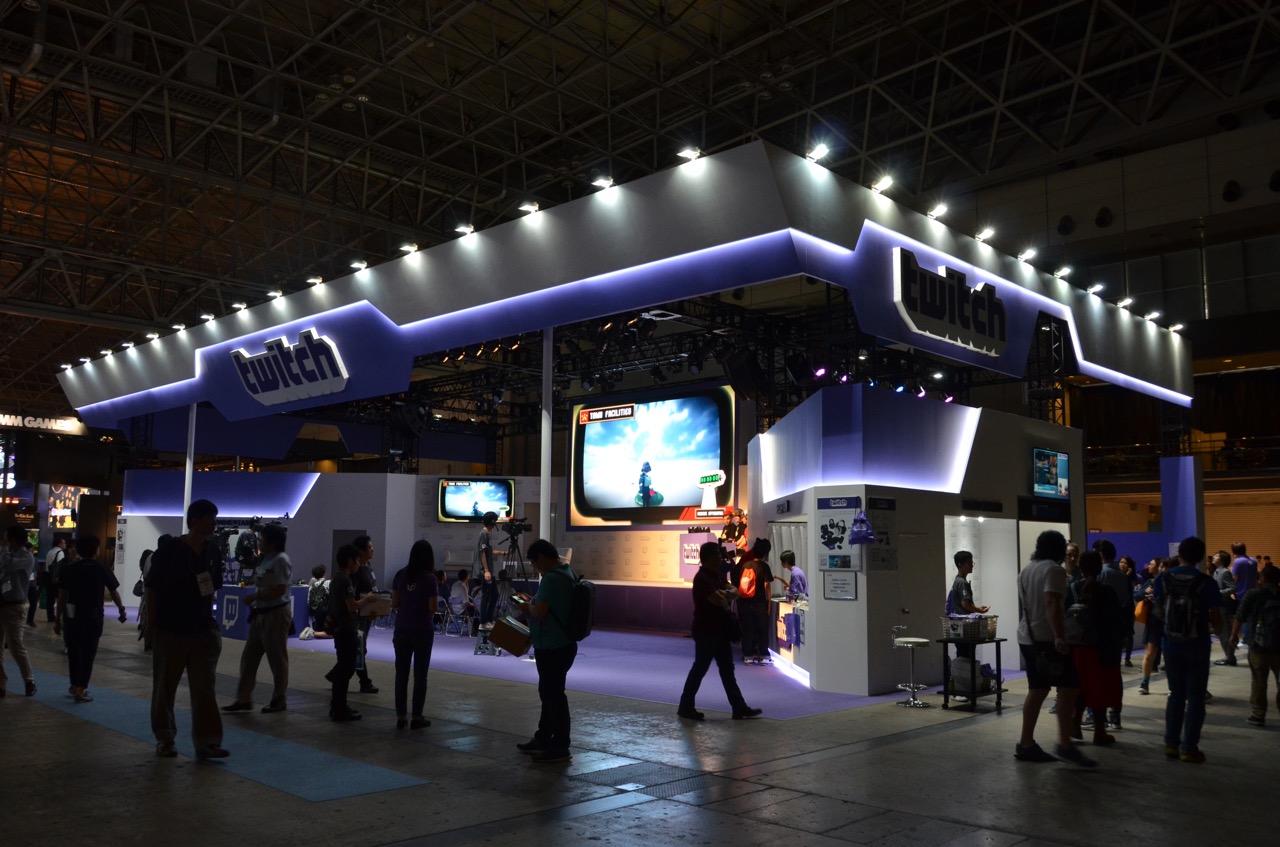 The Twitch booth at TGS 2016.
Ryo Onishi has been a programmer at PlatinumGames for six years. He got up on stage to play the battle against Rodin, The Infinite One – generally regarded as the most difficult part of Bayonetta 2 – live, as viewers watched both on-site and on Twitch.
"Everyone keeps saying Rodin's too hard to beat ," Onishi said. "So as I play, I also want to show everyone the best ways to fight him."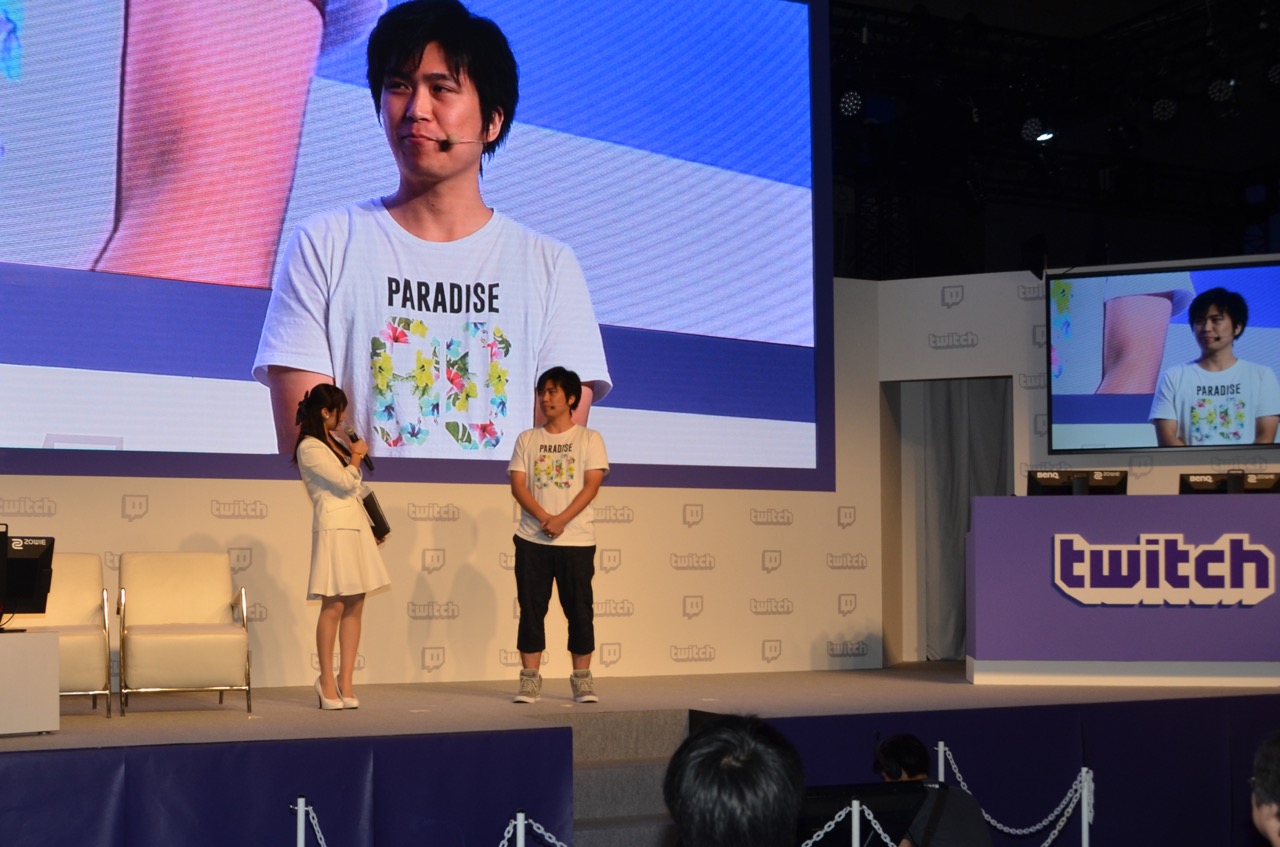 Here's the gear Onishi picked out for the occasion:
Hand weapons: Love is Blue
Foot weapons: Love is Blue
Accessory 1: Infernal Communicator (Calls the Little Devils into battle)
Accessory 2: Moon of Mahaa-Kalaa (Repels enemy attacks with a well-timed command)
With his equipment in order, Onishi was ready to take on Rodin!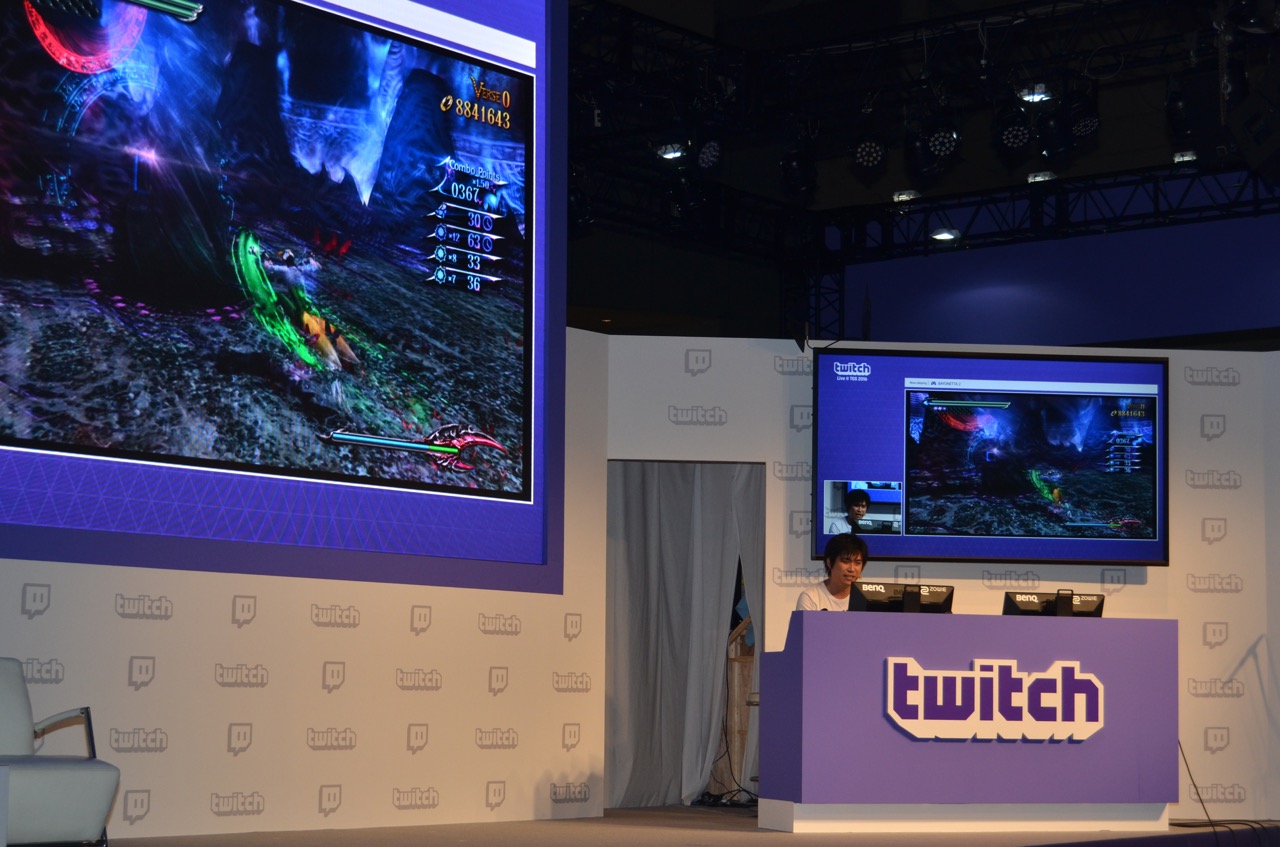 Onishi remained unflappable in the face of Rodin's all-out assault, keeping calm enough to explain his recommended equipment, strategies and combos to the audience.
When Rodin's HP is cut down to a certain point, he transforms and his attacks become even faster. Onishi kept up the fight, taking care to avoid Rodin's heinous grapple attack, which takes Bayonetta down to a single hit point with just one hit. With so many people watching and no room to let down his guard for even a second, you can see the determination on his face: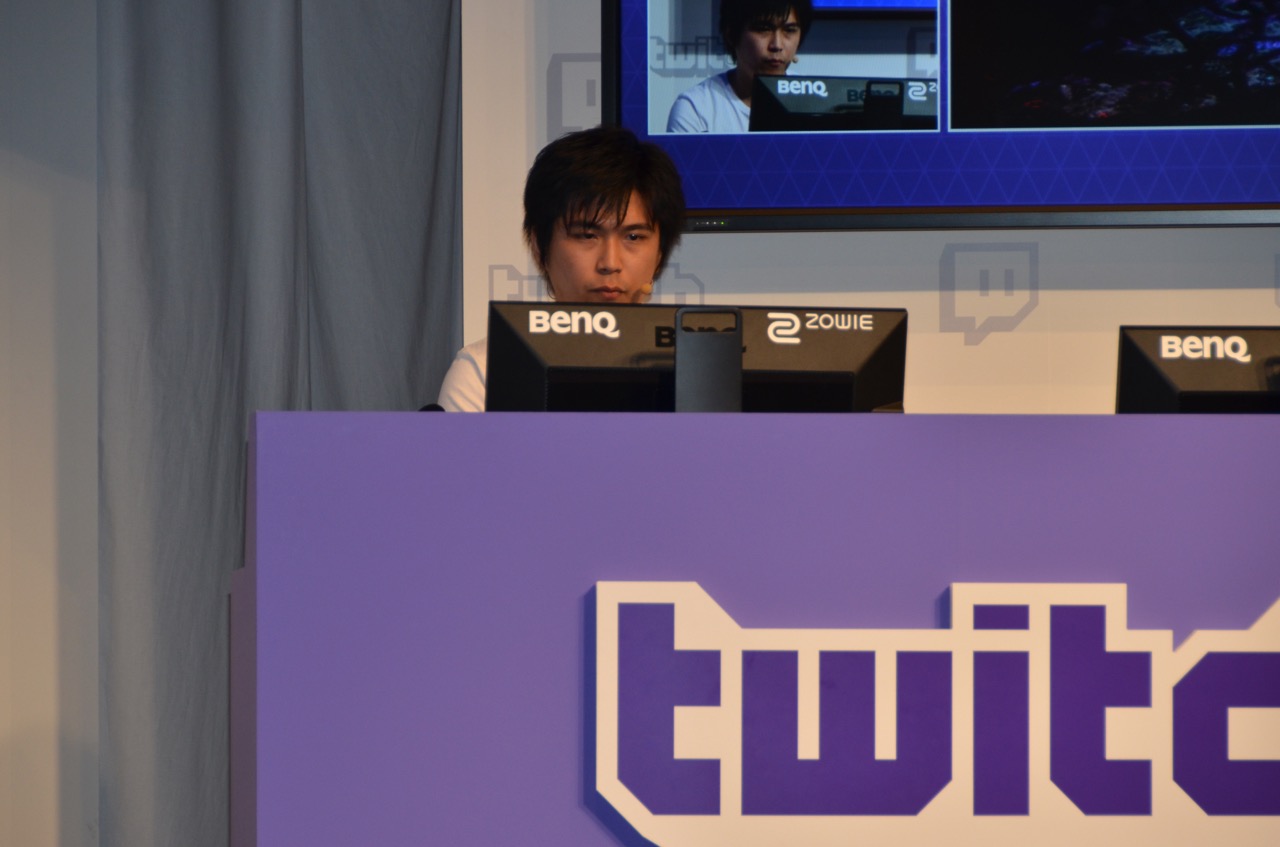 PG programmer Ryo Onishi puts on his game face.
At last, Rodin managed to get his hands on Bayonetta and took her down to a tiny sliver of life. Onishi knew that from then on, he would have to avoid getting hit entirely to escape defeat. It looked like it was all over for a moment, but Onishi turned it around and emerged victorious by the skin of his teeth!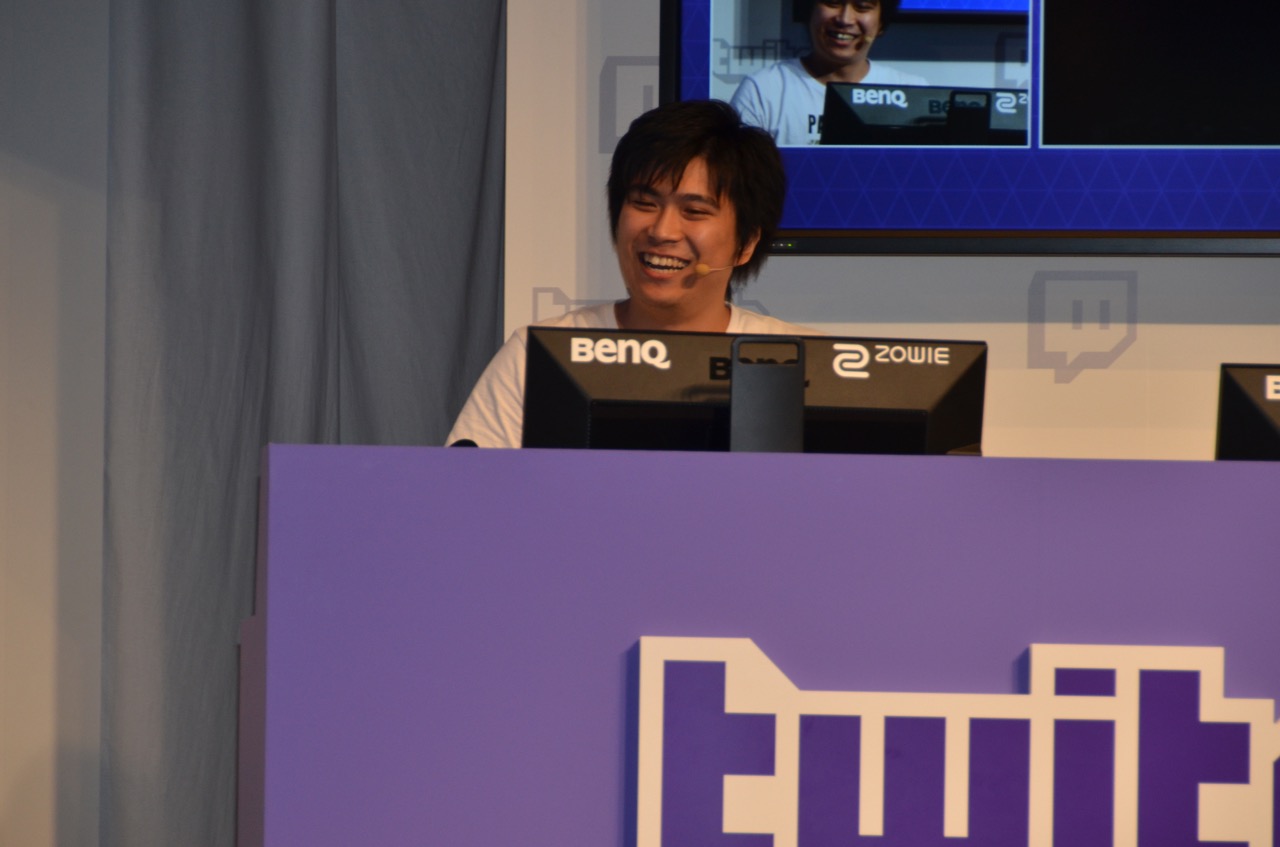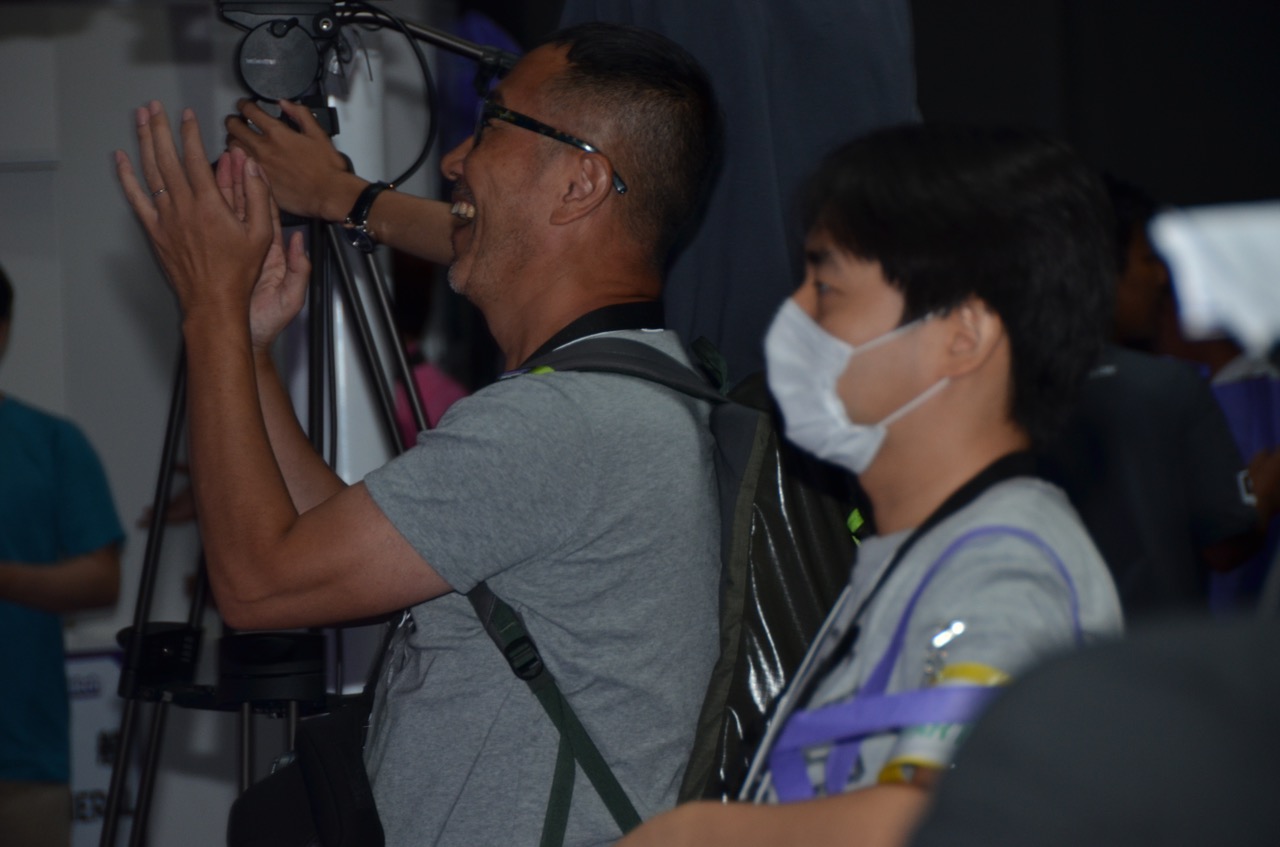 The audience meets Onishi's upset with thunderous applause.
Defeating Rodin is very difficult indeed – but that just makes the battle all the more thrilling, and victory all the sweeter. Are you up to the challenge? If you need any training inspiration, check out the video of Onishi's TGS 2016 play – but hurry, while it's still available in the twitch archive!
(Unfortunately the video is only available in Japanese, but heart-stopping climax action speaks for itself.)


NieR:Automata presentation at the Square Enix booth!
Next up was a special stage presentation for NieR:Automata at the Square Enix booth. Producer Yosuke Saito and director YOKO TARO shared a video introducing the characters of NieR:Automata!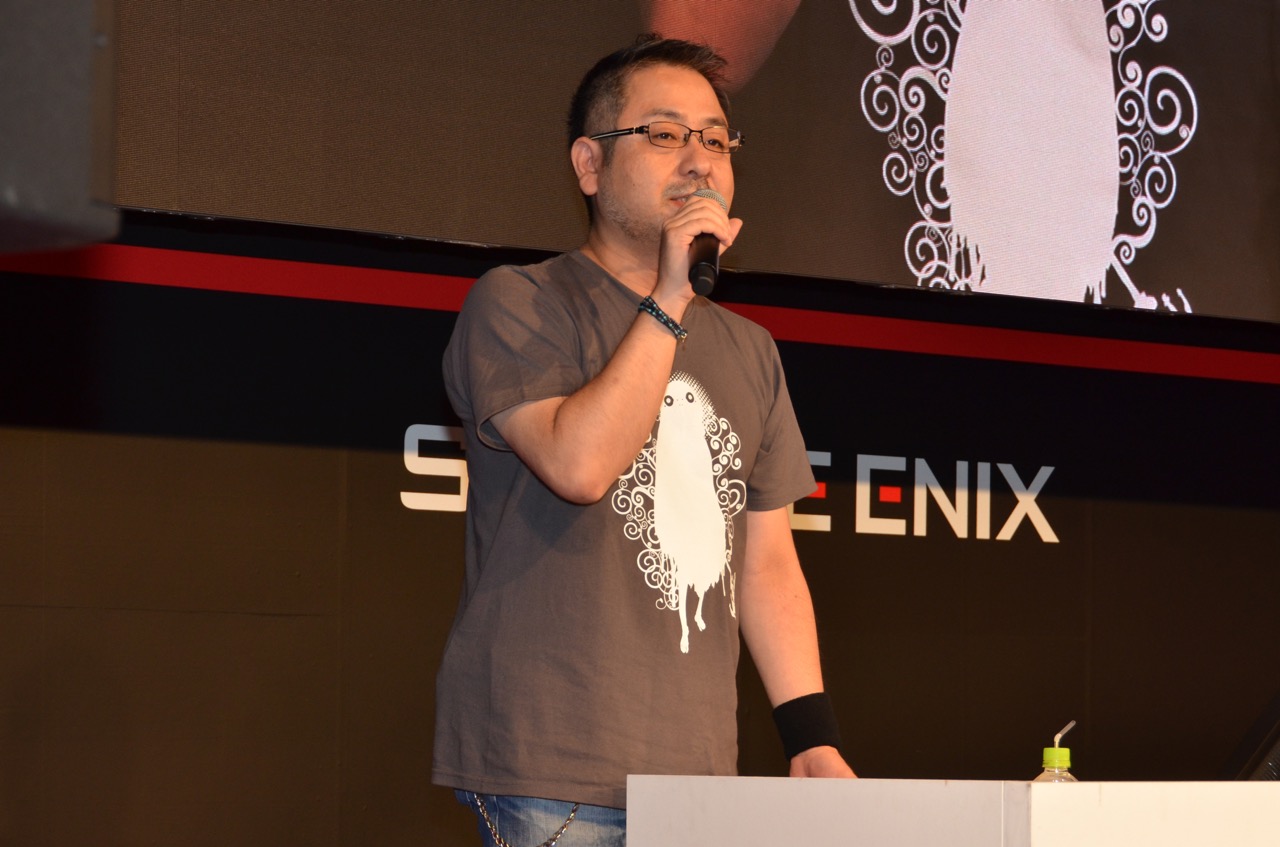 NieR:Automata producer Yosuke Saito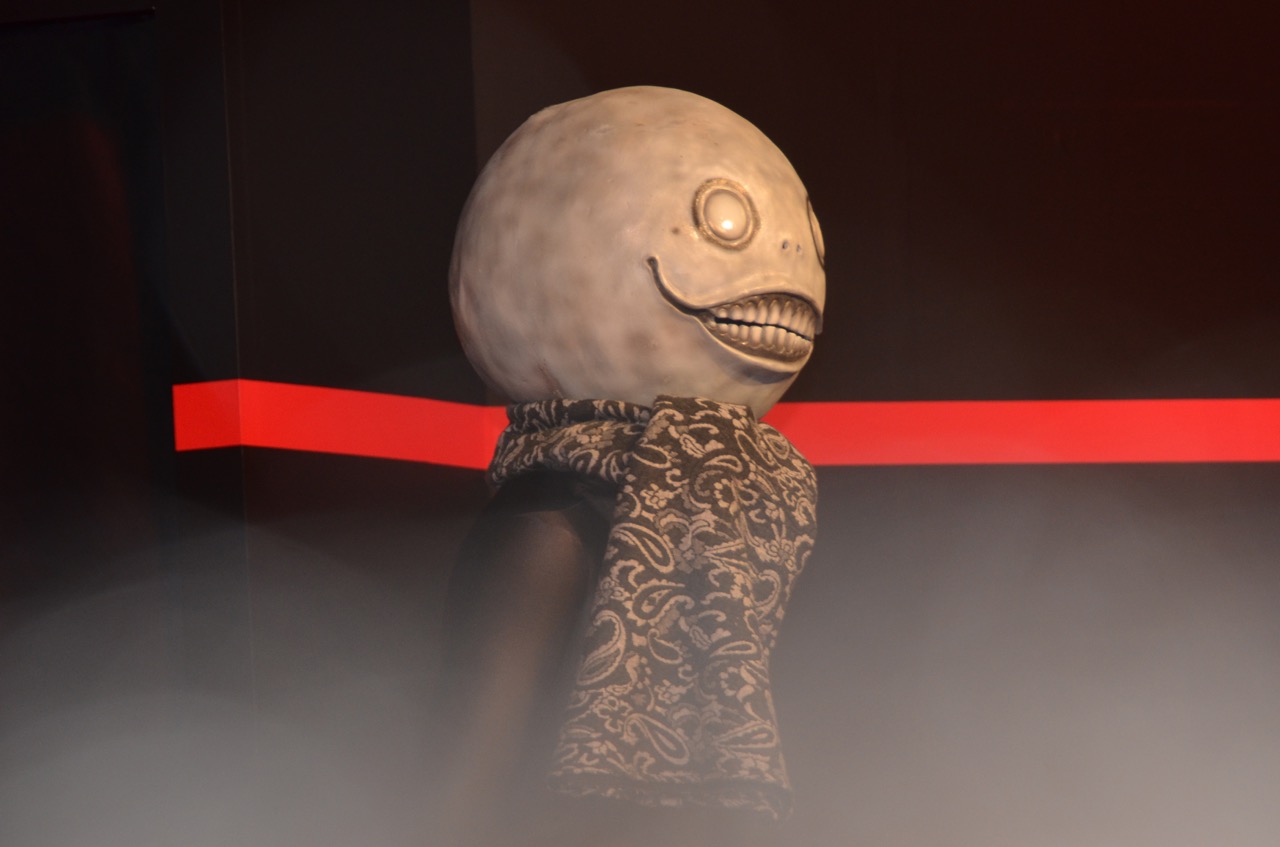 Director YOKO TARO appeared in voice only, but certainly made an impression.
Characters from the previous NIER title also appeared in the TGS 2016 video, but YOKO was quick to add that none of these elements from the original game would make it difficult for new fans to enjoy NieR:Automata.
Voice actor appearances
Yui Ishikawa, who voices YoRHa unit 2B, and Natuski Hanae, who voices 9S, also came on stage. They were both blown away by the packed crowd of NieR fans!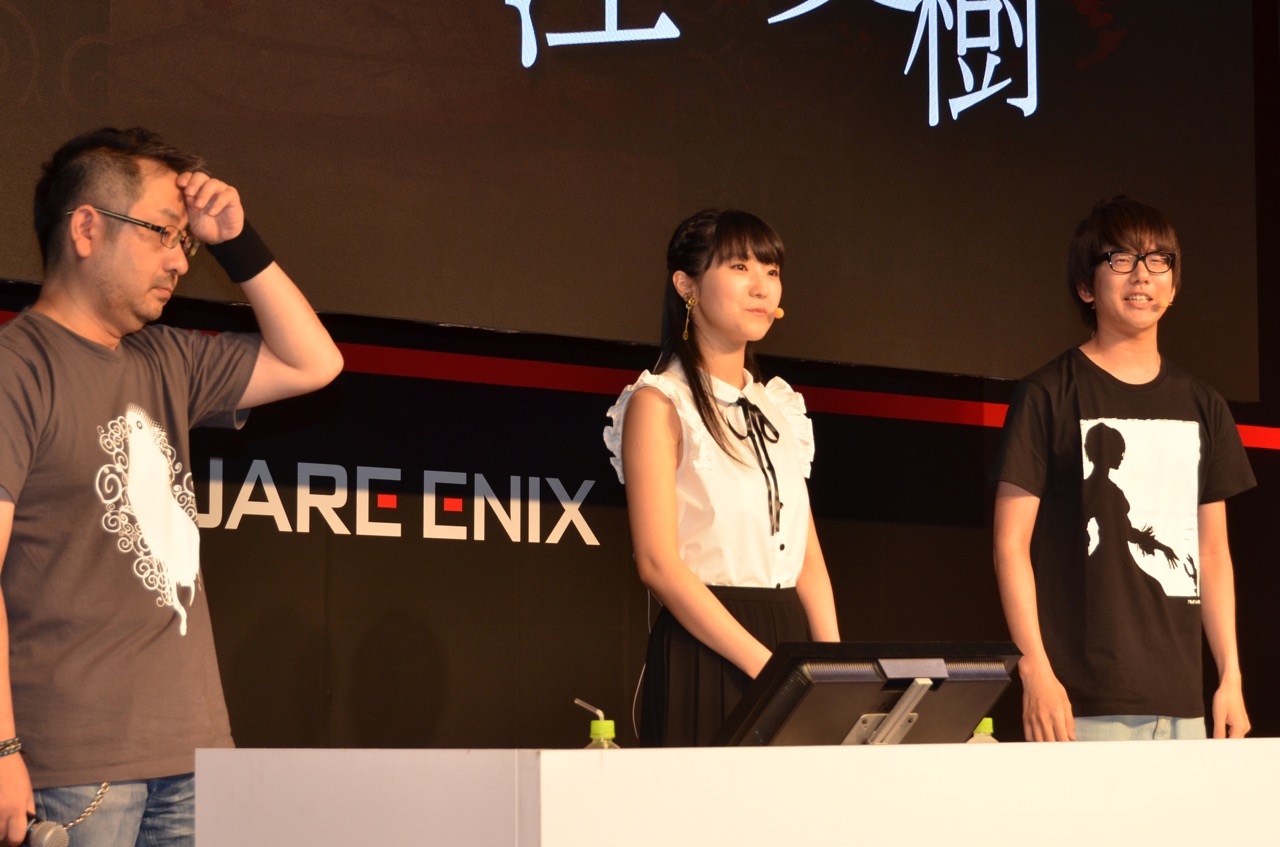 YOKO introduced the characters of NieR:Automata one by one. As he did so, the panelists discussed the voice actor casting process and shared anecdotes about the production of the game.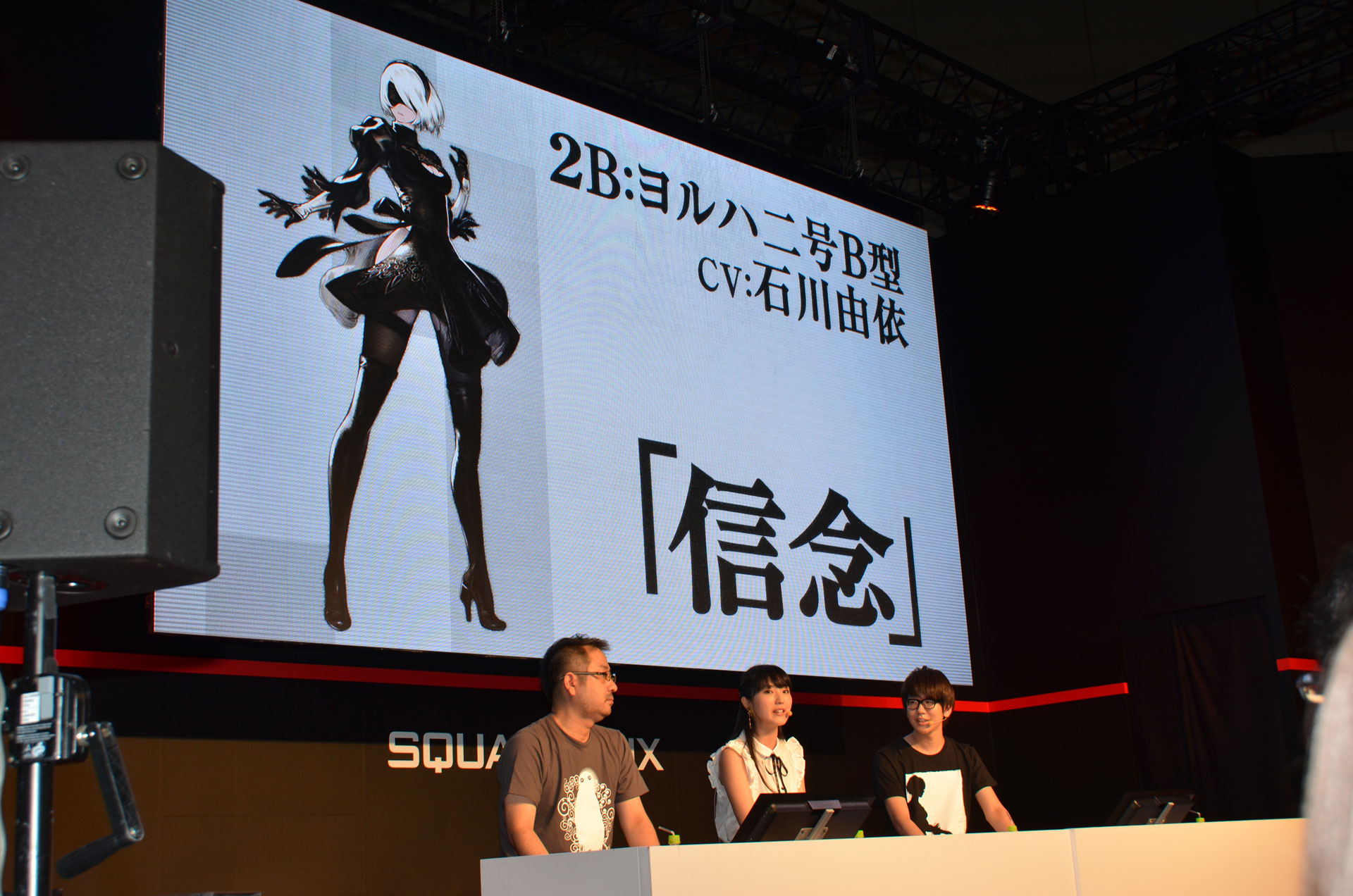 The moment YOKO heard Yui Ishikawa's voice, he knew he wouldn't have any other actor voice 2B.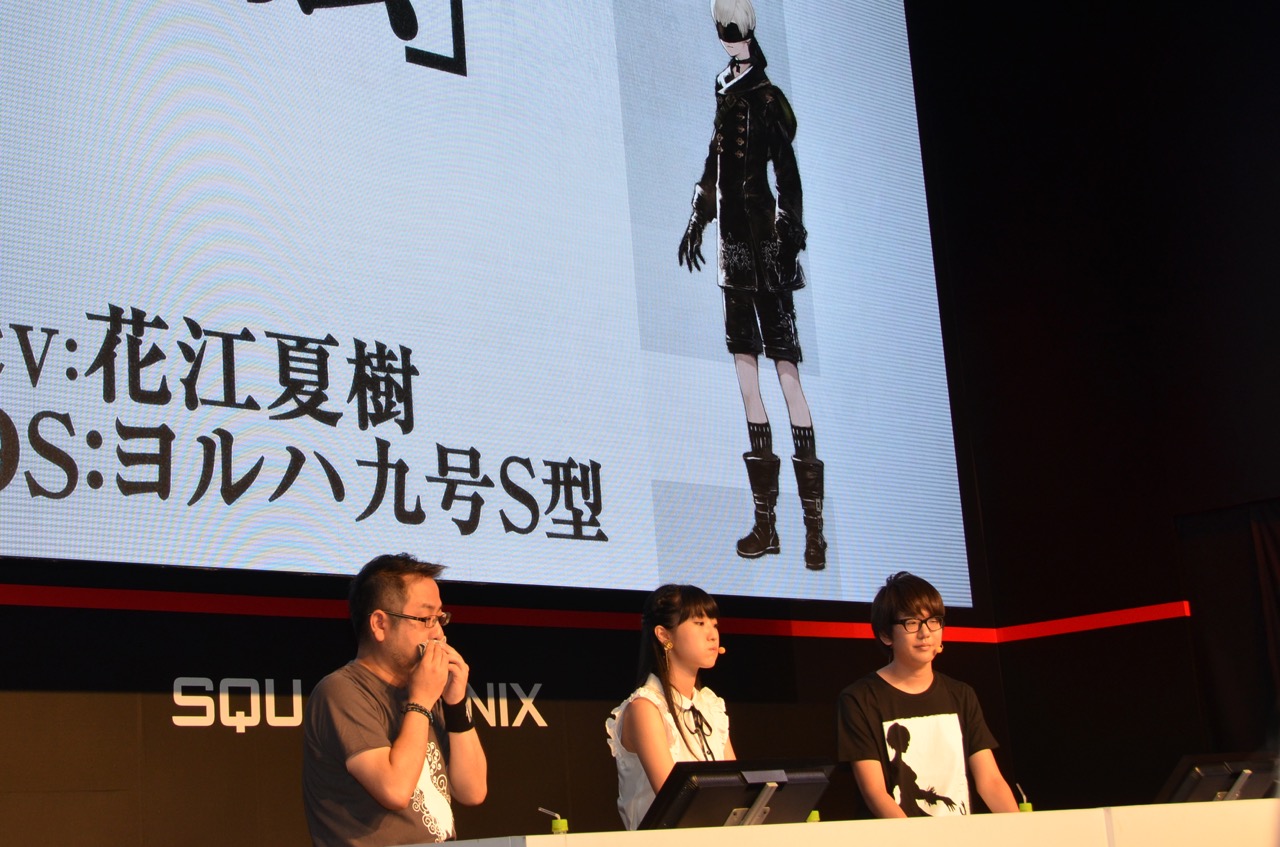 Finding the right voice actor for 9S took a difficult search. Right when it was at its hardest, Saito introduced Natsuki Hanae, who proved a perfect fit.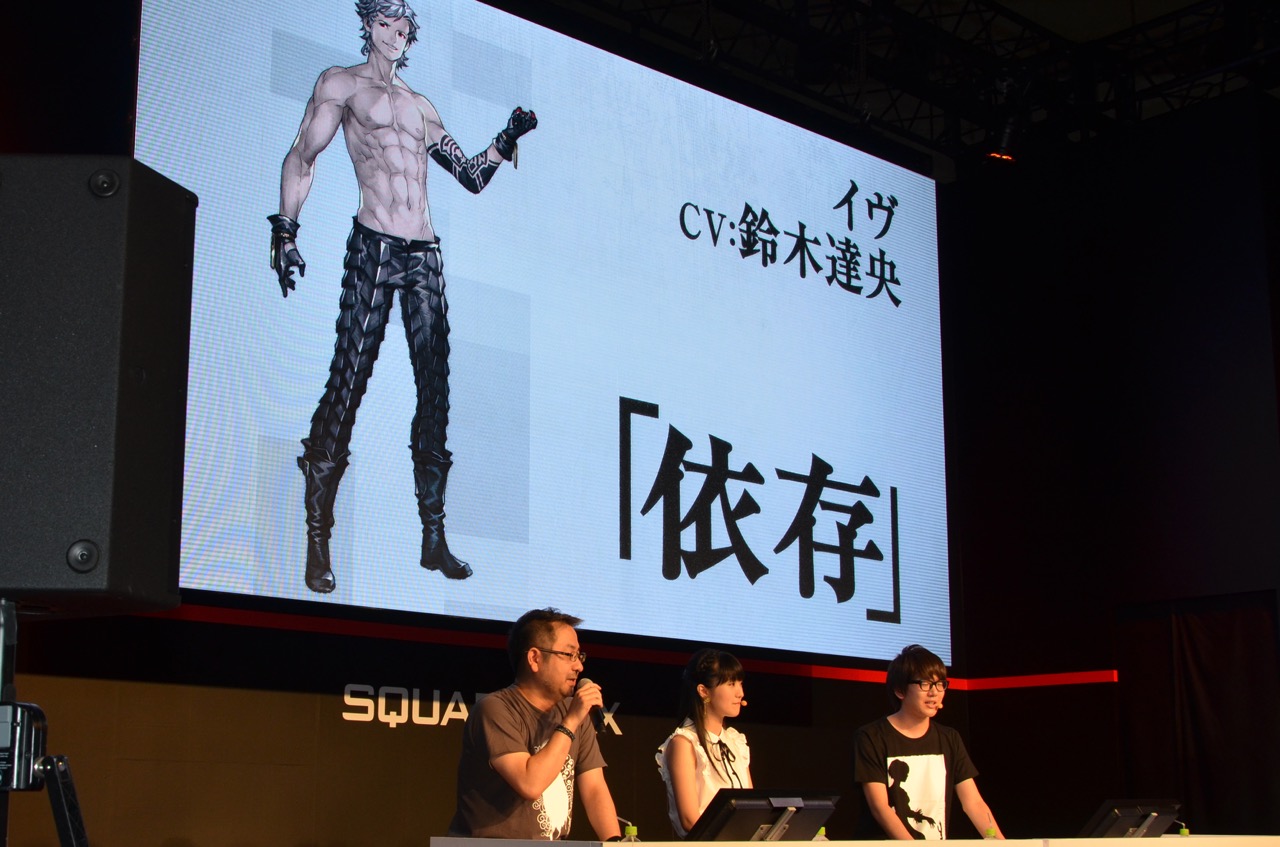 When asked why a character named Eve is a man, YOKO's answer was blunt: "Don't look for too much meaning in it."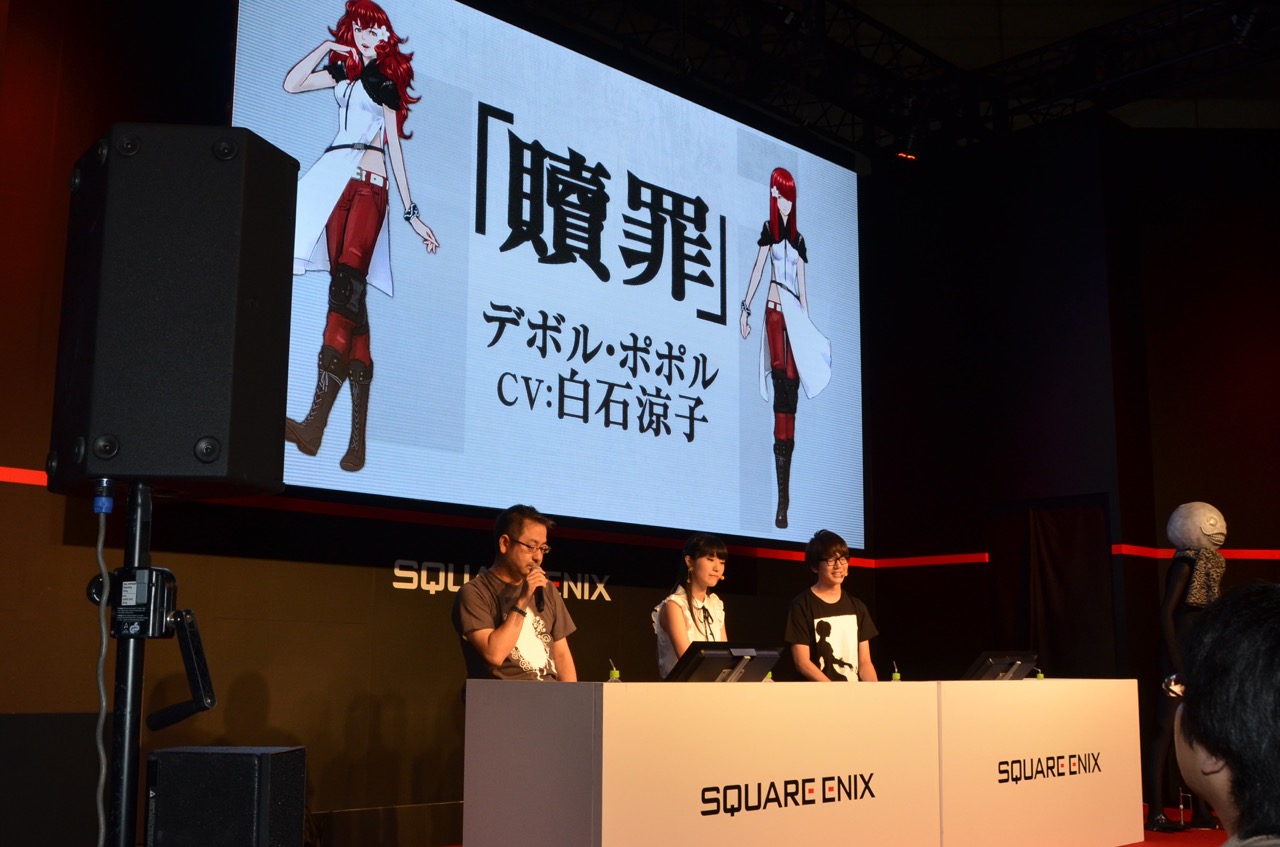 Devola and Popola from the original NIER return in NieR:Automata. Saito asks fans to look forward to their appearance, since they play a "really, really great role" this time around!
A hands-on demonstration from Takahisa Taura
Then, PlatinumGames game designer Takahisa Taura came onstage to demonstrate some NieR:Automata gameplay.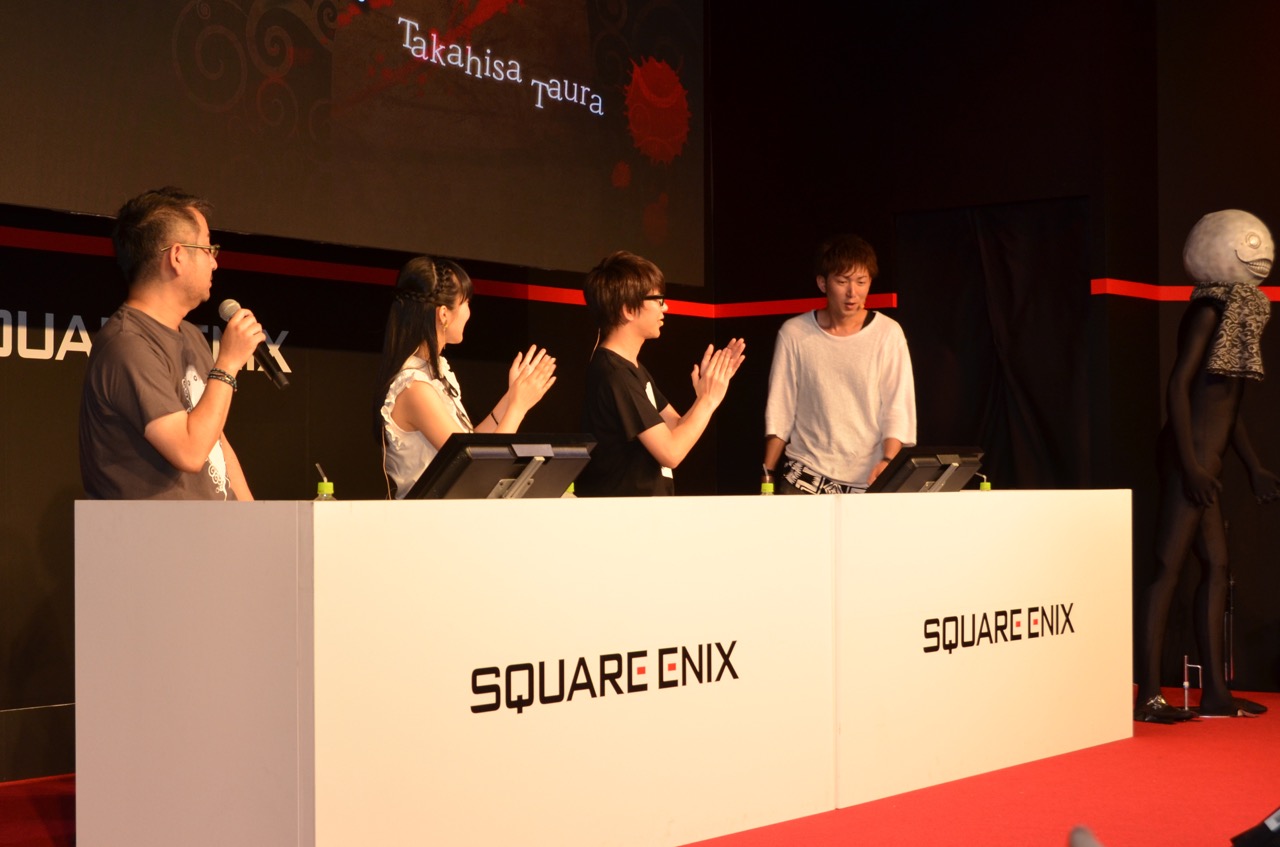 The part of the game that Taura played showed off not only typical 3D combat, but also one of the side-view scenes that set NieR:Automata apart. The camera pulled back quite far from 2B to give an expansive view of the world around her. YOKO explained that, though PlatinumGames is known first and foremost as an action developer, he wants to make sure players don't miss the high-quality environments the action takes place in.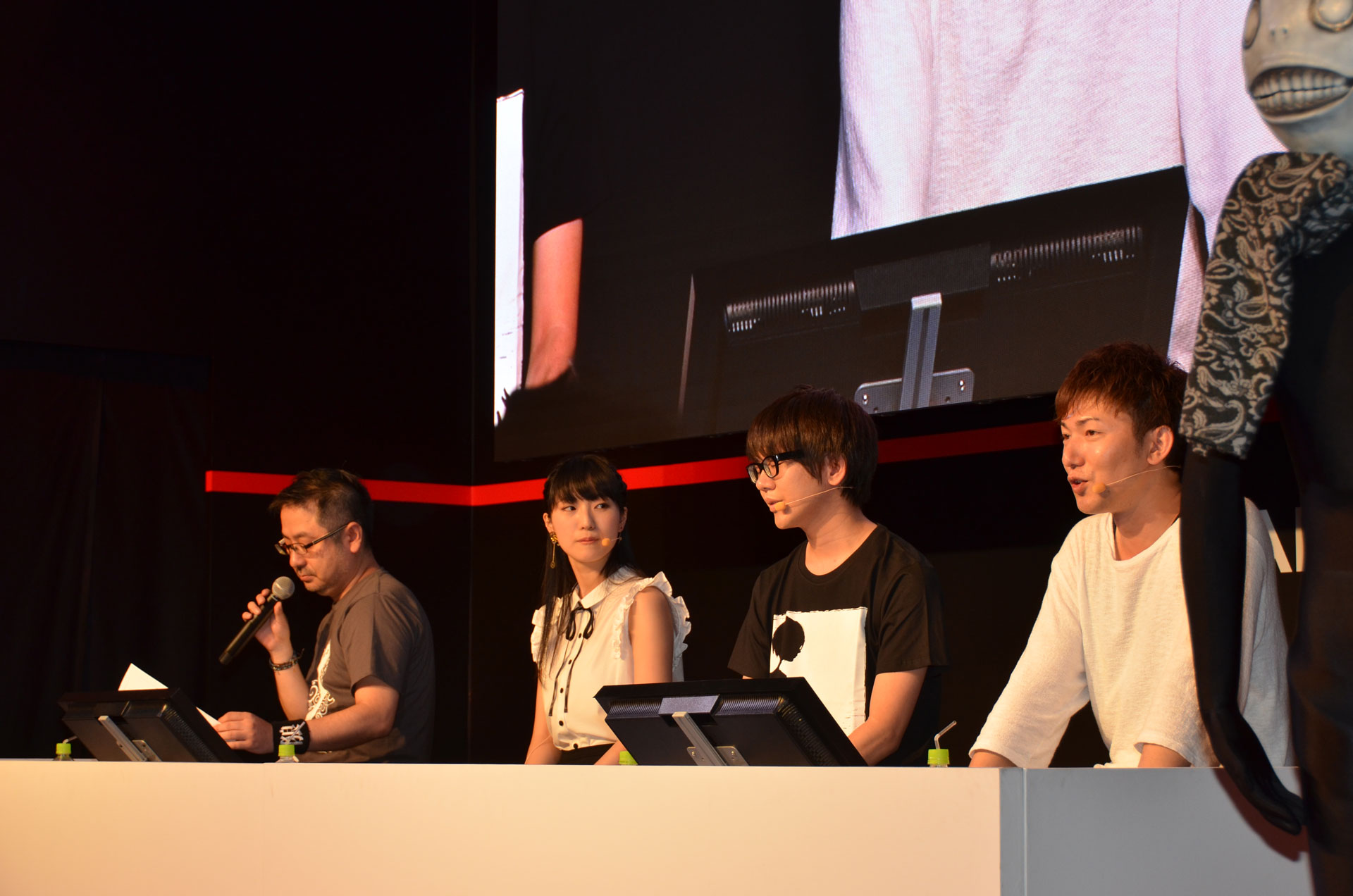 "NieR:Automata isn't just about simple combat," says Taura. "We've put together stages that I hope you'll enjoy playing through in and of themselves, too."
The voice actors get a turn
Why should Taura get to have all the fun? The two voice actors also had a chance to demonstrate the game, by putting their skills to the test in a four-minute score attack level.
To Saito and Taura's surprise, Hanae turned out to be a natural, even keeping up a running commentary in the middle of combat! When he was finished playing, Hanae noted that it "feels like an action game should. It's a joy to play."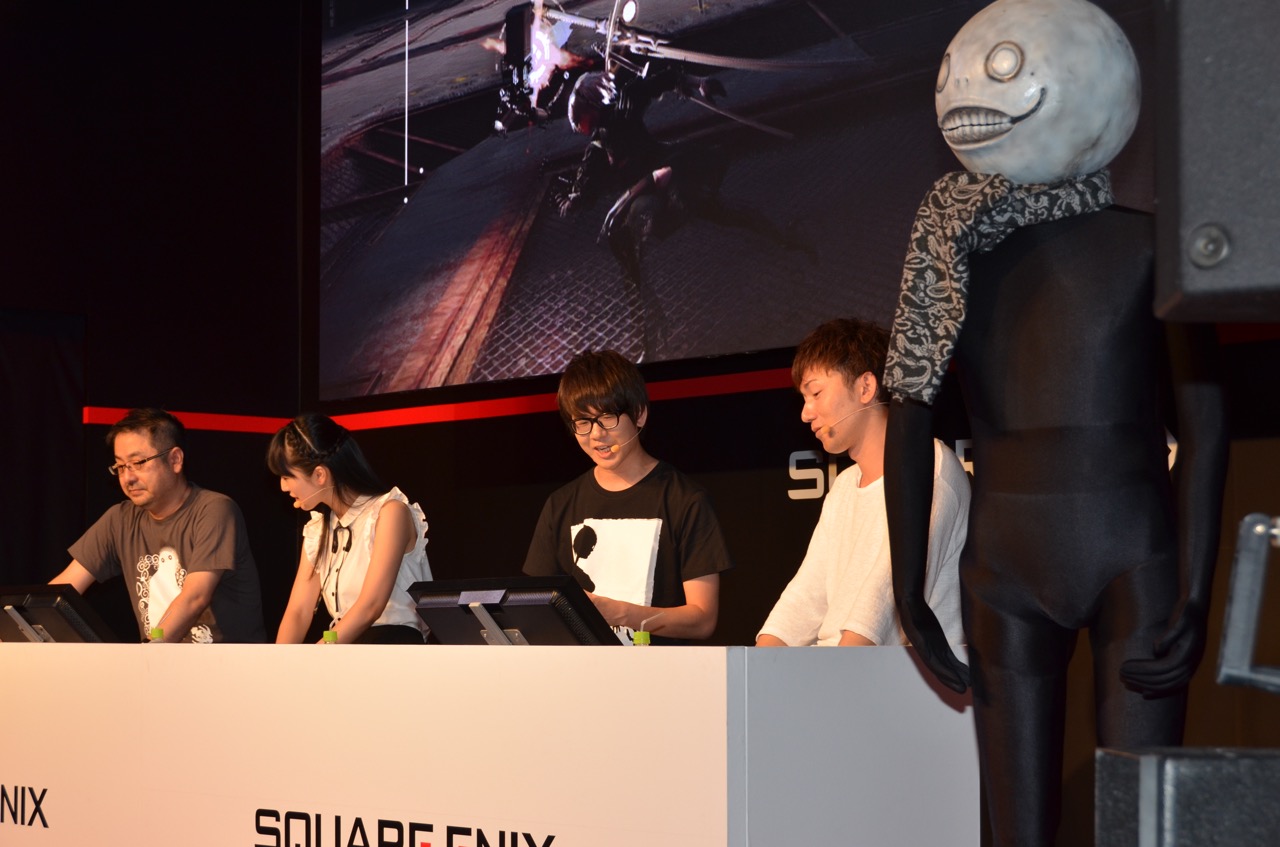 Natsuki Hanae performed so well, it was hard to believe it was only his third time playing.
Ishikawa played with the game on Auto Mode , which performs attacks and evasive maneuvers automatically. Though she hadn't had many opportunities to practice before the event, with the help of Auto Mode, her performance stood up admirably against Hanae's! To take it a step further, she took her hands off of the controller, and let Auto Mode take over entirely. Using Auto Mode doesn't mean you're simply fast-forwarding through combat – it's tuned to switch between weapons and perform dazzling combat actions, showing off 2B's skills on the battlefield to their fullest.
"Auto Mode takes a lot of the pressure off," said Ishikawa, "but actually, watching it mostly makes me want to take control myself!" Auto Mode is planned for the full release of the game, too, so anyone who's interested in the story but not particularly skilled at action games can still have a fulfilling NieR:Automata experience.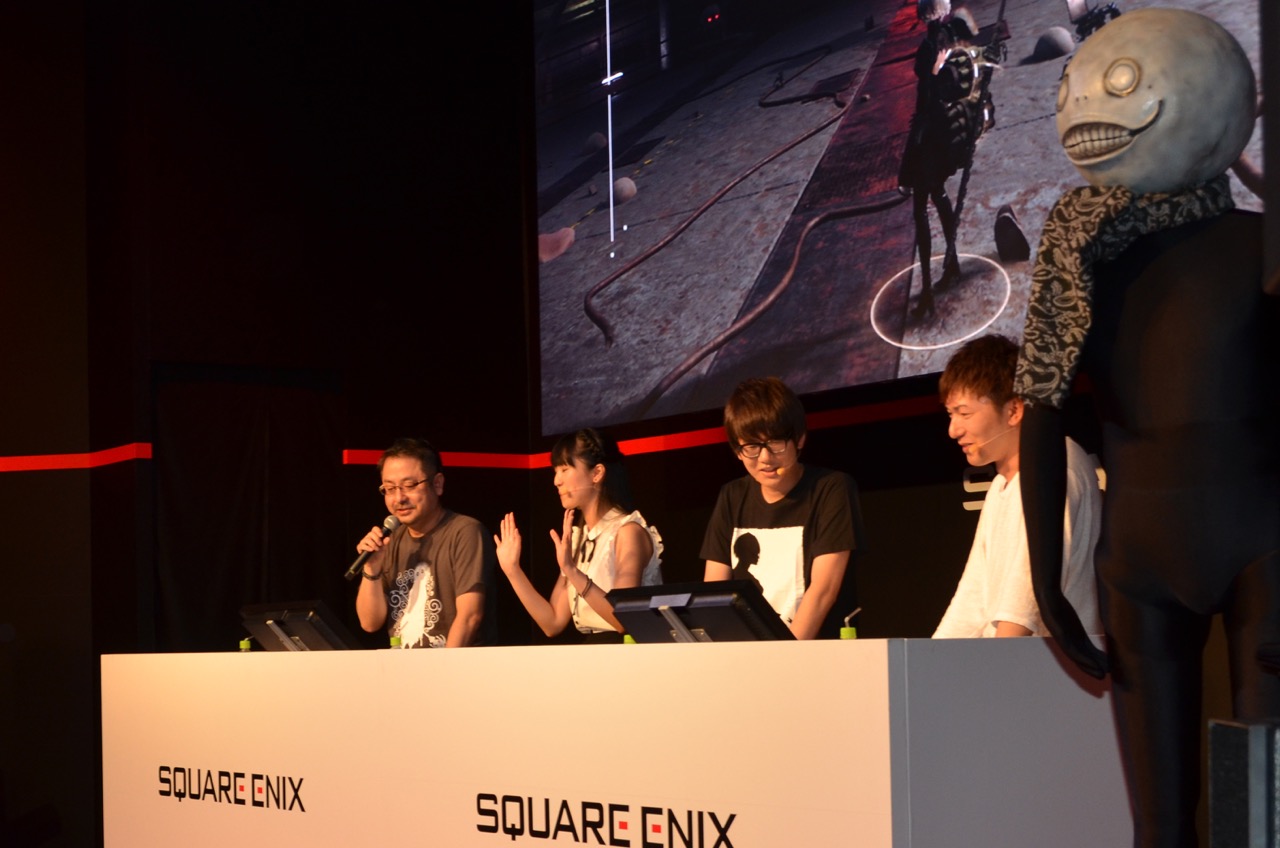 Look, no hands! Yui Ishikawa shows off NieR:Automata's Auto Mode.
Finally, it was Taura's turn to take on the score attack challenge – and Saito put on plenty of pressure for him to beat Hanae's high score. Taura kept a cool head, though, and played without a single misstep or wasted movement. His score rose higher and higher!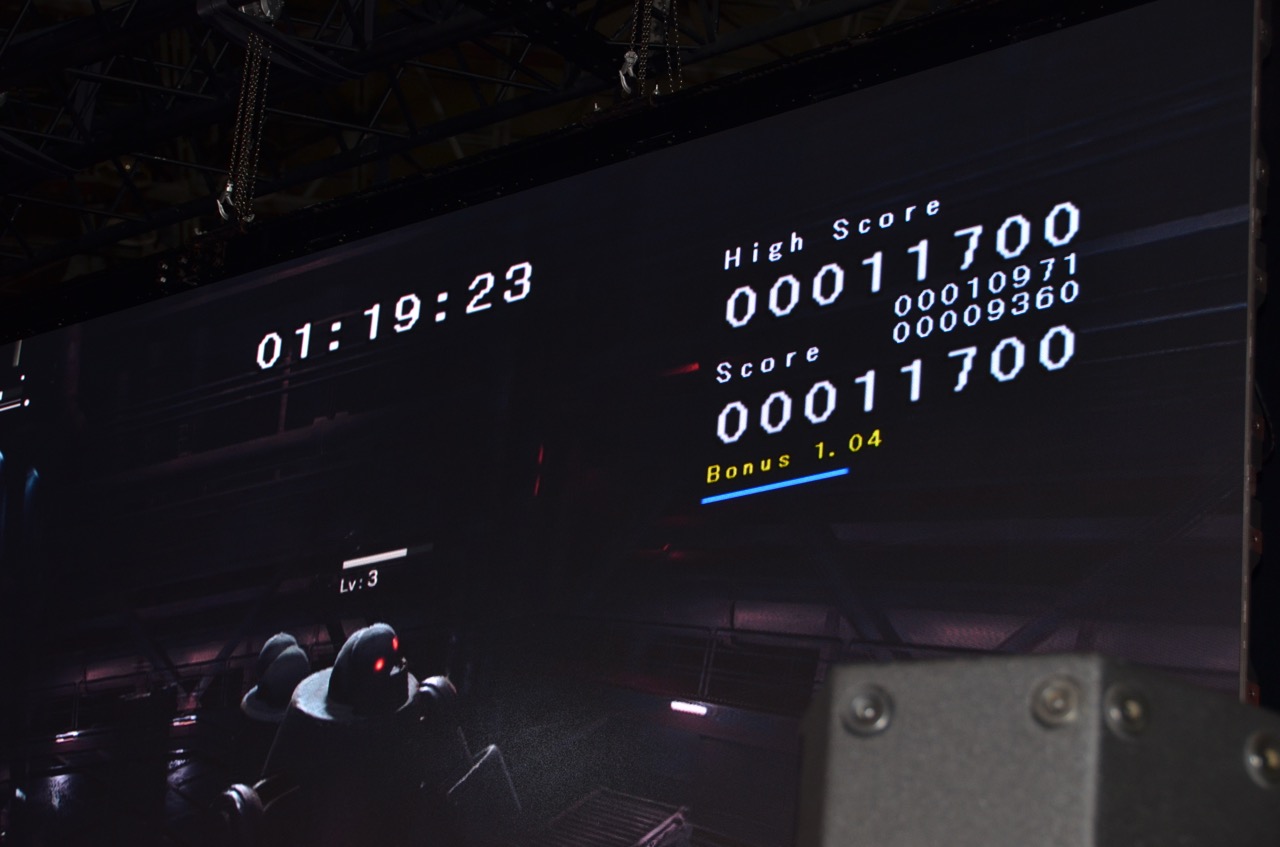 Game designer Takahisa Taura beat Hanae's score with over a minute still on the clock.
The audience looked on in awe, wondering what the maximum possible score could be, when suddenly…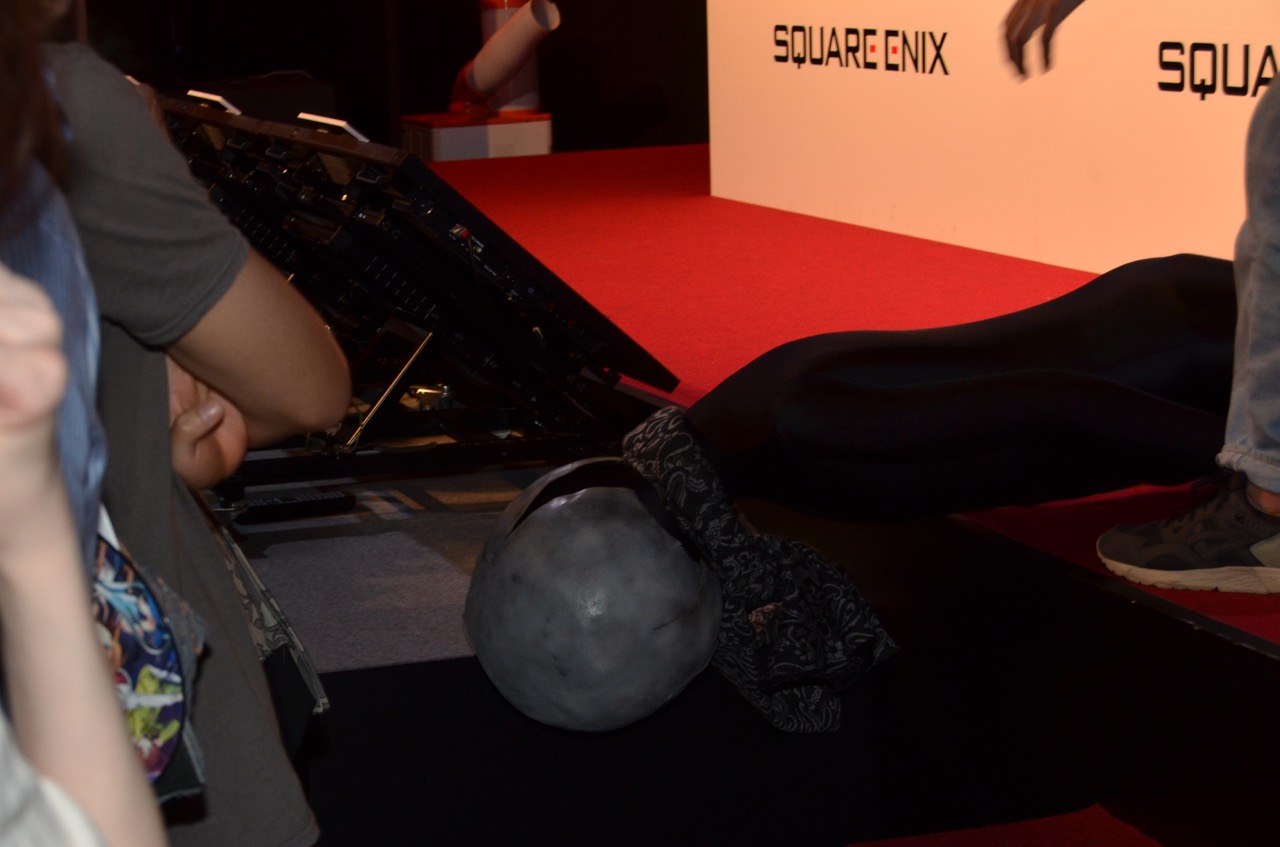 …YOKO TARO toppled from the stage! (Well, the dummy standing in for him did, at least.)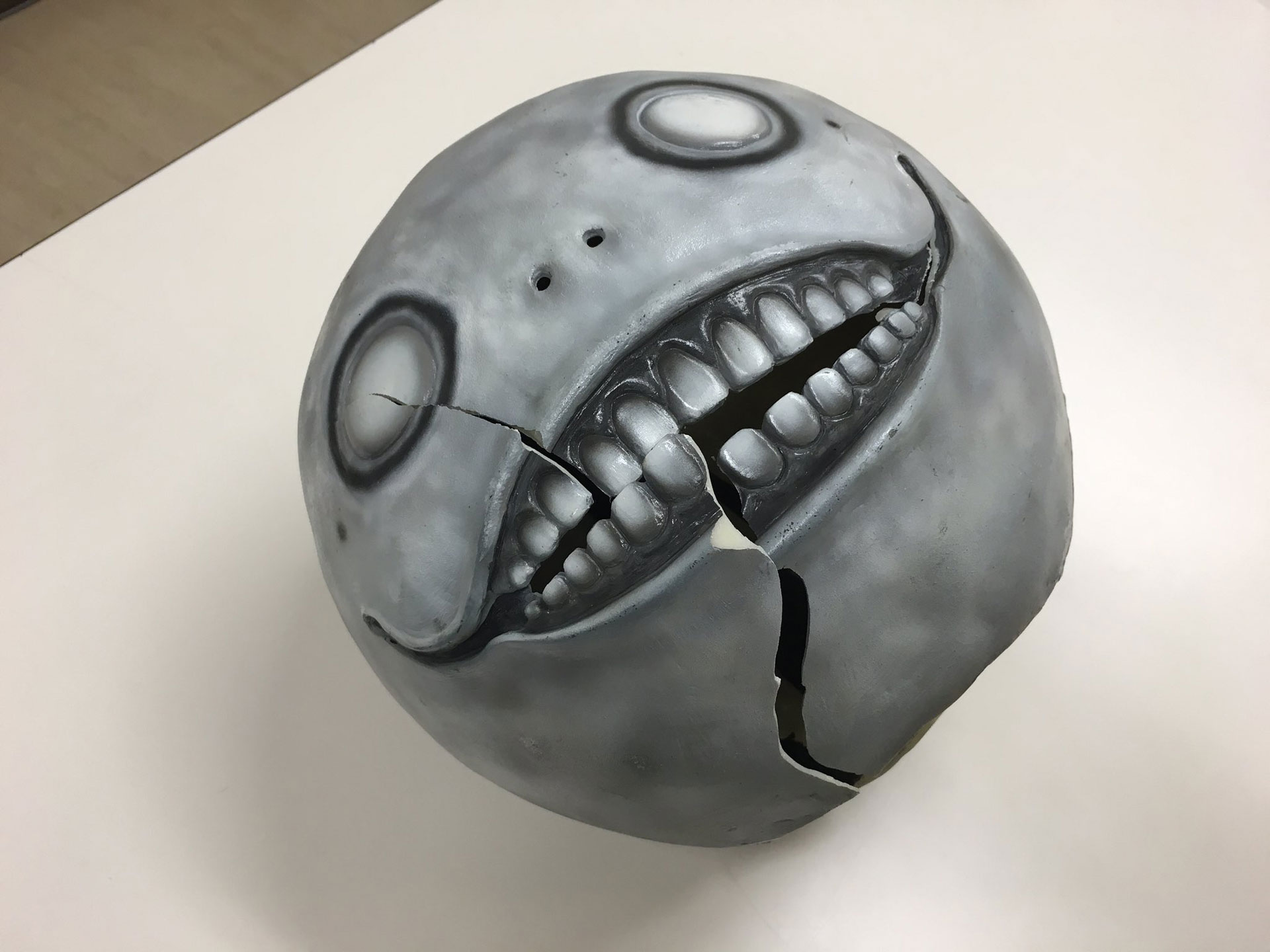 The gruesome aftermath of a stage-dive gone wrong.
Unfortunately, the disaster prevented Taura from playing all the way to the end of his four minutes. Even so, the top score was unquestionably his.
Parting messages
The presentation ended with personal comments from each attending member of the NieR:Automata staff.
Yui Ishikawa (voice, 2B): Even players who aren't very skilled at action games can still have a great time thanks to auto-mode! So please play it, no matter who you are!
Natsuki Hanae (voice, 9S): I really hope they make figures of 9S and A2 to go with the 2B included in the Japanese special edition.
Producer Yosuke Saito used his comment time to ask the audience who else wanted those figures. Nearly every hand shot up!
Takahisa Taura (game designer): The best parts of the game have yet to be seen, and there's plenty of information we still haven't released. Please look forward to more.
YOKO TARO (director): I know some of you haven't played the original NIER, and you're probably worried about whether you'll be able to enjoy Automata. Rest assured, NieR:Automata is for you, too.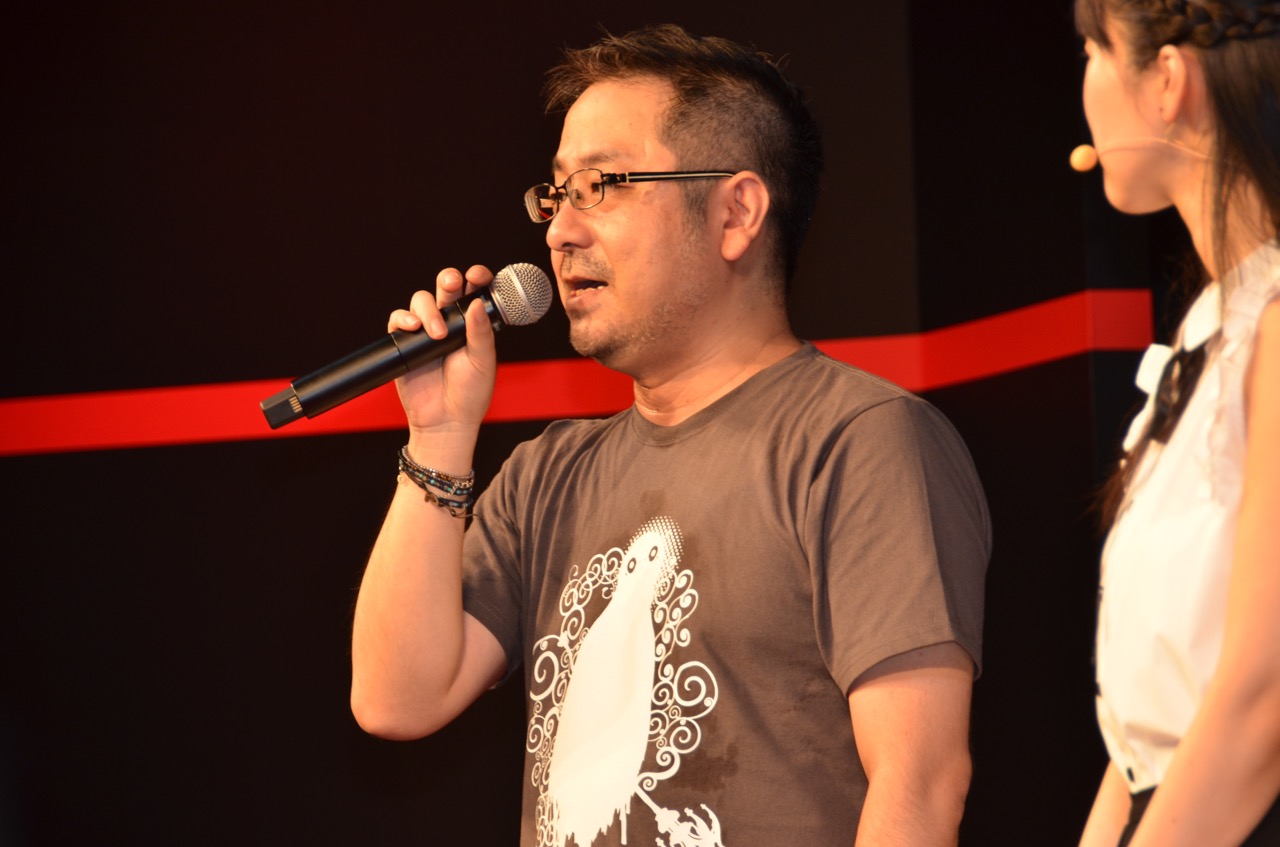 Saito finished off by announcing the demo version of NieR:Automata, planned for the end of 2016! And with that, the curtain went down on a very eventful presentation.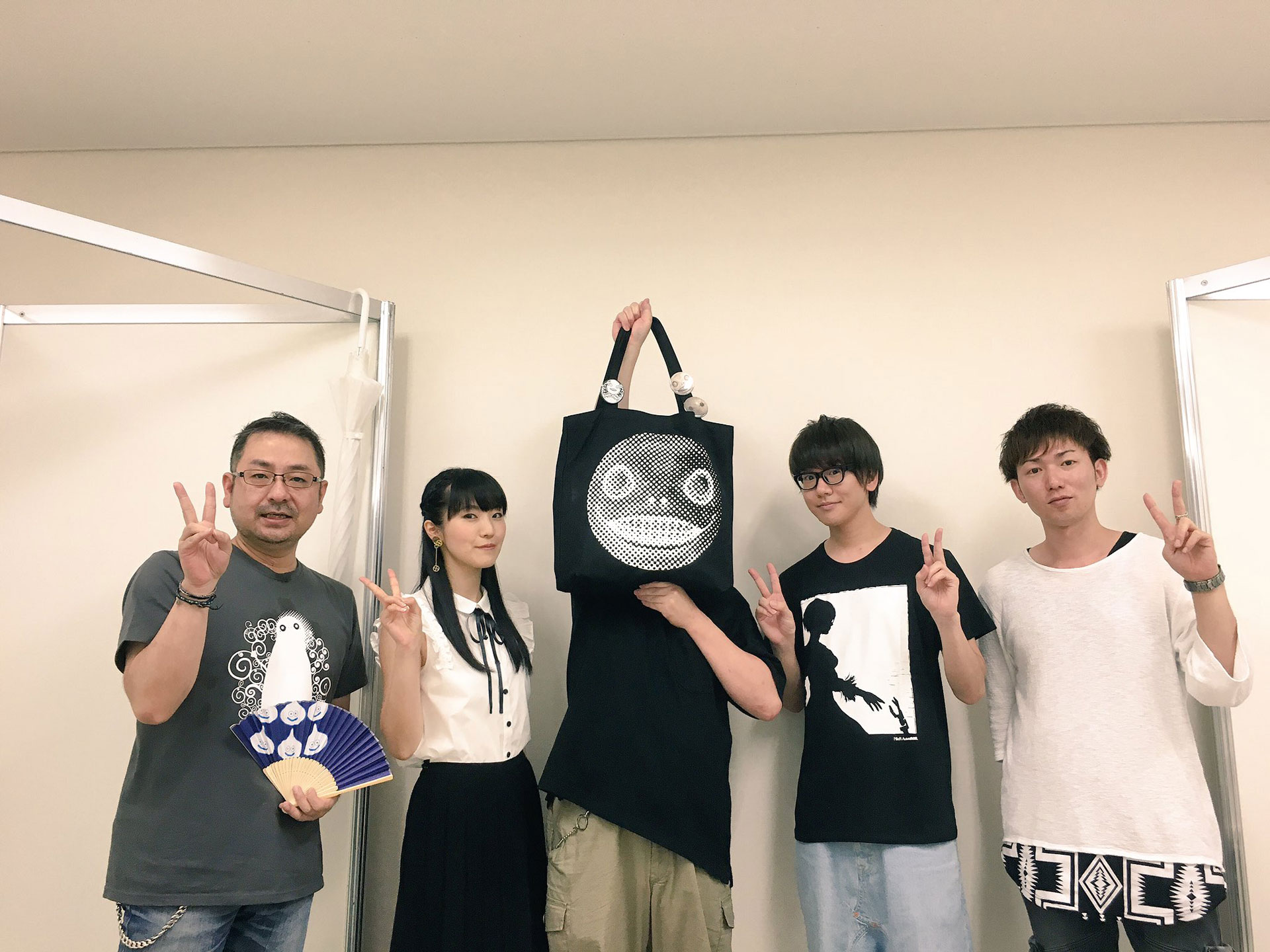 Cosplayers bring 2B to life!
Lastly, we were proud to see a couple 2B cosplayers in attendance at TGS! They were gracious enough to pose for us, and we'd like to introduce them now: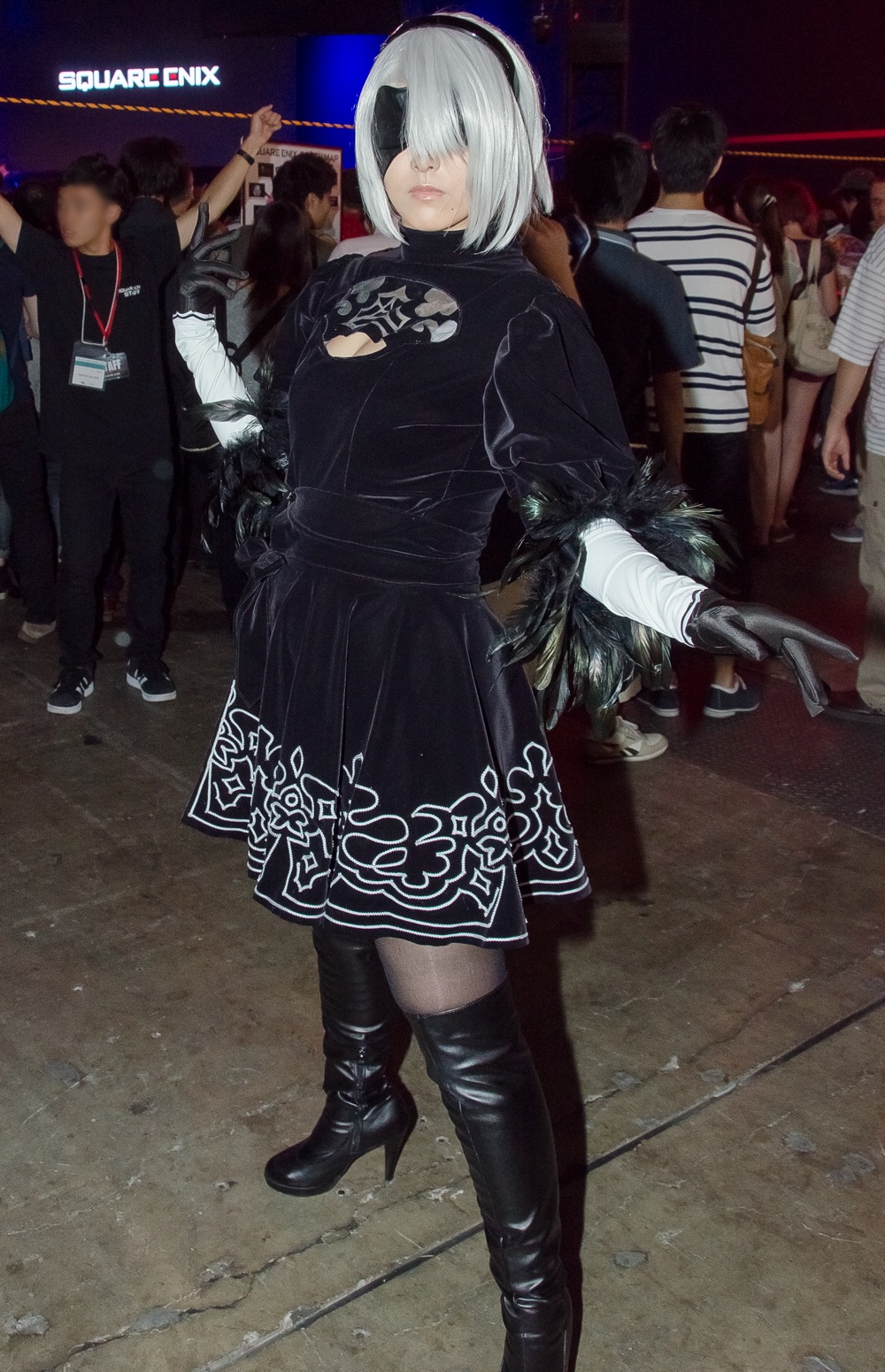 Kasane – https://twitter.com/kasaneww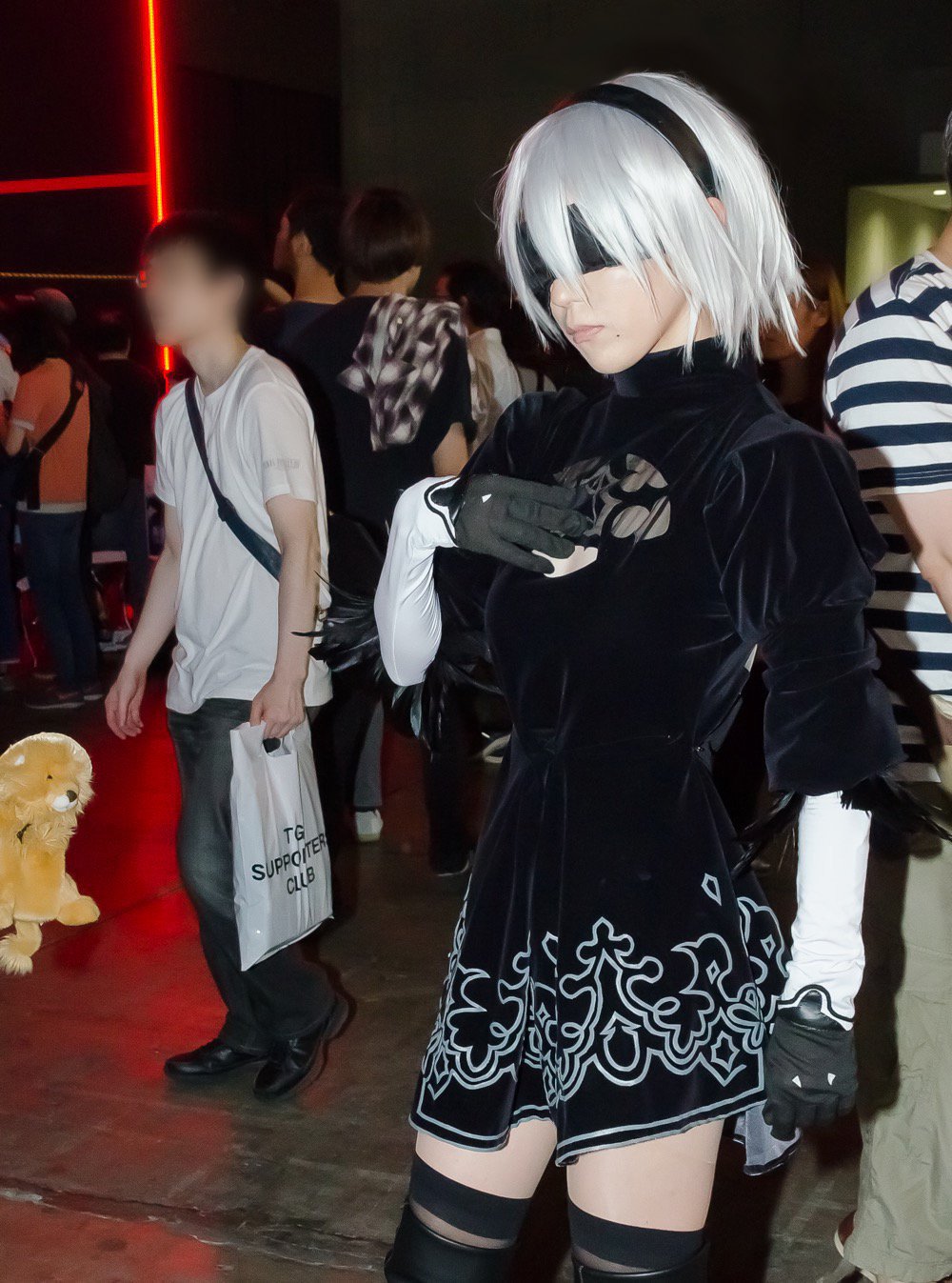 ken – https://twitter.com/ken7bt
For more NieR:Automata, be sure to check out our devblogs!
TAG