Hello, PG Character Modeling Lead Eiji Funahashi here!
If you've kept up with our blog, you know we've introduced a few talented individuals who've come by our offices to give us seminars on their craft – people like character designer Hiroshi Katagiri and director YOKO TARO. These exclusive lectures are always very popular with our staff. We get requests for more of them all the time!
This time, we were honored to have Yusuke Kozaki visit to share his expertise. Mr. Kozaki is a manga artist and illustrator whose work has appeared in the Fire Emblem series (Heroes, Fates and Awakening), Pokemon Go, the No More Heroes series and more. His charming character designs captivate all sorts of fans.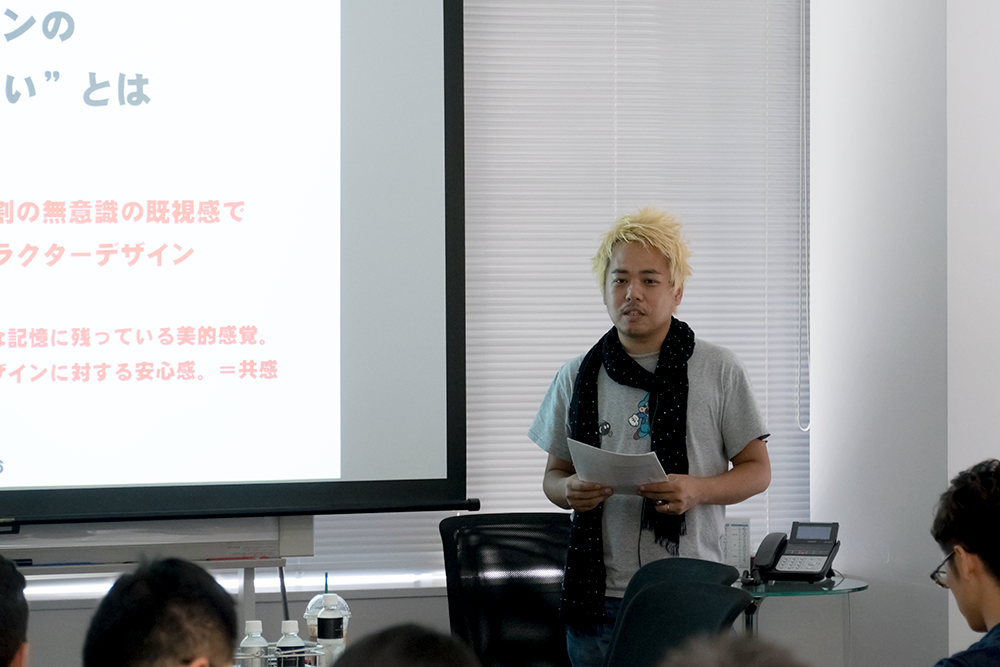 More than a few of us at Platinum have been fans of Mr. Kozaki's work since they were still in school. Several of our artists, mainly character designers and modelers, filled our meeting room for his seminar.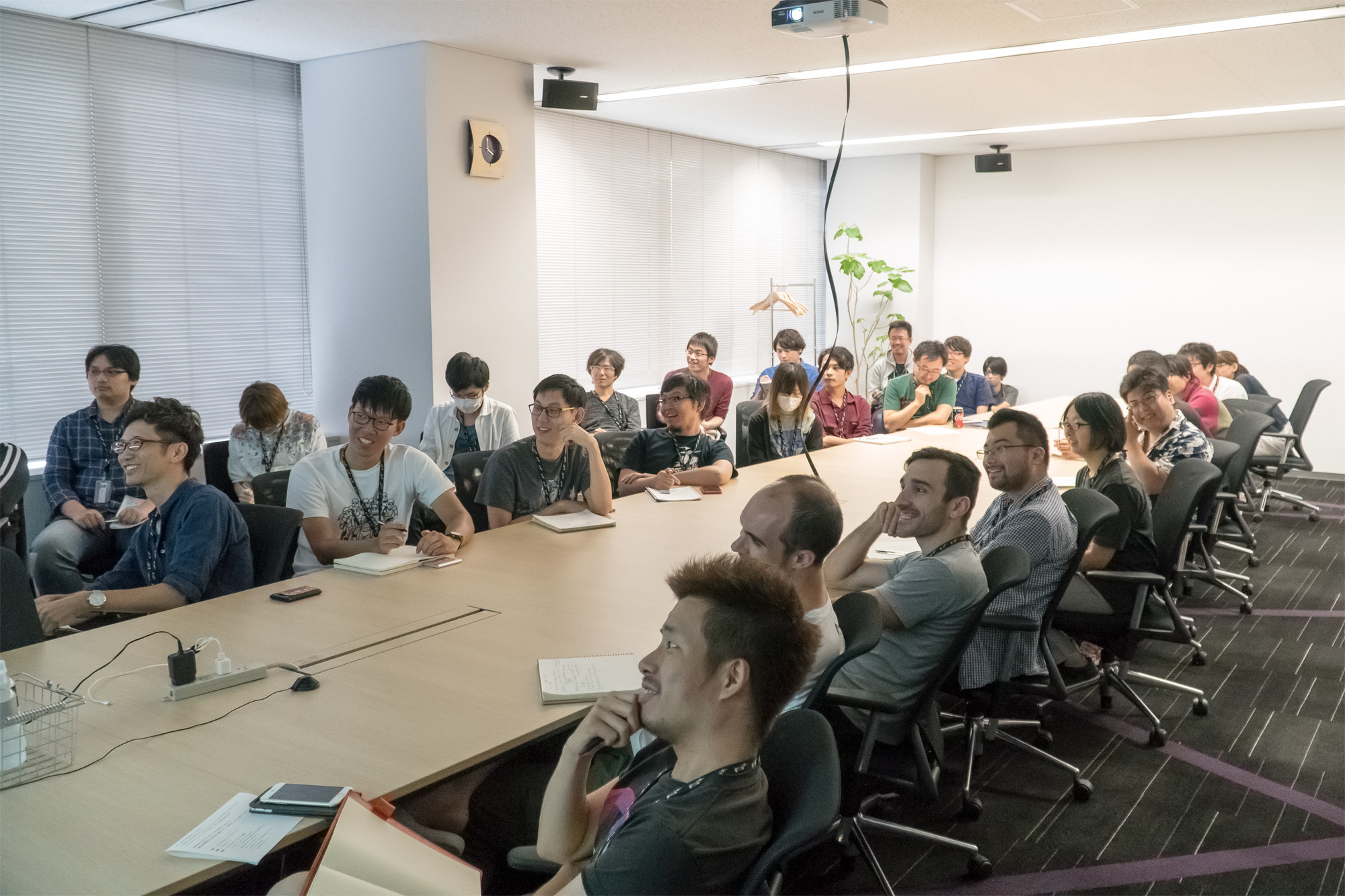 Mr. Kozaki's seminar focused on character design. He went into detail about his methodology and personal ideas about design, backed up by his years of experience in the field.
He spoke to us for about an hour, starting from a foundational question: "Why is character design important in the first place?" He took a hard look at why we artists are essential, and what it is we have to contribute to a project. "Character design," Mr. Kozaki said, "is the quickest and most effective way to convey both a specific character's background and the game's concept as a whole." Even most artists would be hard pressed to tell you whether they thought character design should be considered a means to an end or the end itself – So it made quite an impression to hear him start his seminar with a clear-cut declaration like that.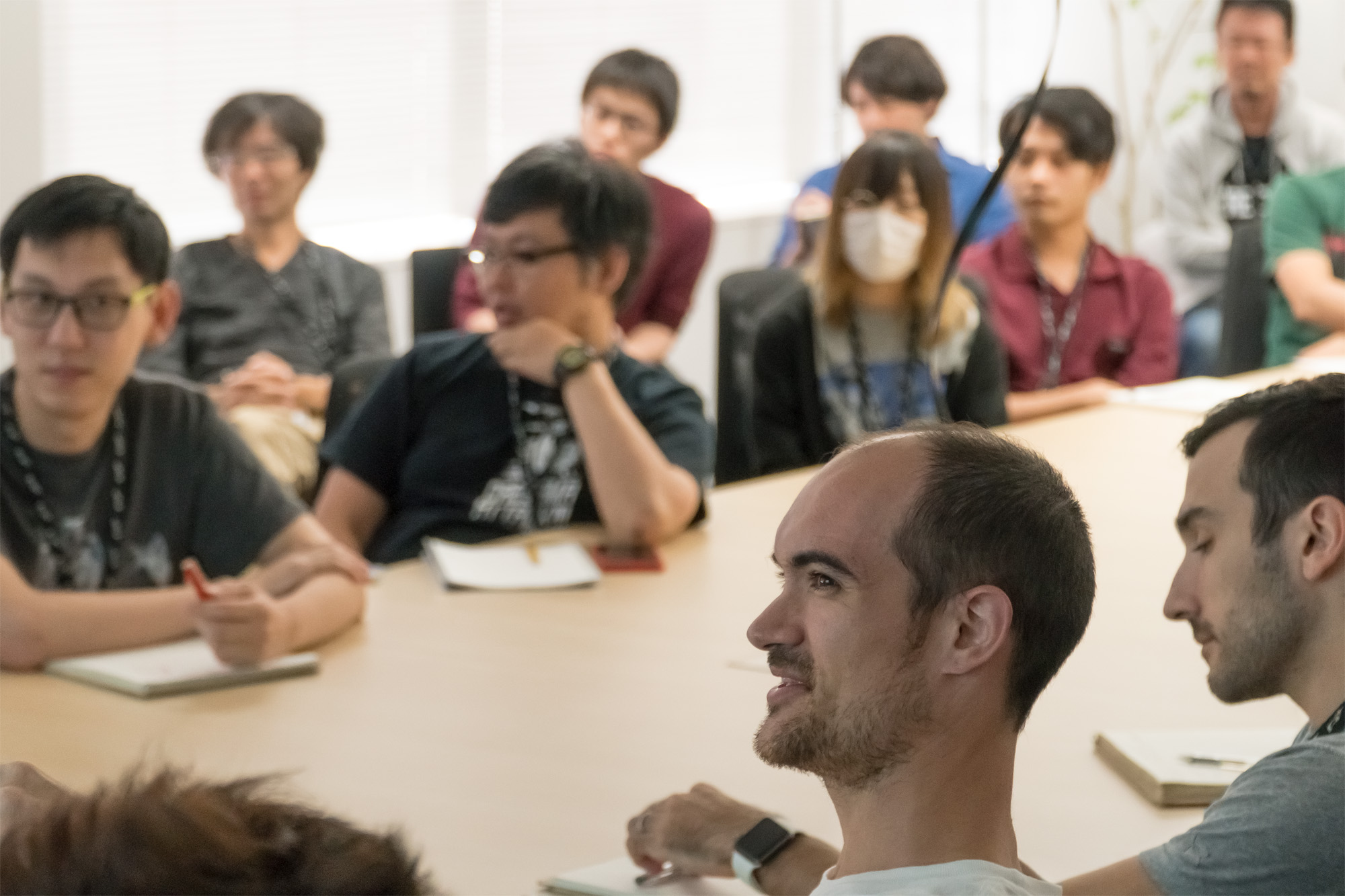 He also said, "Character design is an ode to humanity." Personally, I love that sentiment. As a character designer, you have to be actively interested in the people around you – people you like, of course, but also people you don't like! To design effective characters, you need to understand what it is that makes you feel certain ways about certain people. Mr. Kozaki really emphasized that a character designer must be interested in people. A designer's fascination with humanity must transcend boundaries of age, sex and race; it must go beyond whether they think someone is good or bad.
The next topic brought us to the million-dollar question: "Is there such thing as a foolproof, successful design?" To get right to Mr. Kozaki's conclusion: "No character has ever been wildly popular on the strength of their design alone… Character design is fundamentally powerless." That answer raised several eyebrows. But he suggested that most of how character designs are evaluated hinges on how immersive the project is as a whole, including story and gameplay. It was certainly a sentiment that stuck with us.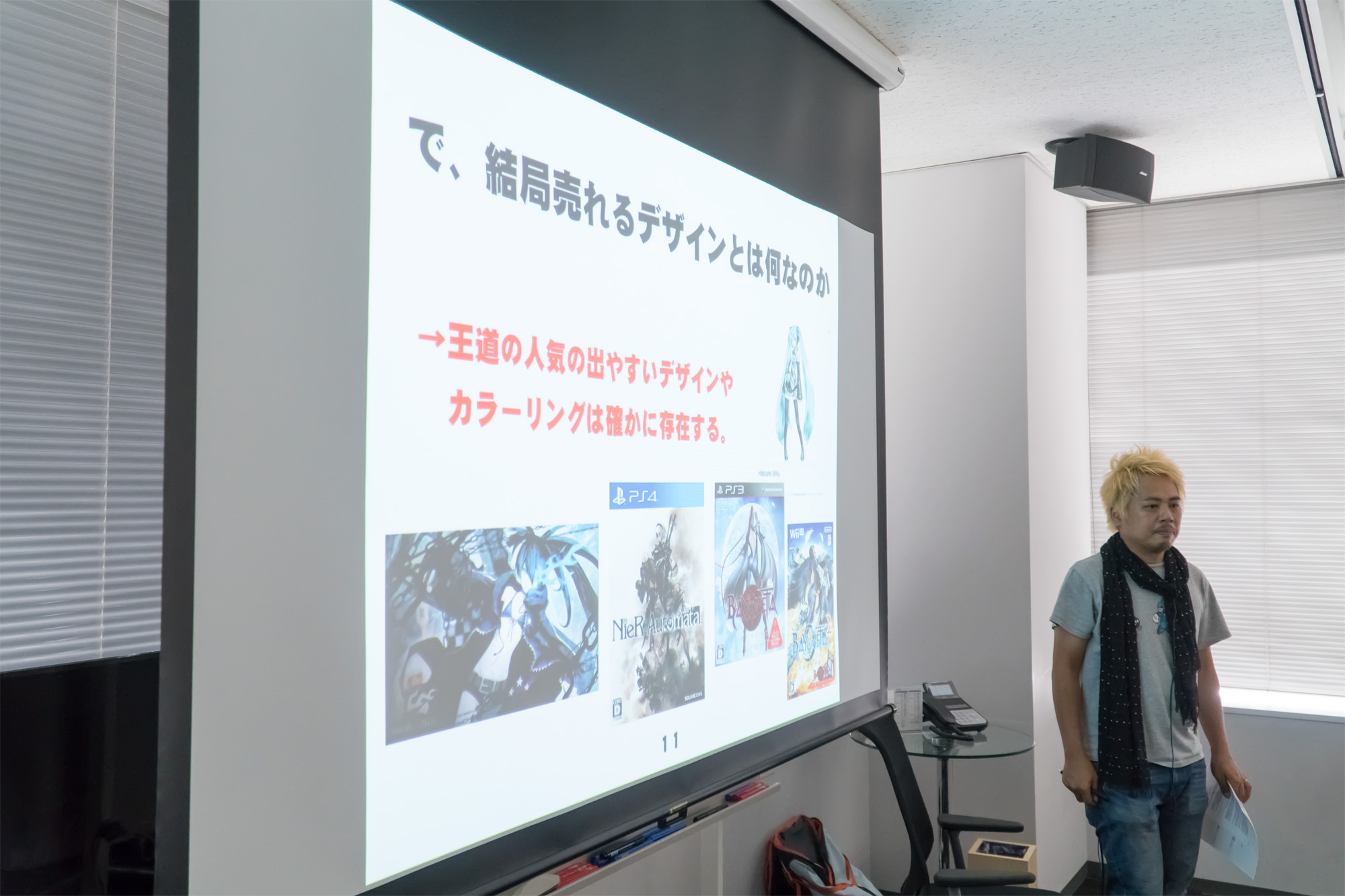 In that sense, you can say the world of character design has an element of luck to it. Which raises the question of, well, how can you at least make a design that's likely to be popular? We can't share all of Mr. Kozaki's secrets with the outside world, but he introduced several techniques that we could put into practice fairly quickly: ways to create a design that's likely to give users a positive impression; color combinations that encourage emotional involvement without polarizing players; and so on. Throughout his talk, he pulled examples from Bayonetta and NieR:Automata. Such familiar examples helped us get a strong grasp on his ideas.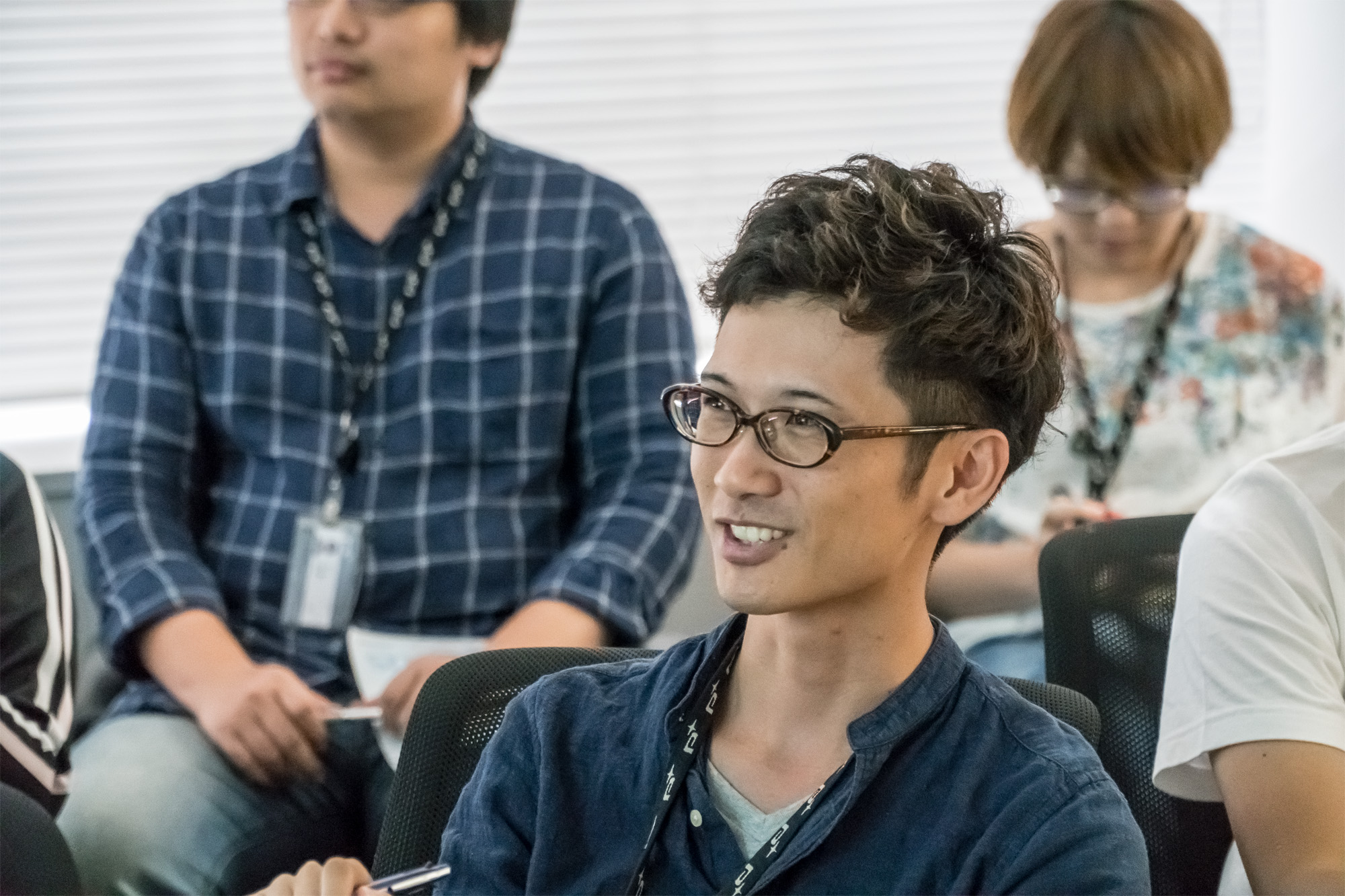 Beyond that, he shared flowcharts that explained some of his design methods, as well as pre-preparation steps that designers can take in the very earliest stages of creating a character. For example, he recommended starting off by simply drawing a character's head. After you have a head that fits with the game's setting, you can derive the rest of that character's design from that. Character design includes characters' clothing and the objects they carry with them, too, but it's essential to articulate some of a character's backstory through their facial features alone. If you can get a solid enough image of a character's head, designing the rest of their body should go relatively smoothly after that.
Next, Mr. Kozaki pulled out a tablet and began sketching a character. This wasn't one of his existing designs – it was an original character, never seen before this seminar. As a character designer, or just as a fan of Mr. Kozaki, this was a rare treat!
He used the same methods and workflow that he uses in his day-to-day work: establishing the character's overall silhouette, picking a color scheme, drawing in details… Soon, he'd designed two characters right before our eyes.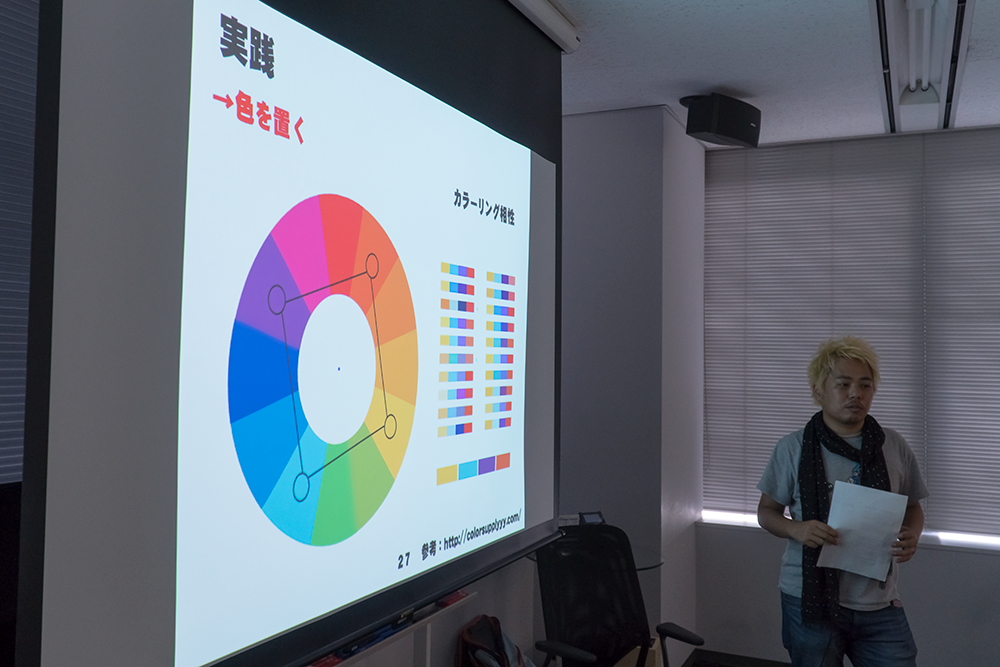 He took questions from the audience as he worked, and yet, in about half an hour he had his designs to a level of quality where I'd feel comfortable showing them to my game director! Of course some portions remained a little rough, but his intentions for what he wanted the characters to express were crystal clear. It was evident what he meant when he said character design was a way to communicate!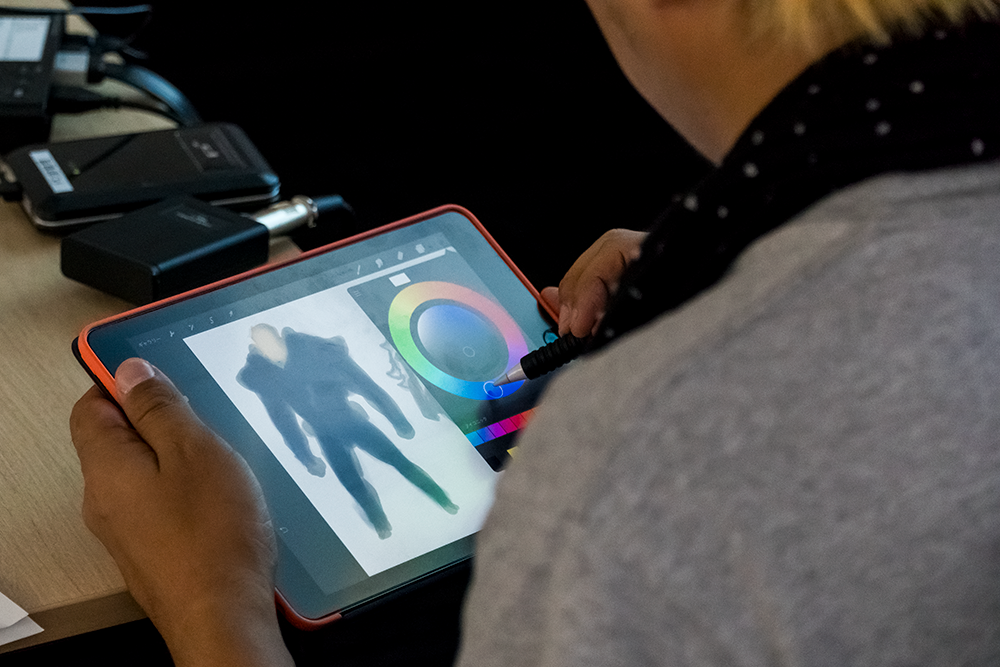 At this point, we had gone well over the time we'd scheduled for the seminar. And yet Mr. Kozaki continued to graciously answer our questions, occasionally continuing to draw for us. I felt really lucky to be there. Even when members of our staff requested a seminar from Mr. Kozaki, I didn't expect the level of intimacy with which he untiringly answered our questions. All good things must come to an end, but Mr. Kozaki certainly left us wanting more!
It was the first time I'd met him in person. However, back when I drew this image announcing Bayonetta's Smash Bros. debut, I wanted to include Lucina from Fire Emblem: Awakening – one of Mr. Kozaki's designs. Thankfully, they let me include her! As I listened to Mr. Kozaki speak, my understanding of Lucina's design deepened bit by bit, and I felt like I came a little closer to unlocking the secret of his own elegant illustration!


---
Bonus snapshots!
---
When the seminar was over, Mr. Kozaki posed for a few pictures with some of our staff. Recognize anyone?
今日はプラチナゲームズさんにお呼ばれし、僭越ながらキャラデザインのクローズドセミナー等をさせて頂きました。既に前線で戦ってるプロの皆さん、僕なんぞが教える事など!ですので、ともかく全力でぶつかるつもりで当たりました。勉強になりました。有意義!(写真は梅田のコブラこと神谷さんと) pic.twitter.com/fFXjqKQxWY

— コザキユースケYusuke Kozaki (@kymg) 2017年9月1日
Kozaki Yusuke Follow @kymg
Mr. Kozaki is a manga artist, illustrator and character designer whose work has appeared in such video games as the Fire Emblem series (Heroes, Fates and Awakening), Pokemon Go, the No More Heroes series and Puzzle and Dragons, as well as anime such as BBK/BRNK and Godzilla: Planet of the Monsters. His work in comics includes Donyatsu and Karasuma Kyouko no Jikenbo.

Eiji Funahashi
Since joining PlatinumGames in 2009, Eiji Funahashi has worked as a character modeler on titles such as Bayonetta 2, StarFox Zero and NieR:Automata. He was the lead modeler on The Wonderful 101 and Teenage Mutant Ninja Turtles: Mutants in Manhattan, and the character designer for Mutants in Manhattan as well.
In addition to heading up our Visual Team, which supports artists across all of our titles, he is currently working as lead modeler on Lost Order.
TAG