There are specialists all around
Eijiro Nishimura
Producer and Production Group Lead, Game Creative Division Vice Lead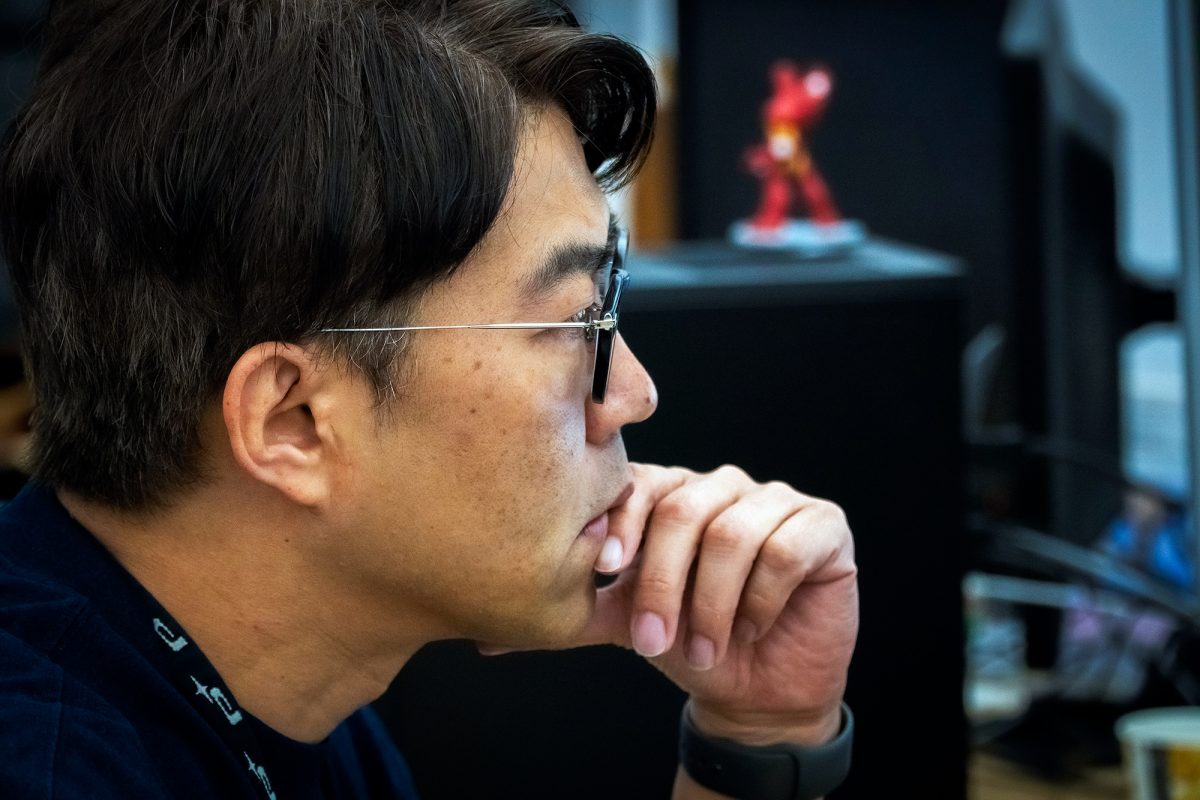 A Bridge between Team and Director
ASTRAL CHAIN was never going to be easy to make. After all, it wasn't just Takahisa Taura's debut as a director; it was also my first original title as a producer. Of course, it's extremely rare for original games to make it all the way through development without a few hiccups. From my experience working on them as an artist, I knew very well that trial and error is part of the process. But finding myself in the producer's seat with ASTRAL CHAIN, I felt the heavy weight of responsibility on my shoulders
Don't get me wrong! Taura – being the director, and thus responsible for directly guiding the entire team – certainly had it rougher than I did. To help break through that roughness, I put a lot of attention into thoroughly communicating with with Taura, so that I could really grasp his vision and get it across to the team. I saw myself as a bridge between the two. After all the twists and turns that arise throughout game development, we finally arrived at the finished game, and I'd like to think I helped with that in some small way.
Personally, I feel that producers shouldn't be the ones directly assigning tasks to team members. More than that, producers should map out a direction for the team to take, and focus on creating an environment where they can send the team most effectively in that direction. On that front, I think I was able to put my personality and experience to use a little bit on ASTRAL CHAIN.
Putting Copies on Shelves
Throughout my career in games, I've worked on several teams, each put together in its own way. After a point, I thought I'd figured out how a game gets on shelves. However, when I took the reins as a producer for the first time on NieR:Automata, I realized I couldn't have been more wrong.
As it turns out, it takes specialists of all stripes to guide a game all the way from early development and into the hands of eager gamers all over the world. Outside of the dev team, there are people who specialize in the business end of things, and in public relations, distribution, customer service, and more. These specialists may be on the periphery of development itself, but they're affected by the problems and delays that inevitably pile up throughout development, too, and they must be flexible problem-solvers, just like the developers themselves. It takes careful preparation and faith in what you're doing.
When I realized that those specialists on the periphery were working with the same dedication and spirit as the dev team, all for the sake of getting just one more copy of the game out to one more player, it hit me. Up until then, I'd only known one part of the entire process of putting a game out into the world. No matter how much work a development team puts into a game, it doesn't mean anything if that game doesn't get to people.
It took becoming a producer for me to get a real look at how games are actually born. It was an eye-opening experience that made me start thinking more about pushing my own boundaries.
To Those with Fire and Ambition
I may be a producer now, but for over half of my career as a game creator, I was an environment artist and animator. I feel like I have a thorough, almost physical understanding of the highs and lows of development – especially the way we do it at PlatinumGames. I'd say that one of my strengths as a team manager at Platinum comes from that experience in the trenches; that personal understanding of the circumstances and quirks of the development environment.
Now, we've moving towards developing and publishing our own titles, based on our own IP. I'm sure we'll have to do plenty of things that we haven't done before, and discover abilities that we didn't realize we were lacking. Of course, as a producer, I know it's vital to find people who can help us fill in these weak points, but there's something even more important than that: we need people with the fire and ambition to help Platinum continue to create fun games. Producers have a lot of power and responsibility, and the opportunity to make a major impact on their projects with their decisions. If you have the passion and drive to say, "I want to take the brand PlatinumGames has built up to now, and put it to use to create new value!" then by all means – we'll leave the light on for you.
PROFILE

Eijiro Nishimura

Producer and Production Group Lead, Game Creative Division Vice Lead

Eijiro Nishimura started his game career at Capcom, moving from Clover Studios to SEEDS to PlatinumGames. He worked on Resident Evil and Steel Battalion as an environment artist, and as an animator on Resident Evil 4, Okami, Bayonetta and more. With NieR:Automata and ASTRAL CHAIN, Nishimura moved into the producer role. He currently oversees production on all of our titles as the leader of the production group.