Having Fun Making Fun
Yusuke Miyata
Senior Game Designer, Group 4 Group Lead, Osaka Studio, Game Creative Division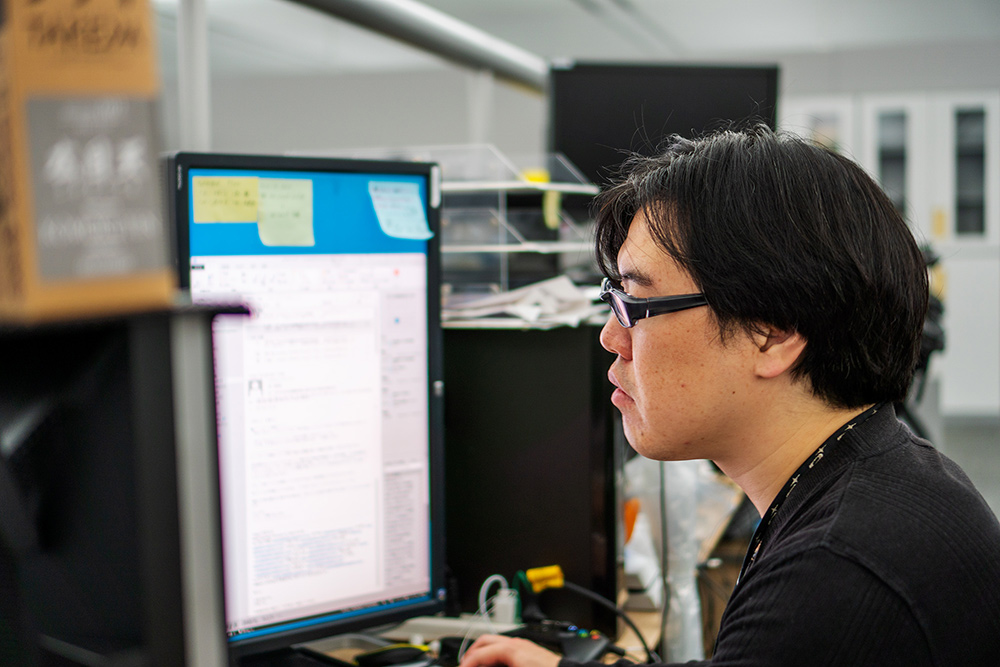 Talking Fun, Beyond Boundaries
Before I came to PlatinumGames, I primarily designed gameplay for licensed titles, featuring popular characters. Not to knock those kind of projects – developing them was fun, to be sure – but working on someone else's well-known intellectual property comes with a lot of restrictions on what you can and can't do. Over time, that started to chafe a bit. I applied to PlatinumGames because I wanted to try working on original titles, which meant fewer restrictions.
When you're allowed to sit down and work out how to make a game fun, pure and simple, and any approach is on the table… Nothing beats that feeling. PlatinumGames is a company with an insatiable appetite for fun. That goes for more than just the game designers; at Platinum, everyone has a chance to share their ideas about fun, from their own unique perspective, beyond the boundaries of discipline, team or even project. All the ideas we gather from these discussions are a blend of spices to be tested and balanced, and it's immensely satisfying when a game comes out seasoned to perfection.
Freedom and Responsibility
Soon after I joined PlatinumGames, I was put to work as a designer on The Wonderful 101. That involved creating a lot of different parts of the game: Stages, event scenes, even shooting sequences. Out of all that, one part really stands out in my memory: The flashback scene where we first see young Commander Nelson. I worked on that scene from the beginning, all the way to final implementation. In the game, Nelson heads up the CENTINELS Planetary Secret Service, which includes the heroic Wonderful Ones. He's a character with a past – he used to fight on the front lines as the original Wonder-Red. In his flashback scene, we look into that past for a new glimpse at Nelson's humanity. It's a very important scene for the character.
When you create event scenes, you start with a script from the director, and imagine it based on that. But the script I had at the time was extremely spare: "Alone, Nelson boards an enemy vessel."
So I got thinking. "Okay," I said, "how should he get on the ship, then?" Right as I was puzzling over that, the character design for young Nelson came in, in all his drill-shaped pompadoured glory. The design caught me off guard! Nelson looks so straight-laced in his old age that I'd never pictured him with such a flashy hairstyle. In the end, I put that distinctive pompadour to use. Nelson launches himself at the enemy ship, using his fine-tipped hair as a weapon to attack his foes and pierce through the ship's armor.
Working on licensed titles, I would never have had the freedom to come up with something like that! But at the same time, I felt that much more responsible for making that part of the game truly amazing.
Confronting Your Hang-Ups
I feel that my role at PlatinumGames is to be a driving force that gets our projects jumping forwards. Recently, I've been stepping beyond the bounds of projects I'm specifically assigned to and looking for anything I can help with, no matter what project. ASTRAL CHAIN was one of those projects. Since my goal was to move the project forward, first I got a solid grasp on the game's concept and appeal, as well as the director's vision; then I started thinking of how I could contribute to it with my own abilities. ASTRAL CHAIN had a very strong concept from the start, so I didn't have much trouble jumping in. I think I did a good job putting my experience and personality to use for the good of that project.
Soon after you join us at PlatinumGames, any personal philosophies and biases you have about game development will probably be dramatically altered. Mine certainly were. But if you don't fear change, and can stay flexible and open, I think you'll enjoy the process. It won't be long before you find places where you can put your own strengths to work. If you're up for it, please apply!
PROFILE

Yusuke Miyata

Senior Game Designer, Group 4 Group Lead, Osaka Studio, Game Creative Division

Yusuke Miyata started his career as a game designer on titles for popular anime series, such as Fullmetal Alchemist 3, Naruto Shippuden: Ultimate Ninja Storm Generations, and as the lead game designer for Bleach: Soul Resurrección. Since joining PlatinumGames, he's contributed to titles like The Wonderful 101 and Astral Chain. As the leader of Production Group 4, he's currently charged with guiding all of our game designers.