In pursuit of interactive exhilaration
Takuo Yamamoto
Senior VFX Artist, VFX Team Lead and Group 7 Group Lead, Osaka Studio, Game Creative Division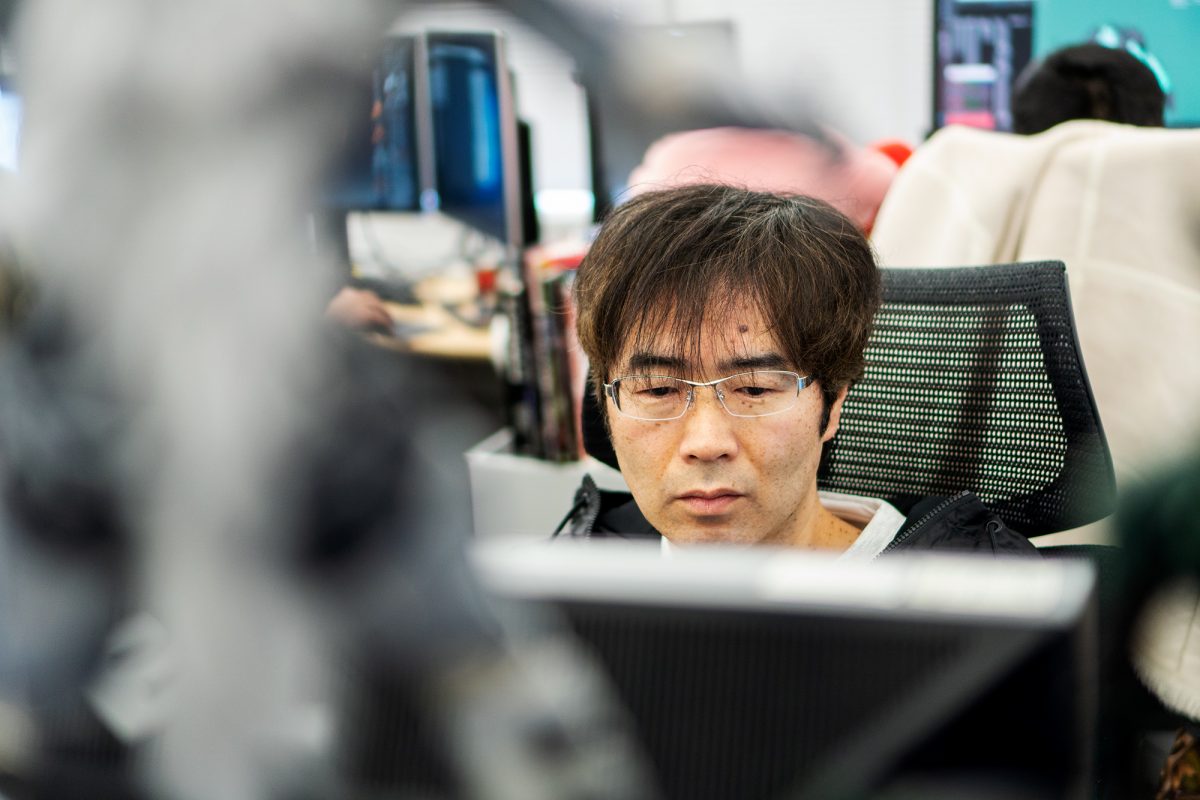 Building Excitement
I've led the PlatinumGames visual effects team on several of our titles, like Bayonetta, Vanquish, Metal Gear Rising: Revengeance, Bayonetta 2, Star Fox Zero and ASTRAL CHAIN. I contributed to each of those games in a different way, but my goal was always the same: To make the game look and feel exciting to play.
Visual effects (VFX for short) artists start with nebulous, abstract ideas for effects and build them into something you can see on your screen. It takes technical skill, artistic know-how, and flexibility, and also calls for constant communication with other teams. Just to give a few examples: In Bayonetta, we have effects for Witch Time; in Metal Gear Rising, Blade Mode; in ASTRAL CHAIN, the world seen through the IRIS and the appearance of Chimeras.
Distinctive, game-defining effects like these start out as ideas from the director and designers. But it's the VFX team that gets into specifics, puts them together, tries them out, and tweaks them again and again until they're just right. New orders and ideas often come in even as we're getting down to the wire on development. But even so, we can't let any idea go unexplored if it could benefit the game. I couldn't pull it off without a solid team of VFX artists, believe me!
Creation from Concepts
At PlatinumGames, everyone on a dev team has a lot of control over their part of the project, and naturally, we VFX artists get to come up with the concepts for effects. These start out like a list of targets for each game's aesthetic. For Bayonetta, for instance, that list was "flashy, fashionable, climactic." For Bayonetta 2, "Colorful, rich, even more climactic." For Vanquish, "Realistic, detailed, dense." For Metal Gear Rising, "Quality, maximum exhilaration, quick iteration." For ASTRAL CHAIN, "tokusatsu-style special effects, anime IRL, digital cubism." So on and so forth.
Taking those concepts into reality often calls for close cooperation with programmers to build new effects systems for each game. That takes quick implementation iteration, too, and PlatinumGames provides the open, communicative environment that makes it possible. It feels great to know that your effects fit the concepts to a T, and even better when you show them off to the rest of the team. If they're thrilled, I'm thrilled.
Making Games Feel Great
If I may say so myself, VFX can be a dev team's last and best chance to solidify a game's overall quality, both visually and in terms of how it feels to players. As the head of our VFX team, I spend a lot of time directing and advising on other artists' effects. I do my managing on the floor, and I consider it my responsibility to keep my team motivated while they make the best effects they can.
A VFX artist's most important job is emphasizing a strong sense of action to keep players thrilled all the way through. Visual effects represent direct, visible reactions to what the player does in-game. If a game's VFX are simple, utilitarian signals, that game will probably feel flat and unengaging. Strong VFX, on the other hand, can elevate a game to an exciting, emotional experience. As a VFX artist, you can't be content with competently implementing a purely technical solution; you need to think of how the visuals are going to make the player feel. VFX artistry is a constant climb towards the pinnacle of interactive exhilaration, and I hope you'll join me on that climb.
PROFILE

Takuo Yamamoto

Senior VFX Artist, VFX Team Lead and Group 7 Group Lead, Osaka Studio, Game Creative Division

Takuo Yamamoto's career in games has taken him to Capcom, Clover Studio, and SEEDS, where he worked on several titles in the Resident Evil series, Devil May Cry, Okami and more. He's been with PlatinumGames since day one, serving in both management and development roles. As head of the VFX team, Yamamoto has made effects for Bayonetta, Vanquish, Metal Gear Rising: Revengeance, Bayonetta 2, Star Fox Zero, NieR:Automata and ASTRAL CHAIN.